2016 Fantasy Football Projections: Aaron Rodgers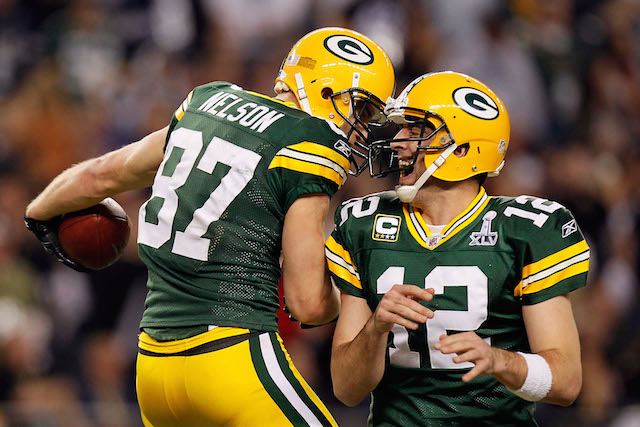 When evaluating the quarterback position in fantasy football from the 2015 season, you'll find that Aaron Rodgers didn't live up to expectations, but in reality, no one can really blame him. Fear not though, Aaron, as you're still one of the most popular quarterbacks in the NFL right now. Unfortunately, popularity isn't exactly the most important thing for fantasy football players.
After being one of the top quarterbacks drafted in many leagues last season, Rodgers finished as the No. 7 quarterback in ESPN's standard scoring. Rodgers finished up the year with 286 points based on that scoring model, just three points ahead of Kirk Cousins and six ahead of Matthew Stafford. The names ahead of him are all pretty much expected, except for one player who flew under the radar a bit in 2015.
Cam Newton: 373 points
Tom Brady: 335 points
Russell Wilson: 322 points
Blake Bortles: 302 points
Carson Palmer: 300 points
Drew Brees: 299 points
The surprising name there is Bortles, but the signal caller for the Jacksonville Jaguars actually put together an impressive 4,428 yards and 35 touchdowns last season. Palmer is also a player who surprisingly wasn't higher on this list, but regardless, it's obvious that it was Newton, and then the rest of the NFL this past season. So, in a season in which Rodgers ranked No. 7, but was No. 1 back in 2014 (342 fantasy points), what led to the decline?
Rodgers' decline from 2014 to 2015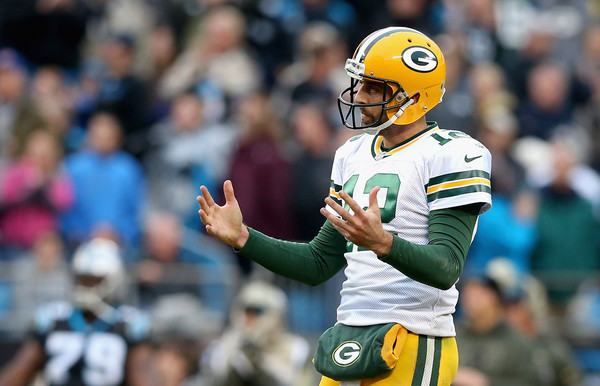 There are two things that stand out when evaluating Rodgers' play from 2014 to 2015. The first is that there was no Jordy Nelson for Rodgers to air it out to. Nelson, who has become a favorite target for Rodgers, suffered a season-ending knee injury in the preseason. This resulted in the Packers having to find the right mix of wide receivers during the 2015 season.
In the end, Rodgers saw his touchdowns drop from 38 in 2014 to 31 in 2015. His passing yardage also dropped by 560 yards as well. The other real issue was the lack of running game for the Packers. Neither Eddie Lacy nor James Starks topped 758 yards, and both had an average of just 4.1-yards-per-carry. The real issue here was the lack of touchdowns, as Lacy and Starks combined for just five rushing touchdowns.
When you have a rushing attack that truly doesn't threaten opponents, it can make life brutally tough for the quarterback, regardless of how good he is. While we may have seen a decline in Rodgers' production, this doesn't mean that it will stand, which is why we once again predict Rodgers to be one of the highest drafted quarterbacks in 2016. On top of that, he'll produce like one of the top quarterbacks as well.
Consensus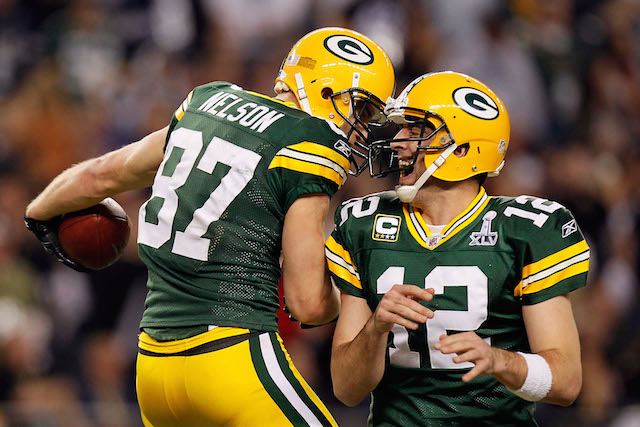 Rodgers will finish 2016 as the No. 3 overall fantasy quarterback. He'll find himself behind Newton and Brady and ahead of Palmer and Bortles. Yes, Bortles at No. 5. The top five will look as follows:
Cam Newton
Tom Brady
Aaron Rodgers
Carson Palmer
Blake Bortles
In terms of expectations for when you could potentially draft Rodgers, you may actually be able to get a steal in Green Bay's quarterback this coming season. After a bit of a "down" year, Rodgers will likely go at the beginning/middle of the third round in 12-team redraft leagues. This is a strong spot for someone who has already drafted two studs to build their team around, and can then add Rodgers.
Statistically speaking, Rodgers will not only top the 4,000 yard mark, but will wind up somewhere around 4,300 yards, with 37 passing touchdowns, less than 10 interceptions and a rushing touchdown or two. There's no reason to shy away from Rodgers next season, as his upside is probably better than any quarterback outside of the two names listed ahead of him.
Follow Jeff Smith on Twitter @JSM8ith
Statistics courtesy of ESPN.com and Pro-Football-Reference.com.