In Reality, the 2016 Heisman Trophy Race Is Down to Only 3 Players
Winning conference and national championships are fantastic team accomplishments, and making an All-America team is something few athletes ever accomplish. But when it comes to big-time college football, there is no greater individual honor a player can receive than winning the Heisman Memorial Trophy. On that note, winning the Heisman doesn't guarantee a player's success in the National Football League. However, taking home the 25-pound bronze statue — modeled after former New York University standout Ed Smith — does provide instant college football immortalization for every recipient of the prestigious award.
Heading into the 2016 season, most experts favored guys like Stanford running back Christian McCaffrey, LSU running back Leonard Fournette, Florida State running back Dalvin Cook, and Georgia running back Nick Chubb to win the award this coming December. However, as the season played out, each of these stars suffered a setback that eliminated them from 2016 Heisman Trophy contention.
On Monday afternoon, the Heisman Trust revealed the five finalists for the 2016 college football season. And not to take anything away from their outstanding individual season, but two of the finalists simply do not have a realistic shot at winning the award.
Those two players are Oklahoma wide receiver Dede Westbrook and Michigan linebacker/defensive back Gabriel Peppers. Westbrook has been nearly unstoppable (74 receptions for 1,465 yards and 16 touchdowns) for the Sooners all year, and Peppers may be the most impactful defensive player college football has seen since fellow Wolverine Charles Woodson. But when it comes down to it, neither player has a legitimate chance at winning the 2016 Heisman Trophy.
With that being said, the 2016 Heisman Trophy race is down to the following three players who have separated themselves from the rest of the competition.
3. Baker Mayfield, QB, Oklahoma
Vegas odds: 33-1 (+3300)
Mayfield is a bit of a longshot here, but the 6-foot-1, 210-pounder does have a chance to garner enough votes to make this race interesting. The 2015 All-American has led the Sooners to a 10-2 overall record, a Big 12 title, and a No. 7 national ranking, while throwing for 3,669 yards, 38 touchdowns, and 8 interceptions, and rushing for 143 yards and six touchdowns in 2016. On top of having outstanding numbers, Mayfield also possesses a polarizing personality and is one of the most exciting players in the country to watch.
2. Deshaun Watson, QB, Clemson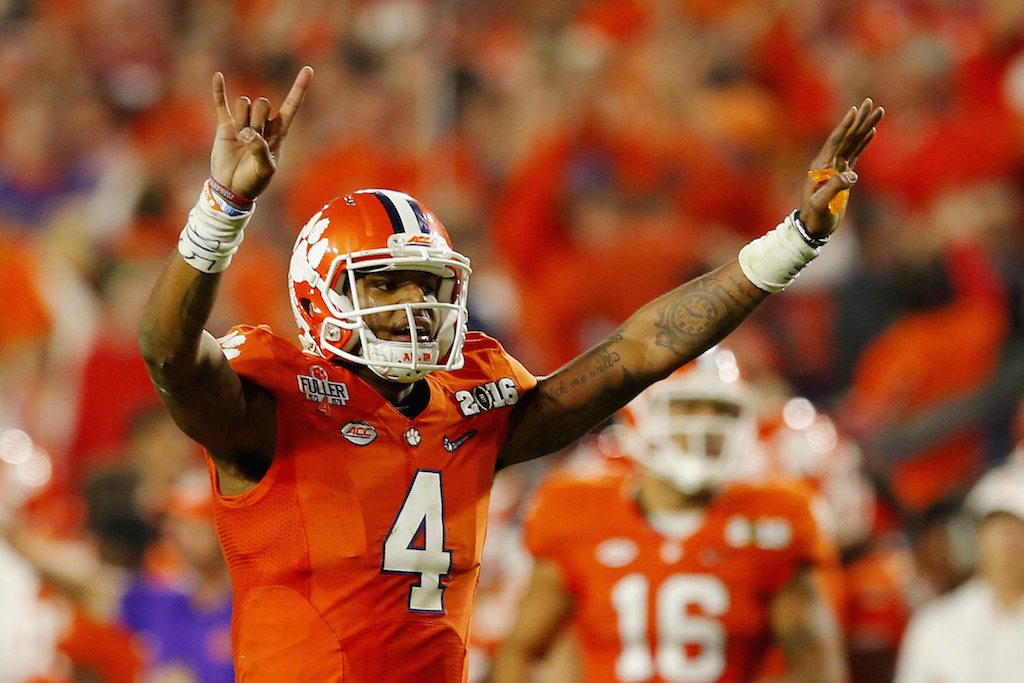 Vegas odds: 10-1 (+1000)
After a relatively slow start to the season (by his standards), junior Deshaun Watson turned it on down the stretch and is now very much in the thick of the race for the 2016 Heisman Trophy. In total, Watson threw for 3,914 yards, 37 touchdowns, and 15 interceptions, in addition to rushing for another 524 yards and six touchdowns. More importantly, the quarterback has led Clemson to a second-straight trip to the College Football Playoff.
According to the oddsmakers in Vegas, Watson isn't the favorite to win the 2016 Heisman Trophy. However, after finishing third in the 2015 Heisman Trophy race, we are expecting Watson to finish no worse than second in 2016.
1. Lamar Jackson, QB, Louisville
Vegas odds: -4000
Simply put, if Louisville hadn't lost their final two games of the season, Jackson may have won the 2016 Heisman Trophy by the largest margin in college football history. If you don't believe us, just take a look at the sophomore quarterback's stat line. In 12 games, Jackson has totaled:
9-3 overall record
3,390 passing yards
30 touchdown passes
9 interceptions
1,538 rushing yards
21 rushing touchdowns
When it's all said and done, we would be shocked if Jackson doesn't win the 2016 Heisman Trophy.
Statistics courtesy of Sports-Reference. Odds courtesy of BetOnline.