2016 NFL Draft: 4 Teams Most Likely to Trade Up
We saw the Los Angeles Rams trade with the Tennessee Titans for the No. 1 pick, and the Philadelphia Eagles trade with the Cleveland Browns for the No. 2 pick, so the trading should cool off as we move toward the 2016 NFL Draft, right? It's not likely. It seems like the teams selecting near the top of the draft are more than willing to ship away their pick and add multiple picks later on, or possibly even add picks for the 2017 draft.
It's tough to tell exactly what it is about this draft that's making everyone want to move so much, but we definitely shouldn't expect it to stop here. This is why, today, we take a look at the four remaining teams that are most likely to trade up in the draft. Let's kick it off with a team who may look to land the top running back.
Miami Dolphins, currently No. 13
As the draft gets closer, it seems more and more likely that the Dolphins could make a move up in an attempt to land Ohio State running back Ezekiel Elliott. Now, the only way we think this will happen is if Elliot winds up falling past the Dallas Cowboys at No. 4.
The Dolphins seem unlikely to move up to No. 3 to take him, and if he gets past the Cowboys, a team like the Cleveland Browns at No. 8, New York Giants at No. 10, or Chicago Bears at No. 11 could select him. To put it simply, if Miami truly wants Elliott, they will be forced to make some type of move.
Tennessee Titans, currently No. 15
If the Titans are able to move back into the top six and still get offensive tackle Laremy Tunsil from Ole Miss, this would be one of the best moves you could possibly imagine by general manager Jon Robinson.
While the Titans were expected to take Tunsil if they remain at No. 1, they picked up a huge haul of draft picks from the Rams for that top spot and could be able to pay a whole lot less to move into the top five or six and get the player they were going to take anyways. It does seem likely that they'd have to jump ahead of the Baltimore Ravens to do it, but it's definitely possible.
New York Jets, currently No. 20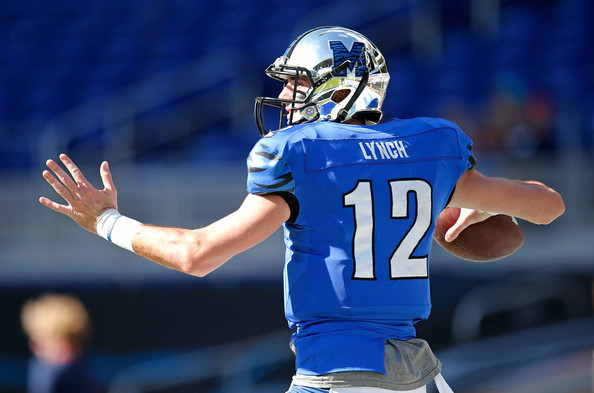 While the Jets seem to want to re-sign quarterback Ryan Fitzpatrick at this point, there's still a good chance that they will want to land their quarterback of the future. Some people want to go back to Geno Smith, but that doesn't seem to be the answer unfortunately.
If the Jets can move up into the top 15 or so and land Memphis signal caller Paxton Lynch, that would be a huge move for them. There's also the chance that Lynch could fall to No. 20, but with the team below possibly interested in Lynch, the Jets may not want to get caught waiting around.
Denver Broncos, currently No. 31
The Broncos are much more desperate to make a move at the quarterback position than the Jets, which could lead to them making a huge jump up in the draft and attempting to land Lynch themselves. There's actually a pretty strong chance that we could see these two teams battle it out to try to be the first team to move up and get him.
If we had to bet on it though, it seems likely that the Broncos would be the team to really make the push, as they pretty desperately need to find their future at the quarterback position.
Statistics courtesy of ESPN.com and Pro-Football-Reference.com.