2016 NFL Draft: 7 Best Dressed Players From the First Round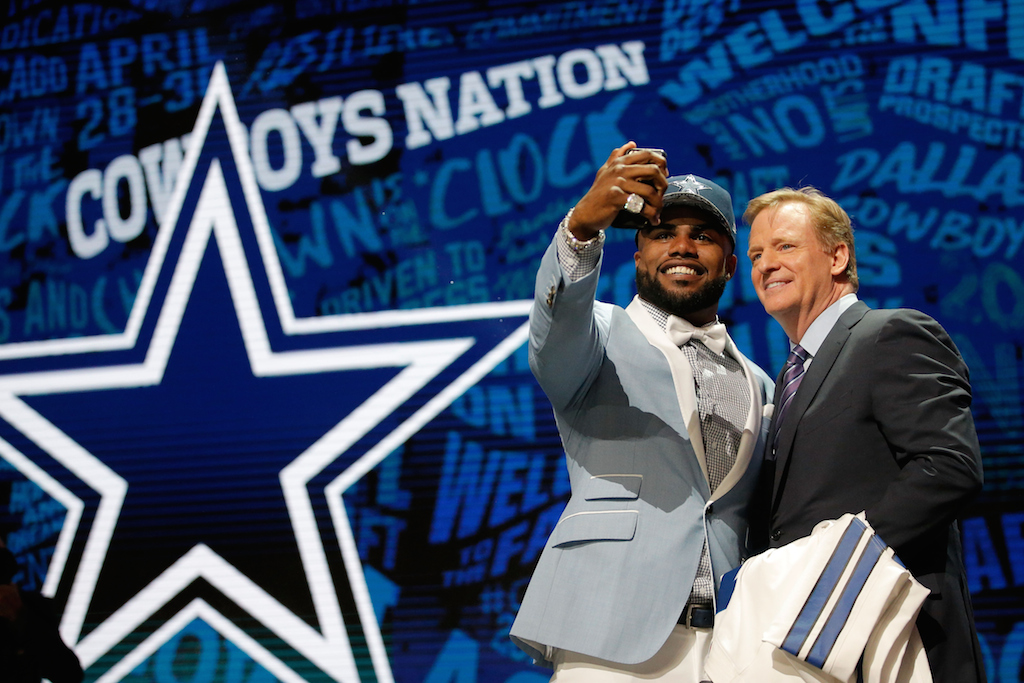 It's too soon to know which players from the 2016 NFL Draft will turn out to be studs and which ones will turn out to be disappointments. Only time will tell. What we do know, however, is that the first round of the 2016 draft is in the books and a lot of individuals' dreams officially came true. It was a night they won't soon forget. And neither will we. But probably for much different reasons.
On a night when many players realized their NFL dreams, we got to see just how much style they had off the gridiron. And as we suspected, there was plenty of it to go around. Of course, some hopefuls, even those whose names were not called, were infinitely more fashionable than others. With that in mind, here's a look at the seven best dressed players from the first round of the 2016 NFL Draft.
1. Jared Goff, QB, Cal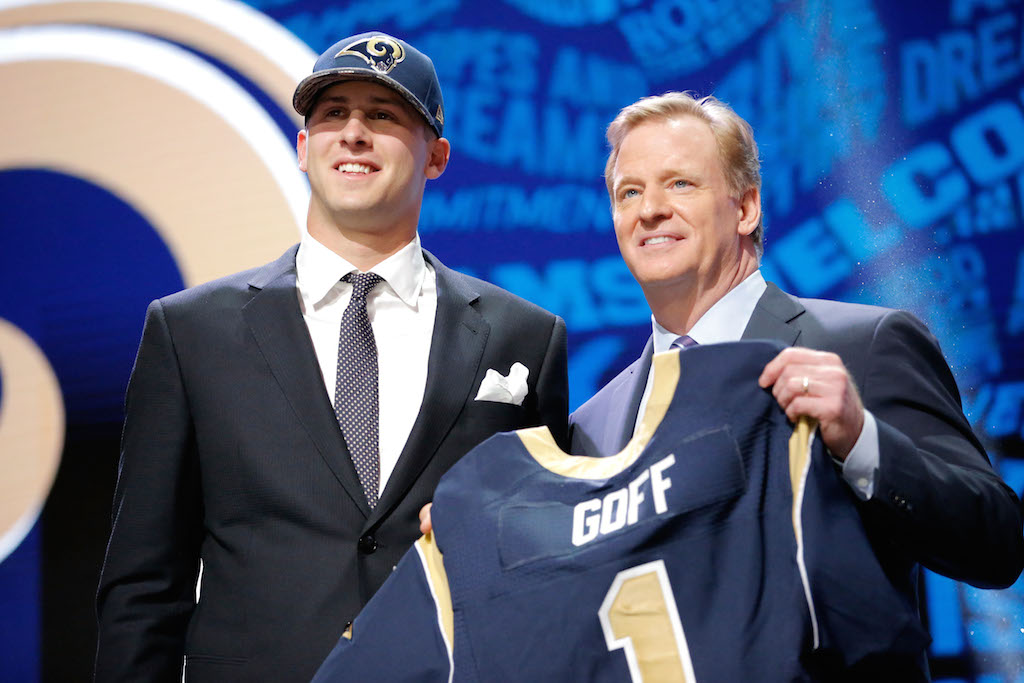 Team: Los Angeles Rams
Draft pick: No. 1
Jared Goff's getup was far from the flashiest we saw during the first round, but the No. 1 overall pick nailed his look by keeping it clean and simple. As the newly-ordained face of the Rams franchise, this former Cal Bear quarterback has all the necessary tools to make his Hollywood dreams come true. Get pumped, Tinseltown. NFL football is coming back to the city of Los Angeles. And it has found a leading man.
2. Corey Coleman, WR, Baylor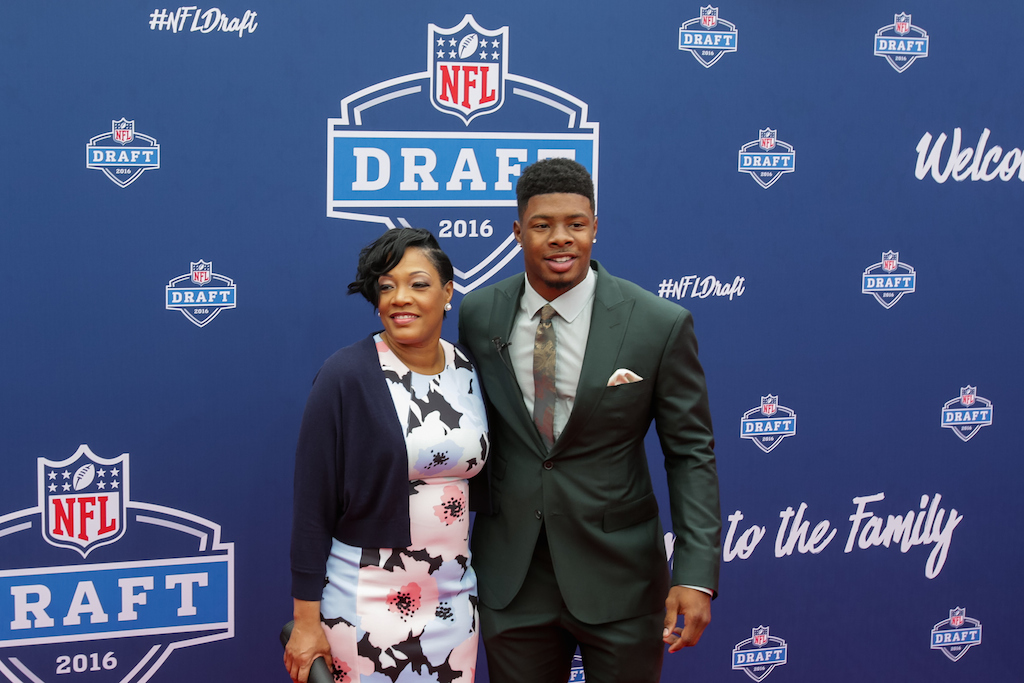 Team: Cleveland Browns
Draft pick: No. 15
We have our doubts about Corey Coleman being the first wide receiver taken in the 2016 draft. That being said, he certainly dressed the part. With a perfectly tailored green suit, the former Baylor standout exuded confidence while stylistically paying tribute to his alma mater. We're not usually a fan of the skinny tie, but Coleman makes it work here. For Cleveland's sake, we just hope he can showcase this sort of game on the field.
3. Taylor Decker, OT, Ohio State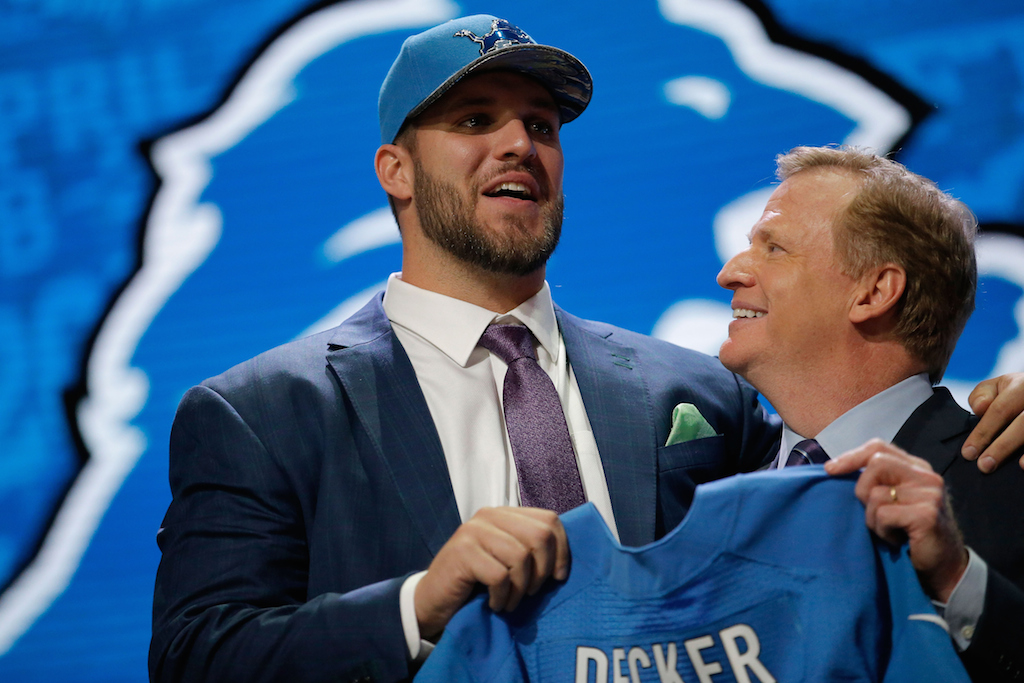 Team: Detroit Lions
Draft pick: No. 16
The Detroit Lions made a smart choice with their No. 16 overall selection, choosing to shore up their offensive line by nabbing Ohio State's Taylor Decker. And Decker, for his own part, returned the favor by simply rocking this sweet green and navy plaid suit.
Throw in the crisp purple tie and the vibrant lime pocket square and you're looking at a guy who knows how to make a good first impression. The Lions got style and substance with this one.
4. Keanu Neal, S, Florida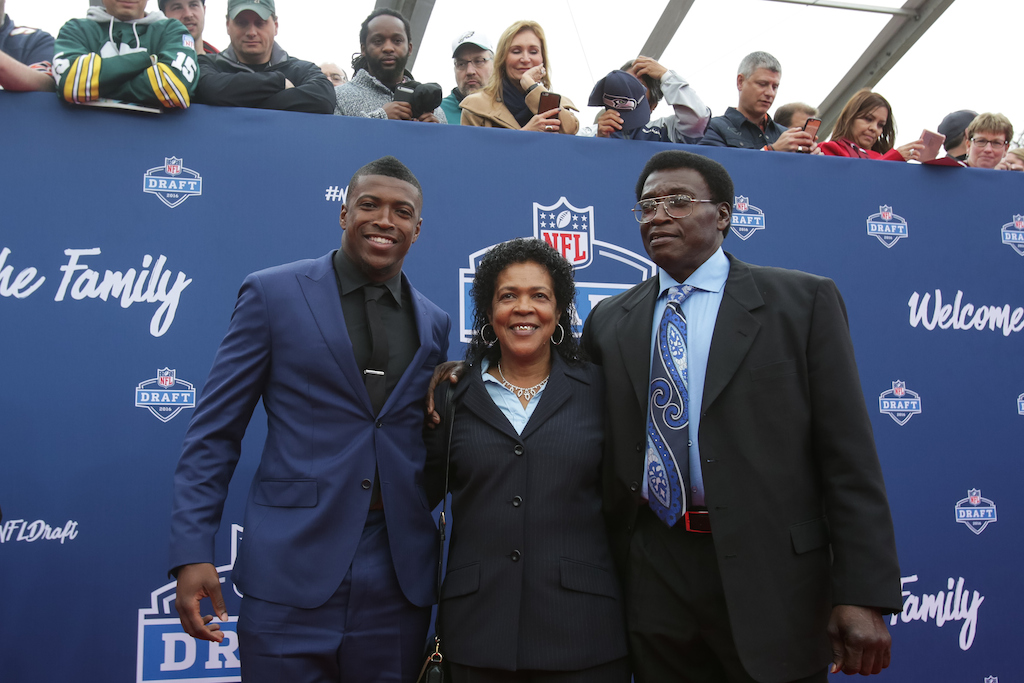 Team: Atlanta Falcons
Draft pick: No. 17
While Florida safety Keanu Neal had been a fast riser leading up to the 2016 draft, we did not expect him to go as high as No. 17 to the Falcons. Still, if he plays half as well as he dresses, then the people in Atlanta could be looking at the city's next superstar. The way we see it, you can never go wrong with a smooth navy suit and a black shirt. Bonus points for the tie clip.
5. Vernon Butler, DT, Louisiana Tech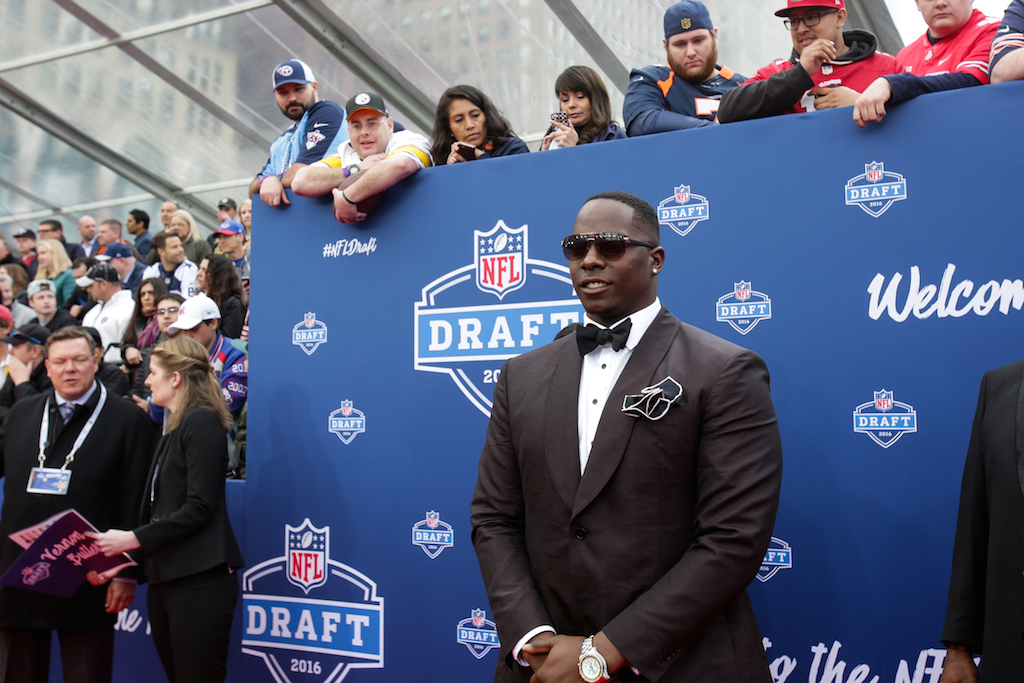 Team: Carolina Panthers
Draft pick: No. 30
Prior to the 2016 draft, the Carolina Panthers were already loaded with talent on the defensive line. With the 30th overall pick, they decided to increase their riches by selecting Louisiana Tech defensive tackle Vernon Butler. We absolutely love this pick.
Not only is Butler an absolute beast on the gridiron, but based on his draft-night ensemble, he clearly does fine work off of it. The chocolate brown tuxedo is dapper, the pocket is suave, and we only have one word for that watch: fire. Vernon Butler has officially arrived.
6. Ezekiel Elliott, RB, Ohio State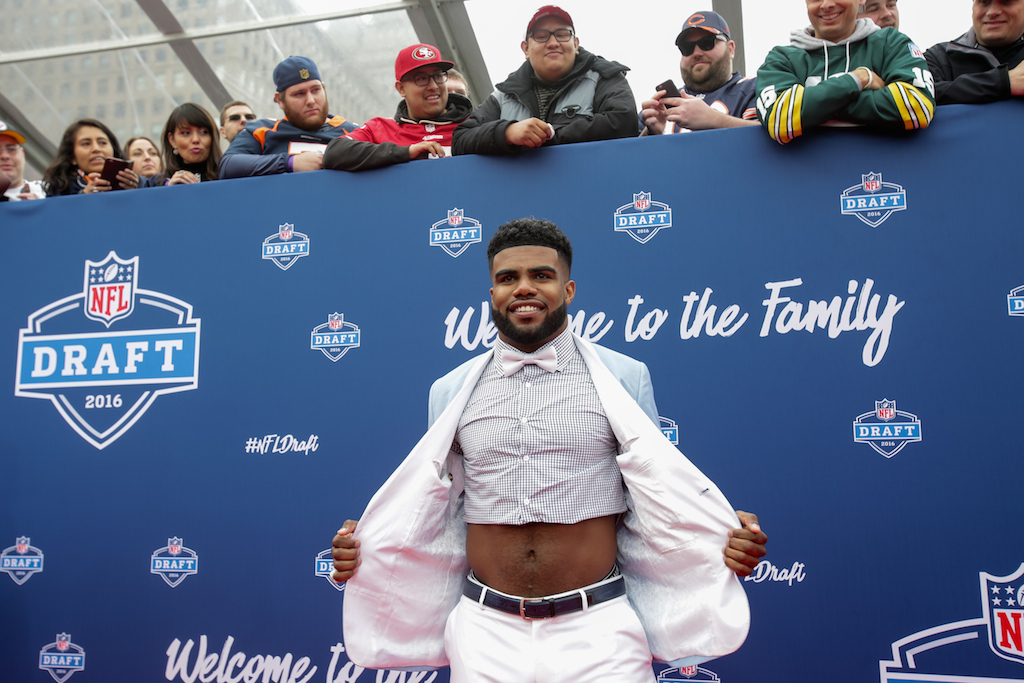 Team: Dallas Cowboys
Draft pick: No. 4
The crop top is a bit of a stretch for us, but we can just chalk that up to Ezekiel Elliott being Ezekiel Elliott. Either way, the former Ohio State running back owned the night with his light blue jacket (lined with a pink interior), checkered shirt, and a pink bow tie.
There are not many people who could pull of this look. Then again, there are not many running backs who can do what Zeke does on the field. No wonder the Dallas Cowboys took him at No. 4.
7. Myles Jack, LB, UCLA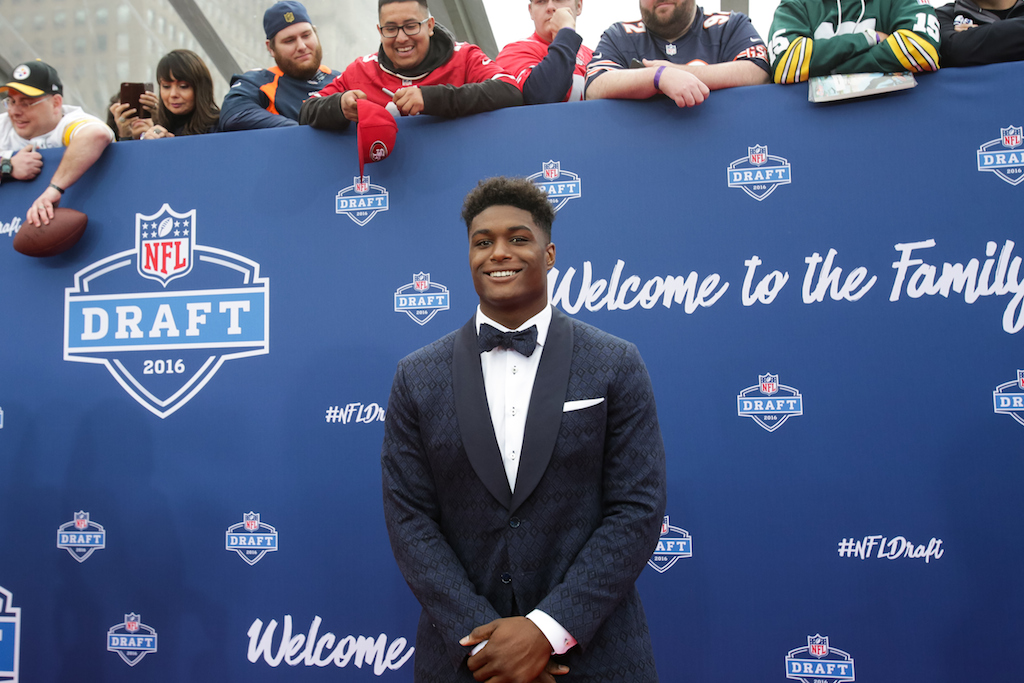 Team: N/A
Draft pick: N/A
We feel for Myles Jack. Had it not been for concerns over a knee injury, the former UCLA linebacker would've been drafted in the top five. We really believe that. Instead, he had to sit around and watch the entire first round go by without hearing his name get called.
It's really a shame because he would've looked so cool onstage wearing this navy blue — and diamond-patterned — tuxedo. Now that's how you make a shawl lapel pop. Whichever team drafts Jack will find themselves extremely lucky. In our opinion, he's a massive slam dunk.
Information courtesy of ESPN.com.