2016 NFL Draft: Best Mid-to-Late Round Quarterback Options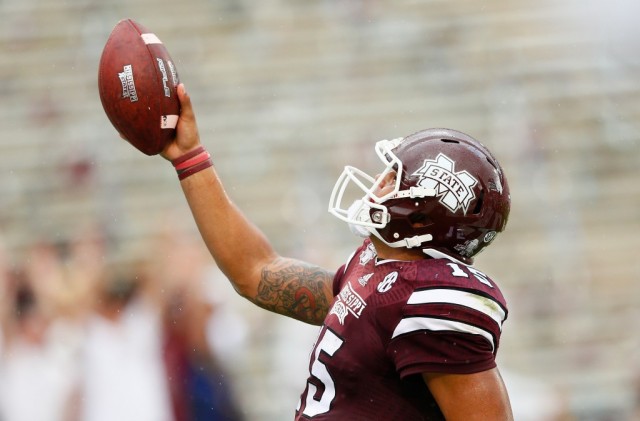 When the 2016 NFL draft rolls around, not everyone can land a Carson Wentz or Jared Goff. On the flip side, many teams may actually elect to not use an early-round pick on a quarterback, even if they do need to address the position. Instead, they may decide to look to the middle and late rounds to grab a young signal caller who can be molded into a potential starter down the road. Let's take a look at a few of the mid-to-late-round options who teams may consider grabbing if they need a backup quarterback or a young prospect who has the potential to turn into something special in a few seasons.
Dak Prescott, Mississippi State
It's hard to not imagine Dak Prescott as a real wild card in this year's draft. Not only has he put up some impressive numbers, but he's done a great job avoiding turning the ball over in his collegiate career. His ability to beat teams with both his arm and his legs is also a big selling point. His best year came in 2015, as he completed 66.2% of his passes, while throwing for 3,793 yards, 29 touchdowns, and just five interceptions.
Adding on to that, he rushed for 588 yards with 10 touchdowns. Throughout his final three years at Mississippi State, Prescott combined to rush for 37 touchdowns while throwing for 66 scores. The man can do a little bit of everything, which obviously appeals to teams looking for a mid-round quarterback.
Cardale Jones, Ohio State
Cardale Jones essentially became a forgotten man after his incredible run with the Buckeyes to a BCS National Championship victory. While he's had his ups and downs since then, including losing his starting job to J.T. Barrett, he's a real wild card in this draft. Jones has thrown just 270 career passes over three years with the Buckeyes, with just 15 touchdowns against seven interceptions.
One thing that's certain is that he has the potential, but he will need a few seasons to transform into an NFL quarterback. There are many teams with veteran quarterbacks who could look at drafting Jones as a project for the future, which would likely be the best situation for him. One way or another, Jones will get a chance as an intriguing prospect wherever he lands.
Cody Kessler, USC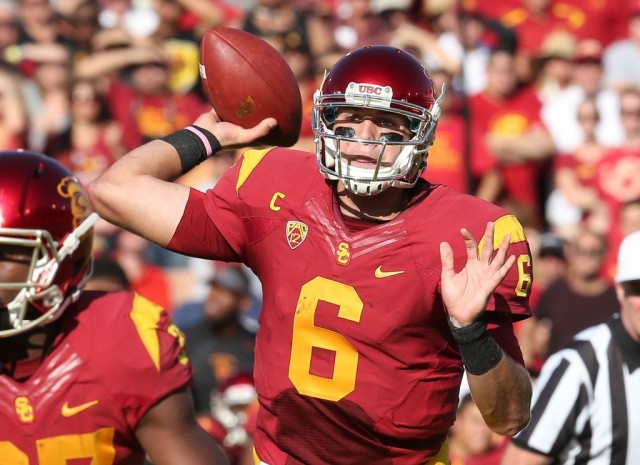 If you want a quarterback who put up some stellar numbers in college, then Cody Kessler is your man. He's not getting a ton of love early on in terms of his potential landing spots in the draft, but the upside is there. Kessler has thrown for over 3,500 yards in each of his last two seasons with the Trojans, while completing 69.7% and 66.8% of his passes. He also threw for a combined 68 touchdowns in his final two seasons, with just 12 interceptions.
You can't really argue with the numbers. The team that ends up giving him a chance will get a player with tremendous abilities throwing the ball. Question marks surround all of these players, but no matter their eventual draft rounds, they all have the the potential to turn into a steal down the road.
Jacoby Brissett, NC State
Jacoby Brissett is another quarterback who isn't getting a ton of love due to the fact that he really only played for two seasons. After transferring to NC State from Florida, Brissett was the offensive leader of the Wolfpack. He never threw for a massive number of yards, but he was efficient and did a solid job running the ball.
Over two years at NC State, Brissett completed just under 60% of his passes and threw for 5,268 yards, 43 touchdowns, and just 11 interceptions. He also rushed for 899 yards and nine additional scores. His decision-making was stellar in college — something NFL scouts have to appreciate. He probably won't go until somewhere near rounds four through six, but wherever he lands, he's a project who could really pan out.
Follow Jeff Smith on Twitter @JSM8ith
Statistics courtesy of ESPN.com.