2017 College Football Playoff: Preview and Predictions
This college football season has been one for the ages. We've seen blowout victories and overtime thrillers; we've watched up-and-coming coaches bolt for the big time and major programs can a once hot commodity. This year has been exciting and heartbreaking and, at times, it's even been downright ugly. But after weeks of turmoil, craziness, and controversy, the dust has finally settled and the College Football Playoff is officially set. And you know what? It's all been worth it.
No matter how things played out, there was always going to be a debate. In the end, however, the selection committee has spoken, and Alabama, Clemson, Ohio State, and Washington are the four teams heading to this year's College Football Playoff. If we're lucky, the matchups themselves will be as exciting as they appear to be on paper. Of course, as we all know, there can only be one team left standing.
It's always risky making predictions, especially when it comes to the College Football Playoff. However, that's also half the fun. And while anything can happen, this is how we see it all playing out.
(1) Alabama Crimson Tide vs. (4) Washington Huskies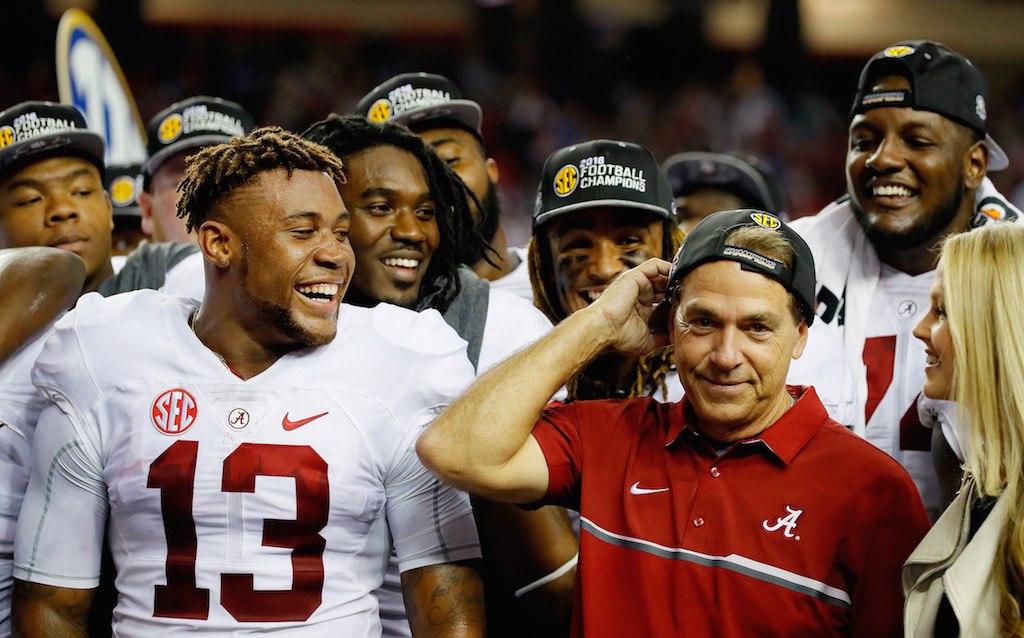 Bowl game: Peach Bowl
For much of the season, the Washington Huskies looked like the fringe team that was destined to find themselves on the outside looking in. Unfortunately, that is the price you pay for a below average out-of-conference schedule. However, after dismantling the Colorado Buffalos in the Pac-12 title game by the score of 41-10, Chris Petersen and company did just enough to sway the committee's mind and earn the coveted No. 4 spot in this year's College Football Playoff.
Of course, while this group has shown it knows how to light up the scoreboard, averaging 44.5 points per game (third of 128), it has yet to come across an opponent that truly specializes in shutting down high-octane offenses. That's all about to change in the Peach Bowl.
Nick Saban and the Alabama Crimson Tide are no joke. Just ask the Florida Gators, who got torpedoed by the No. 1 team in the country 54-16 in the SEC championship game. Not only are the Tide putting up an impressive 40.5 points per game (13th of 128), they also have the best defense in the nation, limiting the opposition to a mere 11.8 points per contest (first of 128). Seeing the Huskies make this year's College Football Playoff is a nice story, but it's going to take a miracle for them to pull off an upset in the first semifinal. We're not foolish enough to predict one.
Prediction: Alabama Crimson Tide
(2) Clemson Tigers vs. (3) Ohio State Buckeyes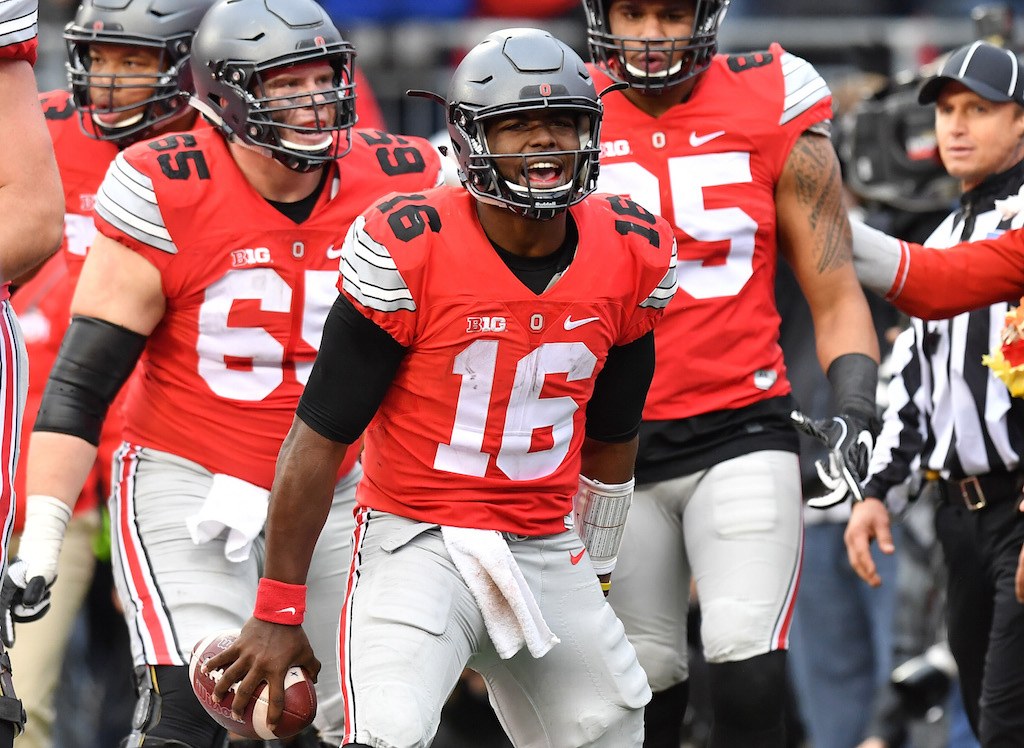 Bowl game: Fiesta Bowl
Following a victory over Virginia Tech in the ACC title game, the Clemson Tigers jumped a spot to No. 2 in the final CFP rankings. Considering this team has looked a bit shaky throughout much of the year (the result of facing immense pressure and lofty expectations), this is actually a pretty impressive accomplishment. As a result, we have to give a lot of credit to coach Dabo Swinney for his ability to keep his team focused on the task at hand. Yet, while the Tigers are loaded with the sort of talent (everything from fast and athletic defense to a playmaking dual-threat quarterback) that could legitimately challenge the Tide in the title game, we don't see them making it that far.
Despite failing to win the Big Ten conference, Urban Meyer's Ohio State Buckeyes remain one of the most complete teams in college football. This group went 11-1 on the year, erupted for 42.7 points per game (seventh of 128), and held their opponents to just 14.2 points per game (third of 128). And it did all this while playing one of the toughest schedules in the country. A lack of a conference championship may have dropped the Buckeyes to No. 3 in the final College Football Playoff rankings, but if you ask us, that won't prevent them from being one of the last two teams remaining.
Prediction: Ohio State Buckeyes
(1) Alabama Crimson Tide vs. (3) Ohio State Buckeyes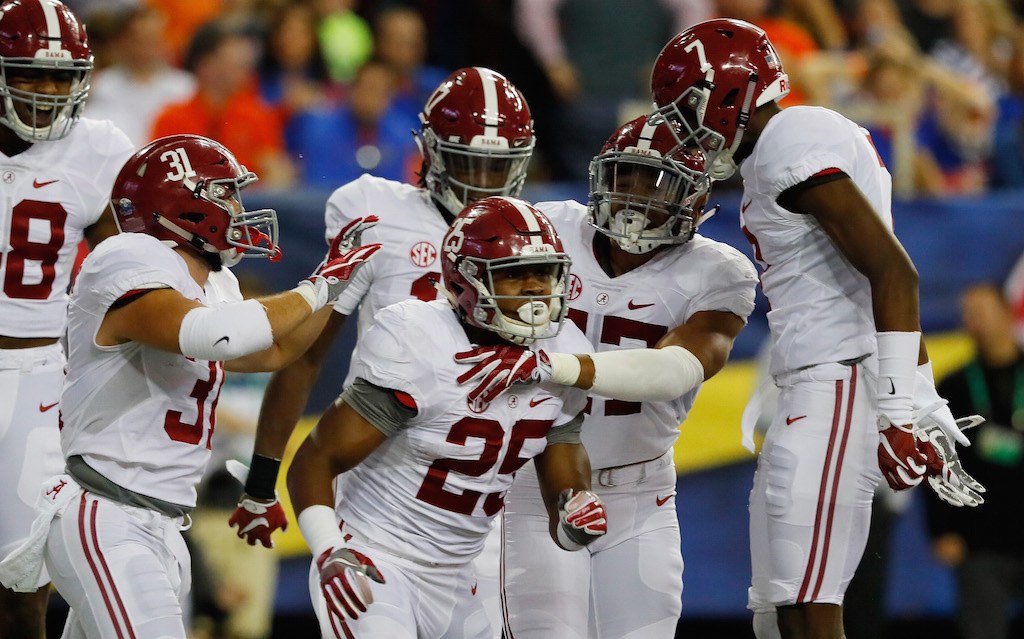 Bowl game: CFP National Championship
As much fun as it would be to see a rematch of last year's CFP national title game (and it certainly could happen), we predict it's going to be Alabama and Ohio State duking it out for college football supremacy. And if you ever wondered why universities pay their college football coaches the big bucks, here's your answer in a nutshell. Nick Saban and Urban Meyer are two of the biggest names in the game, and they know what it takes to get their players ready to perform on the biggest stage. It's really that simple.
A showdown between the Tide and the Buckeyes has the makings of a classic. In the end, however, we think Saban's crew will be too much for Ohio State to handle. Alabama has been the best and most complete team all year. We expect the Tide to finish where they started — at No. 1.
Prediction: Alabama Crimson Tide
Statistics courtesy of SR/College Football and ESPN.