2017 Hall of Fame Ballot: 4 Notable New Candidates
Should Barry Bonds be in the National Baseball Hall of Fame (HOF)? How about Roger Clemens? Does Curt Schilling's postseason legacy warrant his spot in Cooperstown? Was longtime candidate Tim "Rock" Raines' career elite enough to get him in? Those are just a few of the burning questions that will continue to spark debates for years to come in the Baseball Hall of Fame realm of discussion. But after the most recent class of inductees — Ken Griffey Jr. and Mike Piazza — were deservedly chosen for 2016, we can't help but look ahead to 2017 already.
We're not talking about the annual argument regarding Bonds, Clemens, Jeff Bagwell, Larry Walker, and in his final year on the ballot, Lee Smith. No, what we're most intrigued by for next January is how the newcomers will fare. There will be 21 first-time candidates (along with 15 returners) up for membership as the Hall of Fame's class of 2017. Of the bunch, there are certainly a handful who will not receive the required 5% of votes to remain on the list for 2018, but there are also many guys on the bubble.
Certain players' proven usage, allegations, or just mere suspicions of performance-enhancing drugs will undoubtedly come into play with the voters again. Some have even gone as far as not choosing an individual simply because they played in the steroid era. Before we break down some of the notable newcomers to the 2017 ballot, let's take a look at their impressive career accomplishments:
A staggering 4,044 combined home runs were hit by the 21 new candidates across their regular season careers.
The athletes spent a combined 315 years of their lives in the major leagues.
Just four of the first-timers were pitchers, while 17 were position players.
The four hurlers racked up a combined 6,349 strikeouts over their careers (two were primarily starters and two were primarily relievers).
1. Manny Ramirez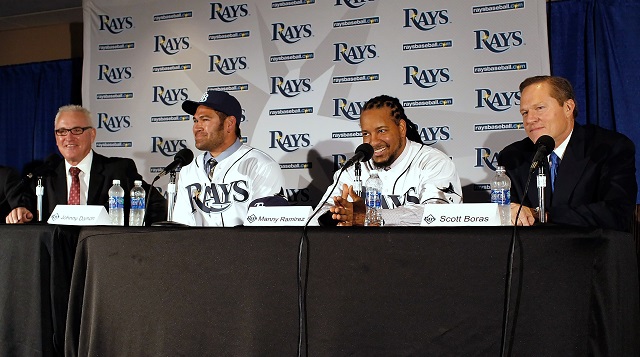 Career statistics (19 seasons): 1,544 R, 2,574 H, 547 2B, 555 HR, 1,831 RBI, 1,329 BB, 1,813 SO, .312/.411/.585/.996
Position(s): RF, LF, DH
Team(s): Cleveland Indians, Boston Red Sox, Los Angeles Dodgers, Chicago White Sox, Tampa Bay Rays
A franchise icon for both the Cleveland Indians and Boston Red Sox — along with the Los Angeles Dodgers for one magical summer — Manny Ramirez could be best described as a machine. The power-hitting Dominican was the epitome of run production and the ideal middle-of-the-lineup hitter for a solid decade and a half. Stunningly, the outfielder never won a regular season MVP award, but he was a 12-time All-Star and won two World Series championships. Along with the 2004 World Series MVP, Man-Ram led the league in home runs that year, paced the league in OBP, SLG, and OPS thrice, won a batting title in 2002, and blew away the competition with an astounding 165 RBI in 1999.
Ramirez may be equally remembered for his outlandish personality, goofy antics, and simply "Manny Being Manny." There was the time he cut off fellow outfielder Johnny Damon's throw; the time he went to the bathroom in the Green Monster in between innings; and the time he high-fived this fan. (If you'd like to see more of his "highlight reel," just click here.) After years of his behavior though — most notably in Boston — the Ramirez act grew old with fans and colleagues. But who would have thought that things would eventually get worse for the enigmatic slugger?
Even with the irritating nature of Ramirez's actions, his prolific offensive numbers were going to easily overshadow with the HOF voters. Then, he was suspended for 50 games in 2009 for violating baseball's drug policy; he took a women's fertility drug that is often used after steroids. Remarkably, Ramirez apparently did not learn from his first mistake, as he was suspended again in 2011 (this time for 100 games) for another drug violation. Instead of serving the second suspension though, Ramirez abruptly retired. Given his multiple offenses, it'd be a near miracle for this guy to ever get his call to the Hall.
2. Ivan Rodriguez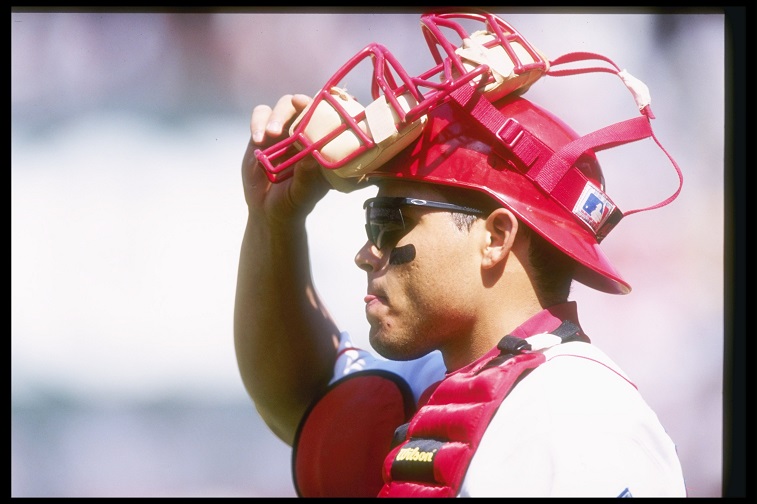 Career statistics (21 seasons): 1,354 R, 2,844 H, 572 2B, 311 HR, 1,332 RBI, 513 BB, 1,474 SO, .296/.334/.464/.798
Position(s): C
Team(s): Texas Rangers, Florida Marlins, Detroit Tigers, New York Yankees, Houston Astros, Washington Nationals
Through most of the 1990s into the mid-2000s, two catchers dominated the All-Star voting: the aforementioned Piazza for the National League and Ivan "Pudge" Rodriguez in the American League. With all due respect to guys like Jason Kendall, Jason Varitek, and Jorge Posada, Piazza and Pudge were without a doubt the class of the backstop position for this era. Rodriguez will look to make the Hall just a year after his counterpart was voted in, but I-Rod's hill looks a bit steeper to climb than Piazza's.
First, the positives. Rodriguez is clearly one of the greatest to ever play his position, both from an offensive and defensive standpoint. The legendary Texas Ranger played in parts of 21 seasons and posted a phenomenal slash line of .296/.334/.464/.798 to go along with 2,844 hits and over 300 home runs. The catcher won 13 Gold Gloves, an MVP in 1999, and was an 11-time All-Star starter (including eight straight from 1993-2001.) His defense was truly elite as he consistently ranked among the best in throwing out would-be base stealers.
Really, the only thing that could keep Pudge out of Cooperstown is the PED suspicion. It's true, Rodriguez never tested positive for any drugs and was not named in the infamous Mitchell Report, but he was among those singled out by Jose Canseco's controversial book, Juiced, where the slugger claimed to have personally injected the catcher with anabolic steroids when they were with the Rangers. However, with no positive tests and a resume that speaks for itself (he caught more games than anybody in MLB history), we see Rodriguez eventually being enshrined into baseball immortality — just not on the first try.
3. Vladimir Guerrero
Career statistics (16 seasons): 1,328 R, 2,590 H, 477 2B, 449 HR, 1,496 RBI, 181 SB, 737 BB, 985 SO, .318/.379/.553/.931
Position(s): RF, DH
Team(s): Montreal Expos, Anaheim/Los Angeles Angels of Anaheim, Texas Rangers, Baltimore Orioles
Like no other player during his time, Vladimir Guerrero had the ability to make solid contact on any pitch thrown anywhere near the strike zone (and even those significantly out of the area). Vladdy showcased a tremendous hack at the dish and a memorable cannon of an arm in right field. The 40-year-old is arguably the greatest player in Montreal Expos history and was the certain face of the franchise during their waning years, which were also Guerrero's first eight seasons in the bigs.
After his tenure with Montreal, the righty spent the following six years with the Anaheim/Los Angeles Angels of Anaheim and picked up his lone MVP award in his first season with the organization in 2004. In all, Guerrero was a nine-time All-Star and an eight-time Silver Slugger award recipient. He not only hit for tremendous power, but elite contact too, as evidenced by his .318 career batting average. Despite his rocket arm and 125 careers assists, Guerrero was actually not the best defender and never managed to get a Gold Glove.
What bodes well for Vladdy's case is the lack of allegation and even suspicion for PED usage. As far as we're aware, the powerful righty never tested positive for anything and was not named as a user in any of Canseco's various books. So, what will be his HOF fate? We predict that Guerrero's numbers persuade most voters, but he'll be a guy who needs a few years to make it. For what it's worth, of 15 anonymous ESPN employees who have HOF votes, 11 of them selected Vladdy on their preliminary, unofficial ballots. This was more than both Rodriguez (nine) and Ramirez (two.)
4. Jorge Posada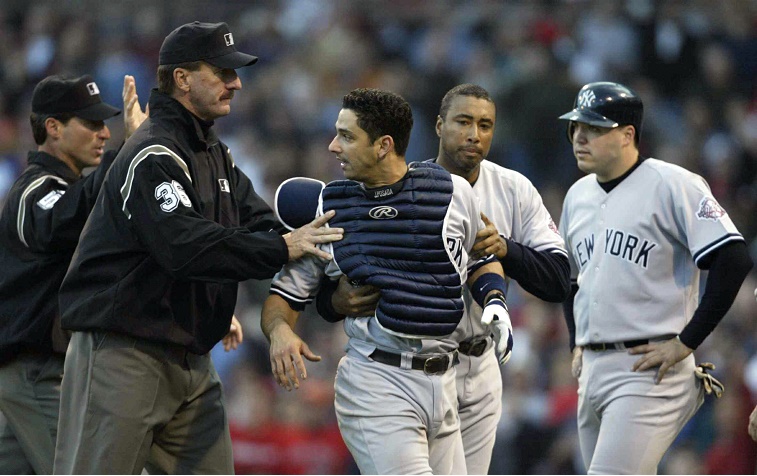 Career statistics (17 seasons): 900 R, 1,664 H, 379 2B, 275 HR, 1,065 RBI, 936 BB, 1,453 SO, .273/.374/.474/.848
Position(s): C
Team(s): New York Yankees
While Guerrero, Ramirez, and Rodriguez's career statistics warrant strong consideration for inclusion in the Hall, Jorge Posada's do not. The Puerto Rico native produced solid offensive numbers across his 17 seasons, but he was far from Hall-worthy. His 1,664 hits, 275 home runs, and .273/.374/.474/.848 slash line are not comparable to catchers like Piazza and Rodriguez. However, we included the legendary New York Yankees catcher on this list because two factors are bound to get him some votes. In fact, though we never see Posada making the 75% threshold, we do foresee him garnering enough support to stay on the ballot for at least five years, if not the entire 10-year maximum.
The first factor, like Guerrero, is the lack of PED allegation/suspicion/usage. Second, Posada spent his entire career with one team — a nearly unheard of feat in this day and age — as a critical member of the Yankees' "Core Four." During his career, Posada secured five Silver Sluggers and made five All-Star teams. Boding best in his favor though are his impressive five World Series rings. It's only half of Yogi Berra's (the Yankees' best catcher) total of 10 championships, but it is incredible nonetheless. The bottom line for No. 20 though will be no plaque in Cooperstown.
Aside from Ramirez, Rodriguez, Guerrero, and Posada, here are the rest of the first-time candidates for 2017: Javier Vazquez, Mike Cameron, J.D. Drew, Magglio Ordonez, Derrek Lee, Tim Wakefield, Edgar Renteria, Melvin Mora, Carlos Guillen, Jason Varitek, Orlando Cabrera, Aaron Rowand, Pat Burrell, Freddy Sanchez, Arthur Rhodes, Julio Lugo, and Danys Baez.
Statistics courtesy of MLB.com, Baseball-Reference.com, and ESPN.com.
Follow Victor on Twitter @vbarbosa1127