2017 NBA Mock Draft: Post-Lottery Edition
Most young basketball players dream of playing at the game's highest level. They dream of challenging the best out there for championship glory, and they dream of, one day, earning that lucrative contract. But before any of that can actually happen, they need to make it to the league. And as we all know, not everyone is good enough to play in the NBA.
For the game's top prospects, hearing their names called on draft night is something they've dreamed about ever since they could pick up a ball. At the NBA Draft on June 22, 2017, that dream will become a reality — for some.
Following an exciting — for some of us, anyways — draft lottery we now know the official draft order. While anything could happen on the night of the big event, we now have the latest piece of the puzzle at our disposal. And we feel a bit more confident predicting how the actual draft will play out. Here's a look at our 2017 NBA Mock Draft: Post-Lottery Edition.
1. Boston Celtics (via Nets): Markelle Fultz, PG, Washington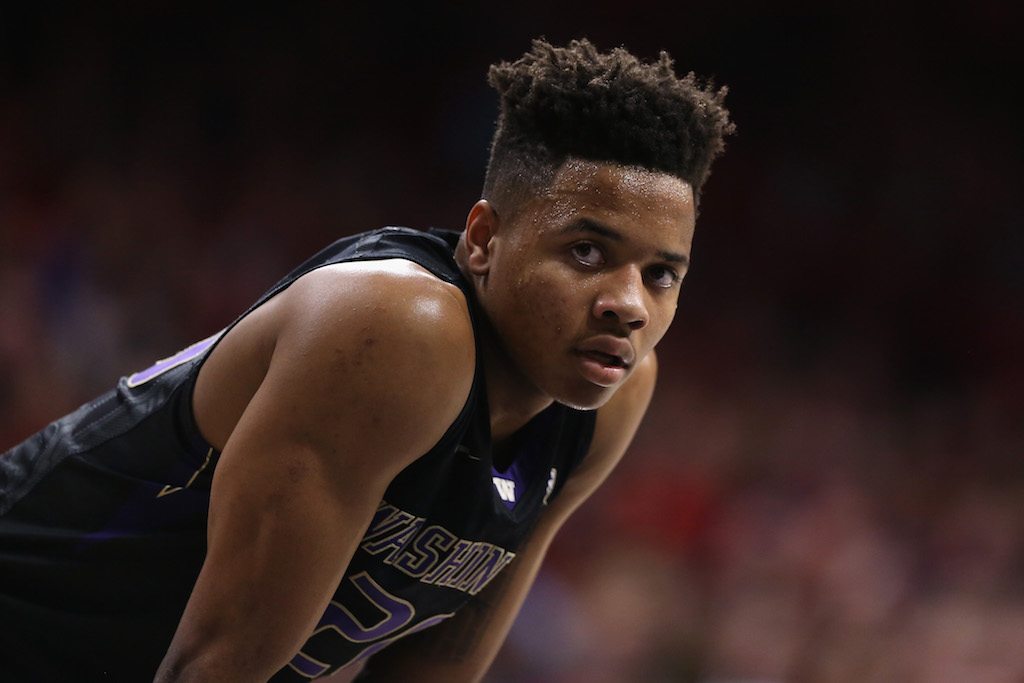 The ping pong balls bounce the Celtics' way and that should make everyone in Boston super excited. If you ask us, the pick is an absolute no-brainer. Markelle Fultz is an absolute stud. In his lone season at Washington, the 6-foot-4, 195-pound combo guard shot 47.6% from the field, drilled 41.3% of his three-point attempts, and averaged 23.2 points, 5.7 rebounds, 5.9 assists, and 1.6 steals per game.
Fultz has great size — allowing him to play multiple positions — impressive body control, a mean handle, and is a fantastic shot-creator. He doesn't lack flaws, but make no mistake, Fultz has the makings of a superstar at the next level.
2. Los Angeles Lakers: Lonzo Ball, PG, UCLA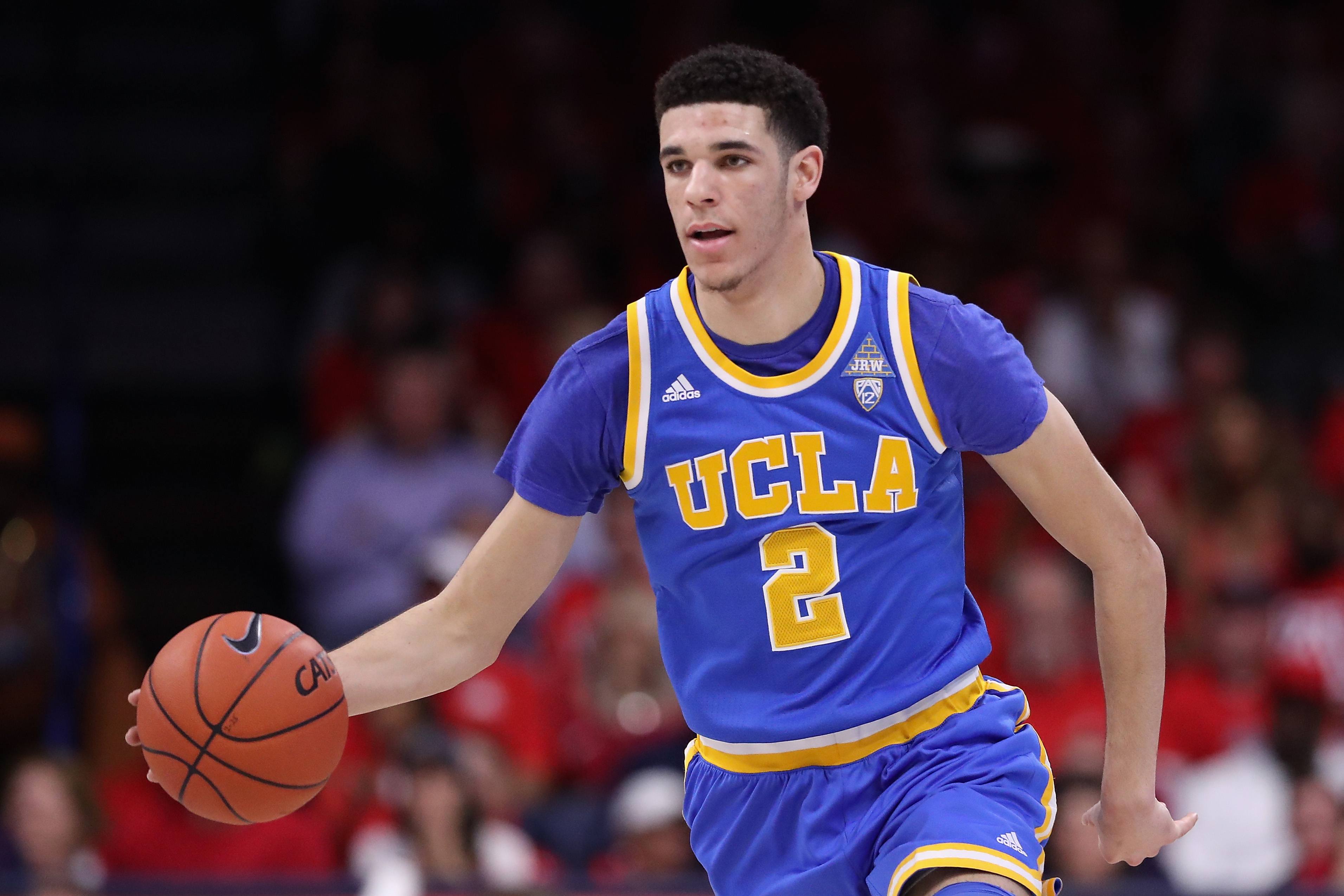 Lonzo Ball was born to help restore "Showtime" in Los Angeles, and because the Lakers landed a top–three pick, that's exactly what happens. The UCLA standout averaged 14.6 points, six rebounds, and 7.6 assists per game while displaying elite vision and otherworldly passing skills. Watching 'Zo run the floor is like watching a young Jason Kidd do his thing at Cal.
Ball is super creative, crazy smart, and has a knack for making everyone around him better. His shot may be funky (that's putting it kindly), but it goes in (evidenced by his 41.2% shooting from three). Ball will completely transform a franchise; just ask his dad.
3. Philadelphia 76ers (via Kings): Josh Jackson, SF, Kansas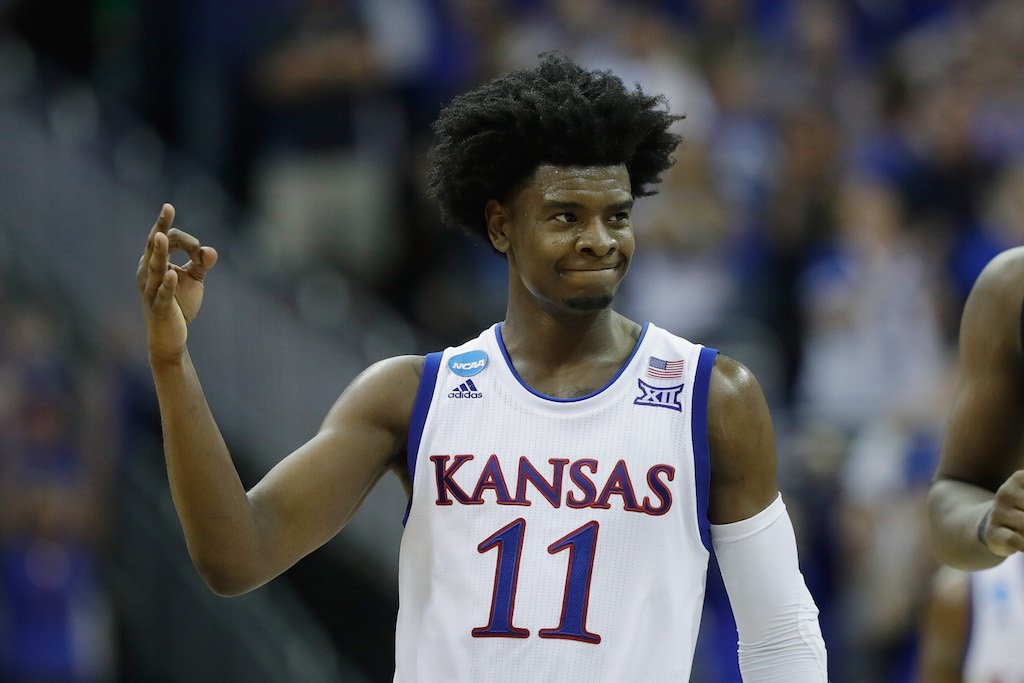 The Sixers didn't get the Lakers' pick, but they did snag themselves a top-three selection thanks to a swap with the Sacramento Kings. While this club desperately needs shooters, we think Kansas's Josh Jackson is too good to pass up.
Jackson is an elite athlete and arguably the best two-way player in the draft. He has a great motor, a high basketball IQ, and the goods to be a terrific NBA wing. Jackson has the potential to be a scary player on both ends of the floor — if he continues to improve as a shooter. (Full disclosure: His shot, especially from three, did get better as the year went on.) He would fit in nicely in Philadelphia.
4. Phoenix Suns: Jayson Tatum, SF, Duke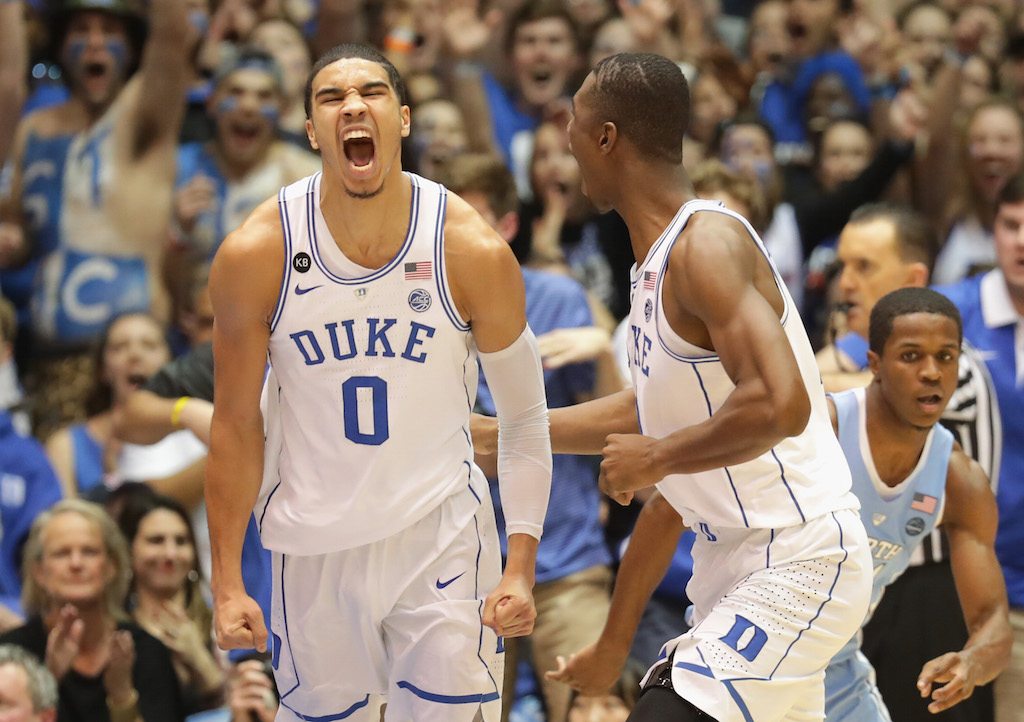 The Suns most likely hoped Jackson would fall to them, but Philly took him off the board at No. 3. Still, landing this particular stud freshman is hardly a consolation prize. Jayson Tatum was one of Duke's most consistent players all season long. The 6-foot-8 small forward averaged 16.8 points and 7.3 rebounds per game and shot 45.2% from the field. Tatum won't blow anyone away with his athleticism, but he knows how to put the ball in the basket and can beat defenses in a multitude of ways.
5. Sacramento Kings (via 76ers): De'Aaron Fox, PG, Kentucky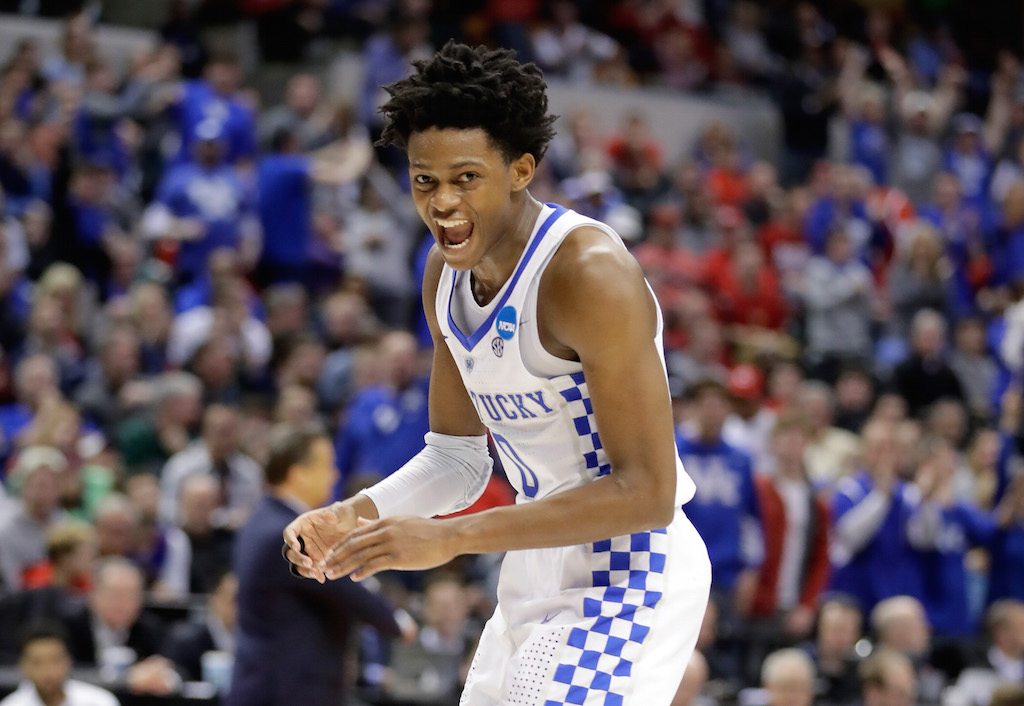 The Sacramento Kings need a young point guard and they'll get a great one in Kentucky's De'Aaron Fox. The freshman standout needs work as a shooter, but he's truly an elite floor general. Best of all, if we learned anything from his 39-point outburst against UCLA in the NCAA tournament, Fox doesn't shy away from the spotlight; he takes his game to the next level instead.
6. Orlando Magic: Dennis Smith, PG, NC State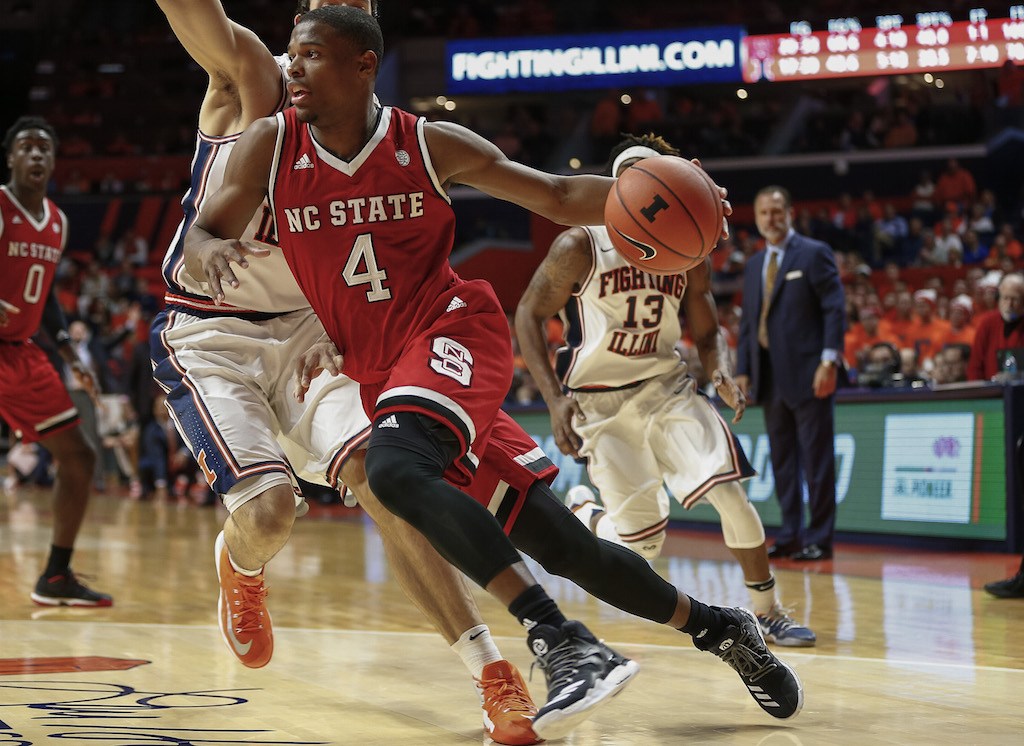 Like Fultz, Dennis Smith could not make his squad — the NC State Wolfpack — competitive. Still, there's no denying that Smith is a remarkable athlete with crazy bounce. He averaged 18.1 points per game on the year and was a one-man highlight reel waiting to happen. Given Smith's overall explosiveness, you'd never know a torn ACL forced him to miss his entire senior high school season. He's exactly what the Magic need.
7. Minnesota Timberwolves: Jonathan Isaac, SF/PF, Florida State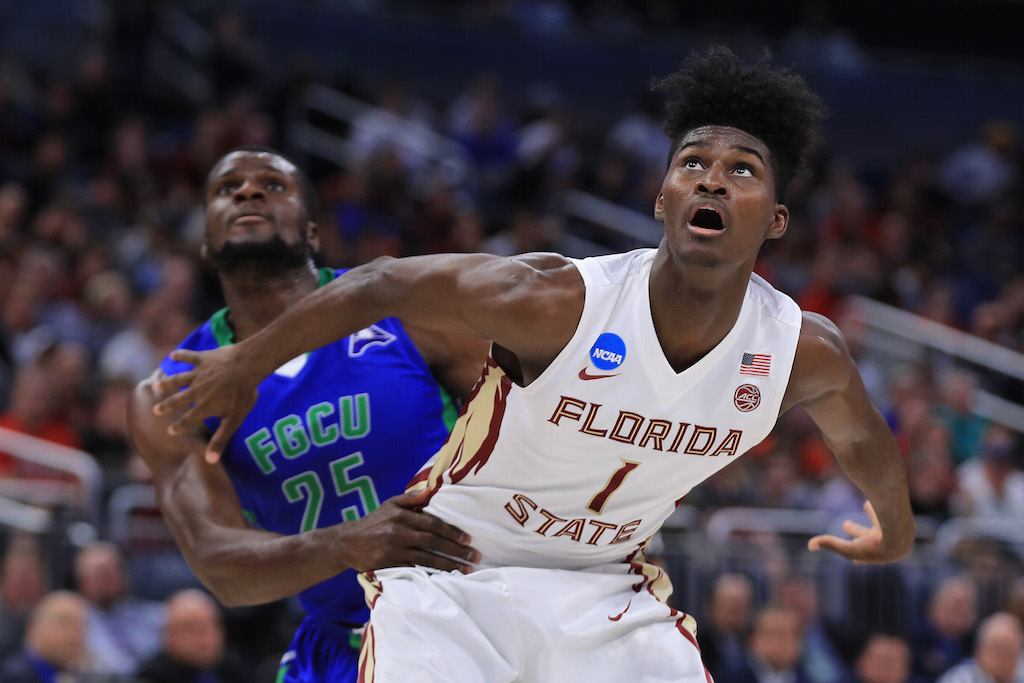 There's a lot to like about Florida State's Jonathan Isaac. At 6-foot-10, with a 7-foot wingspan, the freshman forward has the ideal traits of a next-level wing. As Chad Ford notes (subscription required): "He has elite length, strokes the 3, runs the floor like a guard and rebounds. He just needs to add a lot of strength." Simply put, Isaac's potential is off the charts. Tom Thibodeau would be thrilled to bring him to Minnesota.
8. New York Knicks: Malik Monk, SG, Kentucky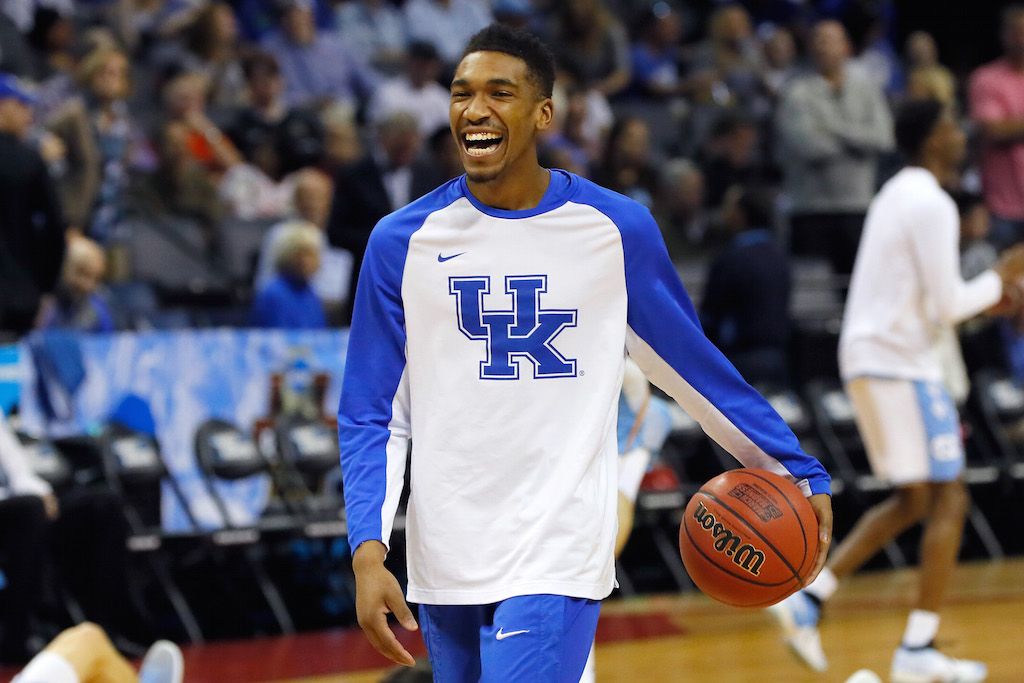 Malik Monk is one of the best shooters in the draft. In his lone season at Kentucky, he averaged 19.8 points per game, shot 39.7% from three-point range, and earned SEC Player of the Year and Second-Team All-American honors. The Knicks could use a point guard after the failed Derrick Rose experiment, however, Monk's elite offensive ability should win over the New York faithful in no time.
9. Dallas Mavericks: Frank Ntilikina, PG, France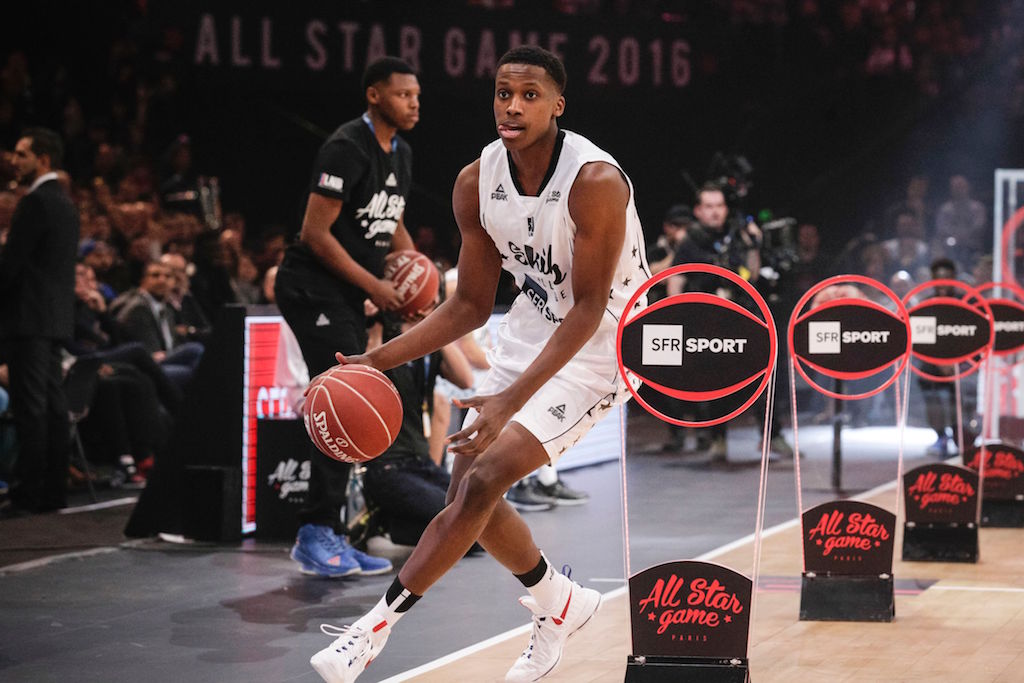 Frank Ntilikina isn't exactly a household name, but he's definitely known in basketball circles. The 6-foot-5 French guard, who currently suits up for Strasbourg, has impressive length, a high basketball IQ, and the confidence to thrive at the NBA level. He has a chance to be one of the best perimeter defenders in the draft class. Ntilikina would be an excellent addition to the Dallas Mavericks.
10. Sacramento Kings (via Pelicans): Lauri Markkanen, PF, Arizona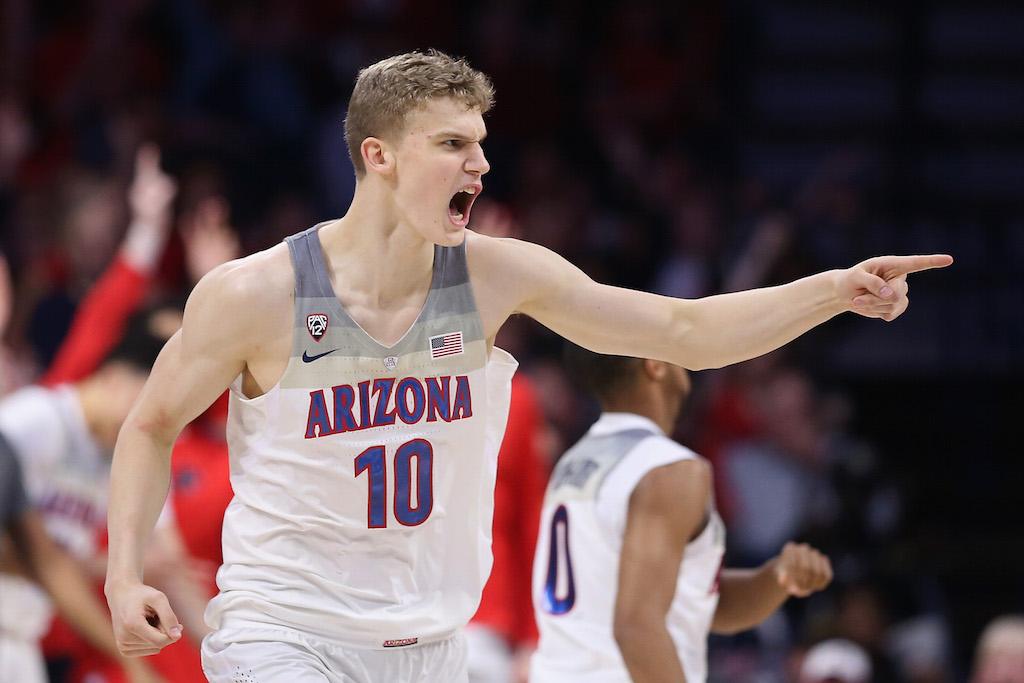 If the Kings hope to add a skilled stretch four with their second top-10 pick, then Arizona's Lauri Markkanen is their man. The 7-foot freshman, who's talented enough to make things happen in the paint, showed an affinity for stepping outside and knocking down the triple, where he shot a cool 42.3% on the year. Markkanen is far from a finished product, but we think he would be a hit in Sacramento.
11. Charlotte Hornets: Zach Collins, C, Gonzaga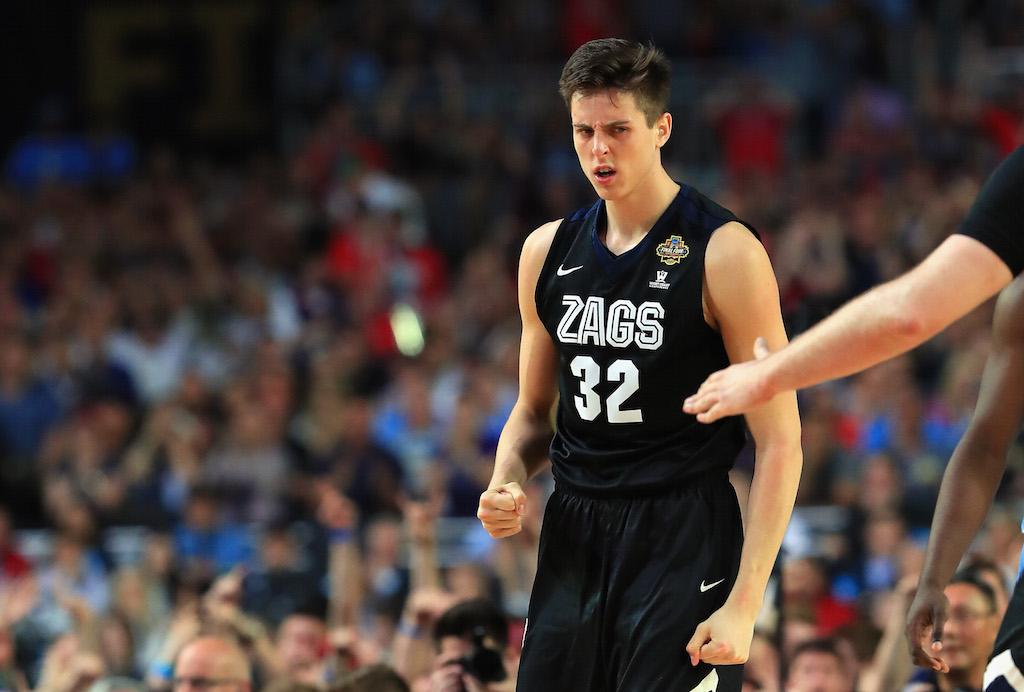 Zach Collins started to rise up draft boards late in the year thanks to an impressive performance in the NCAA tournament. The 7-footer out of Gonzaga really flashed his potential against South Carolina in the Final Four, where he set the tone on both ends of the floor, finishing the contest with 14 points, 13 rebounds, and a game-high six blocks. It doesn't hurt that he can also stretch the floor and knock down shots from the perimeter.
12. Detroit Pistons: Justin Patton, C, Creighton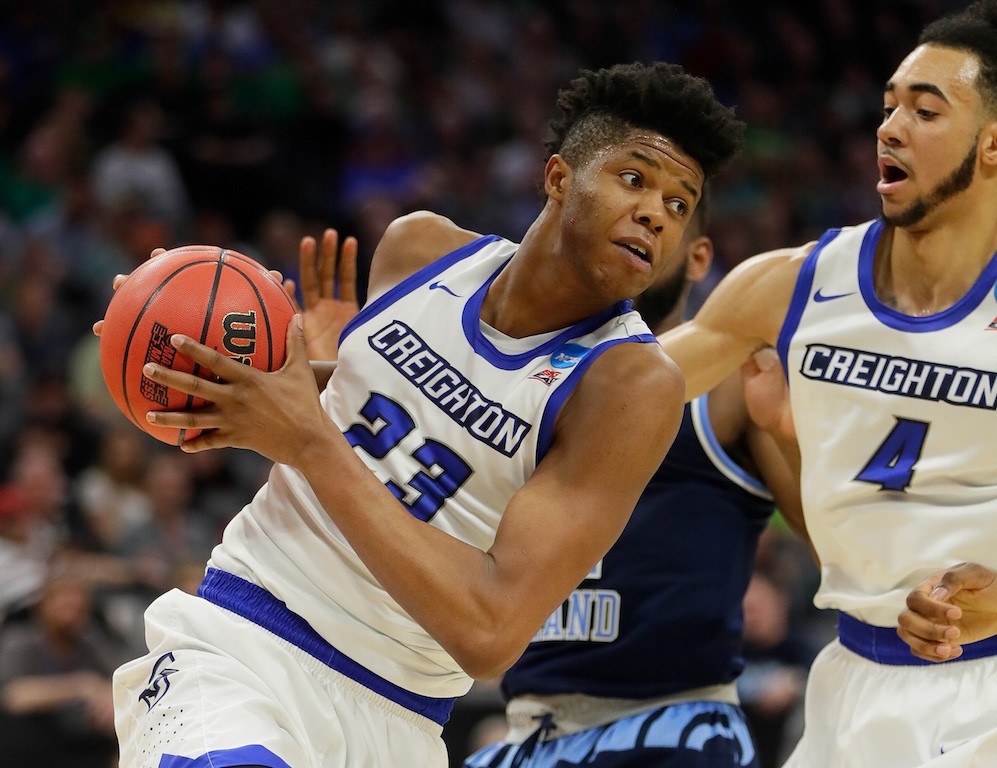 Justin Patton is a bit raw and needs time to develop more as a player, but he clearly has a lot of potential. In one season at Creighton, the 6-foot-11 center averaged 12.9 points, 6.2 rebounds, and 1.4 blocks per game and got better and better as the season wore on. Patton is an elite athlete who, if he puts in the work, has the ability to be a monster on both ends of the floor.
13. Denver Nuggets: OG Anunoby, SF, Indiana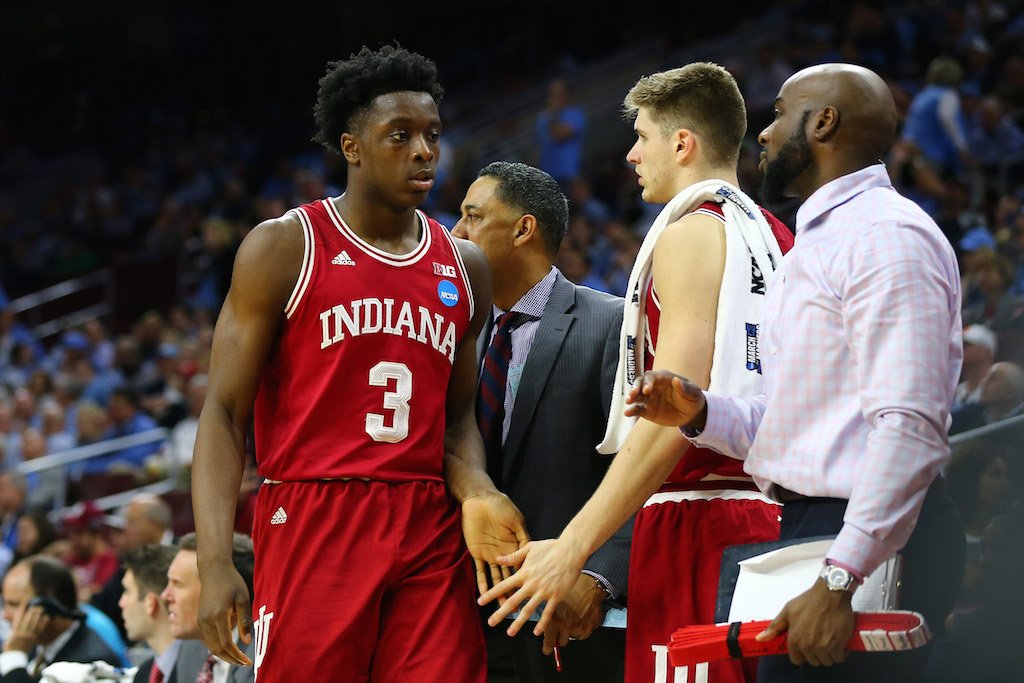 OG Anunoby's sophomore season was cut short because of a knee injury, but his long-term upside is undeniable. The 6-foot-8 forward out of Indiana flashed the goods on both ends of the floor and, prior to his injury, averaged 11.1 points, 5.4 rebounds, 1.4 assists, and 1.3 steals in 25.1 minutes. If the Nuggets are willing to look past the injury and take a flier on Anunoby, they could have themselves a stud in the making.
14. Miami Heat: T.J. Leaf, PF, UCLA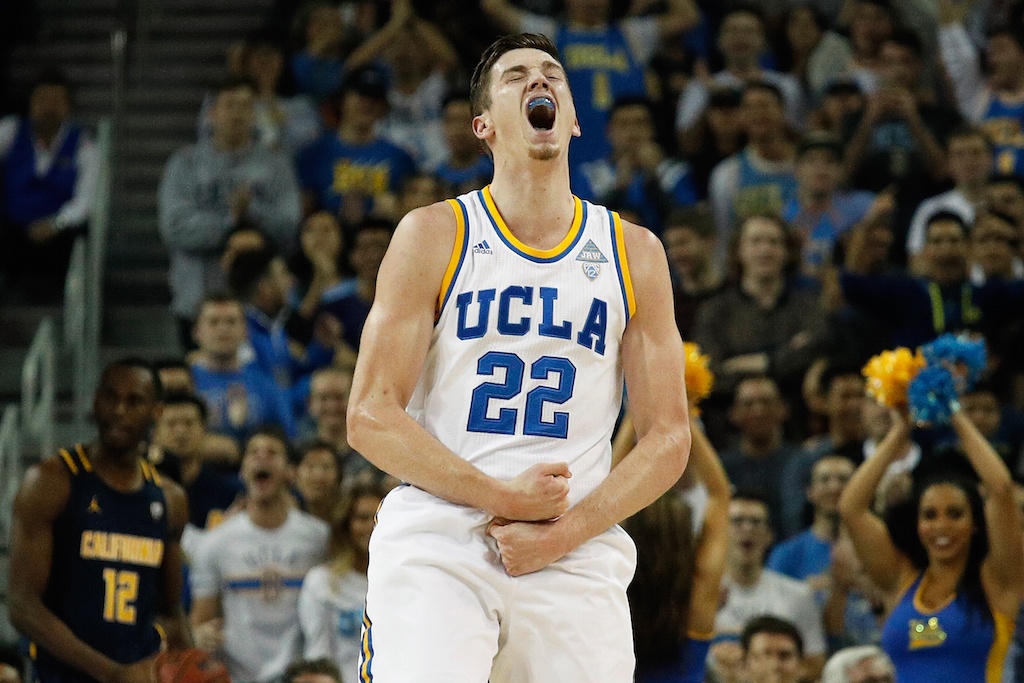 Ball received the bulk of the love at UCLA, but he wasn't the only freshman producing at a high level. T.J Leaf, a 6-foot-10 forward, was definitely a beast in his own right. He shot 46.6% from three-point range while averaging 16.3 points and 8.2 rebounds, and 2.4 assists per night. This might be a little high for him, but we think Leaf would be a nice addition to the Miami Heat roster.
Picks 15
–

30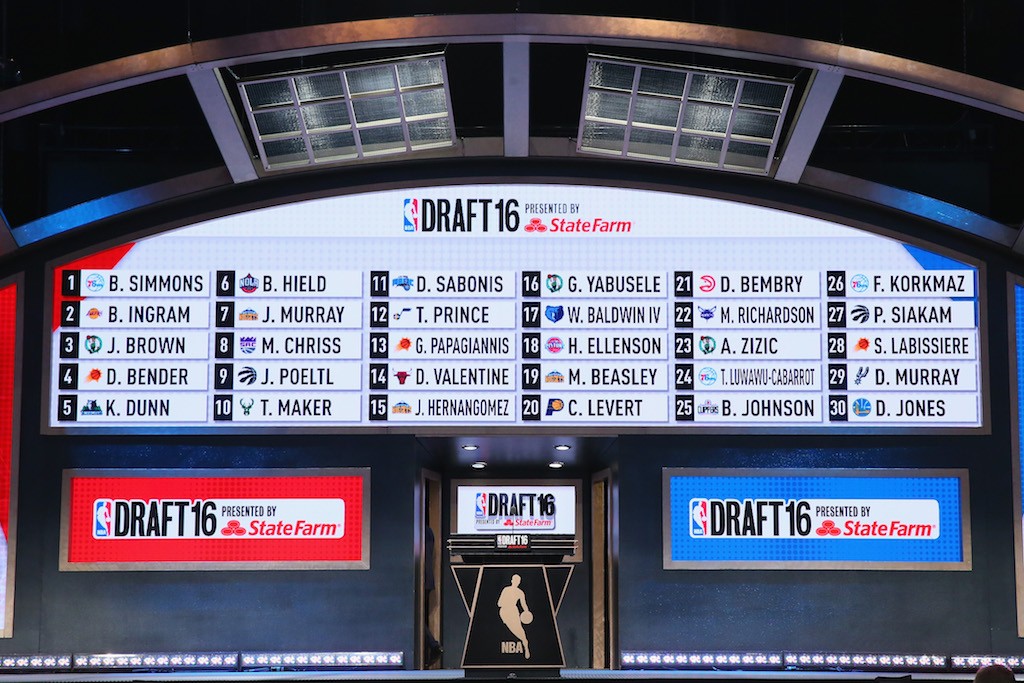 15. Portland Trail Blazers: Ike Anigbogu, C, UCLA
16. Chicago Bulls: Donovan Mitchell, SG, Louisville
17. Milwaukee Bucks: Jarrett Allen, C, Texas
18. Indiana Pacers: Luke Kennard, SG, Duke
19. Atlanta Hawks: John Collins, PF/C, Wake Forest
20. Portland Trail Blazers (via Grizzlies): Harry Giles, PF/C, Duke 
21. Oklahoma City Thunder: Justin Jackson, SF, North Carolina
22. Brooklyn Nets (via Wizards): Tyler Lydon, PF, Syracuse
23. Toronto Raptors (via Clippers): Bam Adebayo, PF/C, Kentucky
24. Utah Jazz: Ivan Rabb, PF/C, California 
25. Orlando Magic (via Raptors): Terrance Ferguson, SG, Australia
26. Portland Trail Blazers (via Cavaliers): Isaiah Hartenstein, PF/C, Germany
27. Brooklyn Nets (via Celtics): Frank Jackson, PG, Duke
28. Los Angeles Lakers (via Rockets): Rodions Kurucs, SF, Latvia
29. San Antonio Spurs: Jordan Bell, PF, Oregon
30. Utah Jazz (via Warriors): Jawun Evans, PG, Oklahoma State
Statistics courtesy of SR/College Basketball, ESPN, NBADraft.net, and DraftExpress.