MLB: The 2019 Houston Astros Might Have the Best Offense of all Time
The Houston Astros won their first World Series title in 2017, and in 2018 they set a franchise record with 103 wins. But the 2019 squad may be better than either of those teams. Not only that, but this year's Astros team may have the best offense in big league history, and they're doing it with the 2017 American League MVP (Jose Altuve) having a disappointing season. Other players in the lineup are helping to pick up his slack, and then some.
One stat puts the Houston Astros in elite company
One of the more common stats in advanced metrics is wRC+, or weighted runs created plus. It is meant to show runs created, adjusted to account for external factors like ballpark and era. The league average is 100. The current record for wRC+ in a season is held by the vaunted 1927 Yankees, with 126. The Astros' 2017 championship team finished with a wRC+ of 122. As of mid-May, the 2019 Astros had a wRC+ of 133, which would be a record-breaking number if they continue on this pace for the rest of the season. In contrast, the Marlins' had an MLB-worst 65 figure, which is less than half of Houston's number.

Other signs the Astros may have a historic offense
As of May 14, the Astros had a triple slash line (batting average/on-base percentage/slugging) of .281/.353/.507. If the Astros can keep up a slugging percentage of .500 or better for the season, they would be the only team in MLB history to accomplish the feat. Since 1920, the 2003 Red Sox came closest to accomplishing that, finishing that season with a .491 slugging percentage. The Astros have six starters who are slugging over .500, and OF George Springer's slugging is well over .600.

George Springer is leading the way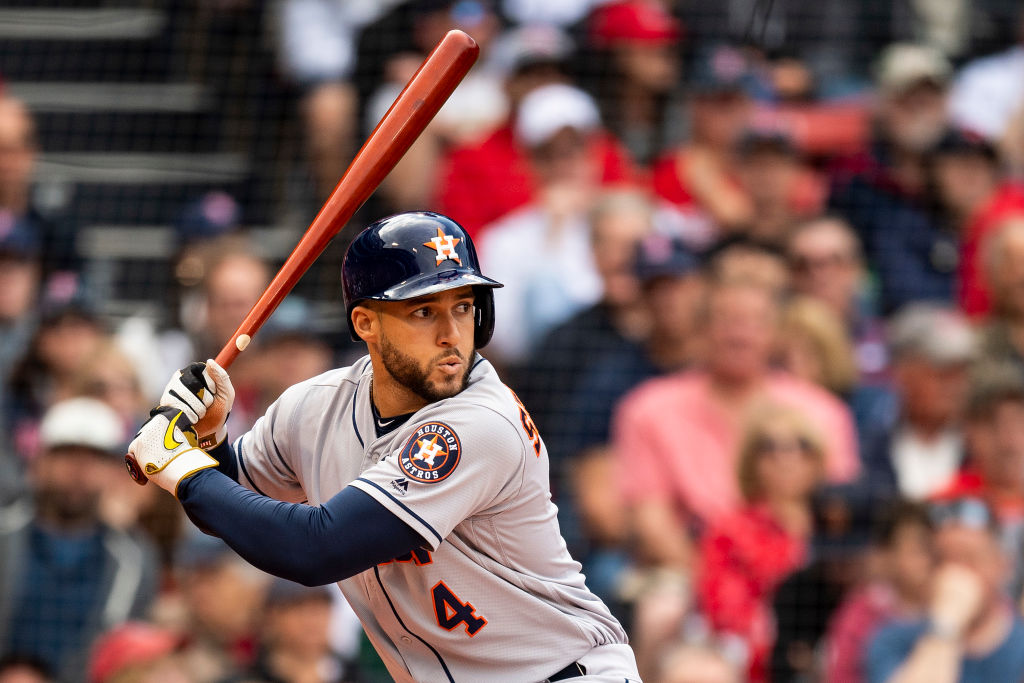 George Springer is in the midst of what looks like it is going to be a career year for him. He already had 17 home runs in 47 games, which is half of his career-high 34 he hit in 2017. His 42 RBIs also put him on pace to go well past the career-high 85 he set that same year. As of May 17, Springer had the most homers in the American League and was tied for the most RBIs in the majors.

Through the first few weeks of the season, Springer appears to be a leading candidate to earn AL MVP honors if he can come close to keeping his performance up through September. Springer, Michael Brantley, Alex Bregman, Robinson Chirinos, Carlos Correa, and Josh Reddick had WAR (wins above replacement) numbers of one or above just 47 games into the season.

The Astros are hitting lots of home runs
The Houston Astros are near the top of the league in home runs, and it's not just Springer getting in on the act. They had a 10-game stretch in which they hit 30 home runs, which was a franchise record over 10 games. During that stretch, 3B Alex Bregman had seven of the team's 30 homers. The Astros already have four players with double-digit home runs, and Altuve isn't far off from joining that group, with nine homers. All those home runs are helping the Astros maintain their major league lead in slugging and OPS.

Plus, they are doing it without Jose Altuve's usual contributions. He hit .313 or better each of the last five seasons, and he has never finished a season with an average below .276. But the 2017 AL MVP has been struggling to live up to expectations this season. He was hitting .243 through his first 39 games before he landed on the injured list with a left hamstring strain.