The 2020 NFL Draft's Biggest Bust May Have Just Found His Way Back Into the League
The Tennessee Titans envisioned Isiah Wilson paving the way for Ryan Tannehill and Derrick Henry when the team selected him 29th overall in the 2020 NFL Draft.
Yeah, so much for that.
Wilson, an All-SEC offensive lineman from Georgia, lasted a single season with the Titans before the team gave up on him and his propensity for getting into trouble. Luckily for the 6-foot-6 lineman, the NFL tends to be a forgiving place.
The Colts worked out Isaiah Wilson, for some reason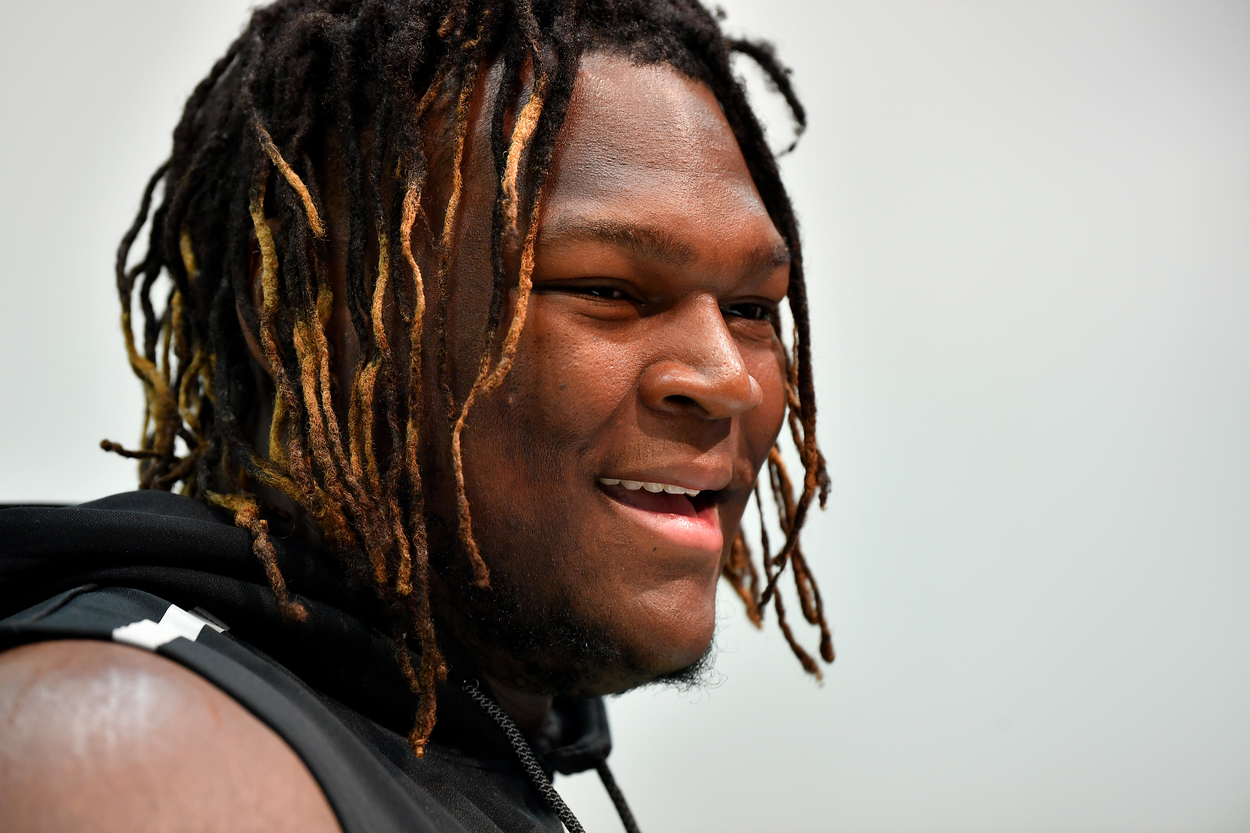 Reporters' addictions to social media ensure fans can read the NFL's transaction wire and see who received a workout with which team. Otherwise, we may never have known that the Indianapolis Colts recently brought Wilson, who turns 23 in February, in for a tryout.
The Colts also worked out tight end Ryan Izzo, wide receiver Duke Williams, and guard Adam Coon. Izzo, a seventh-round pick in 2018, hauled in 19 catches for 313 yards and a touchdown in three seasons with the New England Patriots.
However, Wilson is easily the most notable name of those four. When we last heard from him, the Miami Dolphins had just cut him only weeks after acquiring the young offensive lineman from the Titans. He didn't play anywhere during the preseason, and no teams worked him out during that time.
As of publication, the Colts had not signed Wilson either to the active roster or the practice squad, and we see no reason why that should change.
Wilson almost immediately established himself as the 2020 NFL Draft's first bust
Not every player is an instant starter, and not every rookie plays significantly during his first year. It can be easy to forget Kansas City Chiefs star quarterback Patrick Mahomes only played in one game as a rookie in 2017. Tom Brady's only snaps as a first-year player in 2000 came in a blowout loss to the Detroit Lions.
That's part of why, more often than not, we can't really determine if a player is a bust or not until during or after their third season at the earliest. Atlanta Falcons backup quarterback Josh Rosen, the 10th overall pick in 2018, is on his fifth team in four years. Barring a miraculous turnaround, he's going to go down as a bust.
All of this is relevant when discussing how badly Wilson bombed with the Titans. We knew months into his NFL career that the relationship seemed destined to fail. During a two-month span in the summer of 2020, Wilson was given a trespass warning for attending an off-campus party and later was arrested for DUI.
All four of his snaps — three on offense and one on special teams — as a rookie came in a 45-26 victory over the Colts on Nov. 29, 2020. He didn't play in the Titans' next game because the team suspended him for violating team rules.
There would be no Mahomes-esque turnaround in Tennessee. The Titans traded him to the Dolphins earlier this year, a move the team almost immediately established as a mistake when he displayed a lack of time management and awareness in the offseason. Although it's not entirely fair comparing him with quarterbacks, the point remains that he wasted every opportunity he had.
Wilson's next opportunity could very well be his last chance
Unless your name is Colin Kaepernick, there is seemingly always a spot in the NFL for you. Players have been welcomed back into the league after DUI arrests, nightclub fights, and far more heinous crimes than a lack of maturity.
Let's not forget that the NFL is a copycat league. If one team was willing to bring Wilson in, another team will follow at some point. Perhaps the New York Giants will want to pair him with Andrew Thomas, the fourth overall pick in 2020 who starts at left tackle. Maybe the New England Patriots, a franchise known for signing cast-offs and busts, will work him out this fall.
As of now, Wilson is the 2020 NFL Draft's biggest bust. He may hold that title even if Tua Tagovailoa doesn't pan out for the Miami Dolphins or Lions cornerback Jeff Okudah never bounces back from a rough rookie season and a subsequent Achilles injury.
Nothing in the NFL is forever, though. If a team is willing to ignore the stink and negative history and sign Wilson, he needs to make the most of that opportunity. Otherwise, he could very well retire with those four snaps and a resume of bad decisions to his name.
Like Sportscasting on Facebook. Follow us on Twitter @sportscasting19.
RELATED: After Giving Up on Sam Darnold, the New York Jets Are Officially in Danger of Having Another Epic NFL Draft Bust on Their Hands