2020 NFL Draft Will Have Strong ESPN Presence
The 2020 NFL draft will have a strong ESPN flavor to it. Pro Football Talk reported Saturday that the draft, which is a combined production by ESPN and NFL Network, will primarily feature ESPN employees and contributors. When the draft starts later this month, football fans will have no shortage of Mel Kiper and Booger McFarland on their screens.
How will the 2020 NFL draft work from a production standpoint, and who will be on each broadcast? Here are the answers.
The revised NFL Draft production includes some interesting and expected names
Instead of each network airing its own draft broadcast — with a third version, aimed at casual fans who might not be familiar with the draft itself — airing on ABC, ESPN and the NFL Network are producing a joint broadcast.
ESPN's Trey Wingo is expected to host the broadcast and interact with the network's top draft analysts, including draft guru Mel Kiper and former NFL executive Louis Riddick.
Former Tampa Bay Buccaneers defensive lineman analyst Booger McFarland will also be a part of the 2020 NFL draft coverage. McFarland has served as an announcer on ESPN's Monday Night Football the last two seasons.
The New York Post reported earlier this week that three NFL Network personnel members — host Rich Eisen, draft analyst Daniel Jeremiah, and Hall of Fame quarterback Kurt Warner — have already been confirmed for the 2020 NFL draft. It is not yet known if NFL Network reporters, including Ian Rapoport, will be featured in the TV broadcast.
Rece Davis is still scheduled to lead the ABC simulcast. Former Heisman Trophy winner Desmond Howard is expected to join analysts Kirk Herbstreit and David Pollack on the ABC broadcast.
The 2020 NFL draft will mostly be virtual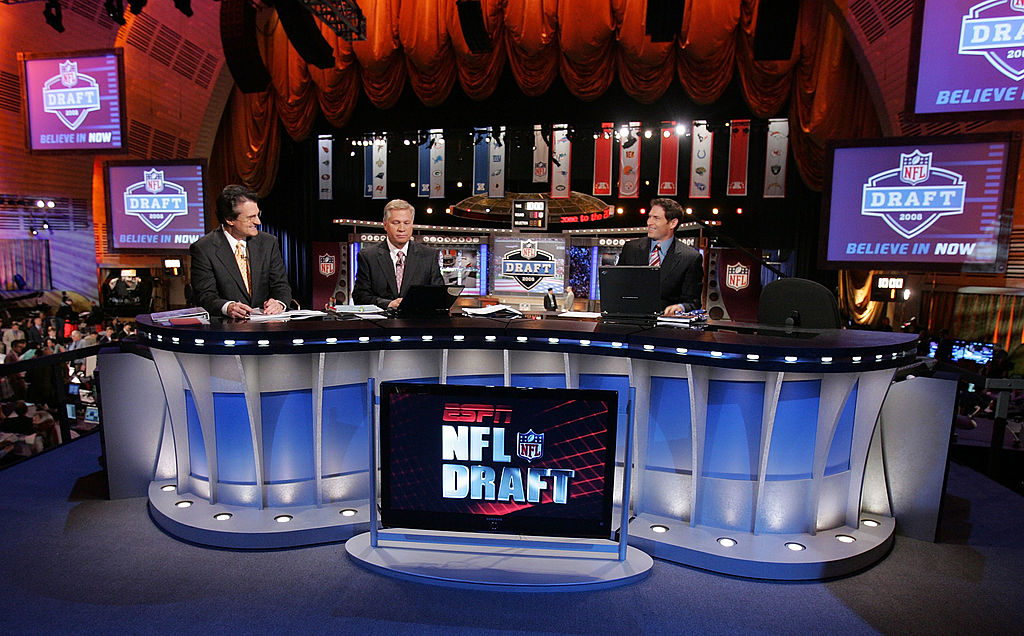 The 2020 NFL draft was initially scheduled to take place in Las Vegas. Instead, the draft will occur virtually and NFL Commissioner Roger Goodell will announce picks via a meeting app such as Zoom.
The NFL invited nearly 60 players to the virtual broadcast. Their reactions will air on a camera provided by the league. As the draft analysts discuss the pick, ESPN's Suzy Kolber will interview those players over a video link.
Trey Wingo and Rece Davis are each tentatively expected to lead their respective broadcasts from ESPN's studios in Bristol, Conn. It is not yet known how the NFL Network members will be included. NFL Network's studios are currently closed because of a California order that shut down nonessential businesses.
Employees from both networks will likely be active on social media, too. ESPN's Adam Schefter has nearly eight million followers and NFL Media's Ian Rapoport has 2.2 million. ESPN's Chris Mortensen has 2.3 million Twitter followers.
When is the 2020 NFL draft?
The 2020 NFL draft is currently expected to begin on Thursday, April 23, and run through the 25th. Aside from the draft pivoting to a virtual format, the NFL has not announced any schedule changes.
The NFL's 32 teams will all conduct the draft in remote locations because of social distancing. The NFL has not announced if cameras will be in the homes of executives and coaches during the draft.
All of this is suspect to change over the next two weeks depending on the latest developments with the coronavirus pandemic.