2021-22 College Football Playoff: How Many Titles Have the Michigan Wolverines Won?
The Michigan Wolverines are finally where they feel they belong: the College Football Playoff.
After years of watching the Ohio State Buckeyes regularly end their postseason hopes, veteran head coach Jim Harbaugh and his No. 2 Wolverines will face No. 3 Georgia in the Orange Bowl. A victory on Friday night will bring the Big Ten champions even closer to breaking a lengthy title drought.
The Michigan Wolverines are searching for their 10th (or 12th) national championship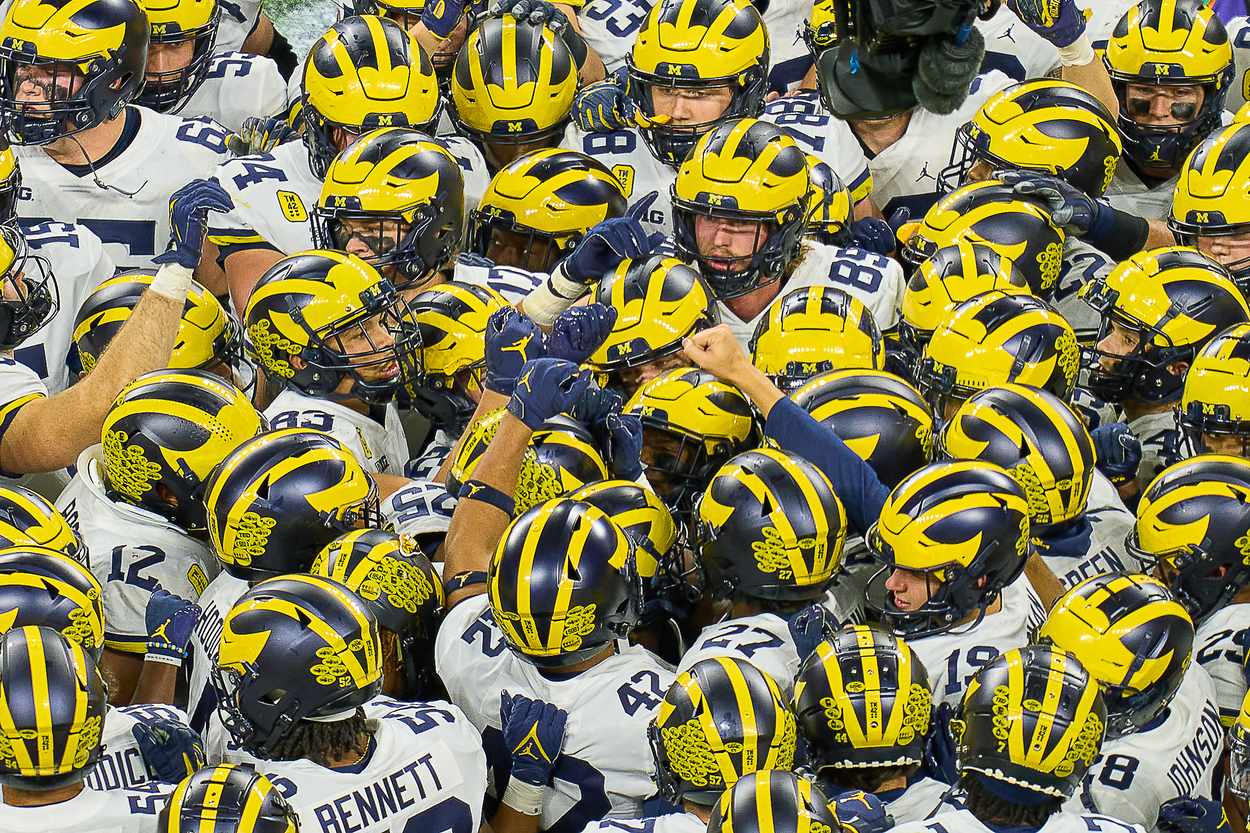 College football's history of national titles is strange, at least compared to other sports. Before the BCS or the CFP, there wasn't a traditional national championship game the way there is in college basketball or how the NFL has its Super Bowl.
According to the NCAA, Michigan officially has nine national titles, the most recent one coming in 1997. However, the university says its football team has 11 claimed national championships; the two bodies disagree on 1932 (the NCAA only recognizes Southern California as the sole champion) and 1947 (the same thing as 1932, but with Notre Dame instead of USC).
Wolverines fans will likely join their school in insisting they have 11 titles. But, as of December 2021, the NCAA officially only recognizes the nine. Whether or not Michigan's next championship will be its 10th or its 12th is up for debate.
Is that a fair answer? No, it's not, but at least you have another reason to dislike the NCAA.
The Wolverines only have two national titles since 1948
Depending on who you ask, Michigan either has had two or three national football titles since World War II ended. We already mentioned 1947 and the kerfuffle involved there.
A year later, the Wolverines went 9-0 and outscored opponents 122-17. In the final AP Poll, Michigan had nearly 100 more votes than second-place than Notre Dame.
It'd be nearly 50 years before Michigan fans celebrated another title. With All-Big Ten quarterback Brian Griese under center and Heisman Trophy-winning cornerback Charles Woodson leading the defense, Michigan went 12-0 and defeated Washington State in the 1998 Rose Bowl.
A staggering 31 players, including Griese, Woodson, and All-American left guard Steve Hutchinson, went on to reach the NFL. Hutchinson and Woodson entered the Pro Football Hall of Fame earlier this year, and they won't be the only ones forever enshrined in Canton.
Although Griese did the legwork that year, a sophomore quarterback from California completed 12 of his 15 passes in limited action throughout the season. Tom Brady replaced Griese as the Wolverines' starting quarterback in 1998 and enjoyed a fine career for himself.
Michigan still has a long way to go before it catches Alabama
Despite its title drought, Michigan still comes to mind as a blue-blood college football program. The Wolverines are still up there with Alabama, Ohio State, and Southern California among the schools that have been at this forever and remain relevant today. (Or, in USC's case, they remain relevant despite being perennially mediocre.)
As of December 2021, the NCAA recognizes Alabama as having won 17 national championships. Considering the Crimson Tide has won six titles (and counting) since 2009, the Wolverines have a long way to go before they can catch the 29-time SEC champions.
Michigan, at least, still has the advantage over Ohio State, which only has eight titles in over 130 seasons of playing. However, two of those have come since 2002, and the Buckeyes have regularly been in CFP contention since the process began in 2014.
Like Sportscasting on Facebook. Follow us on Twitter @sportscasting19.