2021 NBA Draft: 5 Things to Watch on NBA Draft Night
Though it's about a month later than usual, the 2021 NBA Draft is July 29. This year's draft class is one of the deepest in a while if the experts are correct. Most expect the Detroit Pistons to take Oklahoma State guard Cade Cunningham with the top overall pick.
Other top prospects include USC big man Evan Mobley, Gonzaga guard Jalen Suggs, Florida State forward Scottie Barnes, and the intriguing Jalen Green, who played last season with the Ignite in the NBA G-League.
The NBA draft seldom lacks for drama, with trades often shaking up the night. That's not to mention surprise picks. As if that wasn't enough, those surprises work in both directions, with players going higher than expected and others dropping down the draft board like an anchor. Occasionally, there will even be a player about whom no one has any information. Here are five things to watch for on NBA draft night.
5. The NBA draft
It's hard to watch for anything at the NBA draft if you're not actually watching the NBA draft. Here is the basic information for how to catch the event.
Time: 8 p.m. Eastern on July 29
Location: Barclays Center in Brooklyn
TV: ABC (first round), ESPN (first and second rounds)
The first 14 picks are what are known as lottery picks. Those spots are for the teams that did not qualify for the playoffs. The playoff teams begin picking at No. 15 overall and are positioned in inverse order of their record last season.
4. The draft order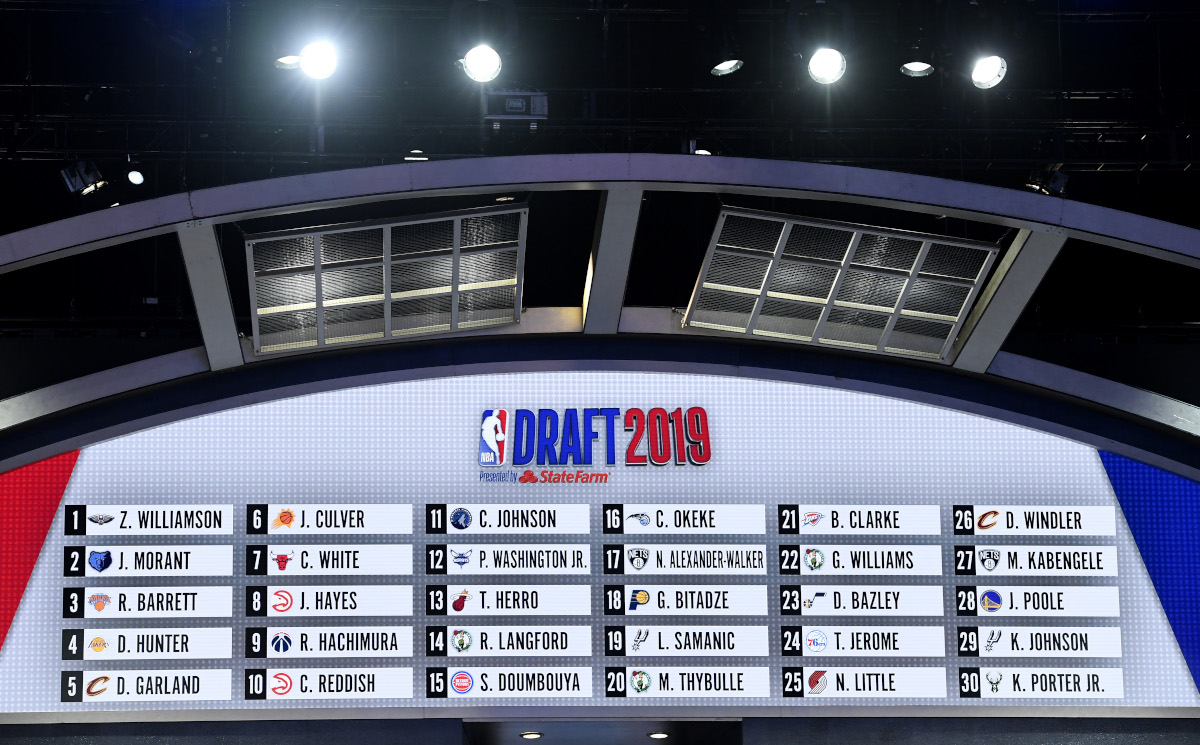 The NBA draft consists of two rounds of 30 picks each. Here is the order of selections as of 6 p.m. Eastern on July 27.
First Round
Detroit Pistons
Houston Rockets
Cleveland Cavaliers
Toronto Raptors
Orlando Magic
Oklahoma City Thunder
Golden State Warriors (from Minnesota)
Orlando Magic (from Chicago)
Sacramento Kings
New Orleans Pelicans (pick will be traded to Memphis)
Charlotte Hornets
San Antonio Spurs
Indiana Pacers
Golden State Warriors
Washington Wizards
Oklahoma City Thunder (from Boston)
Memphis Grizzlies (pick will be traded to New Orleans)
Oklahoma City Thunder (from Miami)
New York Knicks
Atlanta Hawks
New York Knicks (from Dallas)
Los Angeles Lakers
Houston Rockets (from Portland)
Houston Rockets (from Milwaukee)
Los Angeles Clippers
Denver Nuggets
Brooklyn Nets
Philadelphia 76ers
Phoenix Suns
Utah Jazz
Second Round
Milwaukee Bucks (from Houston)
New York Knicks (from Detroit)
Orlando Magic
Oklahoma City Thunder
New Orleans Pelicans (from Cleveland)
Oklahoma City Thunder (from Minnesota)
Detroit Pistons (from Toronto)
Chicago Bulls
Sacramento Kings
New Orleans Pelicans (pick will be traded to Memphis)
San Antonio Spurs
Detroit Pistons (from Charlotte)
New Orleans Pelicans (from Washington)
Brooklyn Nets (from Indiana)
Boston Celtics
Toronto Raptors (from Memphis)
Toronto Raptors (from Golden State)
Atlanta Hawks (from Miami)
Brooklyn Nets (from Atlanta)
Philadelphia 76ers (from New York)
Memphis Grizzlies (from Portland, will be traded to New Orleans)
Detroit Pistons (from Lakers)
New Orleans Pelicans (from Dallas)
Indiana Pacers (from Milwaukee)
Oklahoma City Thunder (from Denver)
Charlotte Hornets (from Clippers)
Charlotte Hornets (from Brooklyn)
New York Knicks (from Philadelphia)
Brooklyn Nets (from Phoenix)
Indiana Pacers (from Utah)
3. Expect NBA draft picks to be traded
At the 2020 NBA Draft, held virtually, there were nine trades involving picks. Four first-round draft picks moved in a three-team deal involving the Thunder, Timberwolves, and Knicks. Some of the most significant draft-day trades of late included the Luka Dončić-for-Trae Young swap in 2018.
There have also been several Hall of Fame players traded the day or night of their draft. For instance, some of those are Scottie Pippen, Chris Webber, Kobe Bryant, Ray Allen, and Bill Russell. Dirk Nowitzki will join that group the moment he's eligible for induction.
Because of the NBA's rules on draft-night trades, the deals lead to another phenomenon common to the NBA draft.
2. Players wearing the wrong hats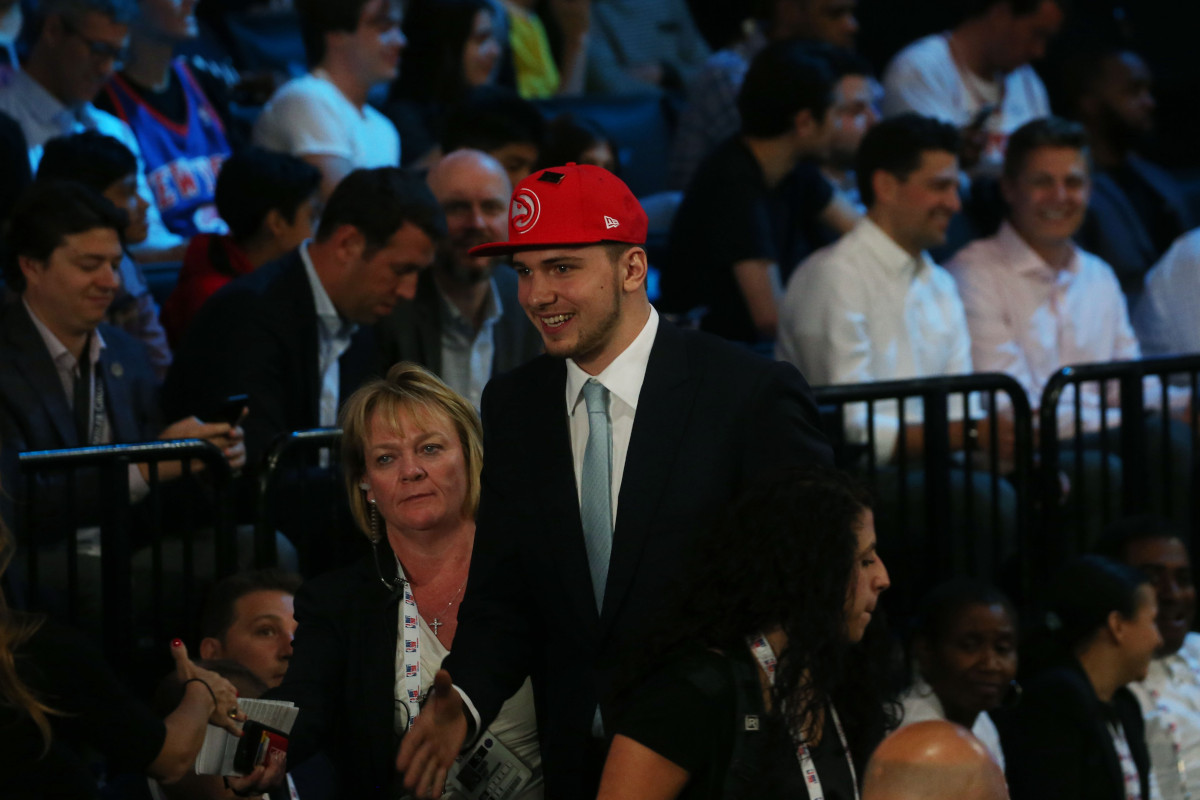 The last time the NBA draft was held live in 2019, there were 12 trades made on draft night. But under the NBA's salary cap rules, draft-night transactions don't become official until after the beginning of the new league year. That leads to one of the most annoying of draft phenomena, players having to wear the hat of the wrong team. It's brought us Dončić in a Hawks cap, Young in a Mavericks cap, and so on.
As a result, every year, fans cringe, and social media explodes with outrage (which essentially means it's a day ending with the letter "y"). Perhaps no situation was more absurd than De'Andre Hunter's in 2019. Someone handed him a Lakers cap. But the Lakers had traded the pick to the Pelicans. However, the Pelicans had sent the selection to the Hawks. So he was wearing the wrong cap once removed — terrible optics, to be sure.
1. Immediate analysis of NBA draft picks almost sure to be over the top
Cade Cunningham is a terrific prospect. He's not a future Hall of Famer before he suits up for a Summer League game. But somewhere out there, someone will make that claim. Some players will be selected too soon for some and too late for others in the same vein. In other words, the same player can be the subject of arguments that he was a reach and a steal, all happening in real-time.
That's one of the reasons why NBA draft night is many things, but it is seldom dull.
Draft history information courtesy of NBA.com and Basketball Reference.