Could the 2021 NBA Draft Be a Catalyst for Superstar Trades?
The NBA draft usually involves an abundance of trades in addition to the actual drafting of players. Whether teams maneuver around the board to snatch up one a top prospect or send out picks in return for established players, deals can come fast and furious.
Many NBA superstars are rumored to be on the move this offseason, and if recent deals are any indication, current and future picks will be heavily involved. Draft night could be the perfect motivator for those star-laden trades to hit the finish line as teams hone in on their favorite players in the 2021 class.
The most likely trade during 2021 NBA Draft: Ben Simmons
There are a few major superstars being discussed at the NBA water cooler, but the best player who's absolutely available on the trade market is Philadelphia's Ben Simmons.
The 76ers are asking for a haul for Simmons, but their price will likely come down. According to CBSSports, the teams most linked to Simmons right now are the Miami Heat, Toronto Raptors, and Washington Wizards.
If draft picks are involved, the Heat currently own zero in this year's draft according to RealGM. Washington owns the No. 15 pick this year and has protections on its future picks.
The Raptors are more interesting, though, as they own the No. 4 overall pick in 2021 as well as all of their own first-rounders through 2027. Toronto also owns picks No. 46 and 47 in this year's second round. Depending on the players added to the trade, there may be a Simmons deal to be had here.
The biggest superstar who could be traded during the 2021 NBA Draft: Bradley Beal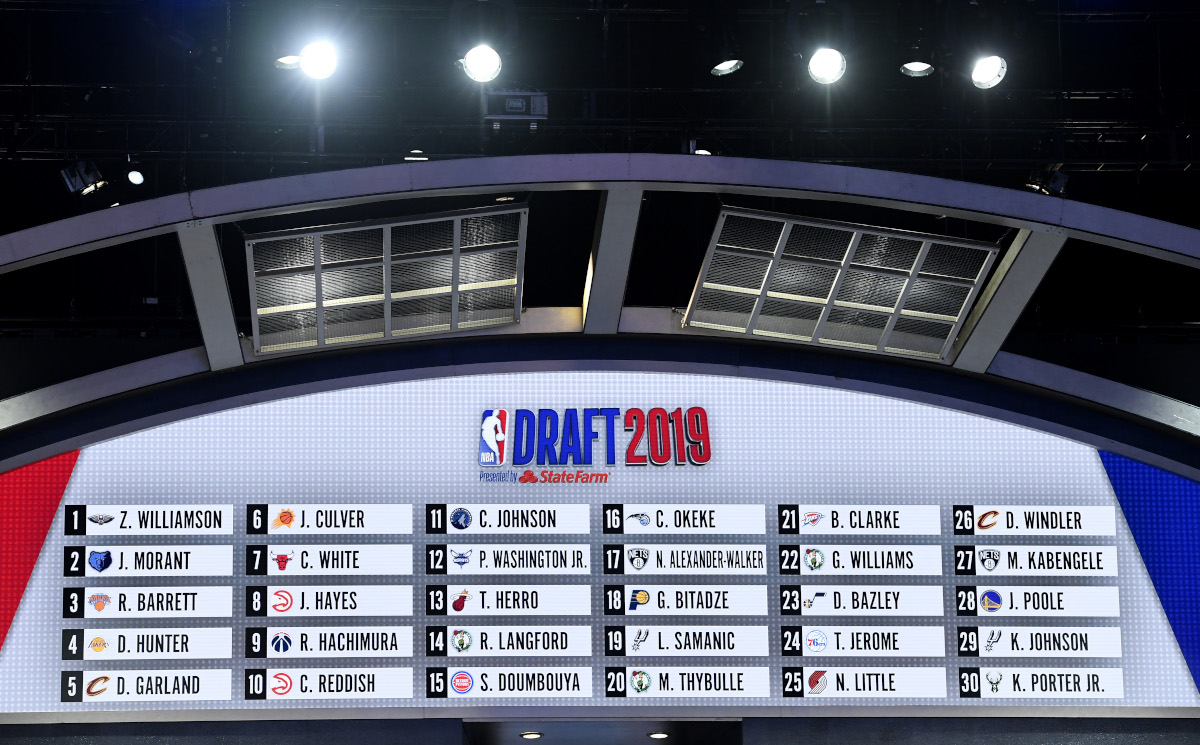 Caveat: Beal has made it known that he's not asking out of Washington at the moment, so it would take a huge offer for the Wizards to part with their franchise shooting guard. Stranger things have happened though.
According to NBC Sports, the latest team that's been bandied about in Beal rumors is the Golden State Warriors, who own both the No. 7 and No. 14 picks in this year's first round. A package centered around those two lottery picks, maybe along with last year's No. 2 overall pick James Wiseman, could be the start of a deal for Beal. That would give Washington the seventh, 14th, and 15th picks this year, as well as its own first-round pick next season, and likely some future firsts from Golden State.
The Wizards would leave themselves three options in this scenario: Stay put and take three of the top 15 players on their board this year; package a few or all of those picks to move up somewhere into the top 10; or, depending on how the board falls, trade back and acquire more future picks to continue their post-Beal rebuild.
Which trades involving the 2021 NBA Draft have already occurred and which could be next?
One trade has already come down the pipeline involving 2021 draft picks as the Memphis Grizzlies moved up from No. 17 to No. 10, trading away Jonas Valanciunas to New Orleans and absorbing the contracts of Steven Adams and Eric Bledsoe. Memphis clearly has a specific prospect, or prospects, in mind, necessitating their move up the board. The Brooklyn Nets also made a draft-day deal, sending Landry Shamet to the Phoenix Suns for Jevon Carter and pick No. 29, and the Cleveland Cavaliers traded Taurean Prince to Minnesota for Ricky Rubio, a 2022 second-round pick and cash.
Other rumors continue to swirl according to ESPN; As stated above, the Warriors want to be players with their two lottery picks, the Los Angeles Lakers hope to turn the 22nd overall pick into a rotation piece and are now going star hunting for Russell Westrook, and teams still want to make a deal with the Detroit Pistons for the first overall pick, although it looks like the team is set to pick Oklahoma State's Cade Cunningham.
The draft is usually a hotbed for trades. Sparks should fly as the 2021 NBA Draft should be no different.