2021 NFL Draft: The San Francisco 49ers Believe Mac Jones; Offense Is the Answer In a 7-Round Mock
When the San Francisco 49ers make their first call of the 2021 NFL draft, Mac Jones should expect to hear his phone ring.
Jones, who spent most of his first three seasons at Alabama backing up Jalen Hurts and Tua Tagovailoa, is about to be a first-round pick in this year's draft. And after the 49ers take Jones, they'd be wise to follow the ideas in this mock draft and lean heavily on adding offensive players.
This mock draft will not include trades — outside of those which had already been made by publication — and features information on all nine of the 49ers' potential draft picks.
The 49ers should select Mac Jones in the 2021 NFL draft's first round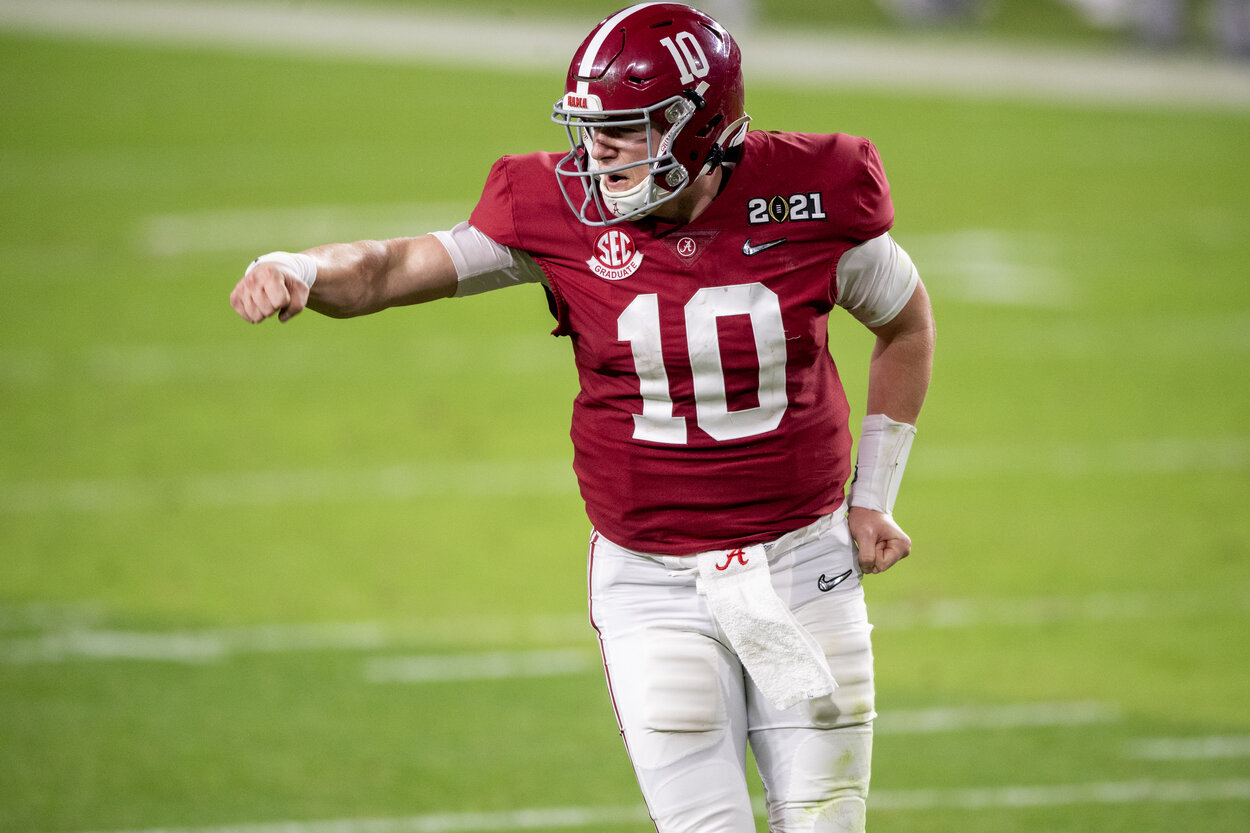 RELATED: Who Are the Top Quarterbacks in the 2021 NFL Draft After Trevor Lawrence?
The Jacksonville Jaguars have all but started holding a neon sign announcing that Trevor Lawrence will be the No. 1 overall selection. With Lawrence off the board, it appears that the New York Jets will select BYU's Zach Wilson with the second pick.
So what will the San Francisco 49ers do with the third pick? Alabama's Mac Jones and Ohio State's Justin Fields are both realistic quarterback options, even after the 49ers publicly committed to Jimmy Garropolo. San Francisco can also trade down and stockpile more picks.
We're choosing to keep it simple here. All roads appear leading to the 49ers adding Jones, who torched SEC defenses last year, as their quarterback of the future. 49ers head coach Kyle Shanahan has appeared infatuated with Jones throughout the draft process, and this is a natural partnership.
Although there are concerns about Jones's release and pro potential, his arm strength and accuracy will be a perfect fit in Shanahan's conservative system.
Wyatt Davis is a perfect second-round choice for San Francisco
RELATED: Cowboys Owner Jerry Jones Could Make a Major Splash at the 2021 NFL Draft: 'He'll Offer Emmitt Smith and Larry Allen, Maybe Throw in Michael Irvin'
Mac Jones will need some younger offensive linemen, and Ohio State's Wyatt Davis makes perfect sense here.
Davis is the grandson of Packers legend Willie Davis, a pass-rusher who entered the Pro Football Hall of Fame in 1981. A unanimous All-American last season, Davis brings size (6 feet 4 inches and 315 pounds) and relative youth — he'll play all of the 2021 season at 22 years old — to the San Francisco 49ers.
Davis is expected to play right guard in the NFL.
The San Francisco 49ers focus on defense in the middle rounds
RELATED: Dee Ford's Injury Issues Could Cost the 49ers $12 Million
The San Francisco 49ers have five selections between the third and fifth rounds, and we believe that this is the best time to start addressing some defensive holes.
Pick No. 102. Robert Rochell, CB, Central Arkansas: Rochell is a talented young cornerback prospect who can play in any scheme. If Rochell falls to the San Francisco 49ers at this point in the third round, they have to capitalize and add him to a secondary that likely won't include Richard Sherman next fall.
117. Anthony Schwartz, WR, Auburn: Schwartz enjoyed a breakout season at Auburn last year, hauling in 54 catches for 636 yards and three touchdowns. An exceptional track athlete in high school, Schwartz could be a fun speed threat for Mac Jones.
155. Jamien Sherwood, S, Auburn: At 6 feet 2 inches and 220 pounds, Sherwood uses his size and hitting skills well. Sherwood had 8.5 tackles for a loss at Auburn and could move to linebacker in the pros.
172. Jordan Smith, EDGE, UAB: After beginning his career at the University of Florida, Smith transferred to a junior college following his alleged role in a credit card fraud scheme. Smith later found himself at UAB and totaled 14.5 sacks and 27 tackles for a loss over the last two years.
No. 180. Demetric Felton, WR, UCLA: Felton played a running back/receiver hybrid role at UCLA and also returned kicks. He'd be an intriguing addition to the San Francisco 49ers' offense, but he might need a year to fully develop at receiver.
This mock draft has a very distinctive Power 5-feeling to it, which isn't changing anytime soon.
Mac Jones could stand to benefit from some late-round prospects
RELATED: An NFL Math Goof Gifted Bill Belichick and the Patriots an Extra Draft Pick
The San Francisco 49ers have two picks in the final two rounds, and it makes sense for them to focus on offensive players here.
Pick No. 194. Jaret Patterson, RB, Buffalo: At 5 feet 6 inches and 195 pounds, Jaret Patterson isn't an imposing figure. However, Patterson was a touchdown machine in college, rushing for 52 touchdowns in three seasons at Buffalo. That included an eight-touchdown performance against Kent State last fall. 
230. Landon Young, OT, Kentucky: A former five-star recruit, Young will likely play right tackle or right guard in the NFL. If he falls to the seventh round, this is a prospect that the 49ers need to take a chance on.
The 2021 NFL draft begins Thursday, April 29, and ends on Saturday, May 1.
Like Sportscasting on Facebook. Follow us on Twitter @sportscasting19.