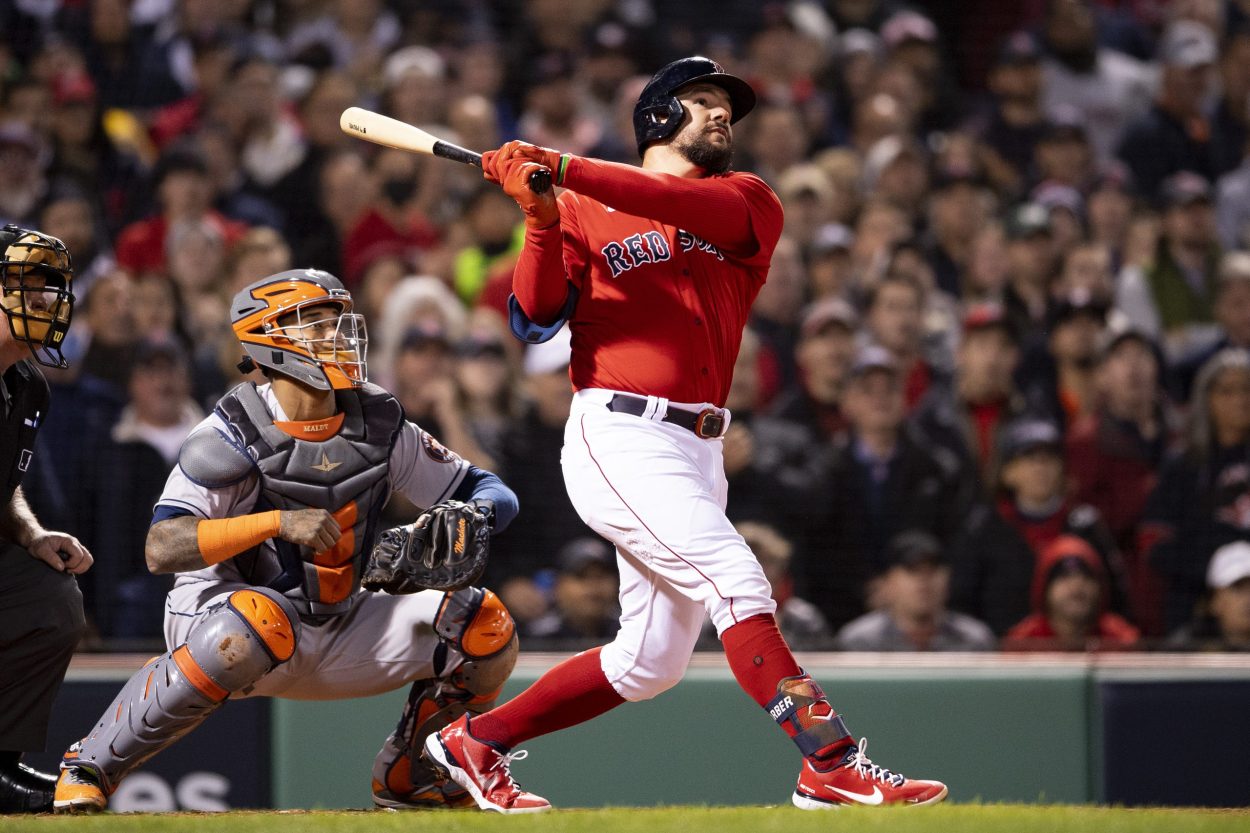 2022 Boston Red Sox: Five Burning Questions Heading Into Spring Training
The status of Kyle Schwarber is one of many questions facing the Red Sox as Spring Training begins.
The Red Sox surprised everyone in 2021 – mostly themselves and their own fan base – by reaching the postseason and extending the Houston Astros to six games in the American League Championship Series. Red Sox Nation had expected nothing but gloom and doom for the franchise after trading away Mookie Betts before the 2020 season, but general manager Chaim Bloom put together a winning club in 2021 and now has the Red Sox eyeing a return to their fifth World Series in the past 18 years.
But getting there will be a challenge without an established closer, some outfield uncertainty and questions about Chris Sale's season-long durability. Here are five burning questions for the Red Sox as Spring Training begins on Sunday.
Will the Red Sox bring back Kyle Schwarber?
Schwarber etched his name into the long, proud history of Red Sox postseason legends last October, channeling his inner Dave Henderson as a deadline-deal acquisition that turned into an October force. But that very postseason breakout now makes Schwarber one of the top free agents available, and while Schwarber has indicated a desire to return to Boston, it's going to come down to dollars, and the Red Sox under general manager Chaim Bloom have not been big free-agent spenders.
But the Red Sox will have a slew of big contracts coming off the books after the 2022 season, so it might not be a bad time for Bloom to go against personal preference and roll out a big contract here. The biggest problem for the Red Sox is there are now 15 National League teams that can slot Schwarber into a DH role, increasing the chances he signs elsewhere.
Who will be the closer?
The bullpen was a high-wire act by the time the Red Sox reached the postseason, and the lack of an established closer doomed them in Game 4 of the American League Championship Series against the Houston Astros. Matt Barnes had been terrific as the closer early in the season, but lost his way so badly by September he was left off the ALCS roster altogether. He had a chance to redeem himself this season, but has much to prove to get the job back.
Garrett Whitlock showed some aptitude for the role after Barnes relinquished the job, but Whitlock profiles as a starter. A solid abbreviated camp by Barnes is the best outcome for Alex Cora.
How will the outfield shake out?
The Red Sox realized how much they missed defensive wizard and 2018 postseason hitting hero Jackie Bradley Jr. last season and re-acquired him for slugger Hunter Renfroe after the season. But will Bradley play center, or left. Kike Hernandez seems to have locked up the center field job after a terrific season last year. Bradley in the tough Fenway Park right field seems like the path the Red Sox will take.
Alex Verdugo is expected to be the left fielder, but the Red Sox are also hot on the heels of Japanese League outfield sensation Seiya Suzuki, who hit 38 homers for the Hiroshima Carp last season and had an OPS of 1.072. If the Red Sox are able to sign Suzuki, you could see Bradley go back to center, Verdugo to right and Hernandez assume fourth outfielder/second base duties. Cora has some options here.
Does the new CBA allow Chaim Bloom to make a big move now?
Suzuki would be a significant outfield upgrade, and would be the kind of move Bloom has not made since becoming GM. It seems far more likely that Bloom will look to spend money on extensions for third baseman Rafael Devers, who becomes a free agent after the 2023 season, and shortstop Xander Bogaerts, who can opt out of his contract after 2022.
Those two are the cornerstones of the lineup, and with J.D. Martinez coming off the books after this season, Bloom's focus will be on keeping his left side of the infield intact.
Can Chris Sale build off a solid finish to 2021?
It has been a frustrating journey for Sale in Boston since striking out Manny Machado to end the 2018 World Series. But all seemed to be right with the world once again at the end of 2021, with Sale returning from Tommy John surgery and posting a 5-1 record with a 3.16 ERA in nine starts. He struck out 52 in 42.2 innings and looked very much like the pitcher the Red Sox acquired in 2017. Then Sale pitched five brilliant innings of Game 5 in the ALCS, allowing one run on two hits, before faltering in the sixth as the Astros pulled away.
Still, Sale showed he still has what it takes to be a front-end starter, and another offseason to build up his arm should allow Sale to find more success in 2022.