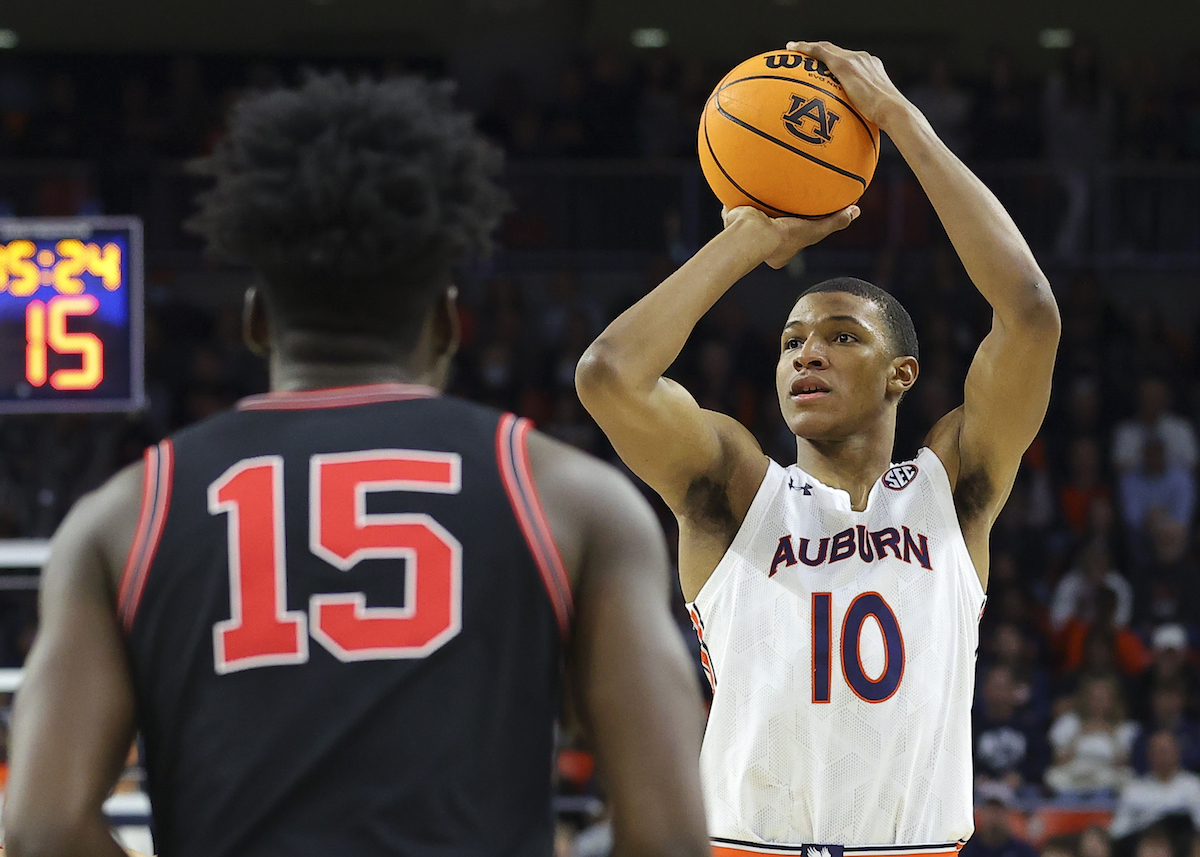 2022 NBA Mock Draft: Jabari Smith, Chet Holmgren, Rest of 1st Round
It's time for a first-round mock draft. Where do Chet Holmgren, Jabari Smith, Paolo Banchero, and the rest of the big names fall for the 2022 NBA draft?
With the All-Star Game in the rearview mirror, plenty of NBA organizations — whether they'll admit it or not — are shifting at least some of their focus to the draft. That means it's time for a 2022 NBA mock draft covering all 30 picks in the first round.
Does Jabari Smith or Chet Holmgren deserve to go No. 1 overall? Paolo Banchero once made news for losing a substantial amount of weight each time he played for the Duke Blue Devils, but can he or Jaden Ivey rise high enough to challenge the two established favorites? Which players have so much upside that teams will be willing to stomach a bit more risk earlier in the proceedings?
Trades aren't happening in this mock draft, but 30 picks are.
1. Orlando Magic: Jabari Smith, PF, Auburn
With Wendell Carter Jr., Jalen Suggs, Cole Anthony, and Franz Wagner on the roster and Markelle Fultz and Jonathan Isaac working their way back to full strength, the Orlando Magic are the rare top-of-the-lottery team that doesn't have any glaring positional needs. Whoever comes off the board at No. 1 will represent a best-player-available selection, and that narrows the field to Auburn's Jabari Smith and Gonzaga's Chet Holmgren.
With phenomenal defensive instincts and a high-release, smooth jumper that baffles defenders attempting to slow down his 6-foot-10, 220-pound frame, Smith can submit sequences that look eerily reminiscent of a young Kevin Durant. He's not the most advanced self-creator, but the positives far outweigh the negatives, which you usually have to dig deep to unsurface.
2. Detroit Pistons: Chet Holmgren, PF/C, Gonzaga
Imagine Cade Cunningham running pick-and-roll/pop action with Jerami Grant and Chet Holmgren, a true 7-footer knocking down over 46% of his three-pointers as a freshman at Gonzaga. The incoming rookie might be at his best on offense as a trailing option, but he also has the ball skills and passing instincts to make reads on the short roll and find open teammates in the corners.
Good as he is on offense, though, Holmgren is that much better defensively. An interior stopper and high-quality rim-protector who contests everything in his vicinity, he also fits nicely with a Detroit Pistons squad in need of a true defensive big even if switching out to the perimeter isn't totally within his wheelhouse.
3. Houston Rockets: Jaden Ivey, PG/SG, Purdue
Even while operating within Purdue's slow-it-down offense, Jaden Ivey thrives when he gets to use his jets. He's a transition dynamo who routinely puts his athleticism on full display, and defenders have nothing but trouble when they try to keep him away from the hoop.
A score-first, score-second prospect with immaculate physical tools isn't a perfect fit on a Houston Rockets team carving out a bigger and bigger role for rookie guard Jalen Green (and still trying to experiment with Kevin Porter Jr. at point guard), but the No. 1 overall-type talent is too much to pass up at this spot in the proceedings.
4. Oklahoma City Thunder: Paolo Banchero, PF, Duke
If Paolo Banchero can improve his lateral quickness on the defensive end and work on his three-point stroke, he'll only be more well-rounded at the NBA level. But even if he doesn't reach his full point-preventing potential and thrives mostly as a mid-range and block-bound option capable of creating his own looks with a wide variety of skill-based moves, the Duke product will be a high-level scorer in any lineup.
Pairing him with Josh Giddey, Shai Gilgeous-Alexander, and Aleksej Pokusevski, among the many other young options on the Oklahoma City Thunder's books, won't create an ideal floor-spacing situation, prompting the front office to chase shooter after shooter on the open market.
Still, he's a mismatch nightmare when he establishes himself around the basket and has the passing acumen to create some intriguing options for head coach Mark Daigneault to deploy.
5. Indiana Pacers: AJ Griffin, SF, Duke
AJ Griffin's knees held him back early in his inaugural campaign with the Blue Devils and furthered an injury history that might emerge as a red flag, especially for an Indiana Pacers organization that has dealt with more than its fair share of significant injuries. But the two-way upside is spectacular enough to justify the risk for a team with Malcolm Brogdon, Tyrese Haliburton, Chris Duarte, Buddy Hield, and Myles Turner on the books for 2022-23.
Even while operating as a second fiddle under Mike Krzyzewski's supervision, Griffin has left little doubt about his potential. He's a smart and long wing who thrives on and off the ball on offense while showing positional malleability on the defensive end — exactly the type of profile that should be maximized while operating alongside a heady, deep backcourt.
6. Sacramento Kings: Johnny Davis, SG, Wisconsin
Does Johnny Davis lack enough quickness and ability to generate on-ball separation that he'll flame out in the NBA as a slightly undersized 6-foot-5 shooting guard? Is he so dominant while operating in Big Ten games that feature such reduced pace and spacing that he'll be able to thrive even more in the open playing style of the Association?
This would be a risky pick for the Sacramento Kings, and not just because Davis' measurables don't indicate much defensive promise. But risks are acceptable for an organization trying to do the impossible and break out of the doldrums it's occupied for the better part of two decades.
Davis is one of the most effective collegiate players in the country, almost single-handedly keeping Wisconsin relevant without a teammate even remotely comparable to De'Aaron Fox or Domantas Sabonis. That's worth a gamble.
7. Portland Trail Blazers (via New Orleans Pelicans): Bennedict Mathurin, SG, Arizona
So much of Bennedict Mathurin's energy has been focused on improving his offensive game that NBA scouts still can't be sure how well his defensive tools will translate to the professional level. He should be a plus defender, but whether that actually happens is up to him and his mentality.
Regardless, Mathurin is the type of complementary scoring talent the Portland Trail Blazers need to place around Damian Lillard as they enter a pseudo-rebuild while also trying to regain their competitiveness and prevent the superstar guard from actually requesting a trade. The Arizona sophomore is a deadly transition option, a reliable catch-and-shoot threat, and an increasingly effective shot-creator unafraid of challenging bigger defenders at the rim.
8. San Antonio Spurs: Keegan Murray, PF, Iowa
Only one question should matter for the San Antonio Spurs: How well does [insert player here] fit alongside Dejounte Murray?
As an open-floor threat from a frontcourt position, a high-quality three-point marksman with the free-throw acumen to mollify concerns about lackluster freshman numbers, and a perimeter shot-creator who can help space the floor, Keegan Murray checks all the offensive boxes. In the midst of a stellar sophomore season at Iowa, he doesn't demand touches so much as make the most of them.
9. New York Knicks: Shaedon Sharpe, SG, Kentucky
Sam Vecenie of The Athletic reported that Shaedon Sharpe continues planning to make his Kentucky debut next year, also revealing that "John Calipari continues to say they expect him at Kentucky next year after having announced that he wouldn't play this season, although that language has softened a bit."
Sharpe enrolled early with the Wildcats, planning to practice with the team but not suit up in meaningful action until 2022-23. But with the draft buzz rising and speculation running rampant that he may well skip the second year of his two-season plan, we're including him based on his sheer talent.
The Knicks, desperate for talents of all types amid a lackluster follow-up campaign to last year's unexpected success, would be foolish to pass up on him — if he enters and falls this far in the first place, which would be unlikely with a strong combine/workout showing.
10. Portland Trail Blazers: Jalen Duren, C, Memphis
With Jusuf Nurkic entering unrestricted free agency, the Blazers should be looking to find their center of the future, ideally in the form of a big man who can make life easier for Damian Lillard on both ends of the floor. Bennedict Mathurin is already in place courtesy of the No. 7 pick, so this is the only logical direction.
Once Chet Holmgren comes off the board, this class' crop of centers dries up pretty quickly. The 6-foot-11, 250-pound Jalen Duren is the only other true lottery option thanks to his 7-foot-5 wingspan and remarkable explosion on the defensive end.
The Memphis freshman is already showing strides as a mid-range shooter and has started to display some comfort operating in space, but even if he's limited to lob finishes and transition showcases, his defense alone makes him a value here.
11. Memphis Grizzlies (via Los Angeles Lakers): Kendall Brown, SF, Baylor
What do the Memphis Grizzlies actually need? Their ascent up the Western Conference standings has come far quicker than expected, paced by MVP candidate Ja Morant and a supporting cast that includes — deep breath — Jaren Jackson Jr., Desmond Bane, Steven Adams, De'Anthony Melton, Ziare Williams, Dillon Brooks, and Brandon Clarke, all of whom are under contract beyond the current season.
Already a contender, the Grizzlies can afford to take the home-run swing, and no prospect in this range fits that description better than Kendall Brown. If his jumper develops as a complement to his top-of-the-backboard athleticism, he could be a fearsome two-way force on the wings and a fixture in All-Star conversations. That's just a big "if."
12. Washington Wizards: TyTy Washington Jr., PG, Kentucky
After moving on from Spencer Dinwiddie, the Washington Wizards desperately need a point guard of the future. Currently, Ish Smith is the only 1 on the roster for 2022-23, and that's not exactly inspiring if the capital city residents are looking to make noise with their newly constructed Bradley Beal-Kristaps Porzingis duo.
TyTy Washington Jr. might experience a few athleticism-related struggles at the sport's highest level, and his injury history is more extensive than any organization would like to see from a 20-year-old. But when he's allowed to handle the rock with autonomy, Washington has already proved in Lexington that he's a brilliant basketball mind with the passing chops to justify a lead-guard role.
Freshmen don't typically hold down top-10 spots on the SEC's assist leaderboard. Plus, there's the whole Washington-Washington thing.
13. Atlanta Hawks: Ochai Agbaji, SG, Kansas
With Delon Wright set to hit the open market, the Atlanta Hawks could opt to pursue a point guard if they don't have confidence in the development of Skylar Mays and Sharife Cooper. But unless TyTy Washington Jr. falls, this class doesn't have a premier option at the position, which would mean reaching early (or trading down) for Jean Montero, Blake Wesley, or Kennedy Chandler.
Instead, look for Atlanta to opt for more wing depth, buffering itself against the future paydays that will need to come for De'Andre Hunter and Onyeka Okongwu. Ochai Agbaji makes the most sense as a three-and-D option who can use his physicality against bigger wings, knock down close to 40% of his treys, and maximize his output while accepting a more specialized role.
14. Charlotte Hornets: Dyson Daniels, SG, G League Ignite
Though drawing conclusions from an exhibition like the Rising Stars Challenge is a perilous process, Dyson Daniels still held his own against players with NBA experience, recording four points, three rebounds, two assists, and two blocks while strutting his stuff on both ends of the floor. With the overall effort level again serving as an important caveat, he at least looked like he belonged.
Offense will be Daniels' biggest challenge at the next level, but LaMelo Ball has a knack for assisting with that. More important is the 6-foot-6 guard's optionality on the defensive end, where he can leverage his physicality and instincts to become this class' best backcourt defender and give Charlotte exactly what it needs to make strides up the Eastern Conference standings.
15. Oklahoma City Thunder (via Los Angeles Clippers): Nikola Jovic, SF, Mega Bemax
When you have roughly 1,713 first-round picks in the next decade, you can afford to take some fliers. That's the case here with the Oklahoma City Thunder and Nikola Jovic, who could be a draft-and-stash option until his defense catches up with his offensive game. His passing skills are off the charts, and his shooting has the potential to impress, as well.
16. Houston Rockets (via Brooklyn Nets): Mark Williams, C, Duke
With Jaden Ivey already in place in this mock draft, the Houston Rockets are going for all the defense they can find to pair with him, Jalen Green, and Christian Wood, none of whom excel on the preventing end.
Rudy Gobert is a lofty, perhaps unattainable comparison for Mark Williams, but the 7-foot-1 center with a 7-foot-7 wingspan fills a similar screen-setting, rim-running offensive role and excels at shutting down the interior as a fearsome rim presence.
17. Minnesota Timberwolves: Tari Eason, PF, LSU
Defense must again be the name of the game here. Tari Eason may not have a pretty jumper and creates most of his offense around the basket, but his dual ability to guard the perimeter and bang with fellow bigs on the interior is exactly what a Minnesota Timberwolves squad featuring D'Angelo Russell, Anthony Edwards, and Karl-Anthony Towns should be seeking.
18. San Antonio Spurs (via Toronto Raptors): Jaden Hardy, SG, G League Ignite
A franchise not used to prolonged playoff droughts should look to give Dejounte Murray the backcourt partner Derrick White never quite became. Due to all-around shooting struggles, Jaden Hardy's stock has fallen significantly during his time with the G League Ignite, but the slide ends here. The 6-foot-4 guard's upside is that significant, and few coaching staffs are more prepared to alter his mindset and get him playing winning basketball.
19. San Antonio Spurs (via Boston Celtics): Walker Kessler, C, Auburn
Averaging 4.6 blocks, Walker Kessler may well be the best defensive player in all of collegiate basketball. He's a stifling presence around the hoop who does as much to deter shooting efforts as he does to swat them away once they enter his domain.
He's also made a trey in three of his last seven outings, and that development should convince San Antonio to use its third first-round pick on a big who can make an immediate defensive impact while also possessing enough offensive upside to displace Jakob Poeltl and Jock Landale down the road.
20. Denver Nuggets: Patrick Baldwin Jr., SF/PF, Milwaukee
Especially given the uncertainty surrounding Michael Porter Jr., the Denver Nuggets must prioritize wing and forward depth, even if it's coming in the form of a boom-or-bust prospect like Patrick Baldwin Jr. The Milwaukee freshman has struggled against Horizon League competition, but he's also playing next to guards incapable of getting him the ball cleanly or drawing enough attention away for even the occasional uncontested look.
Baldwin is admittedly having a terrible season. For a team with plenty of shot-creation skill in the form of Nikola Jokic and a healthy Jamal Murray, taking such a risk might still be worth the potential reward.
21. Dallas Mavericks: Jean Montero, PG, Overtime Elite
Per NBA.com, no team takes fewer shots per game from within five feet than the Dallas Mavericks, who desperately need to figure out how to put more pressure on the rim. Even with Luka Doncic in the fold, that means looking for a basket-attacking guard such as Jean Montero, who can finish ambidextrously around the hoop and regularly shows off ball-handling wizardry well beyond his years.
This might be a bit of reach given Montero's defensive struggles and woes from the perimeter, but the fit is otherwise too strong to overlook.
22. Milwaukee Bucks: Christian Koloko, C, Arizona
Christian Koloko must continue adding strength to his frame in order to withstand the rigors of an 82-game NBA season and ensuing postseason run, but the defensive skills are already in place for this 7-foot-1 interior stopper.
He's already advanced in drop coverage and shows enough quickness to occasionally hold his own in space, which makes him a logical fit for a Milwaukee Bucks squad without too many holes but growing concerns about the longevity of Brook Lopez and his one remaining year on the books.
23. Indiana Pacers (via Cleveland Cavaliers): Wendell Moore Jr., SF, Duke
The Indiana Pacers have already added AJ Griffin in this mock draft, so why not make it a second wing from the same program?
Wendell Moore Jr. may not have superstar upside, but he's effective in virtually every area. Though he profiles primarily as a three-and-D option, he's showed some juice off the bounce and excels both in transition and when cutting to the hoop.
24. Brooklyn Nets (via Los Angeles Clippers): EJ Liddell, PF, Ohio State
It's hard to complain about production when EJ Liddell is averaging a whopping 19.9 points, 7.6 rebounds, 2.9 assists, 0.5 steals, and 2.5 blocks while slashing 51.7/40.2/75.2 as a junior for Ohio State. At 6-foot-7, 240 pounds, he might not be big enough to stick with true bigs in the Association and definitely doesn't have the lateral quickness to hang with perimeter-dwelling forwards, hence a spot in the pecking order that doesn't line up with the jaw-dropping stats.
The Brooklyn Nets, though, can afford to take that chance with the positionless Ben Simmons in the fold after the 2022 trade deadline. If they can hide Liddell on defense and let him play to his strengths as a complementary offensive player who sometimes hesitates to pull the trigger and doesn't excel creating off the bounce, he'd be a great tertiary option alongside Simmons and the superstar tandem of Kevin Durant and Kyrie Irving.
25. Memphis Grizzlies (via Utah Jazz): MarJon Beauchamp, SG, G League Ignite
"The hope is that [MarJon] Beauchamp will become a quality 3-and-D player in the NBA, but he's still refining both of those skills, making this a little bit of a tricky guess for scouts," Jeremy Woo wrote for Sports Illustrated. "He is a comfortable midrange shooter and has a terrific frame with long arms, which makes him projectable in both departments. He struggles to create shots for himself, which places an emphasis on his ability to fit in."
Late in the first round, why not take the flier? Beauchamp's upside is palpable, and Memphis already has 13 players under contract for 2022-23, not including its first pick of this first round. Even if the Washington native is stashed in the G League for another season to develop his all-around game, the idea here is to chase the loftiest potential possible.
26. Miami Heat: Blake Wesley, PG, Notre Dame
Though the shots aren't falling during his freshman season at Notre Dame, Blake Wesley is still a born scorer who overcomes a relative lack of explosion with excellent instincts on and off the ball and the dribbling skills to break down any opponent. If the jumper starts falling, that, coupled with his stifling on-ball defense, would make him the obvious heir apparent to soon-to-be 36-year-old Kyle Lowry for the Miami Heat.
27. Chicago Bulls: Kennedy Chandler, PG, Tennessee
Speed, speed, speed, and more speed.
Kennedy Chandler must develop a better feel for the game, particularly in half-court sets, and those struggles manifest as both out-of-control bursts to the basket and some untimely turnovers for the 6-foot-0, 171-pound point guard. The Chicago Bulls are deep enough to chase the upside, though, because if the game ever slows down for him…
28. Memphis Grizzlies: Ismael Kamagate, C, Paris Basketball
With Kendall Brown and MarJon Beauchamp already joining the Western Conference contenders in the first round, they can go the draft-and-stash route in the hopes of eventually securing a replacement for Steven Adams.
Ismael Kamagate, a 6-foot-11 center from Paris, thrives when showcasing his hops and quickness as a shot-blocker or rim-runner, and that should create enough intrigue for an organization that already has more playable options than roster spots.
29. Golden State Warriors: Harrison Ingram, SF, Stanford
On one hand, the Golden State Warriors generally tend to prioritize shooting from their wings, and that's arguably the weakest aspect of Harrison Ingram's game. On the other hand, they also love intelligent players who make the right plays regardless of circumstance, and that describes Ingram perfectly. The Stanford freshman is a high-energy defender and gifted passer who could help bridge the gap between eras for Dub City.
30. Oklahoma City Thunder (via Phoenix Suns): JD Davison, PG, Alabama
This is all about upside for a Thunder franchise that has the draft equity to swing for the fences with every single pick. JD Davison's passivity and inconsistent shooting form (both in live action and from the free-throw stripe) have held him back as a freshman with the Crimson Tide, but the highlight-reel plays make it obvious just how devastatingly effective he could be if everything clicks.
All stats, unless otherwise indicated, courtesy of Sports Reference and accurate as of Feb. 21.