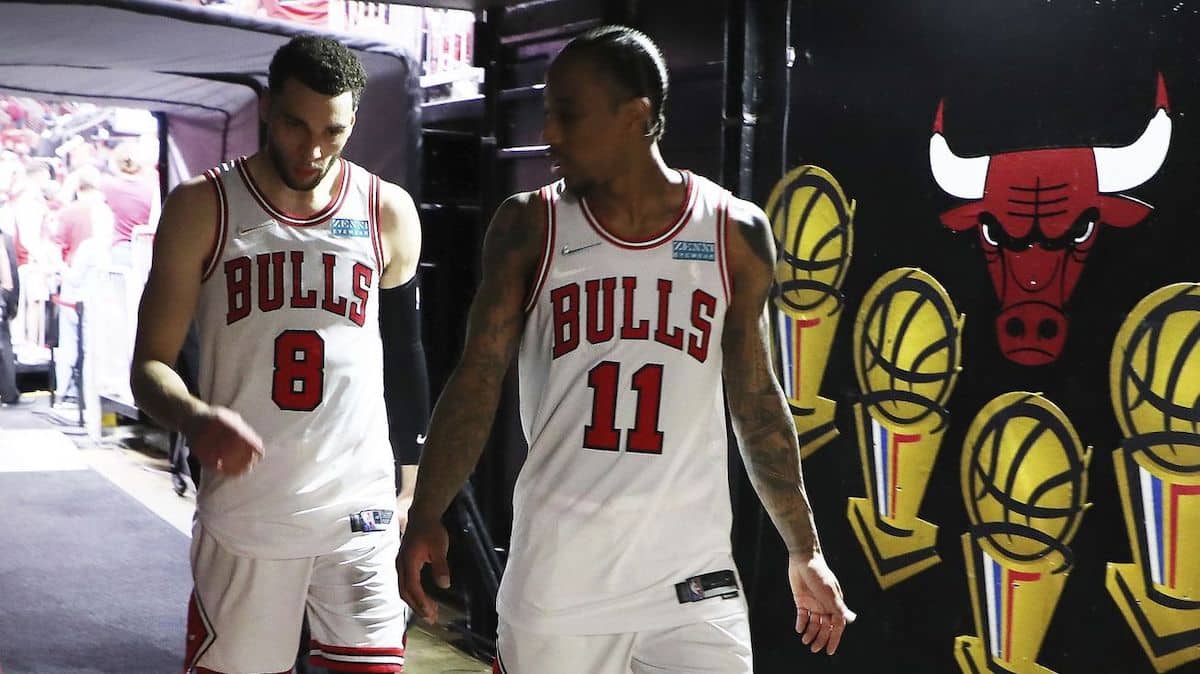 2022 NBA Offseason: Chicago Bulls' To-Do List Should Begin and End With Zach LaVine
Outside of retaining Zach LaVine, the Chicago Bulls should be relatively silent this offseason. Why? Most of their rotation answers are in the building.
The 2021-22 NBA season was a tale of two halves for Zach LaVine and the Chicago Bulls. At one point, they were the No. 1 seed in the Eastern Conference at 39-21. Then they collapsed.
Chicago finished as the sixth seed in the East and lost to the Milwaukee Bucks in five games in the first round of the playoffs. Now the Bulls have some pivotal tasks/temptations to deal with, specifically LaVine's free agency and how to improve head coach Billy Donovan's rotation.
Re-signing LaVine is a must for the Bulls. He's their identity. Outside of retaining the star guard, the Bulls should be relatively silent this offseason. Why? Most of their rotation answers are in the building.
The erratic regular season distorted the Chicago Bulls' plausible 2021-22 campaign
One year ago, the Bulls put the finishing touches on another discouraging season — one that saw them miss the playoffs for a fourth consecutive season. To boot, this came with an expanded 10-team playoff field per conference. In the present, they have a team coming off a 46-win season and a playoff appearance.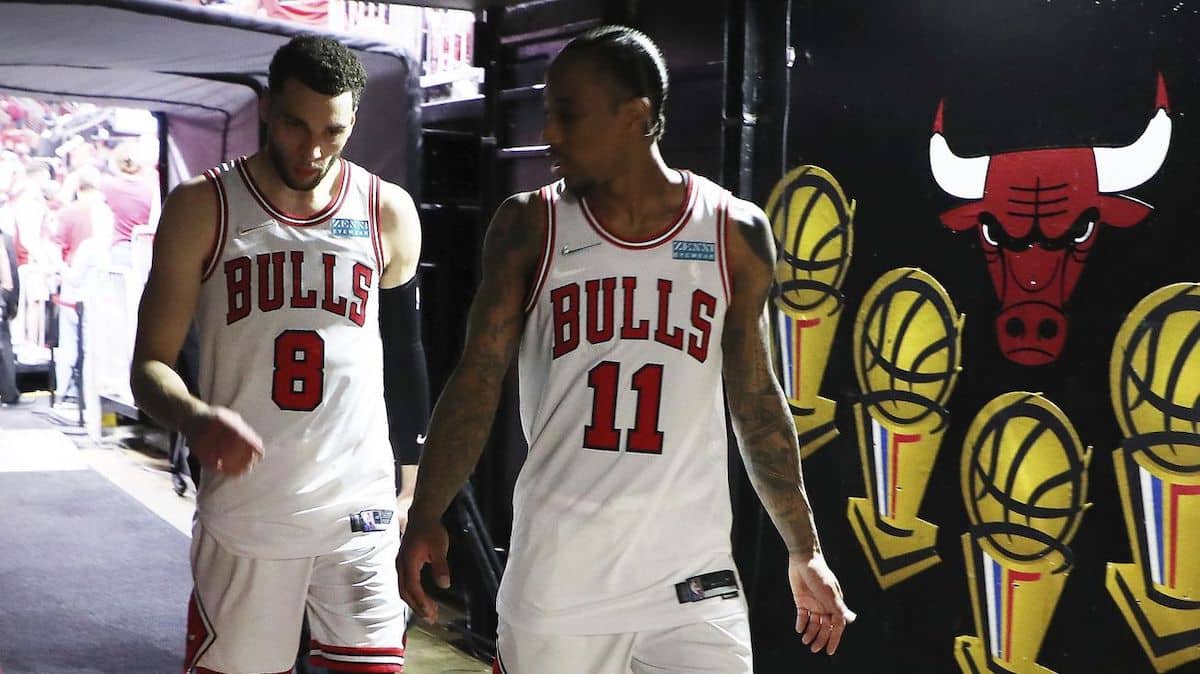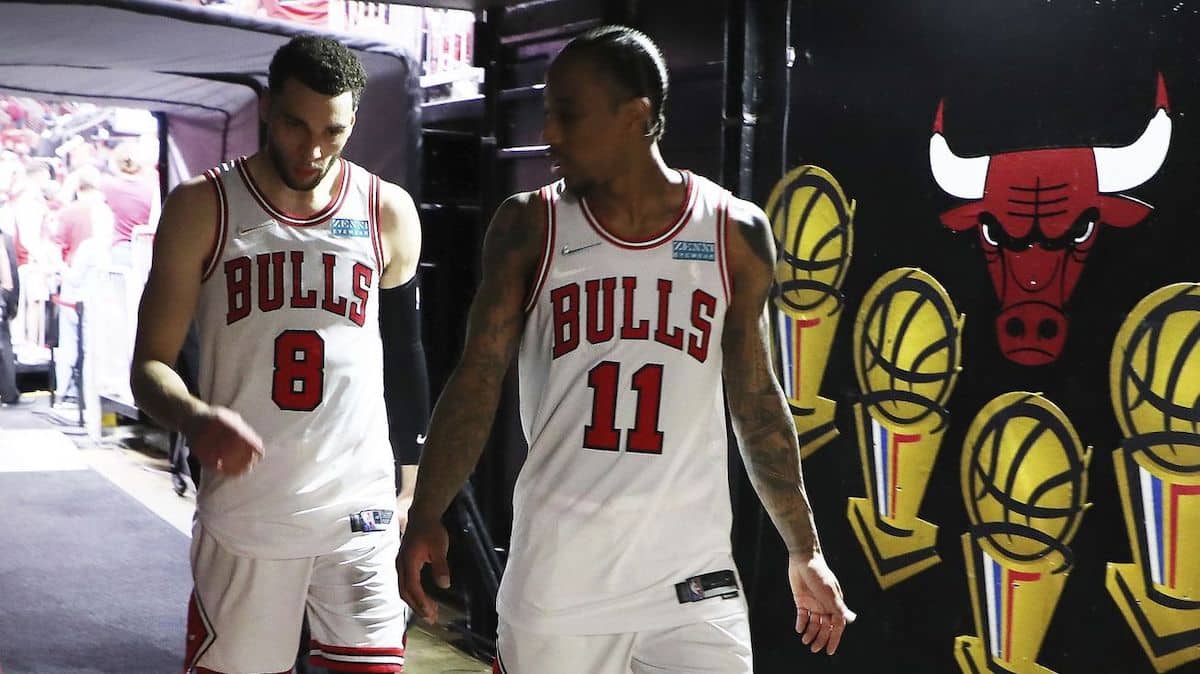 Injuries impact every NBA team. In the Bulls' case, their set of injuries made it easy to lose sight of the talent at hand. A knee injury limited Lonzo Ball, a substantial free-agent signing last offseason, to 35 games.
Alex Caruso, another free-agent pickup from the last offseason, had a handful of health hiccups. Patrick Williams, who missed five months due to a wrist injury, is a youthful, two-way forward. LaVine supposedly played through a knee injury down the stretch. 
At full force, the Bulls have a deep backcourt rotation and a rotation with upside as a whole. LaVine, Ball, Caruso, Ayo Dosunmu, and Coby White make for one of the best backcourt rotations in the NBA. Nikola Vucevic is an All-Star-caliber big man. Javonte Green and Derrick Jones Jr. had their moments this season.
DeMar DeRozan is a proven stud scorer whose presence helped divert some defensive attention from LaVine this season. DeRozan's arrival and impact on LaVine is similar to Chris Paul joining forces with Devin Booker and the Phoenix Suns last season. He provided a high-impact player to accompany a young star whose team was yet to break through.
Merely cracking the first round of the playoffs would've been a great outcome for the Bulls this season. They were previously a young team struggling to turn a corner. Now they have reason to be enthused. Another training camp and season in Donovan's offense will generate more roster chemistry. 
The Bulls have three high-level scorers in their respective niches — LaVine, DeRozan, and Vucevic — a handful of young scorers as well as a roster that complements itself. 
Outside of re-signing Zach LaVine, the Chicago Bulls can't afford to make a rash blockbuster move
Staying the course with this group is prudent. A positive aspect of doing so is that a handful of their rotation players are in the raw stages of their NBA careers. Dosunmu has one NBA season under his belt. Williams has appeared in a combined 93 regular season and postseason games. Chicago also has its own first-rounder in the 2022 NBA Draft.
Surely, there are moves to be made. The Bulls could use some more interior depth, which can come in the form of signing veteran big men to cheap deals. Meanwhile, they could look to move White for a frontcourt player of similar value, as the Bulls have a surplus of starting-caliber guards. Making a more substantial move than trading White would be a mistake, though.
At the moment, Chicago is a respectable Eastern Conference competitor with youth on its side. This core has one season together. Breaking up their roster or making a trade for another prolific scorer creates more uncertainty. Why mess with an offense that produced auspicious results?
If the Bulls get bounced out of the playoffs in round one again next season, maybe they make a rotation-altering trade. Such a result would entail them failing to build on their 2021-22 efforts, anyway. 
At their best, the Bulls looked like an NBA contender this season. In the later stages of the season, they were a shaky unit on both ends of the floor. They need more of the former, but it's definitely in the tank; Chicago was a force to be reckoned with for the bulk of the season.
The East was projected to be highly competitive with at least 11 teams having a legitimate roadmap to the playoffs; that expectation held up, and the Bulls were one of six teams who made the playoffs and avoided the Play-in Tournament. That's a success.
Chicago needs to keep it simple this offseason. Commit to LaVine's prime and beef up the second unit. They lost to a more proven team in the playoffs. The worst thing the Bulls can do is overreact on the trade market.
All contract figures courtesy of Spotrac.