2022 NBA Three-Point Contest: Ranking Trae Young and the 8 Players Participating
Despite the slam dunk contest always being the headliner for NBA All-Star Saturday Night, the increase in long-range shooting over the last decade has made the three-point contest just as exciting.
We have seen some of the greatest players of all-time win the shootout. The past champions include legends like Stephen Curry, Larry Bird, and Ray Allen. And while those guys aren't competing this year, we will still likely get quite the show.
So, ahead of the 2022 NBA Three-Point Contest, we decided to rank the eight players competing in the event, basing the criteria on how well they are shooting from deep this season. We did not put past performances and/or accomplishments into consideration.
Here are your rankings.
8. Karl-Anthony Towns, Minnesota Timberwolves
OK, Karl-Anthony Towns is a tremendous shooter (he makes 40.8% of his long-range shots). He wouldn't be competing in this competition if he wasn't.
But the talented big man averages the fewest long-range attempts (5.1) and makes (2.1) of all the players in this year's competition.
Anyone has a chance to win it, but these other guys rely on the three-ball a little more than Towns does.
7. Trae Young, Atlanta Hawks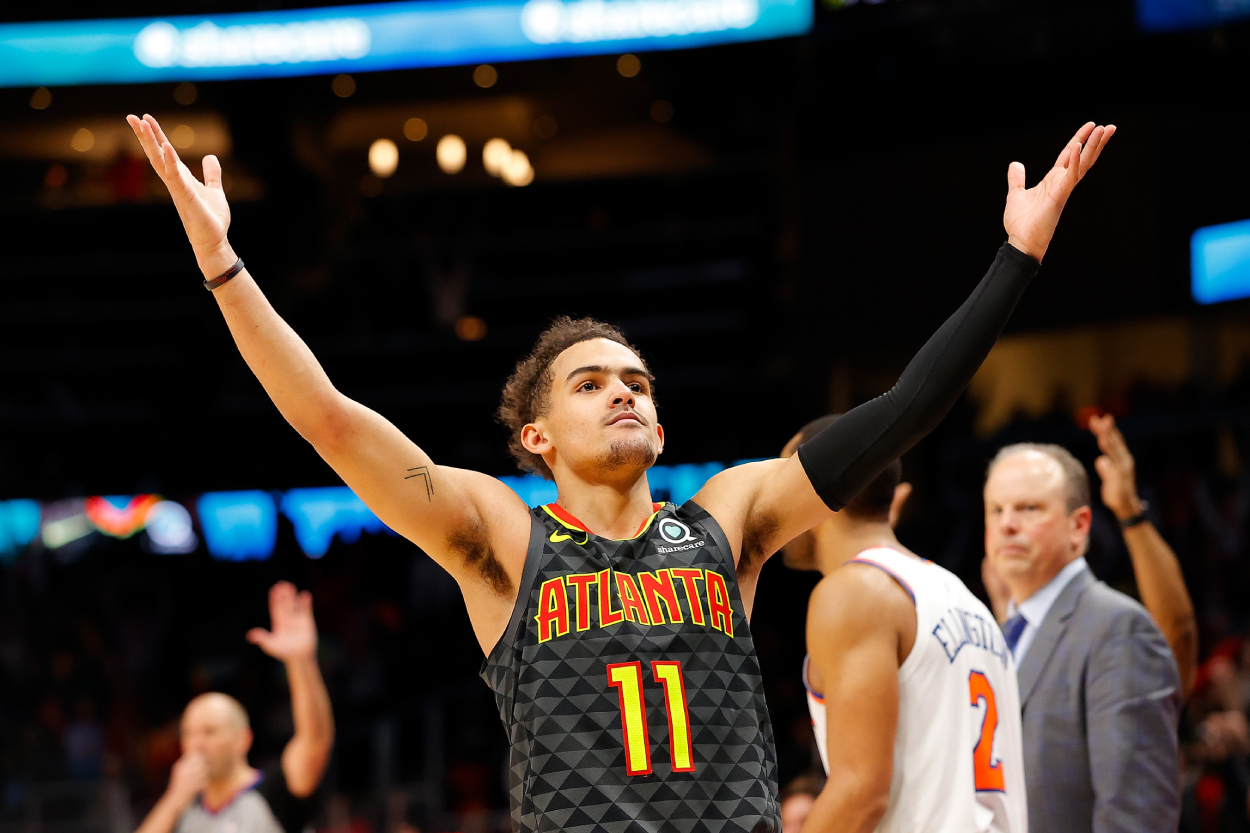 Trae Young is one of the biggest names competing in this year's three-point contest. And he's a great shooter. But the flashy Atlanta Hawks guard has the lowest three-point shooting percentage of all the competitors, draining just 37.5% of his deep shots.
His 2.9 makes per game give him the nod over Towns, but his inefficiency from outside the arc keeps him at No. 7.
6. CJ McCollum, New Orleans Pelicans
The recently traded CJ McCollum has been an elite shooter for years, and this season has been no different.
However, despite averaging more long-range makes (3.1) than three of these next five players, he has the second-lowest three-point shooting percentage of all the stars competing in the event. He makes just 38.5% of his deep attempts this season.
That mark is better than Young's, though, so McCollum ranks sixth.
5. Zach LaVine, Chicago Bulls
Zach LaVine has been dealing with lingering knee pain, but it hasn't kept him from shooting lights out beyond the arc.
The high-flying Chicago Bulls star makes 2.9 three-point attempts per game (just as many as Young) and sinks them at a 39.9% clip.
He's easily one of the best shooters in the NBA, but these upcoming players are just a bit more efficient.
4. Desmond Bane, Memphis Grizzlies
The Memphis Grizzlies have surprisingly become one of the NBA's best teams, and while Ja Morant deserves a lot of the credit, Desmond Bane does as well.
Bane essentially makes just as many long-range attempts as Young and LaVine (2.8 per game), but he has an excellent 41.5% three-point shooting percentage.
He has a chance to win a lot more games for the Grizzlies this year, and he can certainly earn the W in this event.
3. Luke Kennard, Los Angeles Clippers
OK, so Luke Kennard makes fewer three-point shots per game (2.6) than every player above (except for Towns), but his efficiency gives him the edge over all of them.
Kennard makes 43.0% of his deep shots, which is the highest mark of any player in the event this year. He would easily be No. 1 if the next two sharpshooters didn't make a ridiculous amount of long-range shots each night.
2. Patty Mills, Brooklyn Nets
The Brooklyn Nets have had a ton of drama this season, but Patty Mills has been as reliable as they come, especially from the three-point line. He makes the second-most deep shots per game (3.2) of any of these competitors, and he has the second-highest three-point shooting percentage at 41.8%.
Mills is a tremendous player and has been a consistent weapon for the Nets. But this next star has arguably been the best shooter in the NBA all season.
1. Fred VanVleet, Toronto Raptors
The choice for No. 1 was a no-brainer. Fred VanVleet has arguably been the NBA's best shooter all year.
The Toronto Raptors guard puts up the second-most three-point attempts per game (10.0) of any player in the league, and he also makes the second most, sinking 4.0 per night. However, while some players may see their shooting percentage decrease whenever they take more shots, VanVleet has done the opposite. He is making 40.1% of his deep attempts, which is the second-highest mark of his career and 3.5% better than last year.
All in all, each player has a chance to win the 2022 NBA Three-Point Contest. But with how well he has shot the ball this season, Fred VanVleet has to be the favorite.
Stats courtesy of Basketball Reference
RELATED: NBA All-Star Game: Ranking the 3 Biggest Snubs from the Full Roster