2022 NFL Combine: 4 Prospects Helping Their NFL Draft Stock
The 2022 NFL Combine is a great time to impress scouts and general managers alike.
No, it's unlikely that a projected fifth-round pick will all of a sudden because of a first-rounder because of a strong showing in shorts and a shirt, but there have been plenty of instances of players increasing their NFL Draft stock by having a good few days in Indianapolis.
So far, these four players have been helping their draft stock.
Chris Olave, Wide Receiver, Ohio State
Chris Olave is undoubtedly a first-round draft pick. On film, he comes across as a game-breaking wideout with great size (6-foot-1, 189-pounds) and excellent speed and shiftiness. He's the type of wide receiver who can use his footwork and shiftiness off the line of scrimmage to get wide open, but he also does have the speed to simply beat a defender downfield on a straight line.
Olave ran a 4.39 40-yard-dash at the combine, which confirmed his breakneck speed. Where he really showed off his elite ability was in the cone and passing drills, though. He looked smooth and confident and showed off soft hands and the ability to extend and easily catch away from his body.
Olave has the ability to run any route and make it look easy. In a stacked wide receiver class, he should find himself moving up some boards thanks to his combine showing.
Malik Willis, Quarterback, Liberty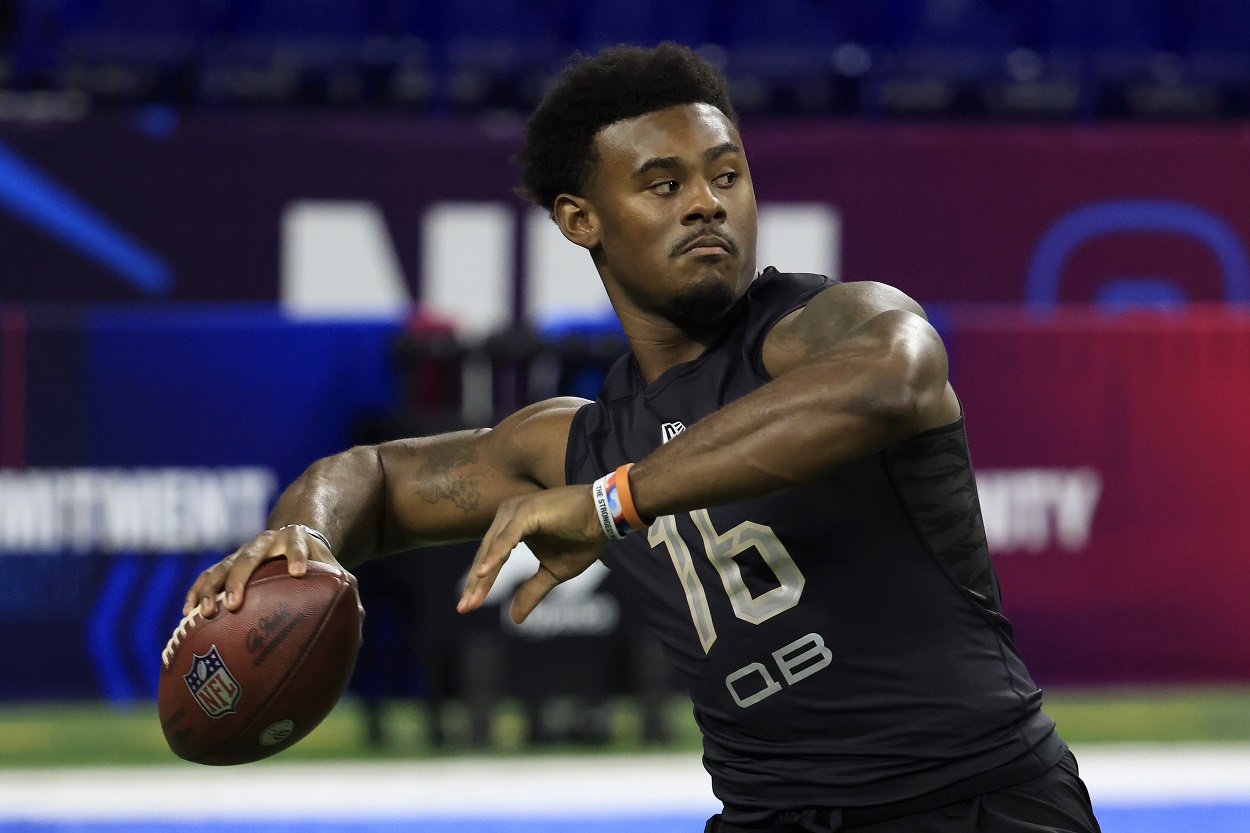 It's not that small school quarterbacks can't have success in the NFL. Josh Allen came from Wyoming, remember. Ben Roethlisberger was drafted No. 11 overall in the 2004 NFL Draft out of Miami….of Ohio.
With that in mind, there's no reason to fear Malik Willis out of Liberty if you're an NFL Scout. Also, keep in mind that he transferred to Liberty from Auburn when the Tigers went with Bo Nix ahead of him.
Willis has all the making of an NFL quarterback in 2022 and beyond. He has a big arm but can also use his legs to be a weapon. He threw for 2,857 yards and 27 touchdowns for Liberty in 2021 (with 12 interceptions) while rushing for 878 yards and 13 touchdowns.
Willis turned heads at the combine for a few reasons. Not only was he caught on camera showing an incredible act of kindness to a stranger, but he showed off one of the best deep balls you're likely to ever see in a drill.
When you impress Rich Eisen, who has seen just about every combine drill ever, you know you're doing something good.
Skyy Moore, Wide Receiver, Western Michigan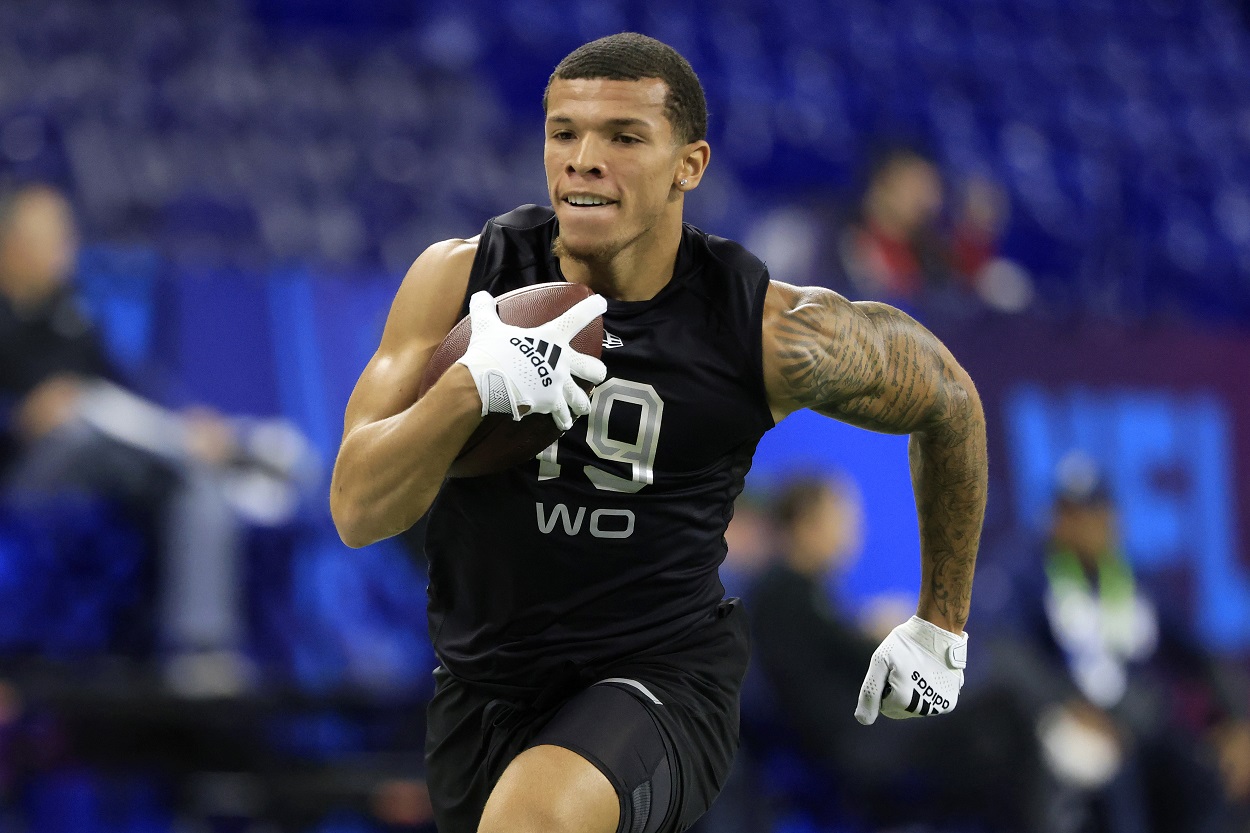 Skyy Moore can be a really intriguing receiver at the NFL level, and it's not like the Mid-American Conference doesn't produce solid prospects. Roethlisberger is a MAC legend, but James Harrison (Kent State), Jason Taylor (Akron), Greg Jennings (Western Michigan), and Randy Moss (Marshall) are all MAC alums.
Moore is a small receiver at 5-foot-10, 195 pounds, so he has to be quick and shifty. He showed off his footwork and speed at Western, catching 95 passes for 1,292 yards and 10 touchdowns in 2021, and he confirmed his speed at the combine, running a 4.41 40.
Hassan Haskins, Running Back, Michigan
Running backs are unfortunately not a high priority anymore in the NFL, at least in terms of value in the NFL Draft. There was a time when you might consider taking a running back in the first few rounds. If you're Dave Gettleman, perhaps in the first few picks.
Nowadays, unless they're a guaranteed Hall of Famer (which there's no such thing), you can get a great running back on the third day of the draft and somewhere between the fifth round and the seventh.
Hassan Haskins should find himself moving closer to the mid-rounds after a nice showing at the 2022 NFL Combine. He's always been known as a strong, bruising running back who can pound the ball between the tackles, and that's exactly how Jim Harbaugh and the Wolverines used him.
The strength was there on tape, and it showed up at the combine as well. Haskins put up 27 reps in the bench press, which was the best showing among all running backs. Not only that, but it was the best showing among all non-offensive linemen.
Haskins, at 6-foot-1, 220-pounds, is built to be an NFL running back. He's the definition of strong.
Stats courtesy of ESPN and Pro Football Reference. Contract information via Spotrac
RELATED: 2022 NFL Combine: 5 Players the Green Bay Packers Should Watch