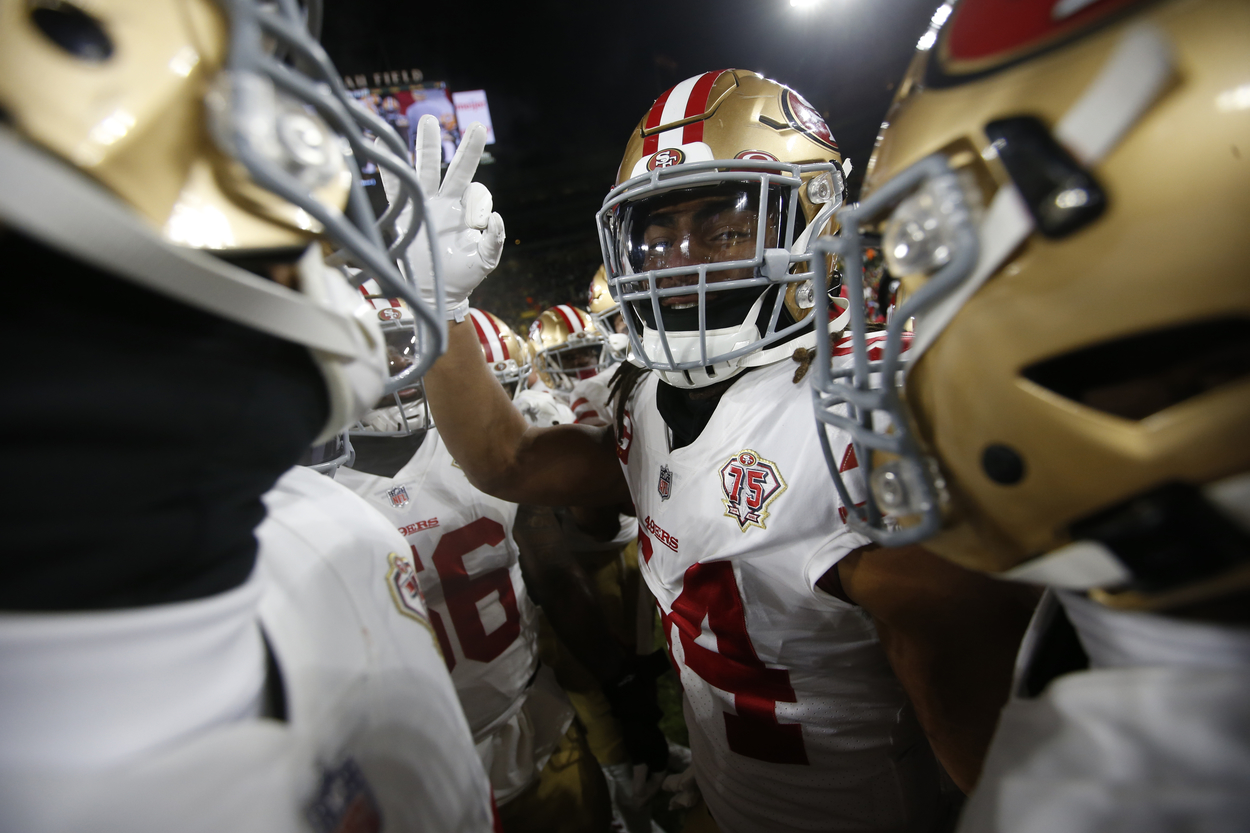 2022 NFL Combine: 5 Players the San Francisco 49ers Should Watch
If the San Francisco 49ers hope to reach the playoffs for the third time in four years, they must monitor several impactful offensive players attending the 2022 NFL Combine.
The 2022 NFL Combine is here, and the San Francisco 49ers should have plenty to keep their eyes on in Indianapolis. Although the five-time Super Bowl champions have made the playoffs twice in the last three seasons, the 49ers' recent postseason run proved they're still a few players away from partying with the Lombardi Trophy.
On the eve of this year's combine, now feels like the perfect time to rank players who San Francisco must keep an eye on in the coming days. For this list, we only ranked prospects who fit the 49ers' current needs. As a result, quarterbacks such as Pittsburgh's Kenny Pickett and Ole Miss' Matt Corral are ineligible. 
Although the 49ers' needs could change after the new league year begins March 16, the team should nonetheless closely watch these players, several of whom should be available on the second and third days. Based on consideration of the aforementioned prerequisites, the 49ers must monitor the following prospects.
5. Arnold Ebiketie, EDGE, Penn State
After tallying six sacks and 10.5 tackles for a loss in three years at Temple, Ebiketie exploded for 9.5 sacks and 18 tackles for a loss in his lone year at Penn State. The 6-foot-3, 253-pound edge rusher has extensive special teams experience and excels at breaking through the line of scrimmage.
Although Ebiketie isn't a finished product, the 49ers could afford to bring him along slowly next season. The Penn State product is currently projected to go on the draft's second day.
4. Cole Strange, G, Chattanooga
Although he's listed as a guard, the 6-foot-4, 304-pound Strange might be best suited to play center in the NFL. Regardless of where he lines up, the four-time All-SoCon selection would nonetheless be an ideal fit in head coach Kyle Shanahan's offense.
NFL Media's Lance Zierlein compared the 23-year-old to Cleveland Browns center JC Tretter and praised his ability to win matchups through proper hand usage and footwork. Strange is a projected mid-round pick who could be selected as early as Day 2.
3. Justyn Ross, WR, Clemson
The 49ers aren't in a position where they need to use a first-round pick on a wide receiver. In fact, the team could even afford to wait until Day 3 to add a player to the receiver room, and Ross would certainly be an intriguing option.
The 6-foot-4, 205-pound Ross exploded for 112 catches, 1,865 yards, and 17 touchdowns in his first two seasons before undergoing spinal surgery in 2020. Although Ross bounced back to record 46 catches, 514 yards, and three touchdowns last season, questions understandably still remain about his NFL future.
If medical concerns drop Ross to the late rounds, the 49ers could afford to pounce on him then. But, if the Clemson star somehow goes unselected, San Francisco must also strongly consider bringing him into the mix immediately after the draft.
2. Tariq Woolen, CB, UTSA
Football fans might not be too familiar with Woolen, a receiver-turned-cornerback from mid-major UTSA. However, he brings impressive speed to the table and is currently considered. a Day 3 prospect because of his relative rawness.
If the 49ers are willing to bring Woolen in and work with him for a year, the team should absolutely monitor him. His status as a possible low-risk, high-reward prospect should put him on San Francisco's radar if he's not currently there.
1. Zion Johnson, C/G, Boston College
The problem the 49ers currently face is they don't have a first-round pick. In fact, barring a trade-up, San Francisco won't select a player until 61st overall.
Zion Johnson might be worth trading up.
Johnson, an All-ACC standout who has experience on the exterior and interior, is currently a projected first-round pick who might even sneak into the top 10. If the 49ers believe they can acquire a first-round pick either via trading veteran quarterback Jimmy Garoppolo or through a draft-night trade, the 6-foot-3, 314-pound Johnson could be the perfect addition.
Draft analysts suggested before the combine that Johnson could play either guard or center in the NFL. He has the potential to thrive at either spot and, perhaps most importantly, keep Lance on his feet.
Like Sportscasting on Facebook. Follow us on Twitter @sportscasting19.