2022 NFL Combine: 5 Players the Cleveland Browns Should Watch
The Cleveland Browns are coming off a disappointing 8-9 season, which led to them missing the playoffs in 2021. General manager Andrew Berry and the front office will be working diligently to turn things around in the offseason, starting at the 2022 NFL Combine.
Kevin Stefanski's squad has several pressing needs to address to improve in the upcoming season. With the combine underway, Berry and the scouts should be paying close attention to multiple positions, including wide receiver, defensive line, and linebacker.
These five prospects should be on Cleveland's radar in Indianapolis ahead of the upcoming draft.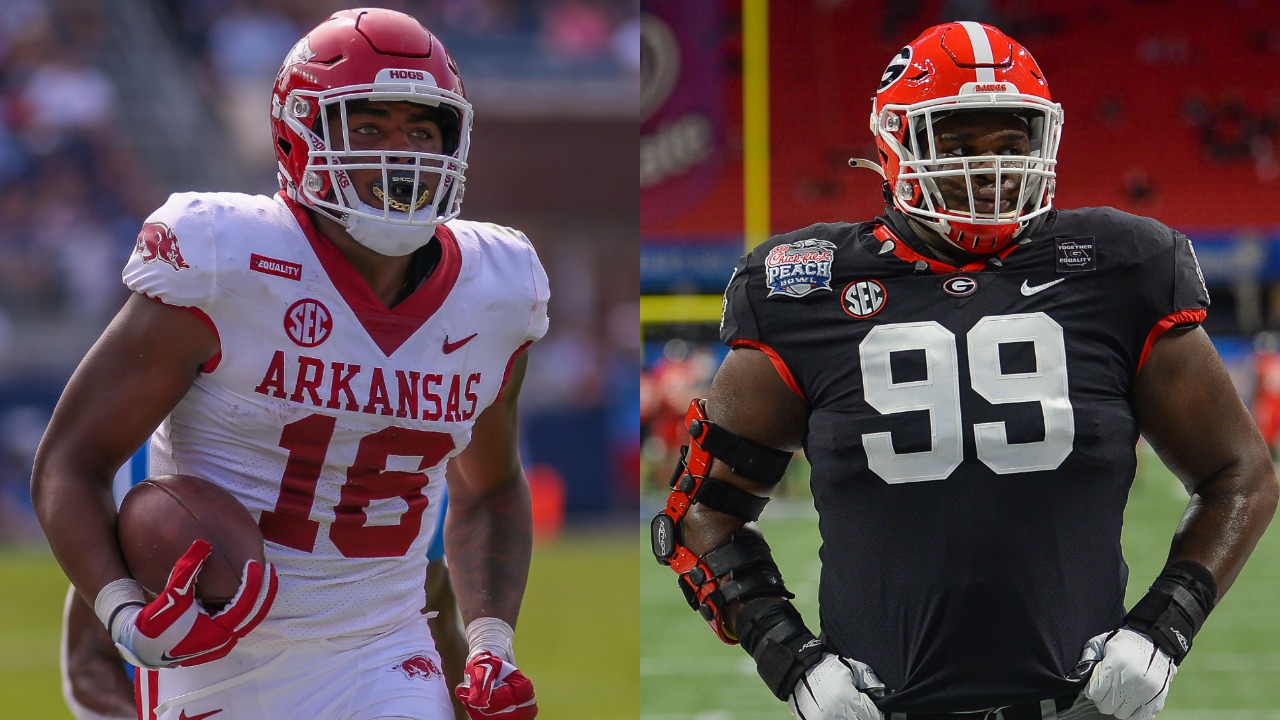 WR Treylon Burks, Arkansas
The Cleveland Browns' most glaring need this offseason is at wide receiver. They released Odell Beckham Jr. midseason, and Jarvis Landry could be on his way out soon, too. That leaves Donovan Peoples-Jones, Anthony Schwartz, and Rashard Higgins as Baker Mayfield's top weapons.
Fortunately for Cleveland, the 2022 NFL Combine will feature several talented options at the position. Treylon Burks is right at the top of that list. He enjoyed a breakout season as a junior at Arkansas. The Razorbacks star caught 66 passes for 1,104 yards and 11 touchdowns in 12 games.
Burks is a natural athlete whose combination of size and speed could make him a matchup nightmare in the NFL. He excels at picking up yards after the catch, thanks to his physical running style. The way he plays has drawn comparisons to Deebo Samuel and A.J. Brown. A player like that could be a valuable asset in the Browns offense.
DT Jordan Davis, Georgia
The Browns should undoubtedly look to improve their front seven in the offseason. Georgia's Jordan Davis is one of the largest guys at the NFL Combine, so he'll be hard to miss.
Cleveland spent a lot of money trying to bolster its defensive front over the past couple of seasons. The defensive line looked great on paper. Unfortunately, the unit's interior didn't quite live up to expectations. Malik Jackson is an unrestricted free agent, and the team could afford to let him walk to get a more well-rounded player in the lineup.
Davis was a force for the Bulldogs. He finished his career with 90 tackles, 11.5 tackles for loss, and seven sacks in 41 games. The numbers don't jump off the page, but his sheer size and strength opened up opportunities for his teammates. Davis' strength is stopping the run, as he can plug gaps and is nearly impossible to block one-on-one.
WR Garrett Wilson, Ohio State
Did we mention that the Browns need wide receiver help? Garrett Wilson is another elite talent at the position the front office should be laying eyes on. Wilson lit it up during his time at Ohio State despite playing alongside other gifted weapons.
The Buckeyes standout recorded 70 receptions for 1,058 yards and 12 touchdowns in 11 games during the 2021 season. Wilson isn't the most polished receiver in the class, but he's a playmaker. He has a strong set of hands with the agility and burst to make him dangerous running after the catch.
Wilson already has a relationship with Baker Mayfield, as they attended the same high school. That connection could make him a perfect fit in Cleveland. His ability to stretch the field would give the offense a dynamic element that it currently lacks.
DE Jermaine Johnson II, Florida State
The Browns need to beef up the middle of its defensive line, but it certainly won't hurt to add talent on the edge. Myles Garrett was a force in 2021, racking up 16 sacks. Jadeveon Clowney enjoyed a solid season opposite him (nine sacks). However, he's an unrestricted free agent, and his status is up in the air.
Going after a guy like Jermaine Johnson II in the draft could be a worthwhile investment. The Georgia transfer was a stud in his lone season at Florida State. He racked up 70 tackles, 17.5 tackles for loss, and 11.5 sacks. He dominated at the Senior Bowl and will look to keep the momentum going at the NFL Combine.
Johnson can line up as either a 4-3 defensive end or a 3-4 outside linebacker. Teams shouldn't overlook the versatility he displayed in college. Johnson is a raw talent who has shown flashes of greatness. He could skyrocket up draft boards with a good showing at the combine. Cleveland, pay attention.
LB Damone Clark, LSU
Sticking with the defense, the Browns must continue to add talent to its linebacking corps. Starting middle linebacker Anthony Walker Jr. is an unrestricted free agent. Surely, Cleveland would love to have its leading tackler back, but Damone Clark could be a more than capable replacement.
The LSU standout really came on during his senior season. He racked up 135 tackles, 15 tackles for loss, 5.5 sacks, and two forced fumbles. Clark possesses an athletic frame at 6-foot-2, 240 pounds. He's physical and plays with a high motor.
Clark isn't the perfect prospect by any means. He doesn't possess elite instincts. However, he does have valuable big-game experience playing in the SEC. Clark has also been around multiple great Tigers linebackers, including Patrick Queen and Devin White. The production is there if the Browns like what they see at the NFL Combine.
All stats courtesy of Pro Football Reference and College Football Reference
RELATED: 2022 NFL Combine: 5 Players the Miami Dolphins Should Watch