2022 NFL Combine: Top 6 Quarterbacks to Watch
The NFL Combine is here, once again being held in Indianapolis. As the best prospects in college football look to make a name for themselves, some of the more prominent names are deciding not to participate in the Combine.
Moreover, some teams and head coaches aren't heading to Indy, including the Los Angeles Rams and San Francisco 49ers.
Still, the talent in Indy is aplenty, and the quarterback position is always one of the more intriguing to watch. This year's QB class doesn't feature a Trevor Lawrence or a Kyler Murray, although several legitimate options exist for a franchise signal-caller.
Here are six quarterbacks to keep an eye on in the NFL Scouting Combine and a little bit about Ole Miss QB Matt Corral, who won't be throwing at the event. With the uncertainty of this position group, each of these guys can make or break their case during the NFL Combine.
Honorable Mention: Matt Corral, Ole Miss
Corral could very well be the first QB taken when the NFL Draft begins at the end of April. But he won't be throwing passes in Indy.
Corral is still working his way back from an ankle injury, and his Pro Day will be ever so important as scouts try and get a glimpse of his talent.
The Rebels QB threw for 3,339 yards with 20 touchdowns and just four interceptions and threw for 27 touchdowns and 2,995 yards in the 2020 campaign. Although he won't be throwing passes, Corral will still be doing interviews and things of that nature, so he still has a shot to impress teams with his personality.
Sam Howell, North Carolina
Sam Howell from North Carolina is another wild card in this class. This is a common trend, and up until draft day, there probably won't be a consensus No. 1 QB. In years past, there was, but this class is much different than what we have seen.
Howell threw for more than 3,300 yards in each of his first two seasons with the Tar Heels and 62 touchdowns. In his final season in Chapel Hill, Howell threw for 2,851 yards and 23 touchdowns — both career-lows in his college career.
But, the Tar Heels had a new offensive coordinator and a new scheme and lost a number of weapons — including Michael Carter, Dyami Brown, Dazz Newsome, and Javonte Williams, all of whom are in the NFL.
Howell has a solid arm, but, much like Carson Strong, his mobility is a concern for some teams.
Howell must perform well at the Combine to help his case, and mock drafts have him going from an early first-round choice to a mid-second-round draft pick. It is safe to say the verdict is still out on Howell, and Indy will be essential for him.
Malik Willis, Liberty
David Carr and Willie McGinest are all aboard the Malik Willis hype train. Willis is far and away the biggest wild card in this class. Some mock drafts have him going as high as No. 2 overall, and some have Willis as a second-round pick.
The former Auburn QB transferred to Liberty, showcased all of his skills, and has been called an even better version of Trey Lance — and Lance went No. 3 overall in the 2021 NFL Draft.
There is an argument that Willis has the most to prove since he played at small-school Liberty, but there is no denying the talent that he brings.
Willis is raw; that is perhaps the only reason he isn't the first QB off the board. But, just like the play above, he is the new prototype of NFL QB, similar to Lamar Jackson, and could cement his case as the best signal-caller if he performs well in Indy.
Carson Strong, Nevada
Have you heard of Carson Strong before? Probably not, and that's because he played college football at Nevada in the Mountain West Conference.
But Strong is a rare talent and has the best arm in this entire draft class. The issue with Strong is his mobility, which has become a must-have for NFL teams in today's age.
Nonetheless, Strong's cannon is out of this world, and he is the stereotypical pocket passer that teams have had such success with over the years, for example, Tom Brady, Peyton Manning, etc.
Strong is an interesting case, as are most of the QBs in this class. But, there is a path to the Nevada QB being the second QB taken off the board, especially for a team such as the Pittsburgh Steelers, who have a flurry of weapons on offense.
Desmond Ridder, Cincinnati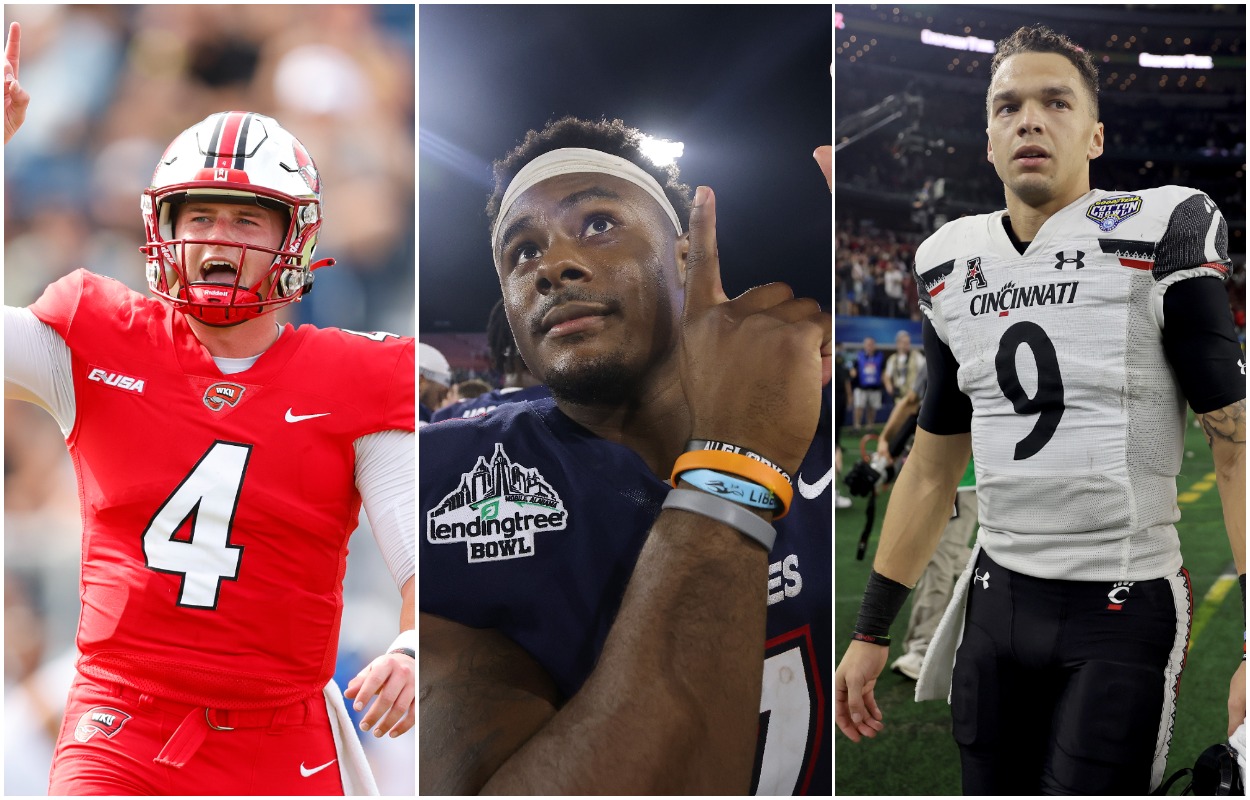 Desmond Ridder helped lead the Cincinnati Bearcats to the best season in program history and a spot in the College Football Playoff. Unfortunately for Ridder, Alabama was simply too much for them to handle.
Nonetheless, Ridder is out to show his worth at the Combine as well. As far as the top-5 QBs go in this class, Ridder is usually at No. 5 more often than not.
But, things could easily change.
Development matters a ton in the NFL; look at guys such as Justin Herbert and Patrick Mahomes who shattered expectations after being doubted a bit in the draft.
Ridder could be a similar case, although his ceiling is nowhere near as high as Mahomes or Herbert. But, he has the skills, and he is a dual-threat QB that teams are looking for. On top of that, Ridder is more likely to be a second-round pick, so teams who aren't in dire need of a QB could wait around on Day One and hope to land Ridder in Round Two.
Ridder smashed his previous numbers in his final year with the Bearcats, throwing for 3,190 yards with 30 touchdowns and just eight interceptions. The pressure is on for Ridder, who can jump into the thick of the first-round conversation with a strong showing.
Kenny Pickett, Pittsburgh
Kenny Pickett has small hands; alert everybody. That has been the biggest knock on Pickett, for some reason. The Pittsburgh Qb finished as a Heisman Trophy finalist after a marvelous campaign.
After a mediocre career at Pitt, he went into his final year and crushed every number he ever had. He finished with 4,319 yards, 42 touchdowns, and just seven interceptions in his last season in college.
Those numbers are outstanding, and many people did not expect his massive jump.
The bag is mixed on Pickett. Some have him as the best QB in this draft, and others don't even have him as a first-round choice.
As Andrew Fillipponi mentions, Pickett has the type of personality teams want, and if a strong roster surrounds him, that should be just fine (the Steelers make sense for several reasons).
Will he be a superstar? Probably not, but Pickett throws off serious Mac Jones vibes, and Jones did enough to lead the New England Patriots to the playoffs in his rookie year.
Bailey Zappe, Western Kentucky
The other names on this list aren't new to anybody. But, Bailey Zappe is a name most people have not heard before. But, get used to hearing Zappe's name.
In his final college campaign, the Western Kentucky QB was out of this world, throwing for an NCAA-leading 5,545 yards with 56 touchdowns and 11 interceptions. Yes, those are his actual stats from his final college season. Zappe threw 13 more passing TDs than Heisman Trophy winner Bryce Young and threw for nearly 500 yards more than the second QB on the list.
Zappe spent his first four years at Houston Baptist before making the transition to Western Kentucky, and what a move that was to leave the state of Texas.
Zappe drew a ton of eyes at the Senior Bowl, and with the right coaching, he could turn into a legitimate starting QB in the NFL. The NFL Combine will arguably be the most important for Zappe, mainly because he isn't being discussed as much as the other big-name QBs.
Teams could end up with a steal by selecting Zappe as a Day Two pick, and if things go well at the NFL Combine, perhaps he goes even higher.
Stats Courtesy of Sports Reference
RELATED: 2022 NFL Combine: 5 Players the New York Jets Should Watch