2022 NFL Combine: Where the 5 Wide Receivers With Fastest 40 Times Will Get Drafted
The 2022 NFL Combine is well underway, as college football prospects from all over the country put their skills on display for pro scouts. There's plenty of excitement surrounding this year's event, considering it hasn't occurred since 2020 due to the coronavirus (COVID-19) pandemic.
The wide receivers helped set the tone on Day 1. The upcoming draft class has plenty of talented players at the position. Several wideouts showed out during the 40-yard dash portion of the combine. Blazing speed is a trait that could make all the difference for some NFL hopefuls.
Here are the wide receivers with the top five 40 times, ranked based on where teams will select them in the 2022 NFL Draft.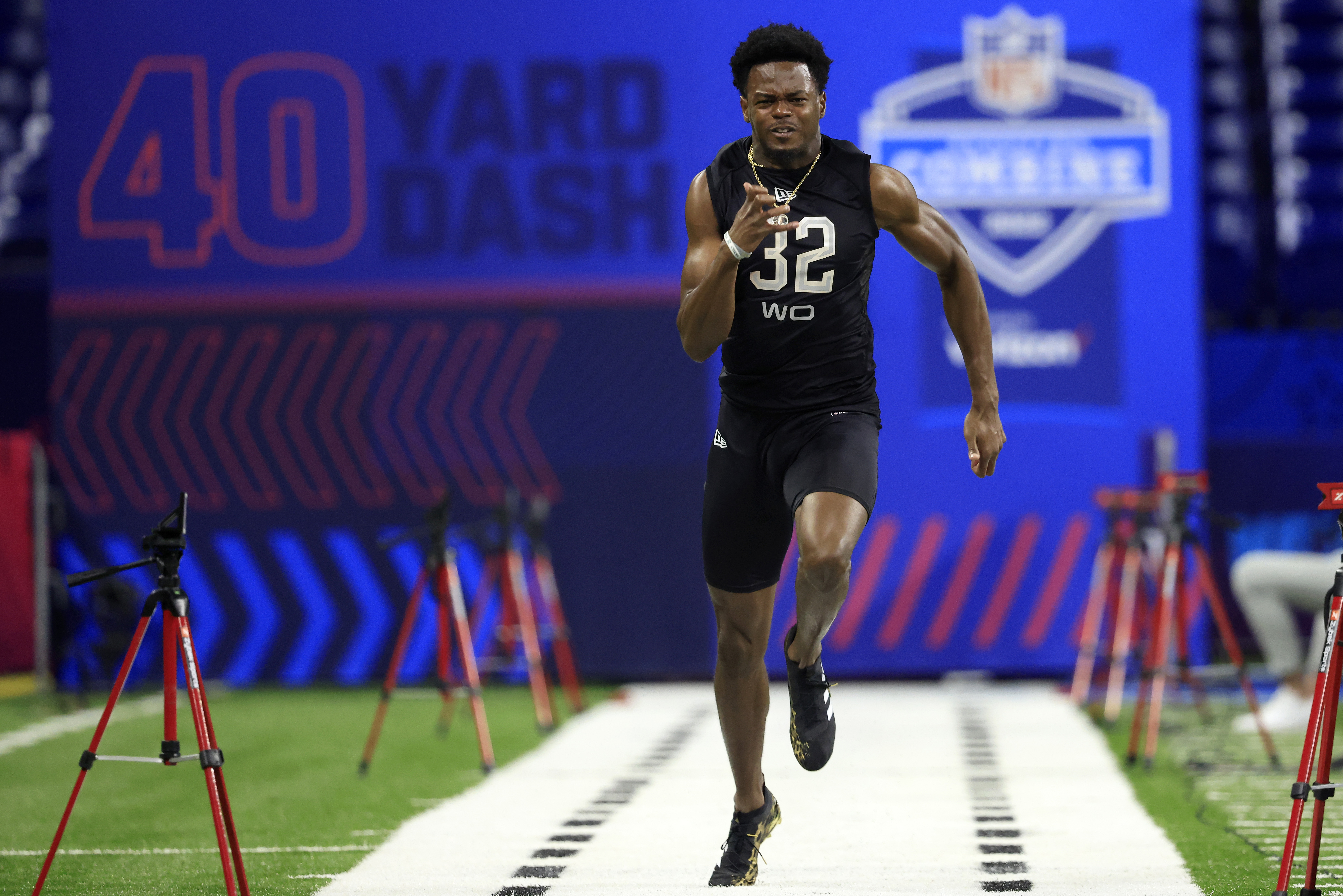 5. Velus Jones Jr., Tennessee (4.31)
Velus Jones Jr. is a unique draft prospect — he played college football for six years. The 6-foot, 204-pound receiver began his career at USC. He redshirted as a freshman, then put up three less-than-stellar campaigns for the Trojans. Jones later transferred to Tennessee, which turned out to be a good move.
Jones attended Tennessee for two years, but it wasn't until the 2021 season that he truly broke out. He recorded 62 receptions for 807 yards and seven touchdowns. He also operated as a return specialist in college, racking up 900 total return yards as a senior.
The Vols standout is hardly the most polished wideout in the draft. He likely needs to improve his route-running overall, but he excels after the catch. He projects as a special teamer early on. His top-end speed could help him get on the field more. However, it wouldn't be surprising to see Jones fall to Day 3.
4. Calvin Austin III, Memphis (4.32)
Calvin Austin III is a player who really could benefit from the NFL Combine. The Memphis Tigers star is small in stature, standing 5-foot-8, 170 pounds. However, his elite speed is pretty difficult to ignore.
Austin was a force for Memphis over the past two seasons. He recorded 137 receptions for 2,202 yards and 19 touchdowns in his junior and senior years combined. His quickness made him a dynamic playmaking threat within the Tigers offense.
However, Austin's lack of size could be concerning for some NFL teams. He doesn't have the ideal size for the wide receiver position, especially in contested catch situations. However, he wouldn't be the first smallish wideout to play in the league. Get him in the right system, and he could make an impact. Austin is likely another Day 3 guy.
3. Tyquan Thornton, Baylor (4.28)
Baylor's Tyquan Thornton took the 2022 NFL Combine by storm when he ran the 40-yard dash. He nearly broke John Ross III's record for the fastest time in combine history (4.22). Still, his blazing speed undoubtedly turned some heads.
Thornton is coming off a breakout senior season for Dave Aranda and the Bears. He caught 62 passes for 948 yards and 10 touchdowns. The production was there, and that alone would stand out to scouts. His elite speed is a bonus.
The biggest knock on Thornton is his slender frame. He's 6-foot-2, 181 pounds, and will need to bulk up to last in today's game. If not, he could struggle to win against the NFL's physical press-man cornerbacks. Still, you can't ignore his athletic ability. His performance at the NFL Combine could boost his draft stock and land him somewhere around the fourth round.
2. Danny Gray, SMU (4.33)
SMU has done a fantastic job producing wide receiver talent over the years, from Emmanuel Sanders to Courtland Sutton to James Proche II. Danny Gray could be the next in line.
Gray was a two-year starter for the Mustangs and got better year over year. He recorded 49 receptions for 803 yards and nine touchdowns in 2021. The numbers don't necessarily jump off the page, but he was part of a high-powered offense with plenty of weapons.
Gray's speed wasn't just on display at the NFL Combine. He also showed it on the field. His ability to run after the catch and break away from defenders should make him a solid pro prospect. Gray has a lot of upside if he can shore up his drops at the next level, thanks to the dynamic ability he proved on film.
1. Alec Pierce, Cincinnati (4.33)
Alec Pierce is probably the most NFL-ready wide receiver on this list. He played an integral role in the Cincinnati Bearcats' special run to the College Football Playoffs.
Pierce caught 52 passes for 884 yards and eight touchdowns as a senior. He has the ideal size for the position at 6-foot-3, 211 pounds. He plays a physical style of football, which helps him make contested catches often. His NFL Combine 40 time shows he also has the speed to make things difficult for slower corners.
Pierce doesn't have the quickest release, and he wasn't a big run after the catch guy in college. However, he has the tools to thrive in the right system. Don't be surprised if he gets drafted in the third round or even sneaks into the late second round.
All stats courtesy of Pro Football Reference.
RELATED: 2022 NFL Combine: 3 Positions the Dallas Cowboys Should Watch