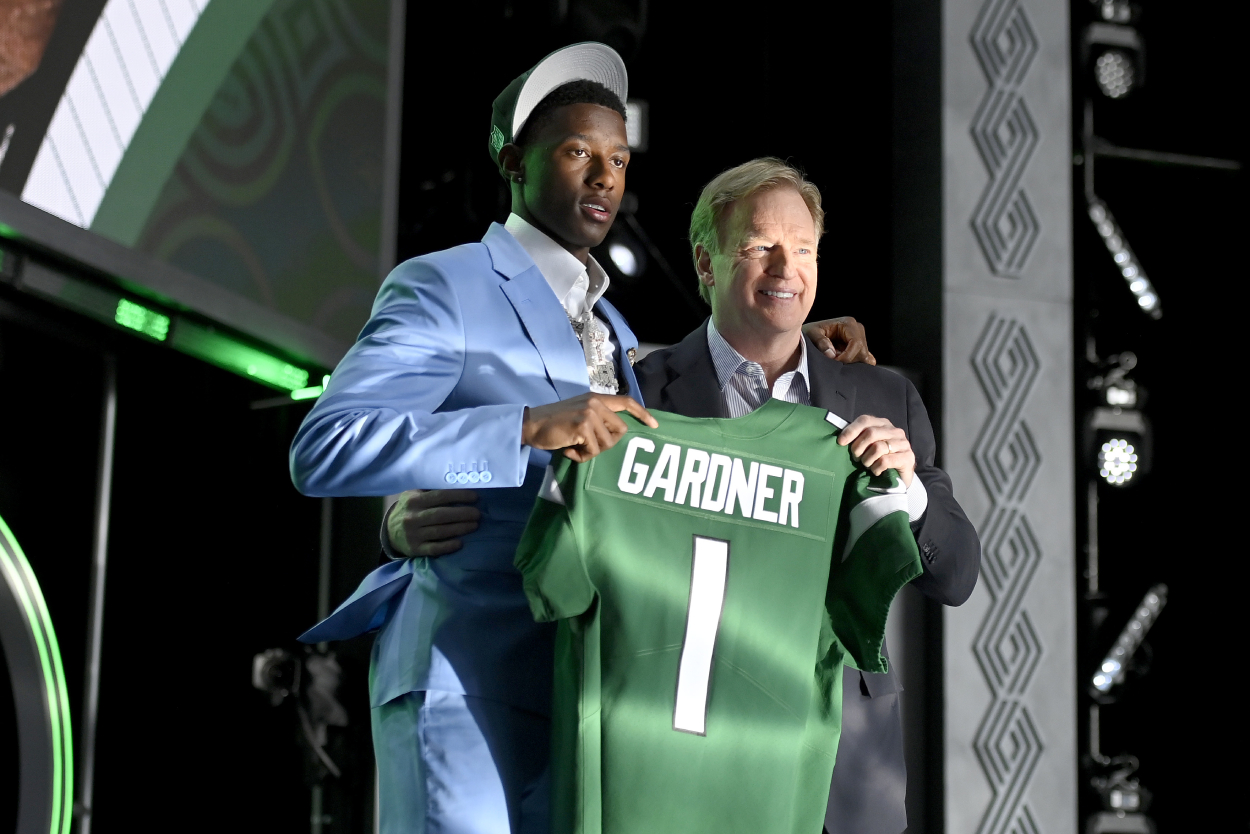 2022 NFL Draft: Ahmad 'Sauce' Gardner Makes History Before Even Playing a Single Game
Ahmad "Sauce" Gardner went to the New York Jets with the fourth pick in the 2022 NFL Draft, and the cornerback has already made history without playing a single game.
Perhaps the New York Jets just found their next Darrelle Revis. With the No. 4 overall pick in the 2022 NFL Draft, New York selected former Cincinnati Bearcats star Ahmad "Sauce" Gardner, likely hoping to improve a defense that allowed the third-most passing yards last season.
Gardner has the potential to become a superstar for the Jets. He's an elite athlete and a quarterback's worst nightmare. And during the draft, the cornerback even made history.
By going to the Jets fourth overall, Gardner became the highest-drafted Cincinnati player ever.
Ahmad 'Sauce' Gardner became the highest-drafted player in Cincinnati Bearcats history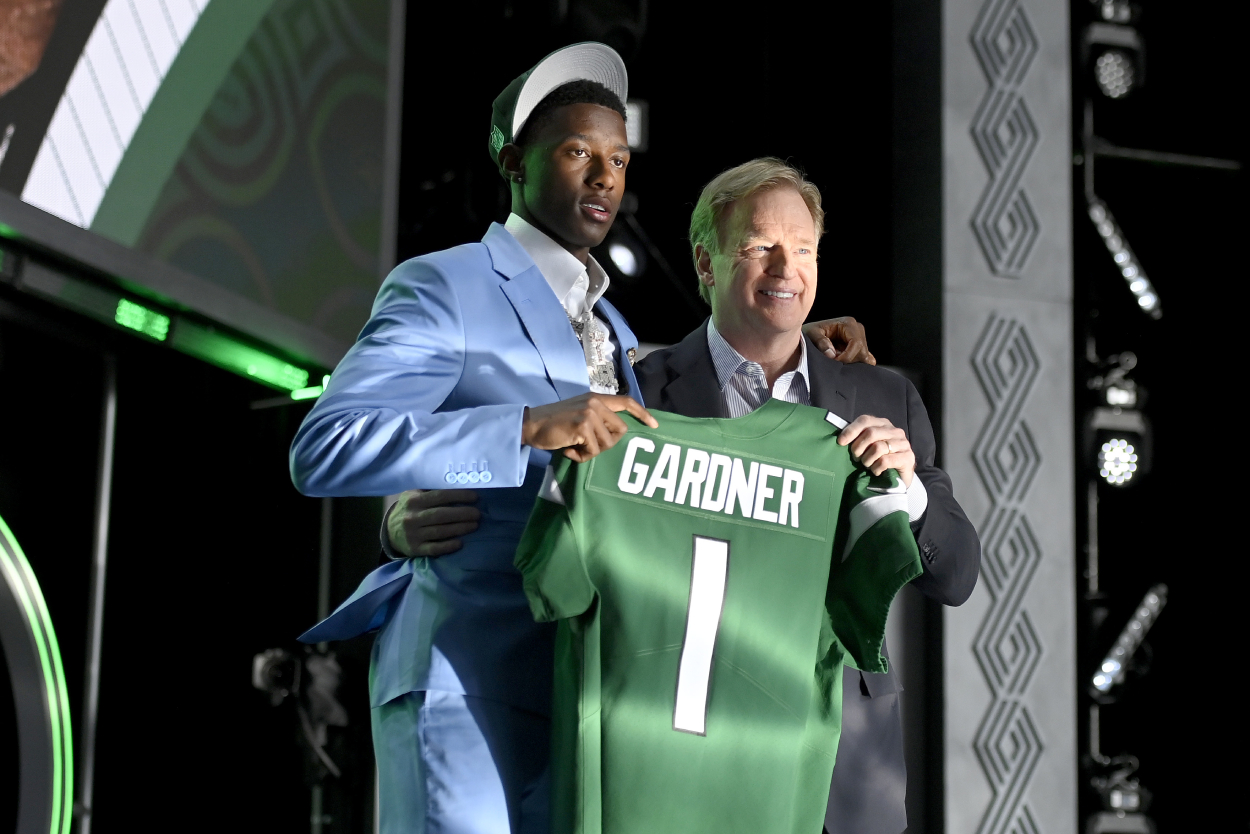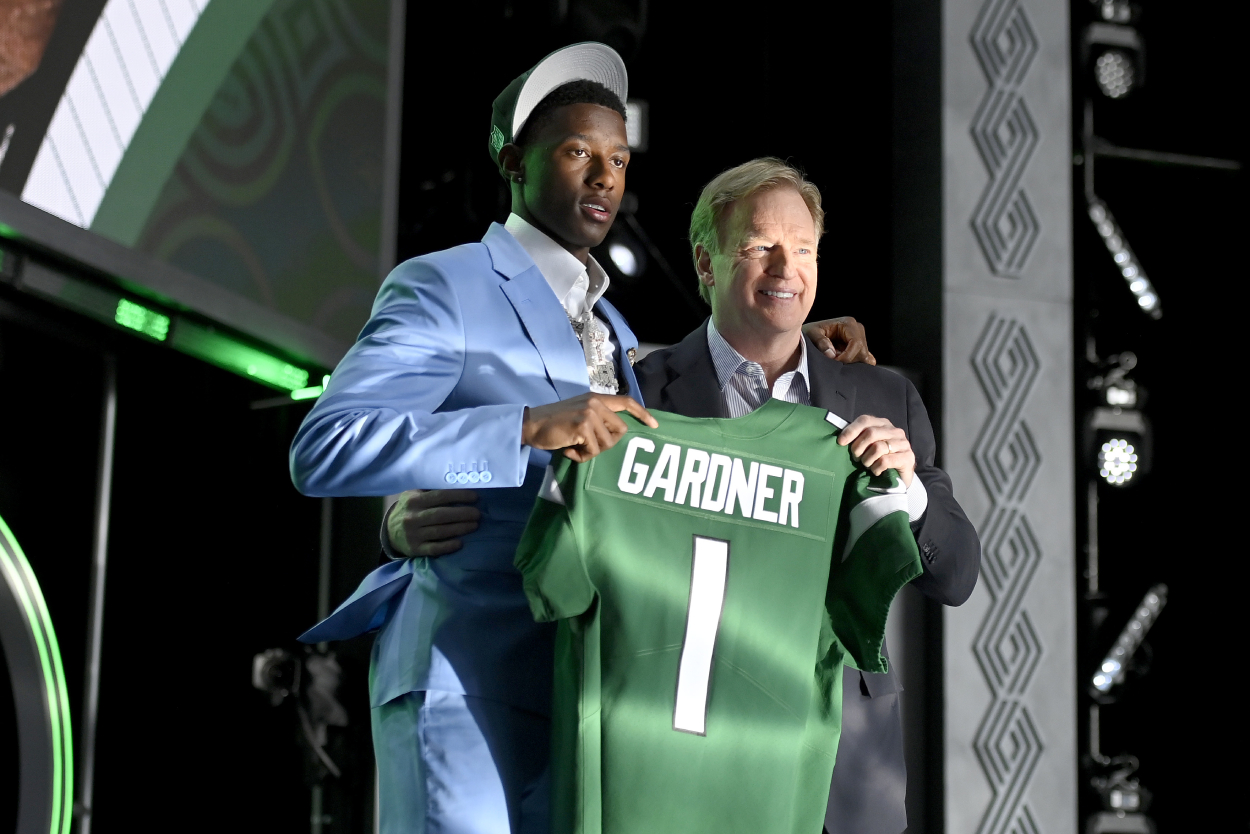 Sauce had an outstanding career at Cincinnati. He was a consensus All-American in 2021 and didn't allow a touchdown pass throughout his entire career. His play on a dominant Bearcats defense last season led UC to the College Football Playoff, in which the program became the first non-Power Five team to make the CFP.
Gardner's potential to become an all-time great corner led to the Jets picking him with the fourth overall pick in this week's 2022 NFL Draft. Travon Walker, Aidan Hutchinson, and Derek Stingley Jr. were the only players to go higher.
He can now become the team's first shutdown corner since Revis, who earned seven Pro Bowl selections and was a four-time first-team All-Pro during his legendary career.
"When I think about the Jets, I think about Darrelle Revis," Gardner said, per ESPN. "He used to be one of my favorite cornerbacks. I still watch him to this day (on film)."
However, while Revis came from Pittsburgh, the home of some all-time greats like Aaron Donald, Larry Fitzgerald, and Dan Marino, Gardner became the highest-drafted player in his school's history. Sauce surpassed former UC quarterback Greg Cook, who went to the Cincinnati Bengals with the fifth overall pick in the 1969 draft.
Sauce can become the greatest Cincinnati player in NFL history … but it will take some work
So, who are some of the other top picks in Cincinnati history?
Here's a look at the school's highest selections based on the overall pick in which the players went off the board. It's important to note that the draft's format has changed over the years. Some players would go No. 34 overall but were considered fifth-round picks.
| | | |
| --- | --- | --- |
| Player | Year | Pick |
| Ahmad Gardner | 2022 | 4th |
| Greg Cook | 1969 | 5th |
| Bob Bell | 1971 | 21st |
| Ron Kostelnik | 1961 | 26th |
| Verne Ullom | 1944 | 34th |
| Joe Morrison | 1959 | 34th |
| Bob Taylor* | 1965 | 35th |
| Al Nelson | 1965 | 35th |
| Jim Leo | 1960 | 36th |
| Derek Wolfe | 2012 | 36th |
| Dennis Smith* | 1965 | 39th |
| Roger Stephens | 1947 | 42nd |
| Alex Gordon | 1987 | 42nd |
| Artrell Hawkins | 1998 | 43rd |
| Connor Barwin | 2009 | 46th |
| George Jamison+ | 1984 | 47th |
| Isaiah Pead | 2012 | 50th |
| Mike Woods | 1978 | 52nd |
| Bill Shalosky | 1953 | 53rd |
| Jacky Lee | 1960 | 61st |
| Travis Kelce | 2013 | 63rd |
* drafted into the AFL + supplemental draft
Given that the school doesn't have a rich history of NFL success, Gardner can become the best pro player in program history. But it will still take some work.
Only seven former UC players have earned Pro Bowl selections, and he can easily surpass the careers of five of them (Elbie Nickel, Trent Cole, Ray Nolting, Connor Barwin, and Kevin Huber). However, two players have earned multiple first-team All-Pro selections, and they will be the toughest ones for Gardner to pass if he wants to become the greatest Bearcat ever.
Those players are the Kelce brothers, Travis and Jason. The former is a three-time first-team All-Pro and seven-time Pro Bowl tight end. He holds the record for most receiving yards by a tight end in a single season and has gained over 9,000 in his career. Jason, on the other hand, has earned four first-team All-Pro selections at center. He's also a five-time Pro Bowler. Both brothers have won a Super Bowl.
Yes, Sauce has the potential to become the greatest Cincinnati player ever. But he will have to put a lot of work into being great to pass up the Kelce bros. Travis and Jason are living legends.
Draft history courtesy of Pro Football Reference