2022 NFL Free Agency: 4 Best Destinations for Carlton Davis
The Tampa Bay Buccaneers will have some tough personnel decisions to make in the 2022 offseason. Bruce Arians' squad has several key contributors testing the NFL free agency market, including starting cornerback Carlton Davis.
The fourth-year defensive back out of Auburn has made significant strides since entering the league in 2018. Injuries hindered Davis' production in 2021. He finished with 39 tackles, 11 pass defenses, and one interception in 10 games. Still, he's undoubtedly one of the best cornerbacks available.
When free agency opens, several cornerback-needy NFL teams could have Davis on their radar.
Tampa Bay Buccaneers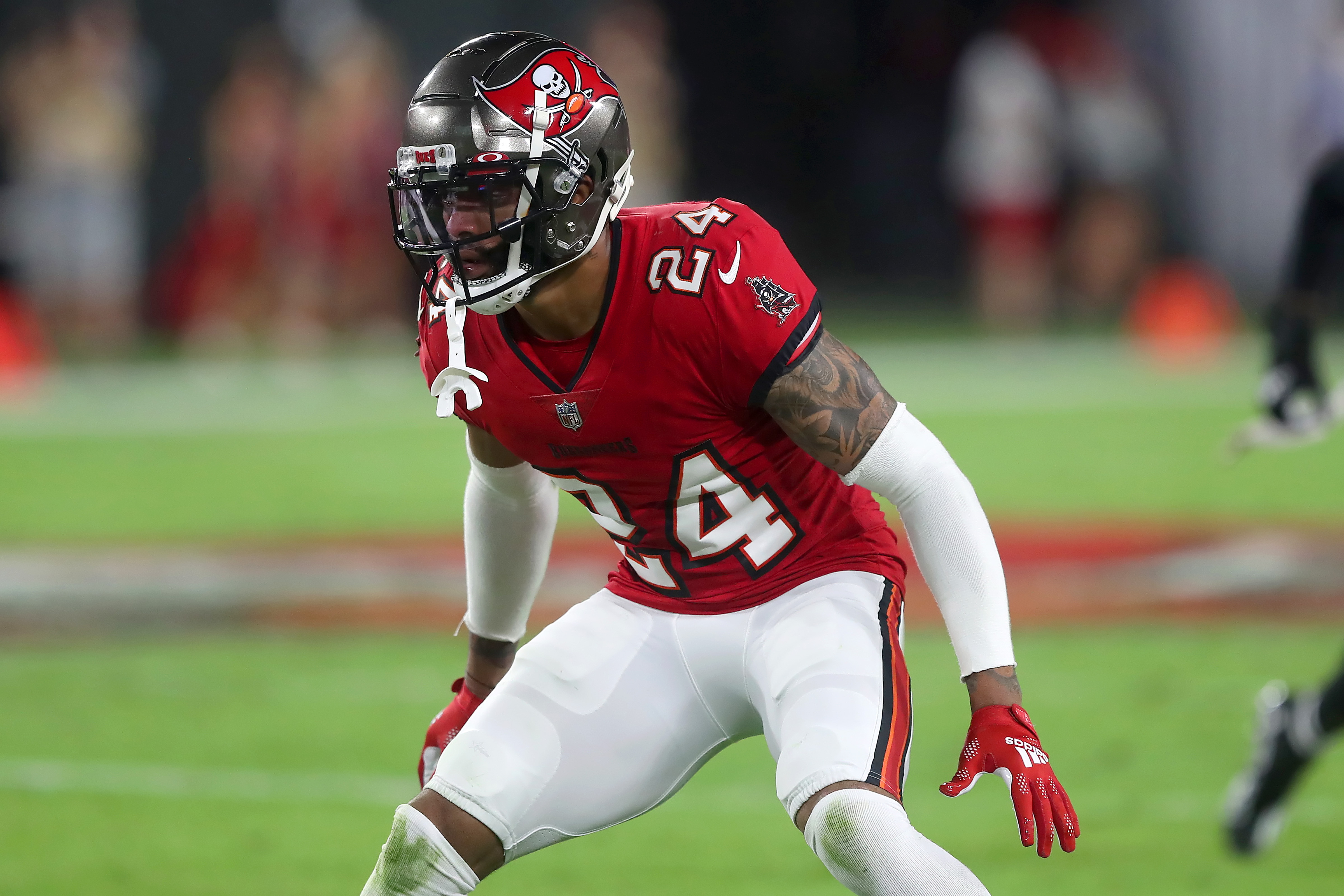 The Tampa Bay Buccaneers are a no-brainer here. Surely, defensive coordinator Todd Bowles would love to have his top cornerback return in 2022. Carlton Davis has been an integral part of the Bucs' defensive transformation over the past few seasons.
Davis has recorded 207 tackles, 52 pass defenses, and six interceptions in four seasons. He's an aggressive corner who takes some gambles, but he has shown a proven ability to make plays. Opposing quarterbacks completed just 57.1% of passes thrown in his area in 2021, with a combined passer rating of 83.2.
Davis is Tampa Bay's best corner, but the Bucs have just over $6.8 million in cap space. The front office can't bring everybody back. The team could opt to use the franchise tag on him. While that would likely give him a solid payday, other teams could offer him even more money in NFL free agency.
New York Jets
Carlton Davis isn't perfect by any means, but he is a really good cornerback. That's something the New York Jets desperately lack. Robert Saleh's squad had one of the worst pass defenses in the NFL. The Jets allowed the third-most passing yards to opposing offenses (259.3 yards per game). They also gave up 28 touchdowns through the air.
Michael Carter II, Bryce Hall, and Brandin Echols are raw, young players who showed some promise in 2021. However, this defense does not have a true No. 1 cover corner. Davis could be that guy for New York. He's tough and physical, traits that Saleh should appreciate.
The Jets are in a great space financially heading into the offseason. They have over $44.7 million in cap space, which will allow the front office to bring in some much-needed talent. After a 4-13 season, this team clearly has many needs. However, Carlton Davis could solve its problem on the outside.
Cincinnati Bengals
The Cincinnati Bengals surprised a lot of people in the 2021 season. Not many people expected them to even compete for an AFC North title, let alone make it to the Super Bowl. However, Zac Taylor's squad is proving it can be formidable for years to come.
Despite their impressive emergence, the Bengals still have some glaring holes to fill in the offseason. Cincinnati should definitely work to address its secondary in NFL free agency. The defense allowed 248.3 passing yards per game (seventh-most in the NFL). Chidobe Awuzie and Mike Hilton have had their moments, but Eli Apple is a liability.
Carlton Davis could step right in and elevate the defense to another level. The Bengals are a confident bunch, and the Buccaneers defensive back certainly does not lack in that department. If Cincinnati can land Davis, it will be right back in the mix in 2022.
Philadelphia Eagles
The Philadelphia Eagles performed better than many expected in the 2021 season. However, they still have a ways to go before they become legitimate title contenders. One area the front office will likely want to upgrade is the secondary.
The Eagles' pass defense was decent, allowing 220.9 passing yards per game. However, Philadelphia surrendered 28 passing touchdowns on the year. It will be interesting to see what happens with Steven Nelson. The 29-year-old is an unrestricted free agent and could end up playing elsewhere in 2022.
If Nelson walks, the Eagles could replace him with Carlton Davis. The Bucs corner would be an upgrade and could form a legitimate one-two punch with Pro Bowler Darius Slay. The roster features a bunch of young corners, but having a proven player step in could go a long way to making the playoffs for a second straight season.
All stats courtesy of Pro Football Reference and contract figures courtesy of Spotrac
RELATED: NFL Free Agency: Ranking the 4 Players the New England Patriots Must Target