2022 NFL Free Agency: 4 Best Destinations for Tyrann Mathieu
The Kansas City Chiefs will have several unrestricted free agents to decide on in the offseason. Other than left tackle Orlando Brown Jr., Tyrann Mathieu could be the most highly sought-after player in the crop. The Pro Bowl safety has spent the last three seasons with the Chiefs but could be playing elsewhere in 2022.
The Honey Badger has been a driving force for Kansas City's defense over the years. If he opts not to re-sign once NFL free agency opens, several suitors would emerge for his services. Mathieu could immediately impact these four teams in the 2022 NFL season.
Kansas City Chiefs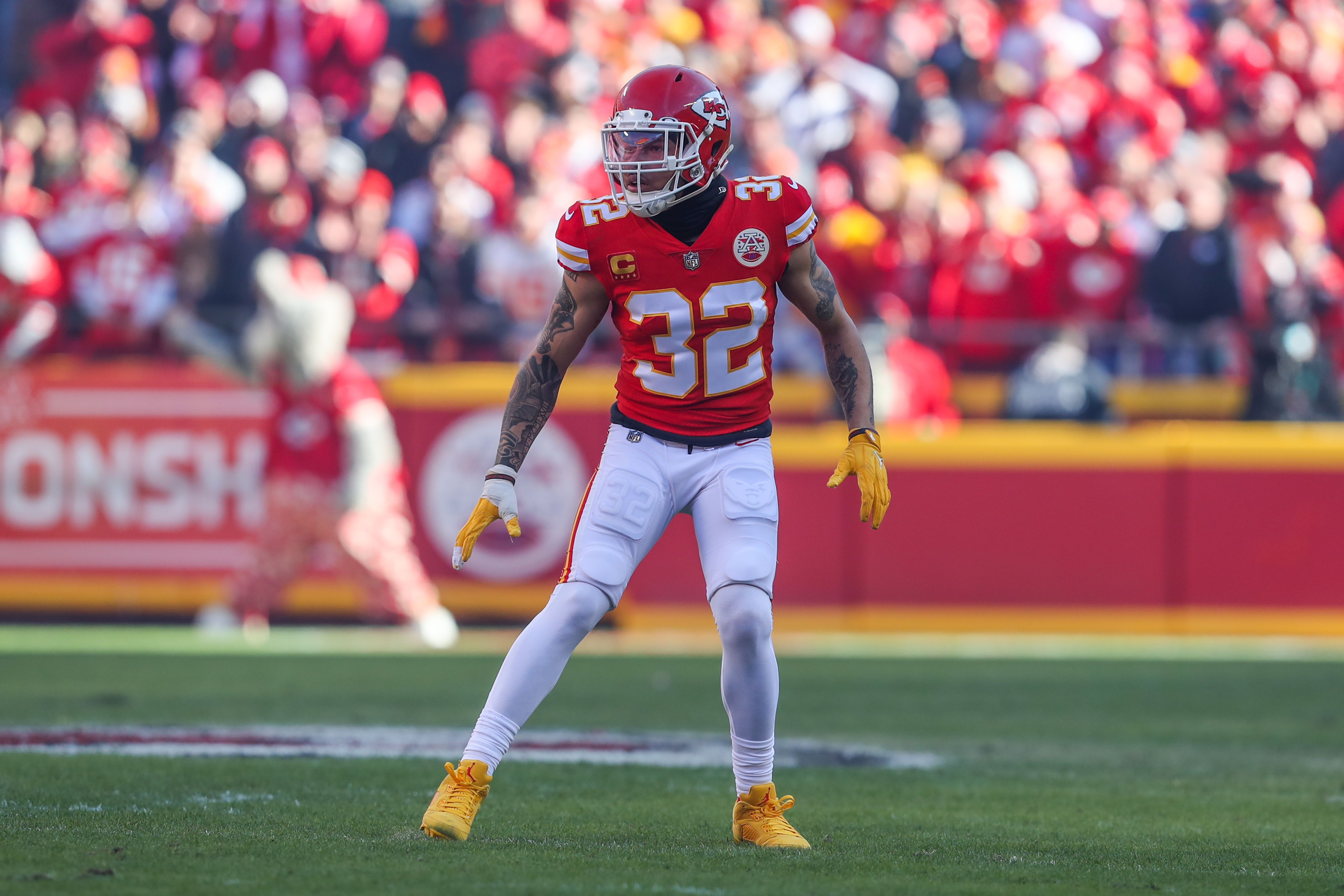 The Kansas City Chiefs signed Tyrann Mathieu to a three-year, $42 million deal in 2019. He'd previously played five seasons with the Arizona Cardinals and one with the Houston Texans.
Mathieu was an instant game-changer for the Chiefs defense. The LSU product has racked up 213 tackles, 27 pass defenses, and 13 interceptions across his three seasons in Kansas City. Mathieu's versatility will make him a hot commodity in NFL free agency.
According to Arrowhead Pride's Pete Sweeney, Chiefs general manager Brett Veach is making re-signing Mathieu one of his top priorities in the offseason. The team has a little over $3.7 million in cap space, so it will be interesting to see if it can get a deal done that satisfies both parties. Losing the All-Pro safety in free agency would be a massive blow to Kansas City's defense.
Baltimore Ravens
If the Chiefs don't retain Tyrann Mathieu, he could fit seamlessly in the Baltimore Ravens defense. New defensive coordinator Mike Macdonald could be in the market for a new starting free safety, as DeShon Elliott will also be a free agent. Even though the Texas product has shown promise, he doesn't necessarily offer as much versatility as Mathieu.
The Honey Badger is a ball-hawking safety who could thrive alongside cornerbacks Marlon Humphrey and Marcus Peters. The Ravens ranked 32nd in the NFL in pass defense in 2021. Injuries played a massive role, but adding talent to the backend should still be a priority.
Mathieu's skillset alone would be a huge boost to Baltimore's defense. He also comes with plenty of big-game experience. The Ravens are trying to win a Super Bowl. The All-Pro safety has done that in Kansas City. That championship pedigree aligns with what this team wants to do.
Philadelphia Eagles
It would not be surprising to see the Philadelphia Eagles make a strong push for Tyrann Mathieu in NFL free agency. Both of the team's starting safeties, Rodney McLeod and Anthony Harris, are unrestricted free agents. While they have been serviceable players throughout their careers, they're not game-changers.
The Chiefs star fits the mold of a game-changing player. Not only does Mathieu have elite ball skills, but he thrives in defending the run and blitzing. The Eagles defense currently lacks that kind of firepower.
Philadelphia finished with a middle-of-the-pack unit in 2021. Adding the Honey Badger to the fold could drastically improve the defense's trajectory. He's a true playmaker on the defensive side of the ball. If the Eagles plan on being a serious contender, they may need to make a splash.
Indianapolis Colts
Surely, the Indianapolis Colts didn't enjoy how their 2021 season ended. They wasted a prime opportunity to make the playoffs. The front office will undoubtedly be looking to turn things around in 2022. Addressing the backend of the defense should be one of the top priorities.
Indianapolis doesn't lack talent at safety. Khari Willis and Julian Blackmon have shown promise. The latter is coming off a torn Achilles, though. It's unclear how he'll actually perform when he's back on the field. Tyrann Mathieu is a proven talent.
The Colts ranked top-10 in team defense for the second straight year. They boast a talented unit, led by linebacker Darius Leonard and cornerback Kenny Moore II. However, Indianapolis needs to add more playmakers, and Mathieu certainly fits the bill.
All stats courtesy of Pro Football Reference
RELATED: 2022 NFL Free Agency: 4 Best Destinations for Orlando Brown Jr