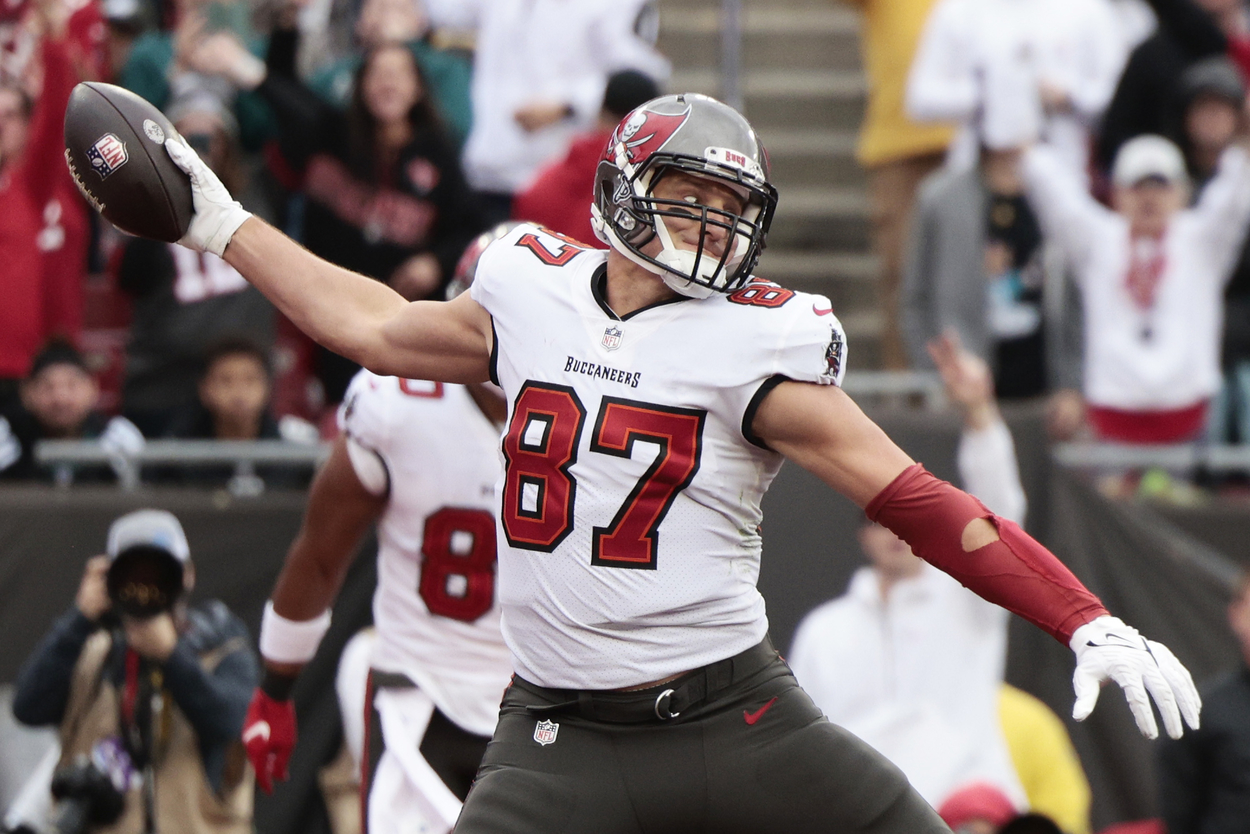 2022 NFL Free Agency: 5 Best Destinations for Rob Gronkowski If He Doesn't Retire
If tight end Rob Gronkowski doesn't retire, and he doesn't return to the Tampa Bay Buccaneers, where could he play next season?
Over three years ago, All-Pro tight end Rob Gronkowski left the New England Patriots and opted for retirement. Veteran quarterback Tom Brady followed him out of Foxborough, Mass., less than a year later and eventually reunited with his longtime weapon on the Tampa Bay Buccaneers.
Flash forward to 2022. Brady, now 44, retired in early February after 21 seasons and seven Super Bowl rings. As of publication, it remained unclear whether Gronkowski, who turns 33 in May, will return to the Buccaneers next season, play elsewhere, or retire for the second time.
Assuming Gronkowski does intend to play next season, now is the perfect time to analyze which teams make sense for the four-time Super Bowl champion. For this list, we ranked the best potential teams based on everything from the current roster and cap space to whatever else might appeal to the player in question. In Gronkowski's case, the possible appealing factors include a Super Bowl contender and a proven starting quarterback.
Based on consideration of the aforementioned prerequisites, the best teams for Gronkowski — if he does not retire, of course – rank as follows.
Honorable mention: New England Patriots
Realistically, Gronkowski and the Patriots do not make sense for one another at this time. New England has two starting tight ends in Hunter Henry and Jonnu Smith, each of whom signed significant deals during the 2021 offseason. 
Even if Henry and Smith weren't in New England, one must wonder if Gronkowski would want to play for the Patriots again. He hasn't called Bill Belichick his head coach for nearly three years. For what it's worth, the eight-time Super Bowl champion gave Gronkowski's No. 87 away after the tight end's departure as a reminder that life goes on. Belichick might not exactly be waiting at Logan International Airport waiting to hug his former second-round pick.
Theoretically, anything is possible, but football fans should not expect to see Gronkowski in a Patriots uniform next season.
5. Tampa Bay Buccaneers
The Buccaneers are either facing a rebuild or a transitional period after Brady's retirement, so it's hard to determine where a 33-year-old tight end fits into the mix. However, the Super Bowl 55 champions haven't created the impression they want to move on from Gronkowski, so we're inclined to include them on the list. Buccaneers head coach Bruce Arians even said he'd welcome his starting tight end back with "open arms."
The key here might be what the Buccaneers intend to do at quarterback. If the team has a chance to acquire Deshaun Watson or Russell Wilson, those options are likely far more appealing for Gronkowski than veteran backup Blaine Gabbert or Kyle Trask, a second-round pick in 2021 who did not throw a pass in his rookie season.
4. Los Angeles Rams
Gronkowski and the Rams make more sense than fans might think upon first thought. The defending Super Bowl champions already have a starting quarterback in place, and they're not afraid to bring older players into the mix if it represents a better chance of winning a title. Head coach Sean McVay's resume speaks for itself, and he has historically utilized starting tight end Tyler Higbee as a vertical weapon in his scheme.
If Gronkowski is out solely to chase a fifth ring, he could do far worse than joining the Rams. Of course, there is also the Los Angeles element, which could appeal to the eccentric tight end's post-football desires.
3. Las Vegas Raiders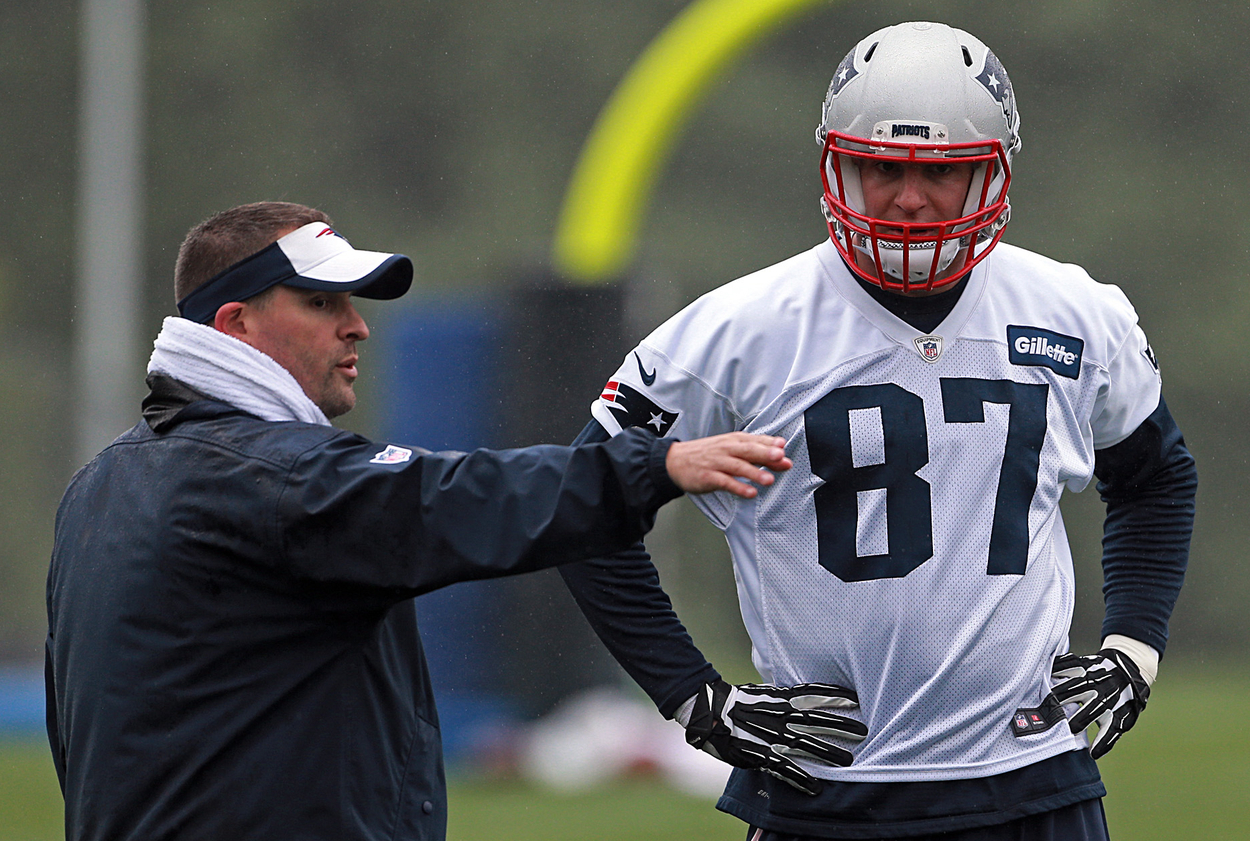 The Las Vegas Raiders already have a Pro Bowl tight end in Darren Waller, so Gronkowski likely wouldn't be the full-fledged starter. However, the Silver and Black could appeal to him for another reason: Josh McDaniels, the Raiders' new head coach and longtime Patriots offensive coordinator.
There is no guarantee McDaniels' presence will be enough to convince Gronkowski to take his talents to Las Vegas. However, the familiarity there could theoretically play a significant role in the four-time All-Pro tight end moving west.
2. Indianapolis Colts
Before Gronkowski even considers the Colts, he needs the team to determine what they're doing with veteran quarterback Carson Wentz. Although the North Dakota State product played well throughout the 2021 season, he collapsed over the final two weeks and played a pivotal role in the Colts missing the playoffs for the second time in three years.
The Colts have an All-Pro running back in Jonathan Taylor and a dynamic young receiver in Michael Pittman Jr., who quietly exploded for 88 catches, 1,082 yards, and six touchdowns in his sophomore season. Gronkowski could be a significant improvement over veteran tight end Jack Doyle (29 catches, 302 yards, and three touchdowns in 2021) or Mo Alie-Cox, who could become an unrestricted free agent this spring. Alie-Cox, who played power forward for VCU's men's basketball team, had 24 catches, 316 yards, and four touchdowns in his fourth NFL season.
If the sight of Brady and Gronkowski in the Buccaneers' uniforms looked strange, just imagine seeing the latter in Peyton Manning's former colors. Sorry, Patriots fans.
1. Cincinnati Bengals
If Gronkowski returns for the 2022 season, the Bengals should be the overwhelming favorite to sign him. According to the Cincinnati Enquirer, the veteran tight end told Autograph NFTs on Tuesday, Feb. 8, he'd like to eventually play with Bengals quarterback. Joe Burrow.
"I watched [Burrow] in college. I just love the way he presents himself out on the football field. In the pocket, he's just so calm, and he just slings it out on the field. … I just love his swag, too."

Rob Gronkowski
When Gronkowski endorses your swag, you know you're in rare company. A marriage between Gronkowski and the Bengals makes perfect sense, especially if they lose veteran tight end C.J. Uzomah in free agency.
Now, here's a fun image to consider: Gronkowski catching a touchdown in Super Bowl 57 against Brady and the San Francisco 49ers. Nothing should surprise football fans anymore when those two are involved.
Like Sportscasting on Facebook. Follow us on Twitter @sportscasting19.