2022 NFL Free Agency: The Packers Can't Let De'Vondre Campbell out the Door
De'vondre Campbell needs to remain with the Green Bay Packers. Aaron Rodgers and Davante Adams have gotten all the hype this offseason, but Campbell is arguably just as important to Green Bay long-term.
The issue? The Packers don't have a whole lot of money to spend, and Campbell may have played himself out of Green Bay's budget in 2021.
Somehow and someway, though, the Packers need to find a way to make this work.
De'Vondre Campbell was a revelation in 2021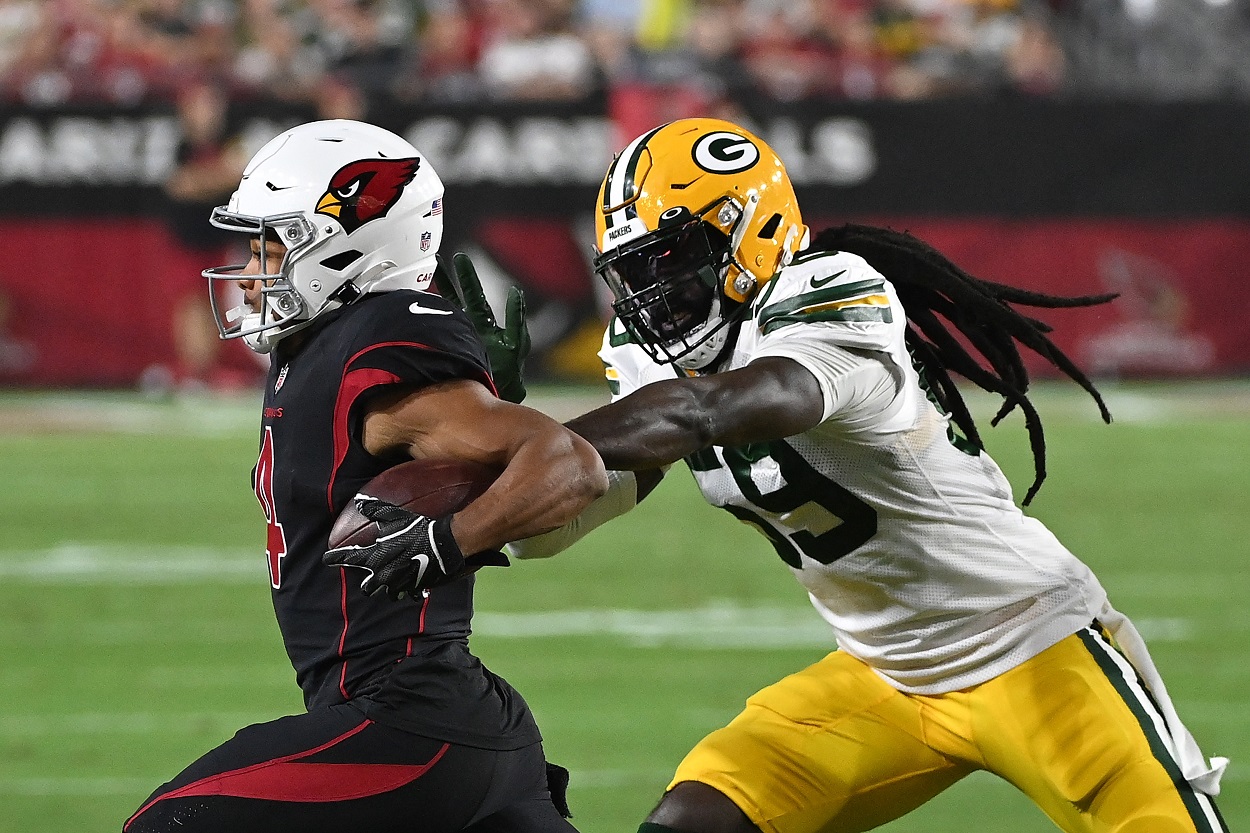 Few people expected much from Campbell when Packers general manager Brian Gutekunst him to a one-year deal in June of 2021. Heck, even Gutekunst probably didn't see in All-Pro season coming.
Campbell had all the makings of a role player and soon-to-be journeyman to that point in his career.
Gutekunst apparently saw something in him, though, and he gave the veteran a one-year "prove it" deal. Defensive coordinator Joe Barry also asked him to prove it with the green dot on his helmet. Campbell was given the communications to the defense and, thus, the keys to Green Bay's defensive success.
To say he thrived would be an understatement. He led the team in tackles with 102 and also notched two sacks, two forced fumbles, and two interceptions.
Campbell was the heartbeat of Green Bay's defense. When a big play needed to happen, if it wasn't him who made it, he was somewhere nearby.
Especially going into year two of Barry's defensive install, the Packers can't let Campbell walk out the door in free agency.
Campbell is going to end up costing the Packers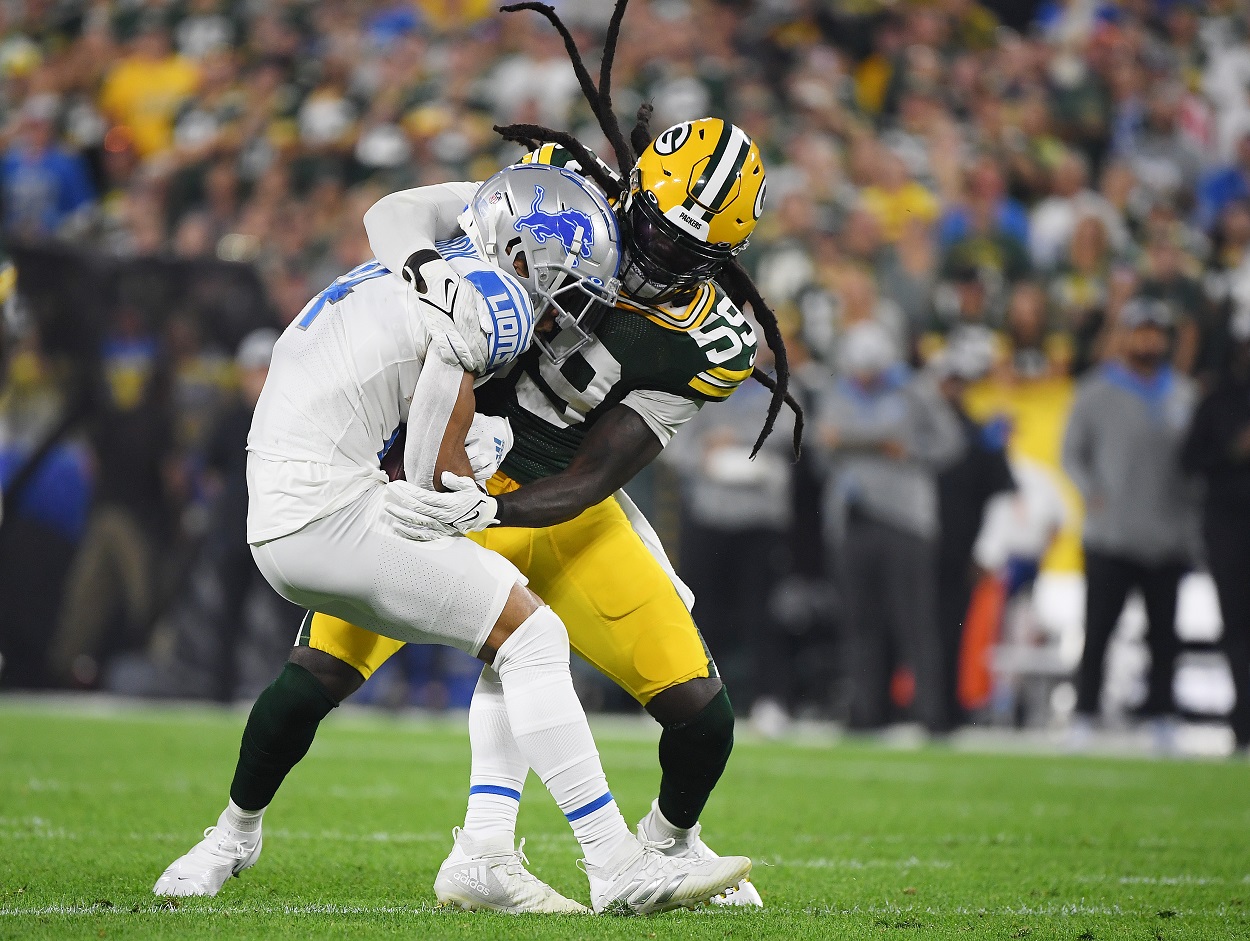 Campbell was drafted in the fourth round of the 2016 NFL Draft and spent the first few seasons of his career with the Atlanta Falcons. He was given a one-year deal by the Arizona Cardinals in 2020 worth $6 million. Gutekunst low-balled him with the "prove it" deal and signed the veteran to a deal worth just $2 million.
Coming off an All-Pro season, this is Campbell's shot at earning himself an excellent payday.
According to Spotrac, Campbell should be able to garner a contract worth $18.8 million over three years this offseason, and he may be worth even more. It would not be surprising to hear that he signs for somewhere closer to $10 million a year, and that's the problem for Green Bay.
The Packers have already done a ton of work to reduce their cap number this offseason, but they're still close to $30 million over the cap. Campbell is one of a handful of their own free agents the Packers will want to try to re-sign. That's a list that includes critical contributors like Allen Lazard (restricted), Marquez Valdes-Scantling, Rasul Douglas, and Robert Tonyan Jr.
Oh…and there's also that Davante Adams guy, who reportedly wants $30 million a year and seems unlikely to be happy with a franchise tag.
Gutekunst will have to work some salary cap magic to retain some of these key players, but without a doubt, bringing Campbell back should be a top priority.
Green Bay will have competition for Campbell
NFL insider Evan Massey is reporting that the Philadelphia Eagles have an interest in bringing in Campbell to fill their need at linebacker. Philadelphia is far from the only organization that could use an All-Pro veteran linebacker, though. There are a handful of teams in the complete opposite end of the salary cap spectrum as the Packers, meaning they've got needs to fill and money to spend.
For instance, the Miami Dolphins have $61.2 million in cap space and desperately need more talent on the roster. The Detroit Lions, who could deal a massive blow to Green Bay by signing Campbell out from under their nose, have $20 million to spend and could use a veteran presence like Campbell to help them in year two of their rebuild. The Los Angeles Chargers have $57.5 million in cap space, and it's worth noting that the Packers ran an offshoot of head coach Brandon Staley's defense, so Campbell would have a leg up there from day one.
The Packers are going to do whatever they can to bring Campbell back, but it's not going to be easy. As mentioned, this is his best opportunity to make some real money in the NFL. He'd be wise not to rush to any decisions. All-Pro linebackers don't just grow on trees, after all.
There is one red flag about Campbell, and perhaps that will work in Green Bay's favor. He was incredible and 2021, but that was his only season playing at an elite level.
Was it a fluke, or was it simply his match in Green Bay?
Perhaps money is not the only thing that matters to Campbell with that in mind. The Packers took a chance on him, and he fits their defense like a glove. He'll also have another opportunity to be part of a Super Bowl contending team, and it looks as if the Packers have the makings of an elite defense, especially if he comes back.
That's a great sales pitch if you're Gutekunst.
If the Packers make it less about money and more about fit and respect, perhaps they'll be able to retain the services of their All-Pro inside linebacker.
Stats courtesy of ESPN and Pro Football Reference. Contract information via Spotrac
RELATED: The Eagles Are Switching Things up and Targeting Marquee Free-Agent LB De'Vondre Campbell