2022 Super Bowl: Why Odell Beckham Jr. Will Be the Rams' Secret Weapon Against the Bengals
Heading into Super Bowl 56, Cooper Kupp is expected to play a prominent role in the Los Angeles Rams' offensive plans. After all, he's coming off a season in which he won Offensive Player of the Year and has been Matthew Stafford's go-to target all year long.
However, Kupp alone won't be enough for the Rams to secure the Lombardi Trophy. The Cincinnati Bengals have an impressive offense themselves, led by Joe Burrow and Ja'Marr Chase. Both teams will likely score a lot of points on Sunday.
With that in mind, the Rams will need someone else to step up on offense and generate points.
Odell Beckham Jr. is the key to a Rams' Super Bowl win
It's hard to imagine a Super Bowl that doesn't end with Kupp leading the Rams in catches and yards. However, if LA is to walk away victorious, they need to get production out of their WR2, Odell Beckham Jr.
One of LA's marquee midseason acquisitions (the other being Von Miller), Beckham Jr., has reinvented himself since joining the Rams. After years of battling with Baker Mayfield and the Cleveland Browns, attempting to establish himself as a legitimate number one option, Beckham Jr. gracefully assumed a WR2 role behind Kupp in LA.
Despite the "lesser" role, Beckham Jr. wasted little time showing his value to the Rams franchise. He hauled in five touchdowns during eight games in the regular season. He also recorded an eye-popping nine-catch, 113-yard performance against the San Francisco 49ers during the NFC Championship Game. Without Beckham Jr., the Rams could have very well lost to the 49ers.
In the Super Bowl, the Rams will need a similar performance out of OBJ. The Bengals defense will likely prioritize stopping Kupp (like the 49ers did), opening the door for Beckham Jr. to thrive.
Odell Beckham Jr. gets to avoid CB1 coverage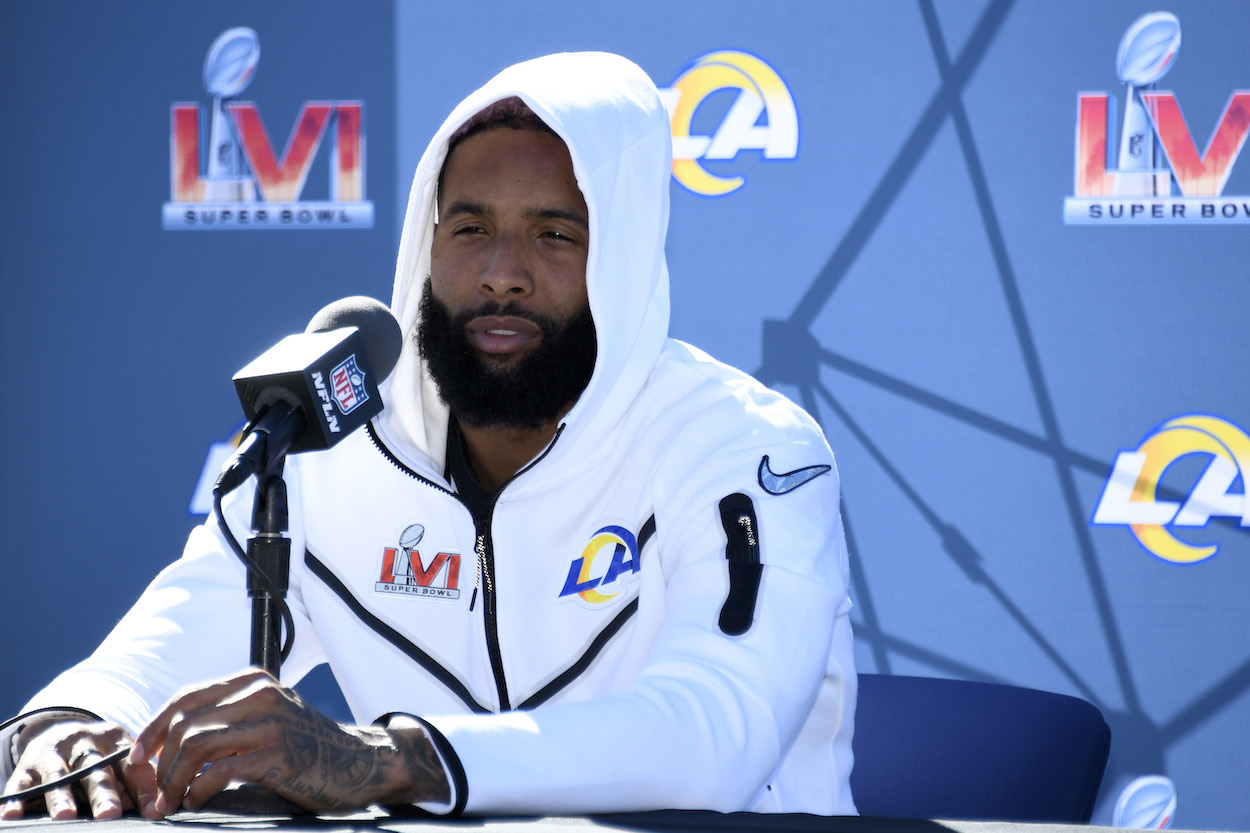 Beckham Jr.'s respective talent aside for the moment, the biggest reason he's primed for a big game in the Super Bowl is due to the likely coverage matchups he's set to face.
The Bengals secondary is light on star-caliber corners as is — OBJ gets to face off against their CB2 (Trae Waynes).
Cincinnati will presumably task CB1 Eli Apple with man-marking Cooper Kupp. It's also reasonable to assume it will send double teams Kupp's way. This opens the door for Beckham Jr. to go one-on-one with Trae Waynes and possibly Vernon Hargreaves III.
Whether you're a fan of OBJ or not, these are matchups he should be expected to dominate.
OBJ can earn a fat payday with a dominant Super Bowl performance
If OBJ needed any extra motivation to perform well in the Super Bowl, capping off his year with a dominant performance would go a long way toward landing a large contract in free agency.
National opinion on Beckham Jr. was wavering due to his struggles in Cleveland. Now, he's seemingly established himself as an elite WR again, who you can win with. A massive outing on Sunday would only add to the narrative that he's deserving of a large payday this offseason.
Don't get me wrong, Kupp is the Rams' unquestioned WR1. However, Beckham Jr. is the secret key to success for LA this weekend.
All stats courtesy of Pro Football Reference.
RELATED: Joe Montana Surprisingly Wants the 49ers to Stick With Jimmy Garoppolo: 'I Don't Think Trey [Lance] Is Ready'