The 25 Worst Trades in NBA History
In the NBA, sometimes making a trade will really come back to bite you. Probably more so than most other major American sports, teams in the NBA aren't afraid to make big deals, both in the offseason and leading up to the trade deadline. In 2018 alone, the Cleveland Cavaliers completely reshaped their roster in mid-February.
Sometimes you make a deal that turns out well, adding an extra role player who pushes a team from good to great. Other times, teams unwittingly give up a future star. It's not always their fault, truly. Players can completely change their game in the middle of their careers. Here are 25 of the worst NBA trades in history.
1. Golden State Warriors trade Vince Carter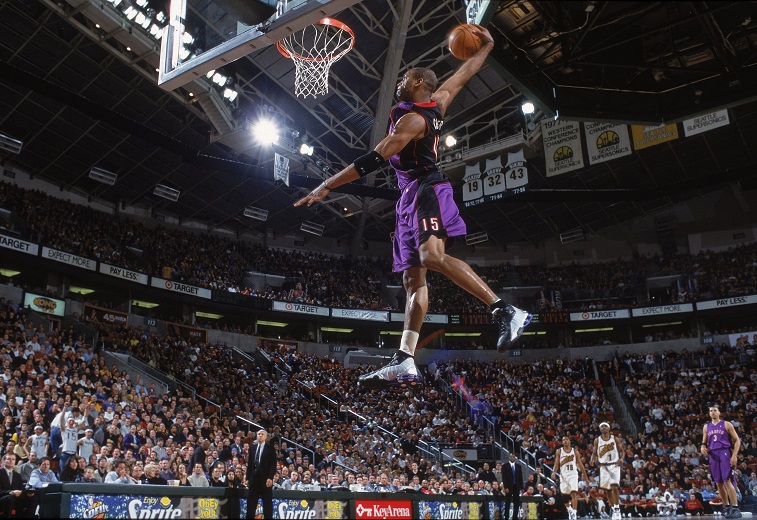 Most probably don't remember that Vince Carter was actually drafted by the Golden State Warriors back in 1998. But on draft day, the Warriors sent Carter to the Toronto Raptors — along with cash — for forward Antawn Jamison. Carter immediately developed into a star player, winning Rookie of the Year in Toronto. Jamison developed into a star in his own right. However, many of his great seasons were the result of being the best player on a bad team.
2. Los Angeles Clippers trade unprotected draft pick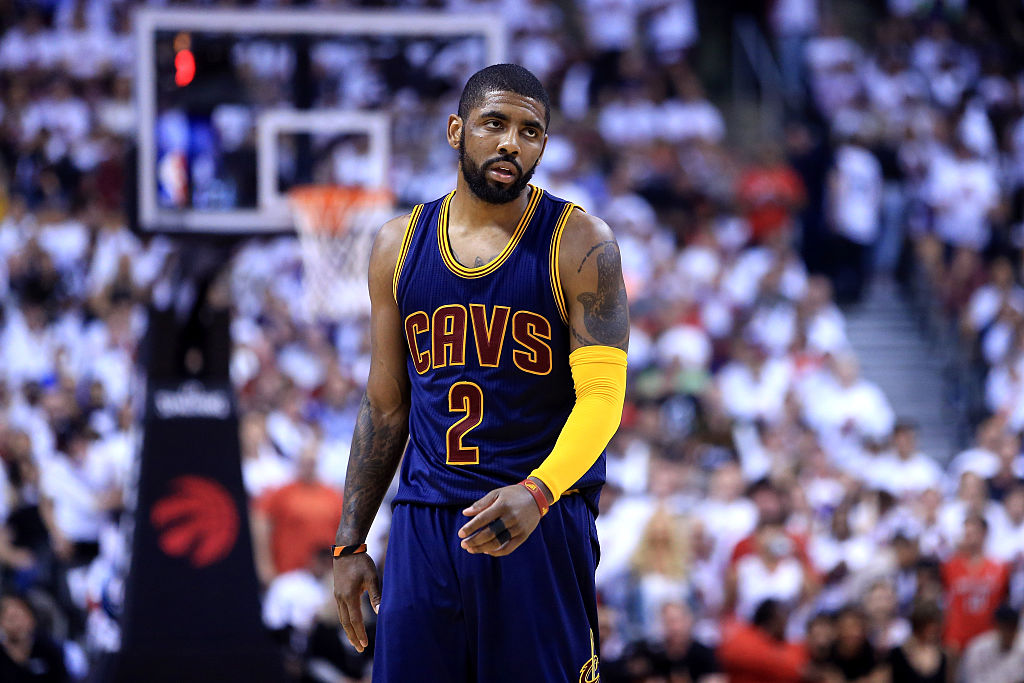 The Cavaliers tanked quickly after LeBron James left Cleveland to go to Miami. Much of the roster was still intact. But the Cavs still went from one of the best to one of the worst teams in the league. They needed to rebuild quickly. With that in mind, they did a deal with the Los Angeles Clippers at the trade deadline. Los Angeles sent Baron Davis and an unprotected first round pick to the Cavs for Jamario Moon and Mo Williams. So what makes this an awful deal, you ask? That draft pick was used to select Kyrie Irving.
3. New Jersey Nets trade for Gerald Wallace
Back in 2012, forward Gerald Wallace was averaging 13.3 points and 6.6 rebounds with the Portland Trail Blazers. The New Jersey Nets, though they were out of contention, decided to make a deal to get Wallace. At the trade deadline, they sent Mehmet Okur, Shawne Williams, and a first round pick to the Portland Trail Blazers. In return, they received Wallace for the rest of the season and the one following. Unfortunately for New Jersey, that draft pick turned into Damian Lillard just a few months later.
4. Chicago Bulls trade Tyson Chandler to New Orleans Hornets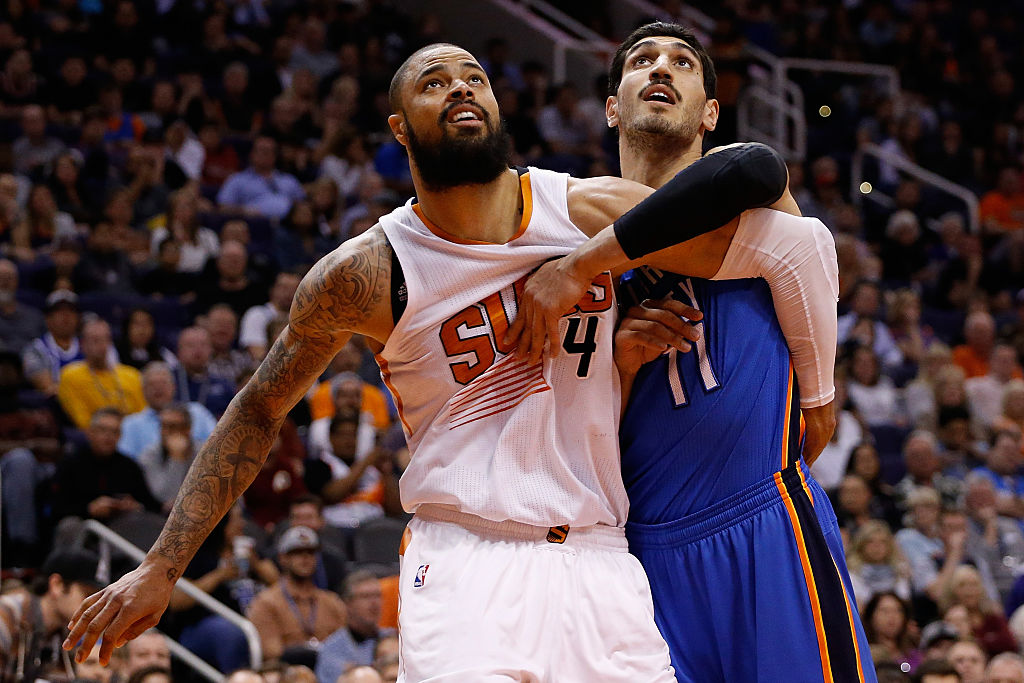 The Los Angeles Clippers drafted Tyson Chandler and then dealt him to the Chicago Bulls on draft day. They received Elton Brand, who could appear on this list as well. After several years of not meeting his potential in Chicago, the Bulls signed Ben Wallace and immediately dealt Chandler to the New Orleans Hornets. In return, they got P.J. Brown and J.R. Smith. The former player spent one season with the Bulls. The latter was waived before ever putting on a uniform. Chandler finally developed into an All-Star and NBA champion.
5. Oklahoma City Thunder trade James Harden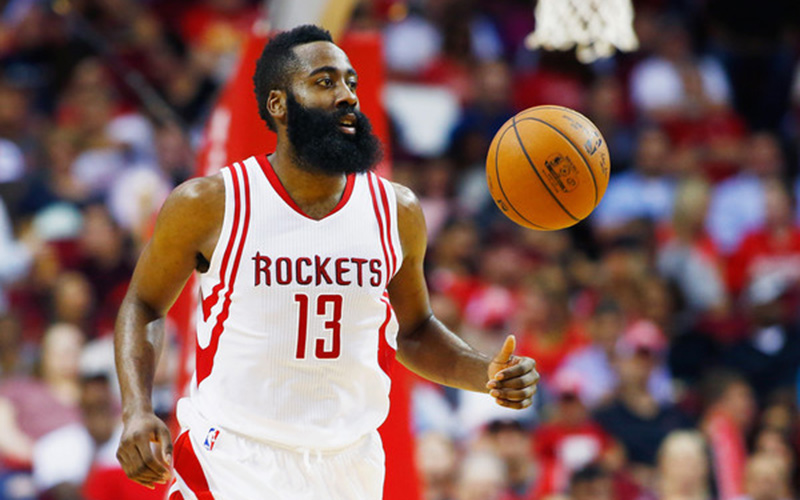 The Oklahoma City Thunder took James Harden with the third overall pick in 2009. Off the bench, he quickly became a high-volume scoring sixth man for three seasons. But just prior to the 2012-13 season, the Thunder dealt Harden to the Houston Rockets in return for Kevin Martin, Jeremy Lamb, and draft picks that were used on Steven Adams and Mitch McGary. Harden immediately transformed into a star, averaging 27.9 points and 7.7 assists per game with the Rockets.
6. San Antonio Spurs trade Dennis Rodman to Chicago Bulls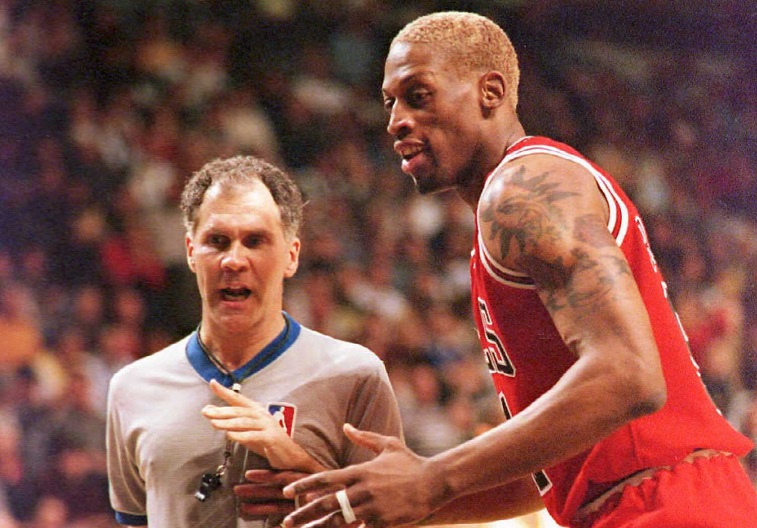 After Horace Grant left Chicago to play with the Orlando Magic, the Bulls needed a stronger rebounding presence. With that in mind, they made a deal with the San Antonio Spurs to get rebounding legend Dennis Rodman. "The Worm" was already 34 years old. His best seasons were behind him, and he was troublesome at times. So the Spurs gave him to Chicago in exchange for backup center Will Perdue. Rodman had three more great years, leading the NBA in rebounds per game and helping the Bulls win three championships. Perdue, well, was a backup center.
7. Minnesota Timberwolves trade Brandon Roy
This deal is as curious as it is bad. The Minnesota Timberwolves drafted shooting guard Brandon Roy with the No. 6 overall pick in the 2006 draft. Then, they immediately traded him to the Portland Trail Blazers for shooting guard Randy Foye, who was taken with the next pick. Foye never amounted to much more than a backup guard in his NBA career. Roy, however, quickly developed into a star in Portland. Unfortunately, knee injuries ended his career early, but it was still a major blunder by Minnesota.
8. Utah Jazz trade Deron Williams to New Jersey Nets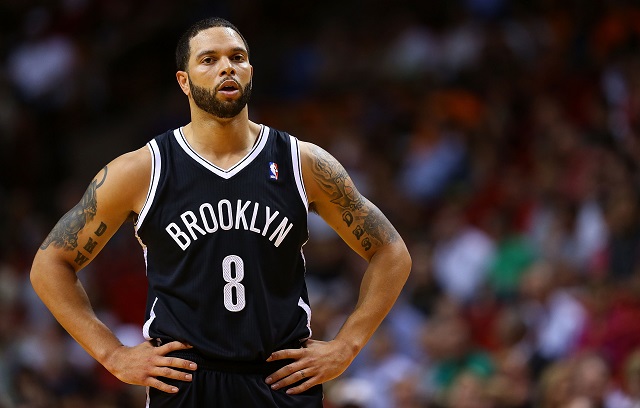 Usually when a star player is traded for prospects, the team giving up the star is the one that ends up regretting it. But with the case of Deron Williams being dealt to the New Jersey Nets from the Utah Jazz, it was actually the Nets that ended up regretting things. At the trade deadline in 2011, the Nets sent Derrick Favors, Devin Harris, and draft picks that would turn into Enes Kanter and Gorgui Dieng to Utah in exchange for the guard. He quickly dropped from his status as one of the best point guards in the game. The Nets waived him in 2015.
9. Boston Celtics trade Joe Johnson to Phoenix Suns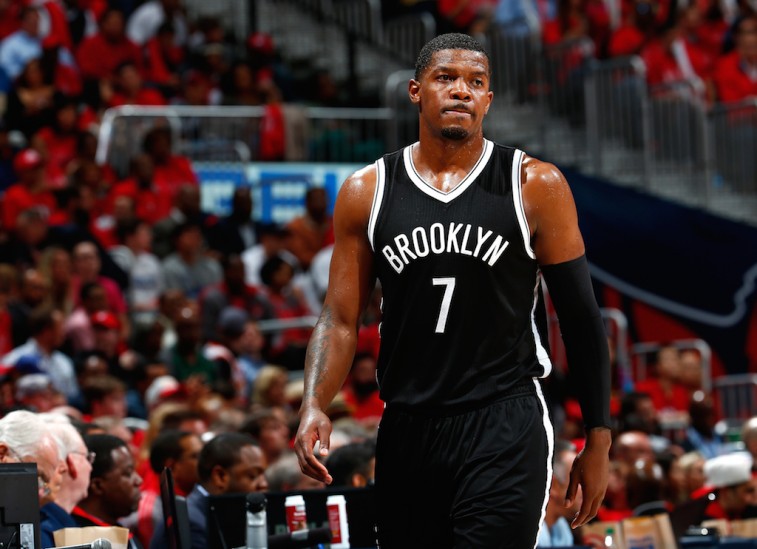 Back in 2002, the Boston Celtics found themselves to be contenders once again, behind stars Antoine Walker and Paul Pierce. Needing to bolster their front line and bench, they made a deal sending rookie shooting guard Joe Johnson to the Phoenix Suns in exchange for veteran forward Rodney Rodgers and guard Tony Delk. The Celtics made it to the Eastern Conference Finals that year, but giving up Johnson ended up being a huge mistake — he averaged 18.5 points per game over his next seven seasons and made seven All-Star teams in his career.
10. Cincinnati Royals trade Oscar Robertson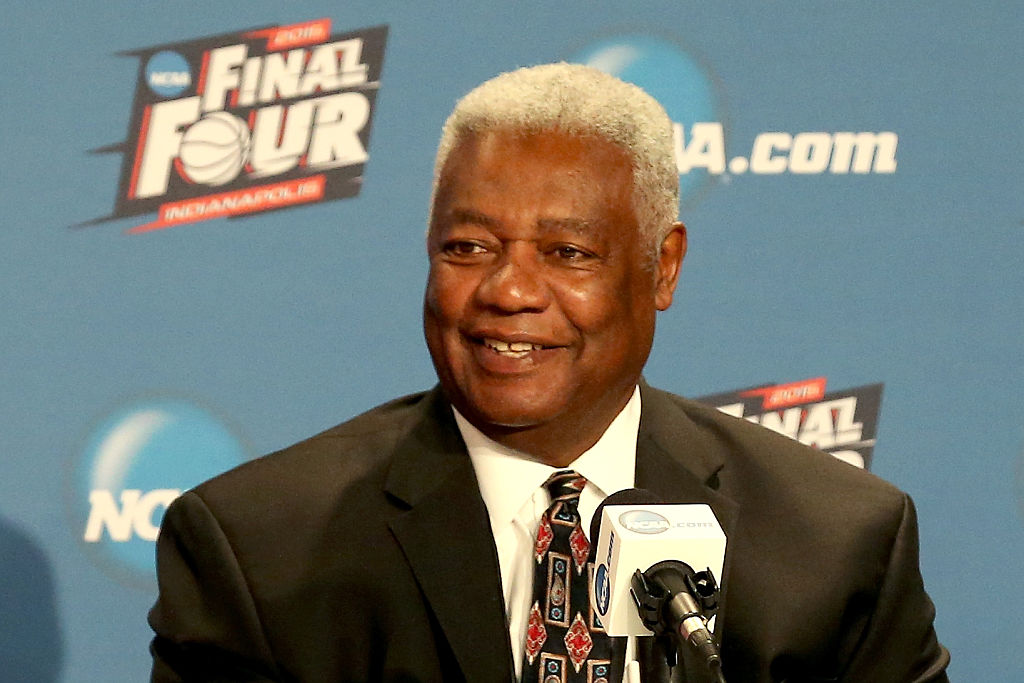 When the Cincinnati Royals traded Oscar Robertson to the Milwaukee Bucks, he was already 31 years old and it appeared to be the right move to get something in exchange for the aging star. While he would only play four more years in the NBA and his stats did decline, Robertson helped the Bucks win the NBA championship in 1971. Charlie Paulk and Flynn Robinson, the players the Royals received in the deal, were complete non-factors for the team — making this one of the worst NBA deals in history.
11. Chicago Bulls trade LaMarcus Aldridge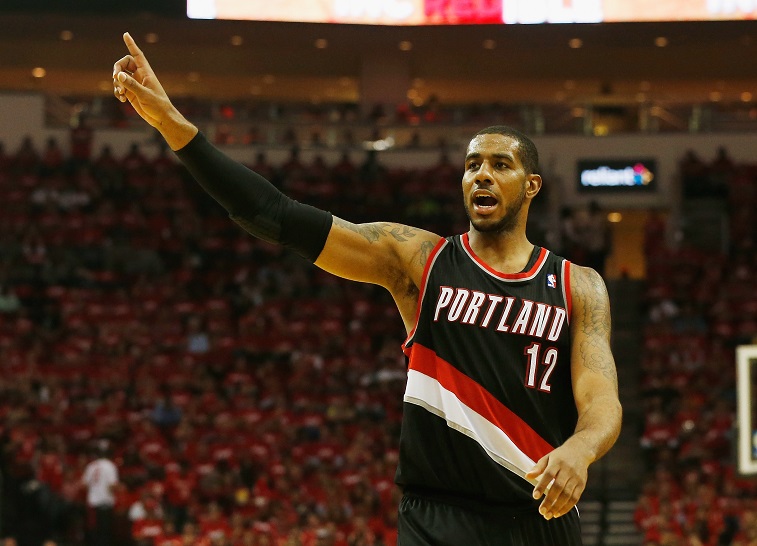 After dealing away Eddy Curry, it was clear what the Chicago Bulls needed to become a true contender — a low post, scoring power forward. As luck would have it, Chicago had the second pick in the draft that year due that same trade with the New York Knicks for Curry. They took power forward LaMarcus Aldridge, which looked like a brilliant move at the moment. But shortly after, they traded Aldridge to the Portland Trail Blazers in return for athletic but volatile forward Tyrus Thomas. Aldridge became the exact player the Bulls needed, and Chicago would end up really regretting the move.
12. Philadelphia 76ers trade Charles Barkley to Phoenix Suns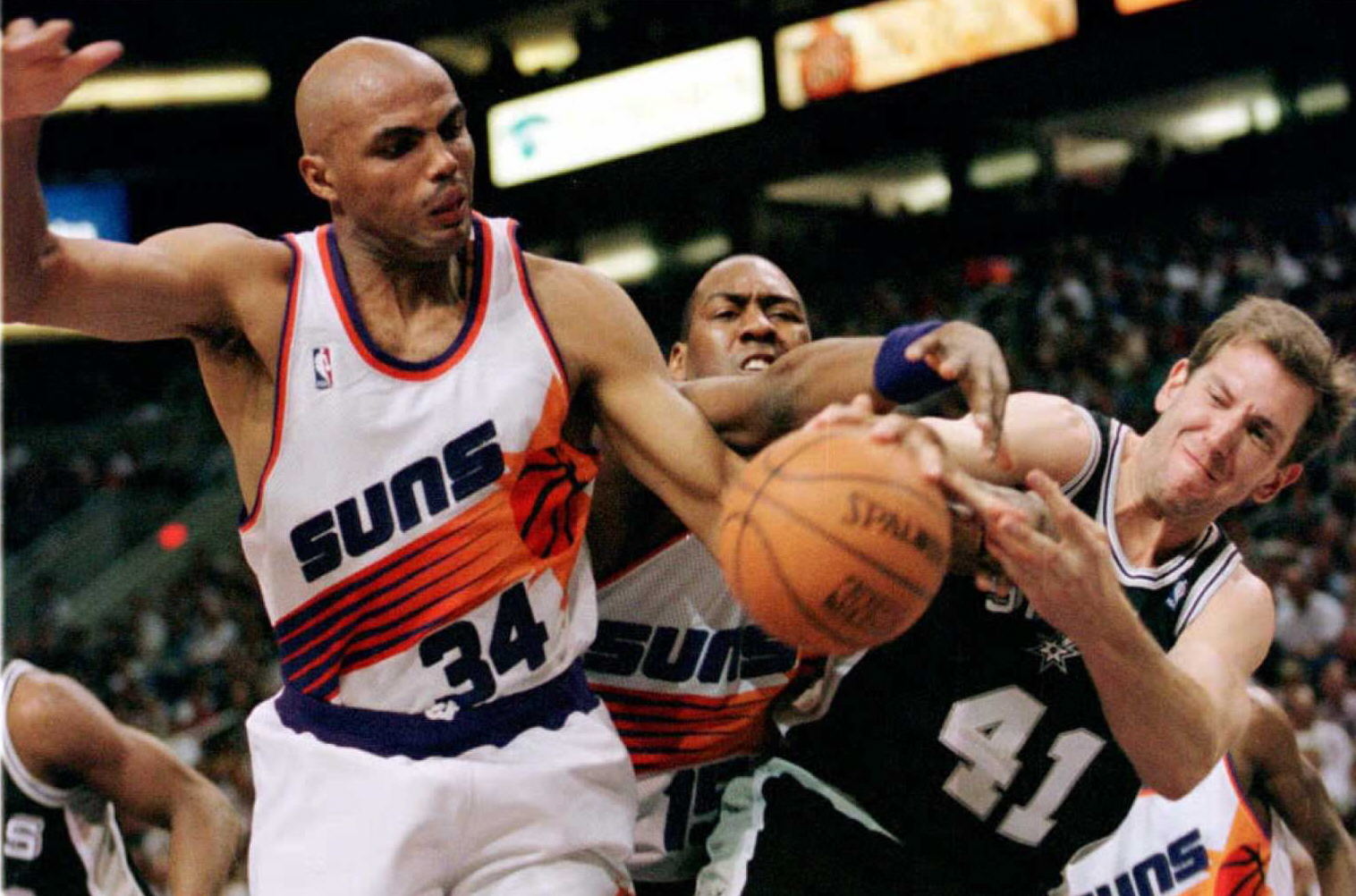 Back in the offseason of 1992, Charles Barkley had already established himself as one of the premier power forwards in the NBA. So while he was only 28 years old, it was perplexing as to why the Philadelphia 76ers thought they'd be best served to deal Barkley. The Sixers sent him to the Phoenix Suns in exchange for shooting guard Jeff Hornacek and two bench players, which set the team on a string of awful seasons over the next six years. Barkley would help lead the Suns to the 1993 NBA Finals and win the MVP award that season.
13. Portland Trail Blazers trade Moses Malone to Buffalo Braves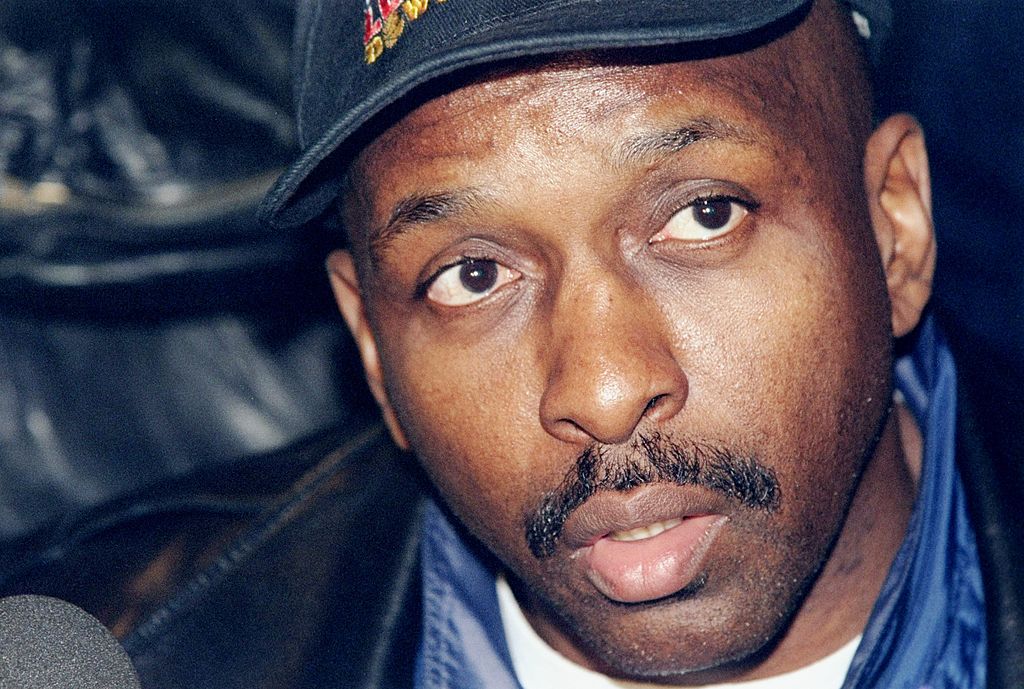 Back in 1976, the NBA was undergoing a dispersal draft of the players from the Spirts of St. Louis. The Trail Blazers took a 21-year-old center named Moses Malone in the draft, but just two months later traded him to the Buffalo Braves for a draft pick that they'd eventually use on Rick Robey. Malone would only play two games that year for the Braves before being traded yet again to the Houston Rockets, where he'd average 26.1 points and 15.3 rebounds over the next five seasons.
14. Cleveland Cavaliers trade James Worthy to Los Angeles Lakers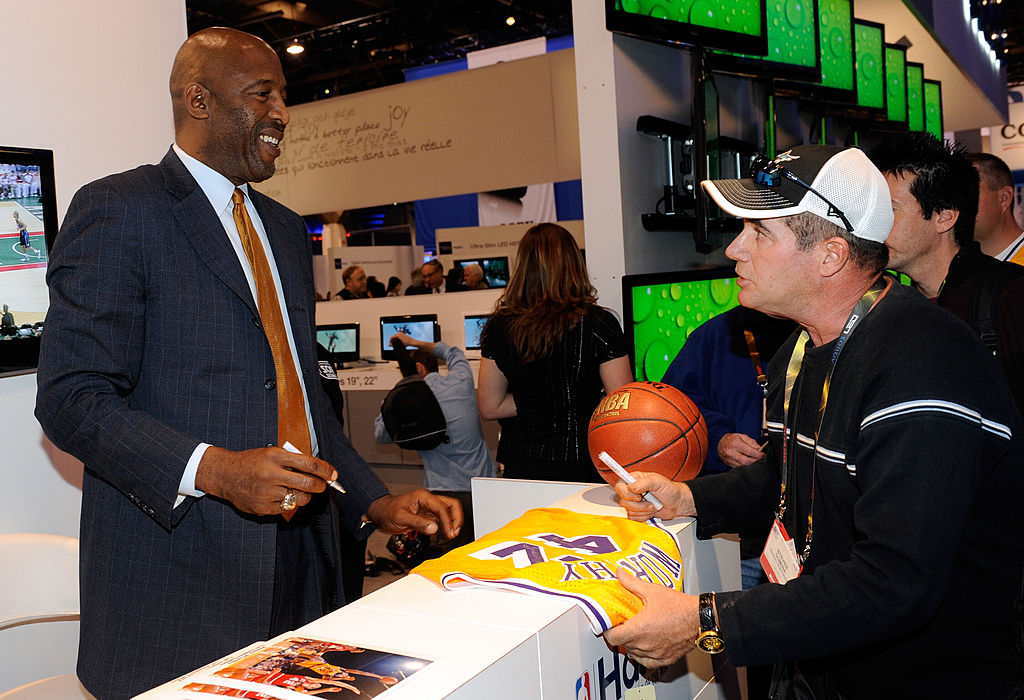 Back in 1980, the Cleveland Cavaliers and Los Angeles Lakers made a trade that appeared to be of little consequence at the time. The Cavs traded Butch Lee and a 1982 first round pick to the Lakers in exchange for Don Ford and a 1980 first rounder. The deal was all but forgotten in the annuls of history, until that '82 pick that the Lakers received started to make some noise on the court. James Worthy, a 6-foot-9 forward from North Carolina, developed into a star player and helped the Lakers to win three championships in his 12-year career in the NBA.
15. Seattle Supersonics trade Scottie Pippen to Chicago Bulls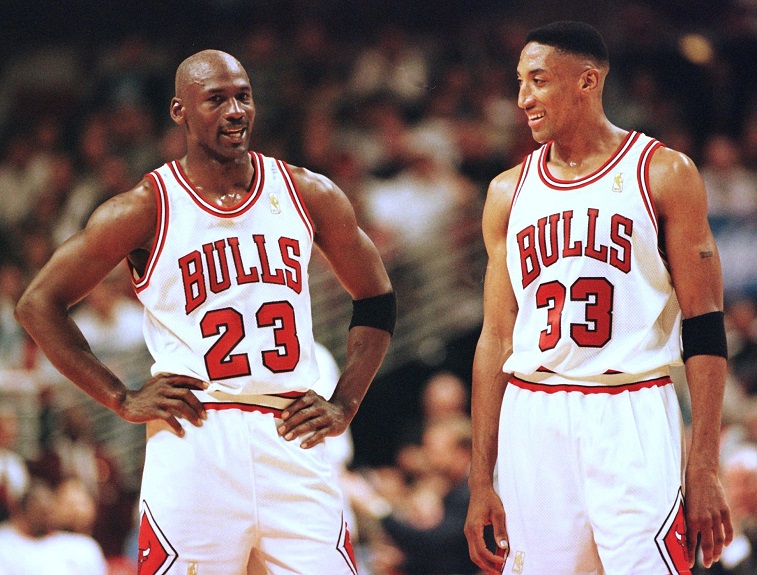 On draft day in 1987, the Seattle Supersonics held the number five overall pick. They took a defensive small forward named Scottie Pippen, but later would deal him to the Chicago Bulls for center Olden Polynice. The Sonics really needed a center, so the deal made sense at the time. But while Polynice averaged only 5.0 points and 4.5 rebounds in his five years with the Sonics, Pippen won six NBA championships with the Bulls and developed into one of the top players in NBA history.
16. Toronto Raptors trade Vince Carter to New Jersey Nets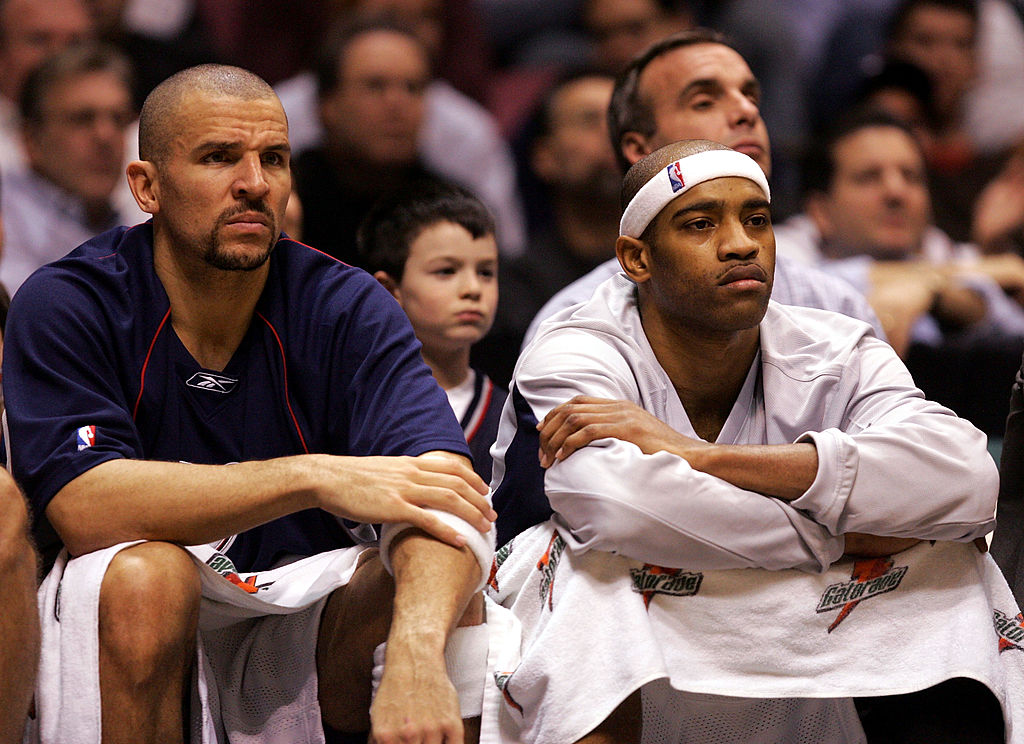 In Vince Carter's seventh year in Toronto, things started to move south in the relationship. The Raptors were no longer a contender, and the forward's scoring and shooting numbers had taken a pretty steep slide. In December 2004, Toronto traded Carter to the New Jersey Nets in a massive package deal that included center Alonzo Mourning and a few draft picks. The Raptors released Mourning, and the draft picks turned out to be un-notable bench players Joey Graham and Renaldo Balkman. Carter, on the other hand, averaged 22.9 points per game over his next four seasons.
17. San Diego Rockets trade Elvin Hayes to Baltimore Bullets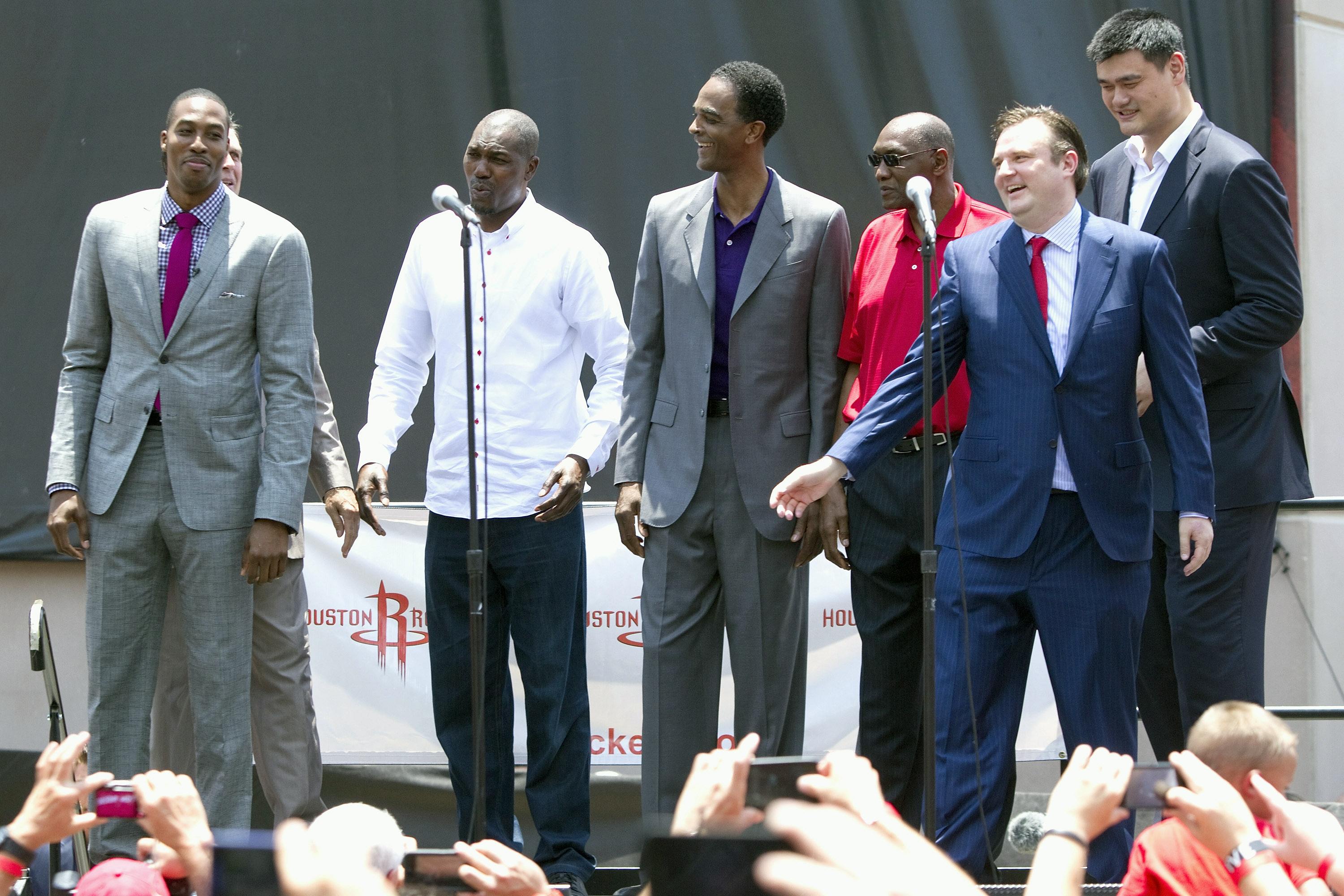 The Rockets — then in San Diego — drafted center Elvin Hayes number one overall back in 1968. He played four seasons there, averaging 27.4 points and 16.3 rebounds per game. But in the summer of 1972, the Rockets inexplicably traded their 26-year-old star to the Baltimore Bullets for small forward Jack Marin — who was a nice player, but no Elvin Hayes. The Bullets eventually moved to Washington D.C., where Hayes would help lead them to a championship in 1978.
18. Phoenix Suns trade Dennis Johnson to Boston Celtics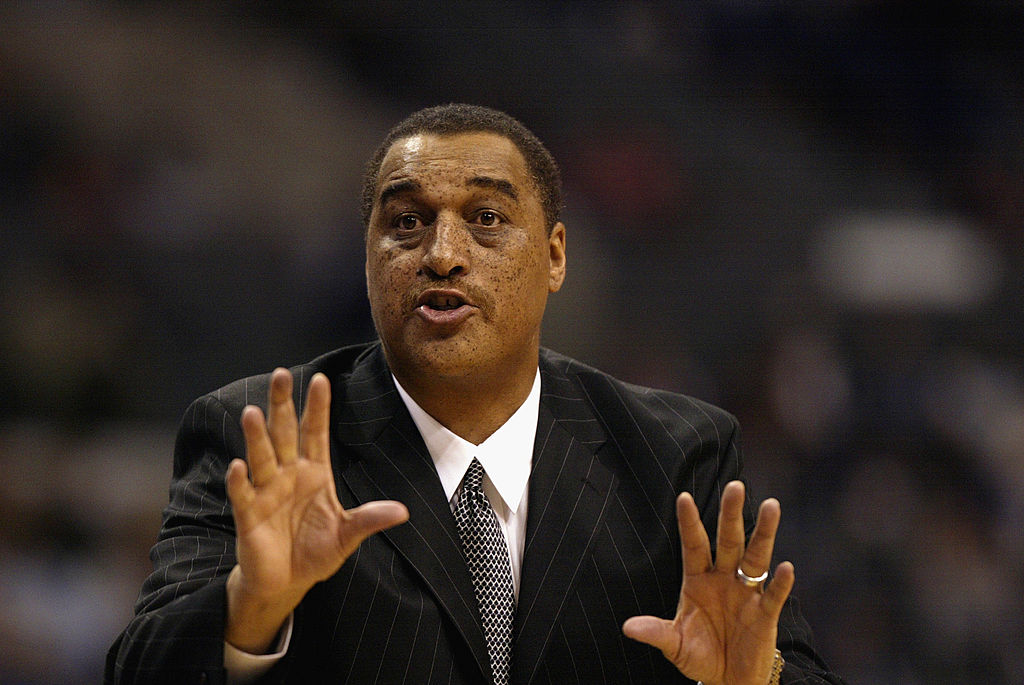 In yet another deal involving the immortal Rick Robey, the Phoenix Suns decided to trade away their hybrid point guard/shooting guard Dennis Johnson in return for very little. Johnson was 28 years old and had finished the 1982-83 season averaging 14.2 points and 5.0 assists per game for the Suns, but apparently it didn't warrant keeping him around. Over the next handful of seasons with the Celtics, Johnson made one All-Star team and won two championships, averaging 17.3 points per game in the postseason from 1984-1987.
19. Golden State Warriors trade Tim Hardaway to Miami Heat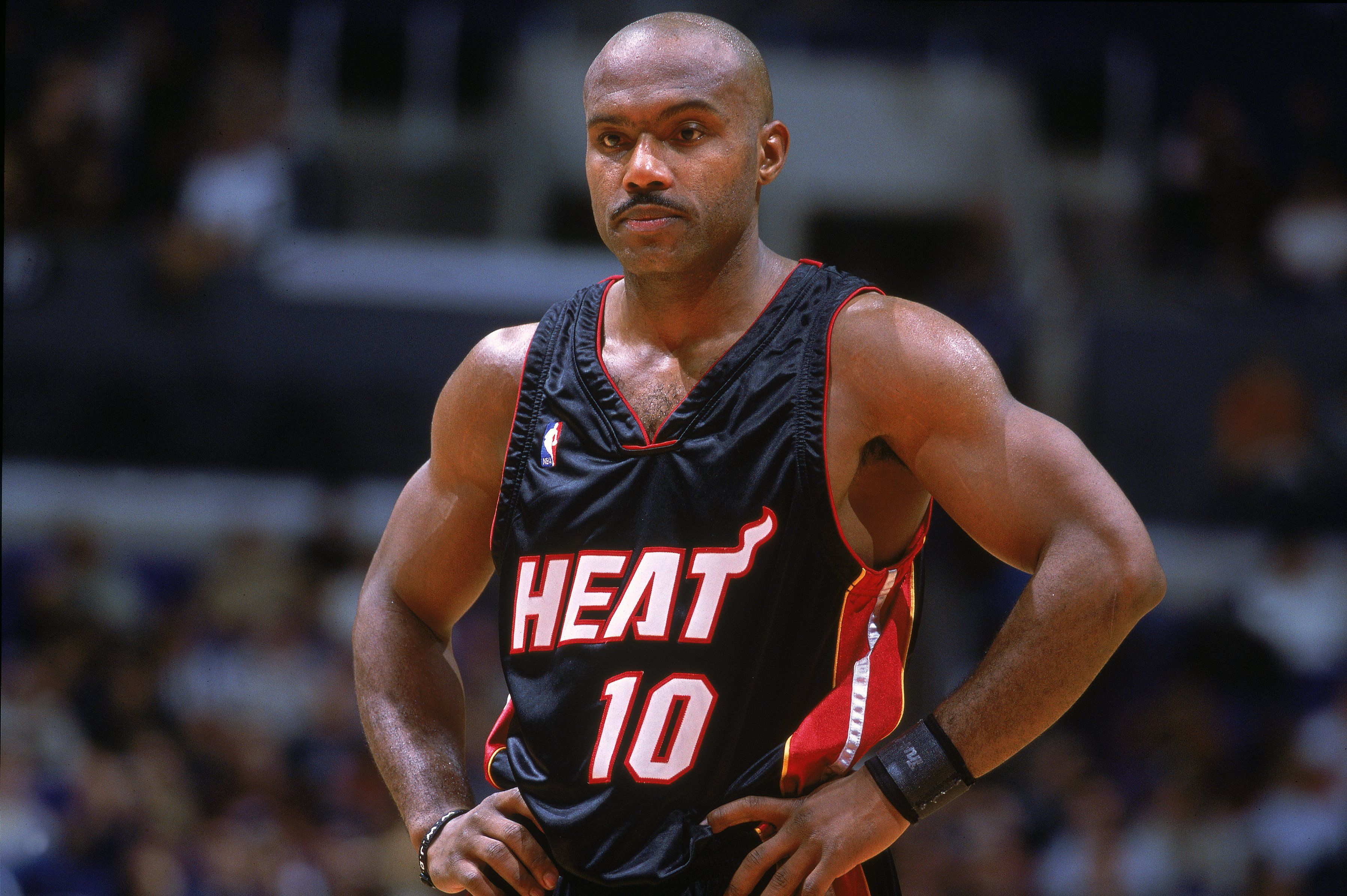 Tim Hardaway was once one of the most dynamic point guards in the league for the Golden State Warriors. Unfortunately, a knee injury forced him to miss the entire 1993-94 season, and after his return he just didn't have the same explosion. With his numbers down a bit, the Warriors decided to trade him in the middle of the 1995-96 season to the Miami Heat in exchange for point guard Bimbo Coles and center Kevin Willis. While Hardaway would continue to be a star with the Heat, Coles was merely a backup point guard and Willis was released after just 28 games.
20. Milwaukee Bucks trade Dirk Nowitzki to Dallas Mavericks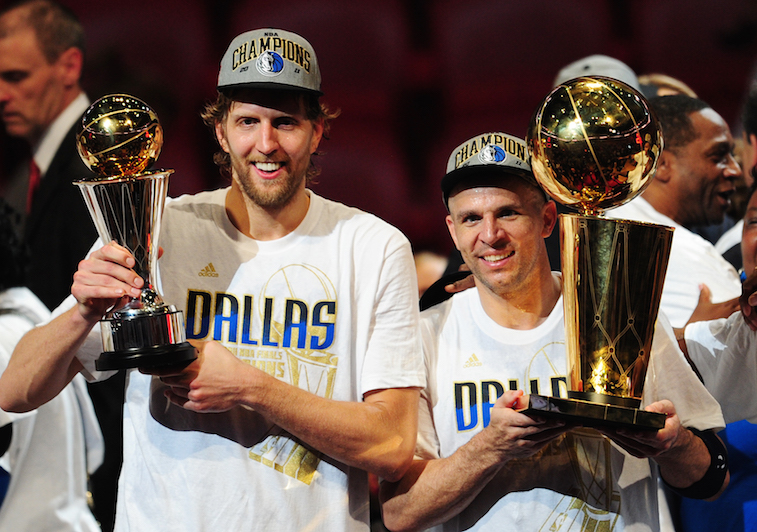 The Milwaukee Bucks held the ninth pick in the 1998 NBA draft, and they used it to select little-known German forward Dirk Nowitzki. Later in that draft, the Bucks packaged Nowitzki and Pat Garrity — who they had selected with the 19th pick — to the Dallas Mavericks for large power forward Robert "Tractor" Traylor. While Nowitzki would build a solid case for the Hall of Fame over the next 20 years, winning an NBA championship, a league MVP, and countless other awards, Traylor averaged 4.8 points and 3.7 rebounds per game over his seven-year NBA career — primarily as a backup on bad teams.
21. Washington Wizards trade Chris Webber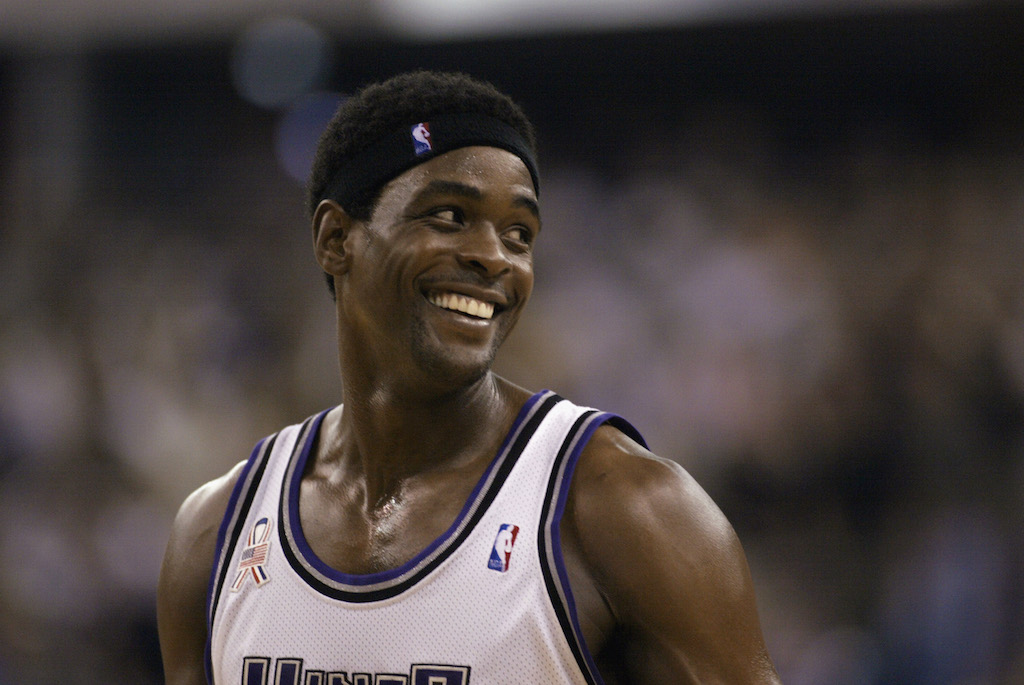 With a jam-packed front line that included Juwan Howard and Ben Wallace, the Washington Wizards decided to make a deal to give themselves a more complete team. They dealt 25-year-old power forward Chris Webber to the Sacramento Kings in exchange for shooting guard Mitch Richmond and forward Otis Thorpe. Richmond had made seven consecutive All-Star teams and averaged 23.5 points over that period, so it looked like a good deal.
But he was 33 years old, and his stats began to drop off quickly — and with it, the Wizards' win totals. While Richmond spent only three seasons in Washington, Webber developed into a superstar in Sacramento and helped lead the Kings to several deep playoff runs.
22. Charlotte Hornets trade Kobe Bryant to Los Angeles Lakers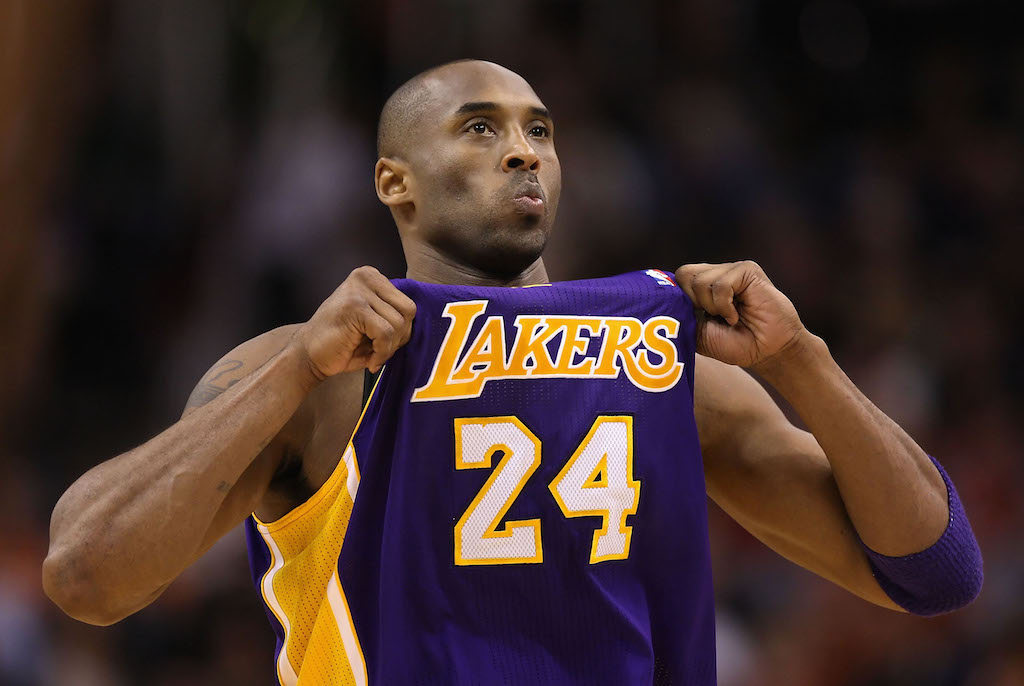 With the 13th overall pick in the 1996 draft, the Charlotte Hornets took a gamble on a talented high school kid from Philadelphia named Kobe Bryant. Unfortunately for them, negotiations with the 18-year-old went poorly over the next few weeks, and the Hornets decided they were better off dealing Bryant to the Los Angeles Lakers in exchange for center Vlade Divac. The Hornets would make a nice playoff run with Divac on the team, but he would leave as a free agent just two seasons after arriving. Bryant, on the other hand, won five NBA championships with the Lakers and developed into one of the best players of all time.
23. Philadelphia 76ers trade Wilt Chamberlain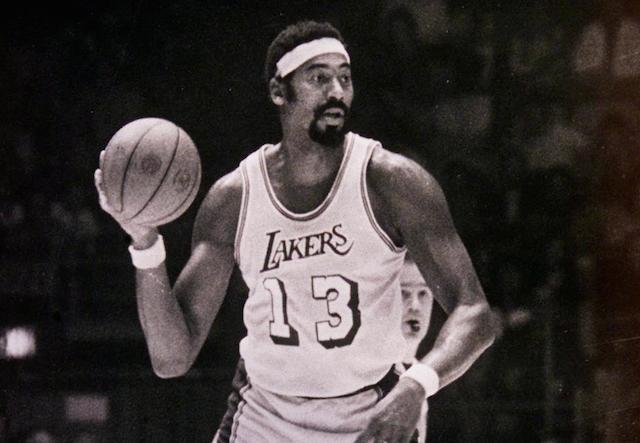 Wilt Chamberlain was an NBA legend already when he was traded by the Philadelphia 76ers to the Los Angeles Lakers in 1968. He had led the NBA in scoring average and rebounding average seven times, including a season in which he scored an absurd 50.4 points per game. So the Sixers traded him away, receiving Jerry Chambers, Archie Clark, and Darrall Imhoff in return. None of those players had a long-term effect with Philadelphia, while Wilt finished out his career averaging 17.7 points and 19.2 rebounds per game and winning a championship in Los Angeles.
24. Milwaukee Bucks trade Kareem Abdul-Jabbar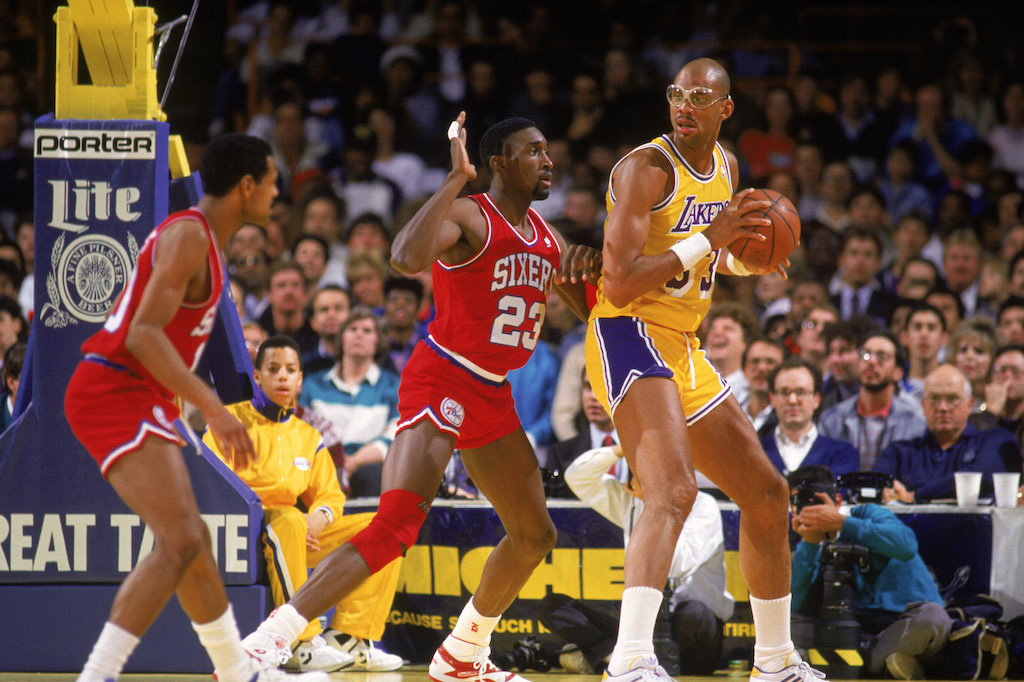 Yet another deal where the Lakers pulled a talented big man away from a small market team. Lew Alcindor, later known as Kareem Abdul-Jabbar, was already an established star at the time that the Milwaukee Bucks decided to deal him to Los Angeles. In his final season with the Bucks in 1974-75, he averaged 30 points, 14 rebounds, and 3.3 blocks per game. In return for the future Hall of Famer, Milwaukee received a package of underwhelming players such as Junior Bridgeman, Dave Meyers, and Elmore Smith. Abdul-Jabbar played 14 more years, winning five championships with the Lakers.
25. St. Louis Hawks trade Bill Russell to Boston Celtics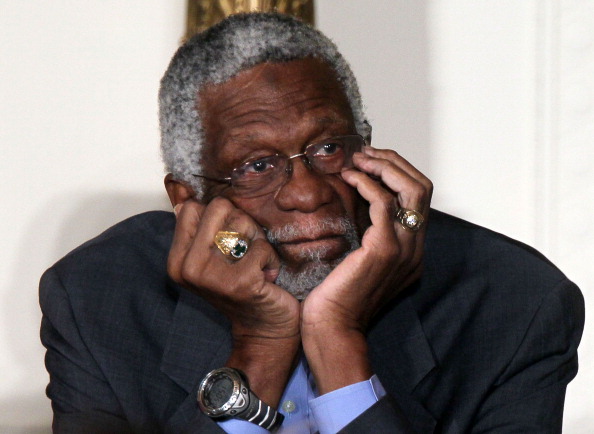 Many people don't even realize that Boston Celtics legend Bill Russell wasn't originally drafted by the team. Back in 1956, he was actually taken in the draft with the number two overall pick by the St. Louis Hawks. That same day, the Hawks turned around and dealt Russell to Boston in return for Cliff Hagan and Ed Macauley. Hagan actually would have a nice career with the Hawks, but Russell would become one of the greatest defensive players ever — leading the league in rebounding five times and averaging 22.5 rebounds per game for his career, while winning 11 championships in his 13 NBA seasons.
All stats courtesy of basketball-reference.com.