3 Best Destinations for Marlon Mack as the Indianapolis Colts Search for a Trade Partner
The Indianapolis Colts have finally made the decision to move on from running back Marlon Mack, who was a healthy inactive during Week 3 and has played sparingly in the 2021 campaign as Jonathan Taylor and Nyheim Hines have manned the backfield.
Now the Colts will hit the trade market and see what is out there. Mack missed the 2020 season with an Achilles injury, but prior to that, he was a 1,000-yard rusher in 2019 and fell just short of the milestone in 2018.
Mack might still be able to produce if he is given a shot, and some teams have already been dealt major blows to the running back position. Here are three teams that should pick up the phone and inquire about Mack's services. All three of these would be a tremendous opportunity for Mack to display his skills.
3. Miami Dolphins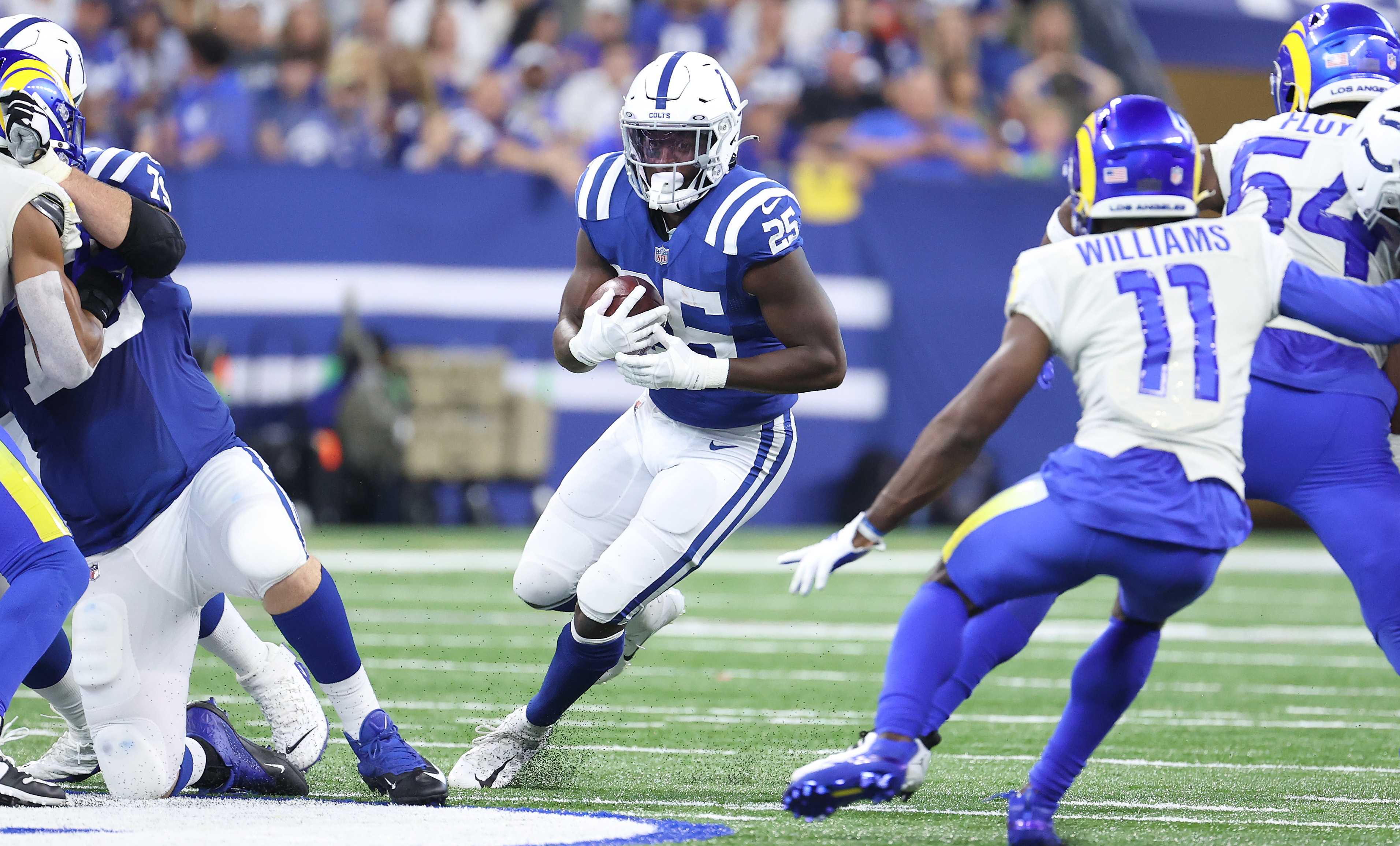 On Tuesday, Tom Pelissero of NFL Network reported that the Colts and Mack have agreed to search for a trade partner.
This option would be a bit of a homecoming for Mack, who played college ball at the University of Southern Florida and did rather well during his time there. Currently, the Dolphins have been platooning Myles Gaskin and Malcolm Brown to an underwhelming degree.
Gaskin's most productive outing of the season came against the Las Vegas Raiders as he had 13 carries for 65 yards. On the year he has just 139 yards on 27 carries and has yet to find the endzone. Then there is Brown, who has just 17 totes for 68 yards and one score. The other two rushing scores for the Dolphins have come via the quarterbacks — Tua Tagovailoa and Jacoby Brissett.
The Dolphins were a borderline playoff team in 2020 and have started off at 1-2 and their inability to run the football has been more than evident. Mack would have a perfect shot at some weekly touches and a good chance to revitalize his career in the state of Florida.
2. New York Jets
Talk about a disappointing running back room.
The Jets running backs have been a massive headache for everybody. Tevin Coleman, Ty Johnson, and rookie Michael Carter have yet to cross the 100-yard threshold on the season. In fact, Carter leads the entire group with 89 yards on 24 carries.
The Jets have been disastrous on offense, and part of that could be blamed on their extreme inability to run the football at even a semi-decent clip. They are 29th in the NFL in rushing yards per game at 80, and at the very least, Mack would bring in some fresh legs and a hungry attitude.
New head coach Robert Saleh can't afford to keep losing games, especially the way the Jets have, and Mack is at least worth a flier or a late-round draft pick to see what he has left in the tank.
1. San Francisco 49ers
Did you know Kyle Shanahan loves running backs?
Unfortunately for Shanahan, the 49ers have had brutal injury luck to their running back room before the calendar could flip to October. Raheem Mostert underwent season-ending knee surgery, JaMycal Hasty was placed on injured reserve with a high-ankle sprain, Trey Sermon was a healthy scratch in Week 1 and rather ineffective after that, and surprising rookie Elijah Mitchell is also dealing with a shoulder injury.
It has been a giant mess for the 49ers, so much so that they had to hand the rock to fullback Kyle Juszczyk five times against the Green Bay Packers and targeted him four times through the air.
Now, is Mack the guy who could put them over the edge? Probably not, but he would at least provide a fresh player who has a chance to do wonders in an offense such as Shanahan's.
Mack in red and gold would make a ton of sense for both sides, and everybody knows the 49ers could use more depth. The 49ers are the clear-cut choice for their obvious need at running back, and Marlon Mack could come in and immediately get touches on a team with playoff aspirations.
Stats courtesy of Pro Football Reference
RELATED: Chuba Hubbard and the Top Week 4 Fantasy Football Waiver Wire Adds Guaranteed to Lift Your Team