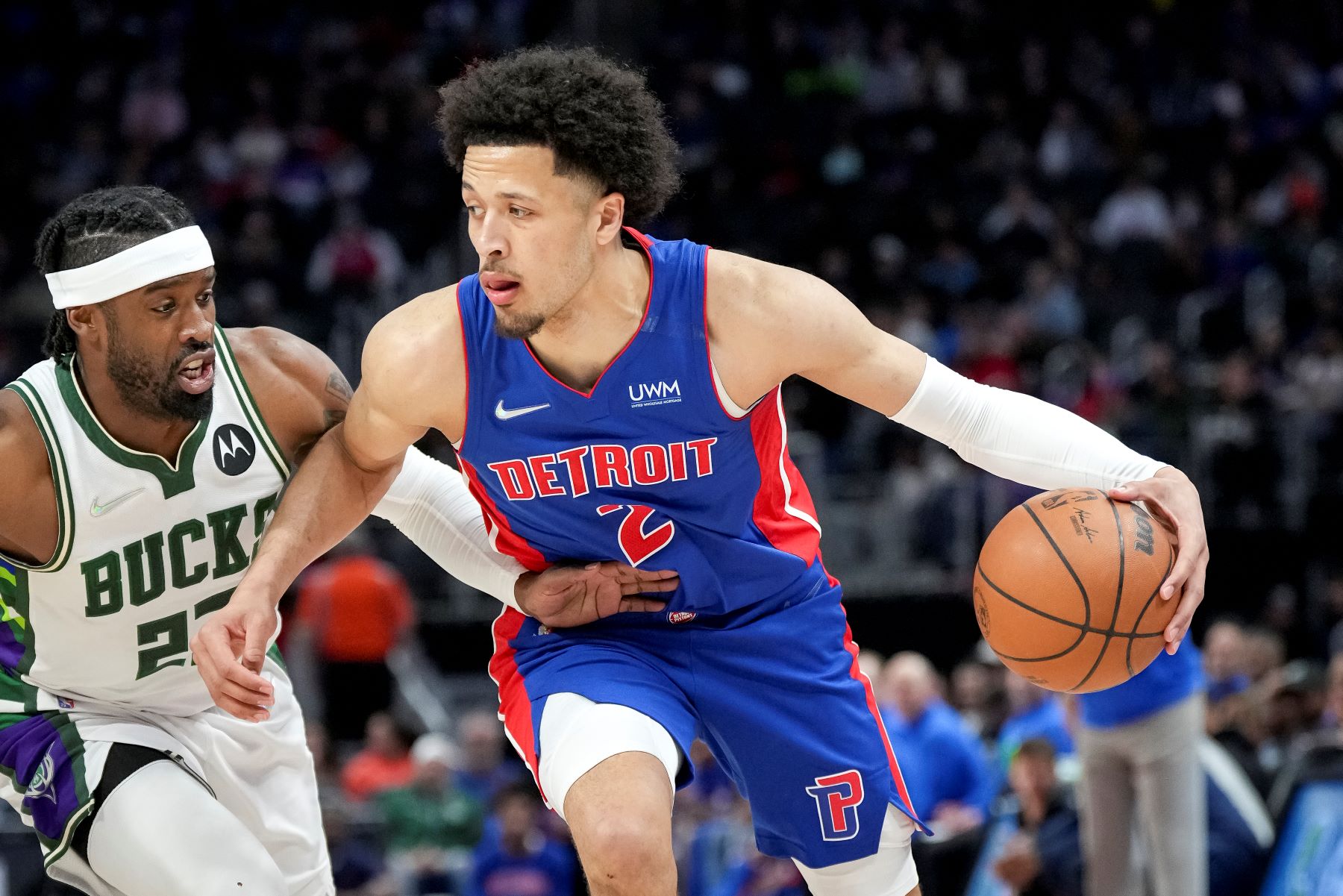 3 Biggest Takeaways From Cade Cunningham's Standout Rookie Season With the Pistons
Looking at Cade Cunningham's rookie season with the Detroit Pistons, here our three biggest takeaways about his future from his time on the court.
Cade Cunningham has quickly become the face of rebuilding the Detroit Pistons team. Selected with the No. 1 pick in the 2021 NBA Draft, Cunningham started all 64 games he appeared in for the Pistons this season, averaging 32.6 minutes per game. 
Across those contests, Cunningham averaged 17.4 points, 5.6 assists, 5.5 rebounds, and 1.2 steals per game while shooting 41.6/31.4/84.5. Cunningham's efforts were enough for him to be a finalist for the 2021-22 NBA Rookie of the Year Award.
Here are three takeaways from Cunningham's rookie season.
Cade Cunningham could be a franchise floor general for the Detroit Pistons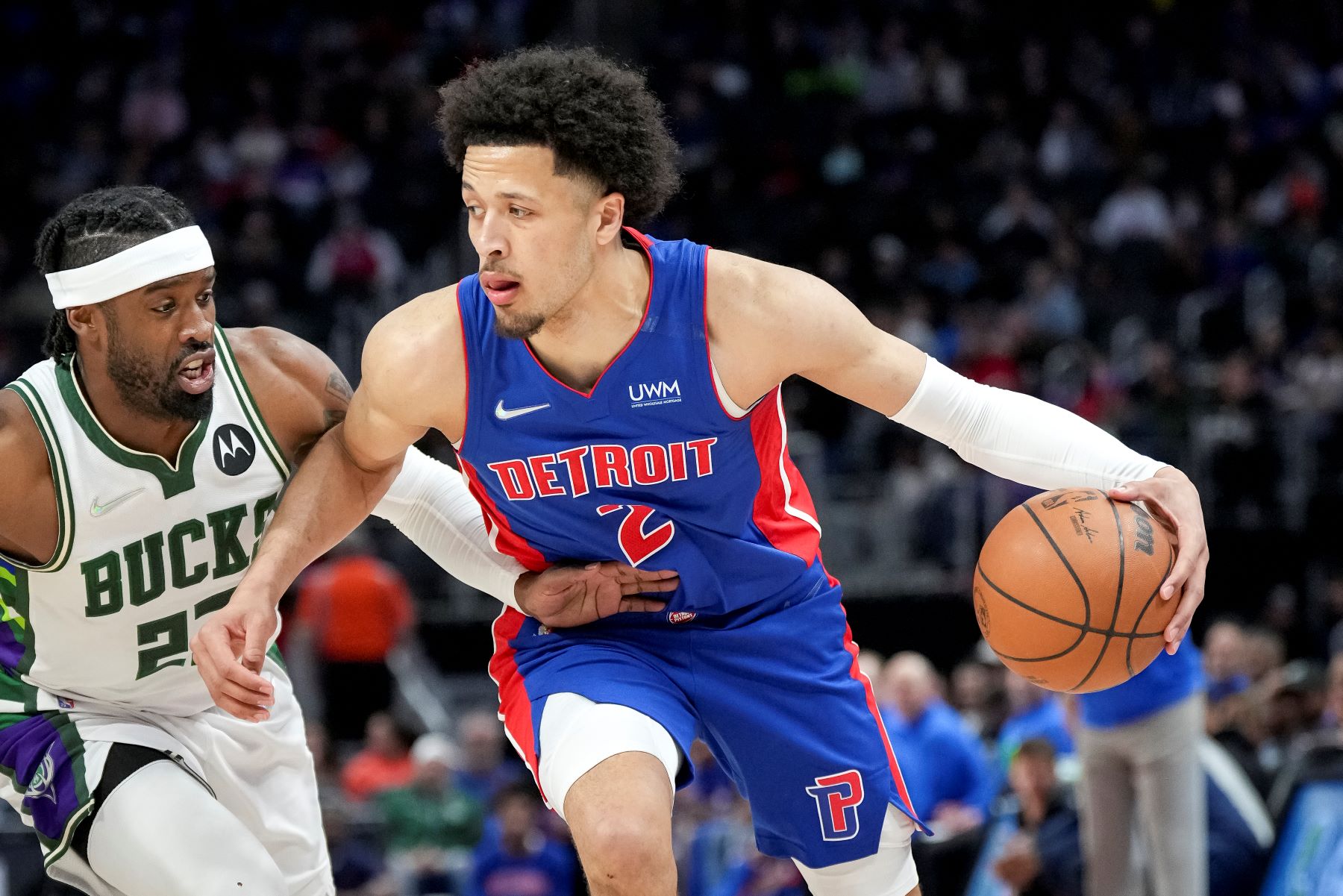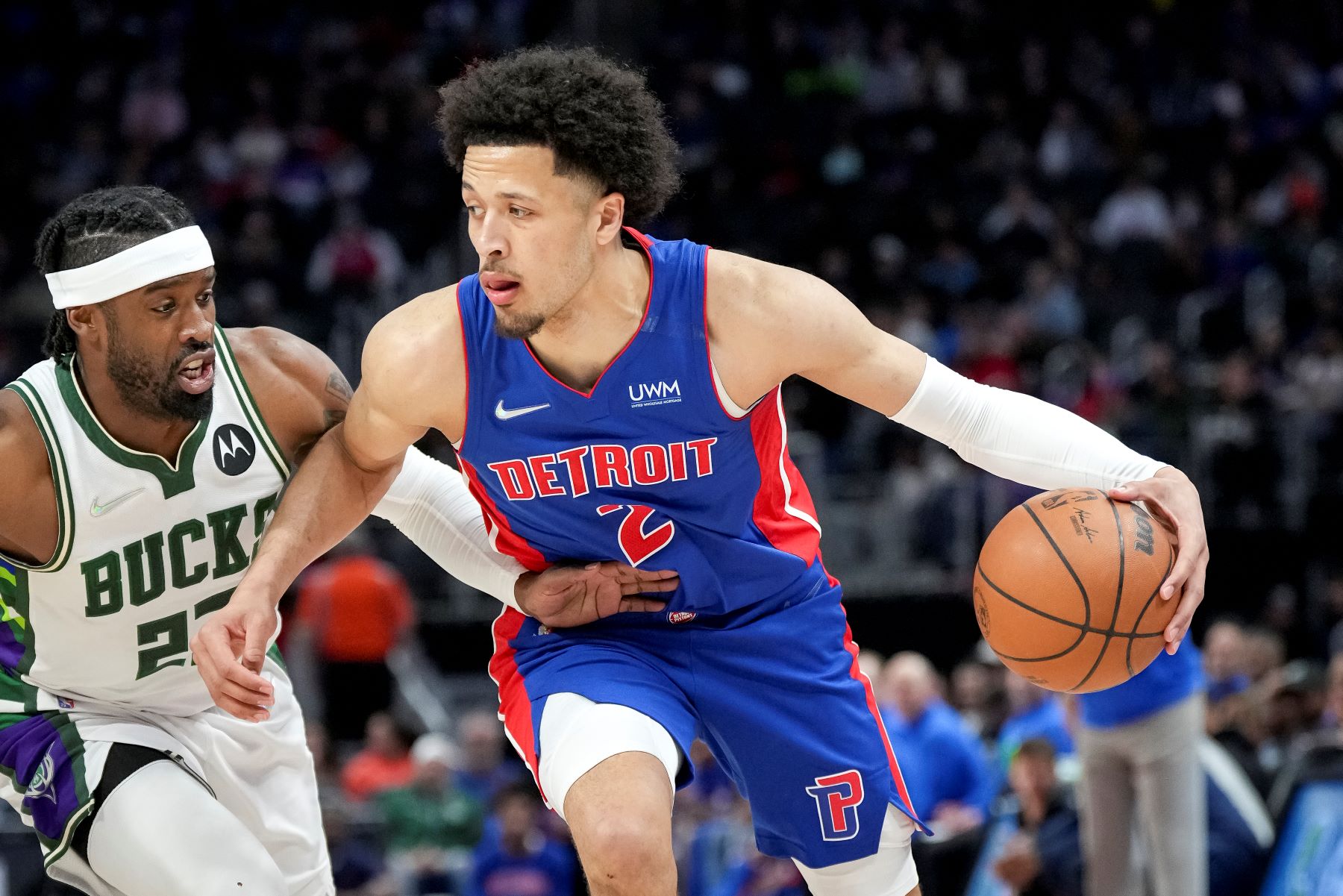 Although the Detroit Pistons had another awful season (they went 23-59, good for the 14th seed in the Eastern Conference), Cade Cunningham had an encouraging rookie campaign and was one of the silver linings for their sake. He was the driving force of head coach Dwane Casey's offense for the better part of the regular season, as Jerami Grant missed extensive time due to multiple injuries. The point guard flashed many of the same positives he displayed in his lone season at Oklahoma State.
Cunningham was able to get inside and score off the dribble while starting the fastbreak off the boards, facilitating for his teammates and making a respectable impact on both ends of the floor. His game has plenty of upsides. For starters, Cunningham took his lumps as an indispensable source of offense for one of the youngest and worst teams in the NBA. 
He was frequently the center of defensive attention and has room for improvement from an efficiency standpoint. This will likely improve, as Cunningham is a steady free throw shooter and shot 40.0 percent from behind the arc in college.
At 6′ 6″, Cunningham can get his shot up over smaller guards or get past a forward assigned to him, given his height. All the while, he can take attention off others, given his well-rounded offensive game. That creates open looks for fellow youngsters like Saddiq Bey and Isaiah Stewart.
Cunningham needs to be more assertive for the Detroit Pistons
Now, there were a couple parts of Cade Cunningham's rookie season that left some to be desired. Inefficiency was one of them, but the umbrella issue was a lack of assertiveness. Cunningham has a mere 64 NBA games under his belt. It was unrealistic to expect him to be a force to be reckoned with from the jump. At the same time, the Detroit Pistons need a more assertive version of Cunningham moving forward.
If Cunningham is going to be an elite scorer and the heart and soul of the Pistons' offense, they need him to force the issue at the rim more often; he has the build and talent to do so. Now, he did play with a degree of aggression, attacking the rack and finding his teammates for easy buckets in the paint. That said, Cunningham only averaged 2.6 free throws per game and tended to take abrupt mid-range jump shots because of his length. 
As previously alluded to, Cunningham is a plausible free throw shooter. If he forces the issue as a habit, he will get to the charity stripe and earn easy points for a Pistons team that struggles on offense as a collective whole. If and when Cunningham's NBA forte becomes throwing himself at the rim, it opens up the rest of his game.
Defenders will be anticipating Cunningham trying to get around them, which will create some separation between the two. Furthermore, he'll have his fair share of clean looks from the perimeter in transition.
Cade Cunningham is a safe bet to build on his rookie season for the Pistons
Cade Cunningham is a safe bet to take the next step in his second NBA season. Why? Cunningham has played at three different levels of basketball over the last three years, that being high school, college, and the NBA. 
High school has a foreseeable end date, and Cunningham was poised to be one-and-done at Oklahoma State. This time around, he has the time and chance to build on his success at a new level. Any prospect that only played one season of college basketball has a natural acclimation process at the NBA level.
To boot, the Detroit Pistons' roster was extremely raw last season, as they had 13 players who were 25 or younger appear in games. It's fair to expect the Pistons to be more competitive next season. They'll presumably have a top-five draft pick while young players like Bey, Stewart, and Killian Hayes have upside.
Given the upcoming arrival of a blue-chip prospect, internal growth, and the Pistons having at least $20 million in cap space this offseason, Cunningham will have less pressure on him to carry the load. That helps him take a step or two closer to stardom and doesn't even include any individual growth he could experience. 
Cunningham has a unique skill set for his size and the intangibles to become a franchise player.
All stats courtesy of Basketball-Reference. Contract figures courtesy of Spotrac.