3 Biggest Upsets of the 2014 NFL Season So Far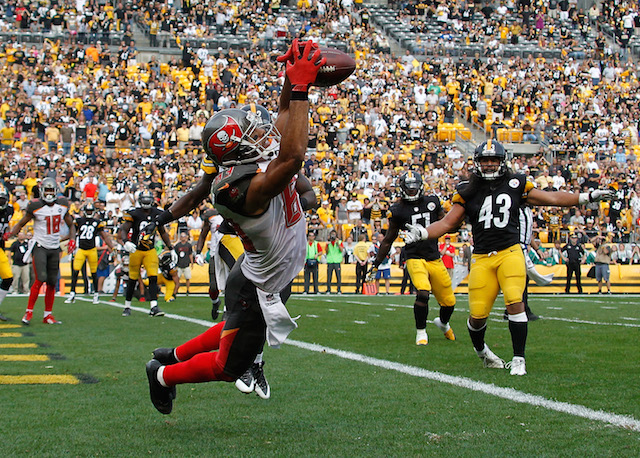 Football fans always love a good upset. (Of course, so do bettors who favor the underdog!) With four weeks of the season gone by and after a surprising (to say the least) score at Pittsburgh's Heinz Field this past weekend, we figured it was time to take a look back at the biggest upsets of the 2014 NFL season to date.
Here are the three teams that have won games this year in which they were at least a one-touchdown underdog. All odds are taken from Bovada via ESPN.com, and games are listed in chronological order.
Week 1: Bills (+7) at Bears
The Buffalo Bills entered 2014 having endured nine straight losing seasons, so expectations were not all that high for the franchise this fall. A Week 1 road date at Soldier Field seemed to be a challenging task, and Buffalo entered the matchup as a seven-point underdog. However, a long Fred Jackson run in overtime — all the way down to the 1-yard line — set up a chip shot field goal for Dan Carpenter, and the Bills got on the plane to head for home with a 23-20 victory. Buffalo out-rushed the home team by more than 100 yards: That's always a solid recipe for a win.
Week 2: Bears (+7) at 49ers
The Chicago Bears found themselves on the other end of an upset just seven days later, shocking San Francisco, 28-20, in the regular-season opening of the 49ers' new Levi's Stadium. The Bears were seven-point underdogs but got a brilliant performance from quarterback Jay Cutler — 23-34 passing and four touchdowns — to send the crowd of 70,799 in Santa Clara away disappointed. Another big key to the game: Chicago forced four turnovers and didn't cough the ball up once.
Week 4: Buccaneers (+9) at Steelers
The most recent upset in the 2014 NFL season is also the biggest one so far, at least according to the point spread. Tampa Bay went to Pittsburgh on Sunday and surprised the Steelers, 27-24, without starting quarterback Josh McCown. The Bucs were 0-3 and coming off a 56-14 loss at Atlanta, but the nine-point underdogs got an impressive game from backup Mike Glennon, culminating in a five-yard touchdown pass to Vincent Jackson with seven seconds left. Glennon also had a nice connection with Louis Murphy, a wideout signed just that week. Murphy had a half-dozen catches for 99 yards, including a 41-yard reception on the last-minute, game-winning drive.