3 Eagles Players Most Deserving of a Pro Bowl Nomination
The Philadelphia Eagles are right in the thick of the NFC playoff picture. However, that doesn't mean the team's players aren't keeping one eye pointed at the Pro Bowl set to take place at the start of 2022. In fact, most players on the Eagles (and around the NFL) have been busy blowing up their Twitter timelines with requests to vote them into the yearly honor.
While each player would surely like to be named a Pro Bowler, only a few names on the Eagles roster actually deserve such an accolade.
Here's a look at the three Eagles who should be included on your ballot.
Eagles CB Darius Slay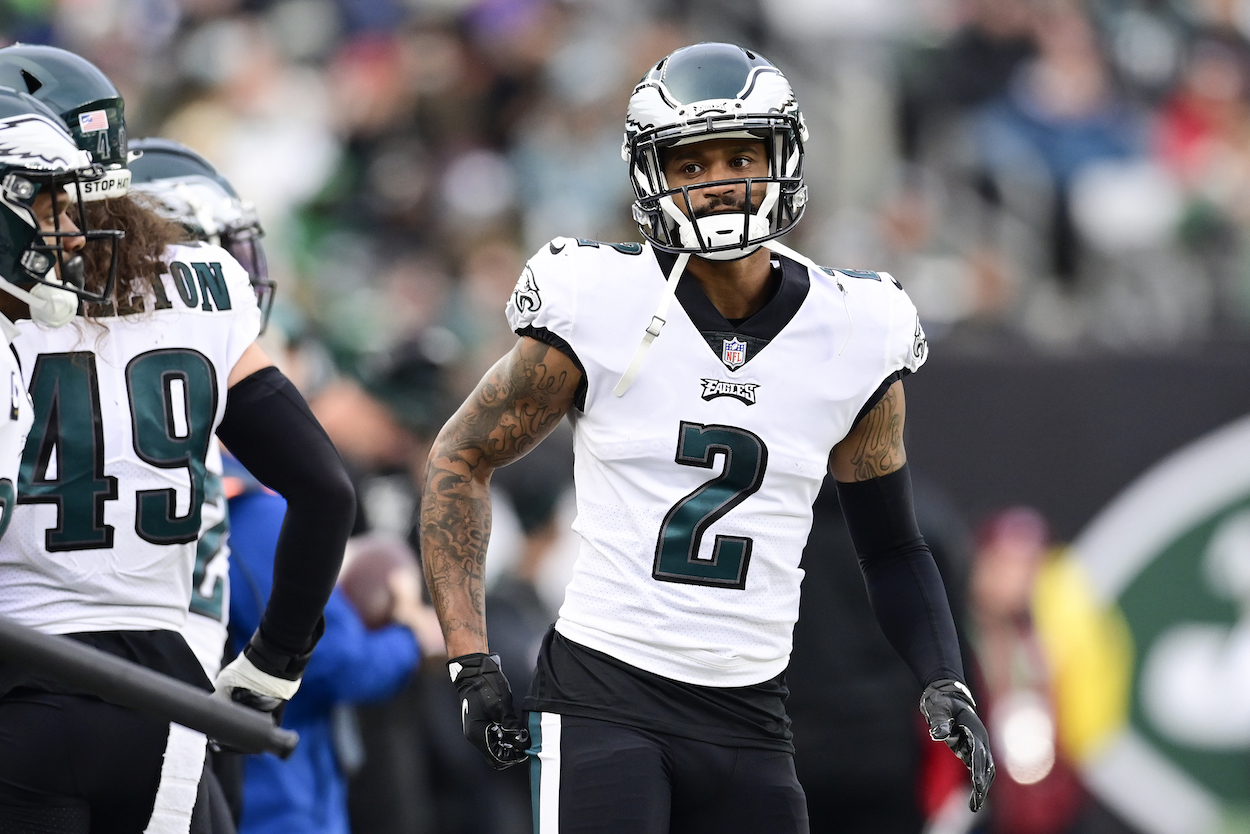 Arguably the only lock to make the Pro Bowl, cornerback Darius Slay is finally living up to the pressure of being a No. 1 cornerback in Philadelphia. After a lackluster debut season with the Eagles in 2020, where he only recorded one interception, Slay is starting to perform a lot more similar to his previous All-Pro Detroit Lions self.
He's recorded three interceptions, two fumble recoveries, and three total defensive touchdowns. His passer rating when targeting is down at 74.0 — the second-lowest mark of Slay's career since the metric began being tracked.
Slay is also frequently rated as one of Pro Football Focus' top-performing defenders week over week. He's established himself as one of the top cover corners in the league once more despite the down season in 2020 and may even receive some quiet Defensive Player of the Year consideration when it's all said and done.
If there's one Eagles player most deserving of a Pro Bowl nod this year, it's Slay.
C Jason Kelce
The definition of class and consistency, center Jason Kelce continues to perform as one of the Eagles' best overall offensive linemen. Despite dealing with a laundry list of injuries and nagging pains, Kelce continues to find a way to suit up and lead the team's offensive line into battle.
Not only does Kelce continues to be graded out positively, but he's played a crucial role in building up the younger linemen around him. Rookie left guard Landon Dickerson has dramatically benefitted from playing next to a future Hall of Famer in Kelce, and recently-paid left tackle Jordan Mailata has also benefited.
Kelce has already been selected to four Pro Bowls during his career. It should become five later this year.
DT Javon Hargrave
While Fletcher Cox continues to be the big name at the defensive tackle position in Philly, former Pittsburgh Steeler Javon Hargrave is the one making the big splash plays in 2021.
He's racked up career-highs in sacks, tackles for a loss, and quarterback hits, and has primarily been one of the top-performing defensive tackles in the NFL thus far.
Hargrave's play has fallen off a bit after a fast start to the season. However, 7.5 sacks, eight TFLs, and 16 QB hits should be enough to get him to the Pro Bowl when it's all said and done.
All stats courtesy of Pro Football Reference.