3 Most Hated NFL Villains This Season
Football is a gladiator sport, where competitors live on the edge. The most popular stars perform with a controlled rage that is physical yet clean. The most hated villains in football repeatedly take things too far, both on and off the field. Instead of providing a much-needed spark, a noted goon often self destructs, degenerating into a locker room cancer before being traded.
As a collective group, the three most hated NFL players in the game today are a far cry from a Borg-like New England Patriot organization that earns a grudging respect out of even the most cynical sports fans. Winning is what separates the good guys from the bad boys.
Honorable mention: The Buffalo Bills

The brash Rex Ryan seems hell-bent on recreating the 1970s Raiders — in Buffalo. Ryan, however, despite his bluster, has never advanced beyond the AFC Championship Game, being forced to eat his own words and kiss Bill Belichick's six rings through seven successive seasons as a head coach out of the AFC East.
Earlier this month, brother Rob Ryan was fired, after his defense was repeatedly torched for 31.5 points per game this season. This family tree, of course, begins with Buddy Ryan, who was also infamous for his sideline shouting matches and fistfights in his own right. Beyond Rex, the latest cast of characters in Buffalo includes the likes of Percy Harvin, Richard Incognito, IK Enemkpali, Sammy Watkins, and LeSean McCoy.
In Philadelphia, LeSean McCoy earned his nickname, Shady, after stiffing a local waitress with a 20-cent tip on a $60 bill.With this, McCoy fit right in alongside Sammy Watkins, who had already taken to social media to demand more touches, while ripping his blue collar fan base as "losers." Last November, Rex presented IK Enemkpali as a team captain in his first trip back to the Meadowlands after Enemkpali ended his former quarterback's season with a strong punch to the jaw.
Against this backdrop, guard Richie Incognito appears to be a model citizen. The Bills, largely behind Incognito, have gashed opposing defenses for 136.7 yards per game on the ground. At this time last year, Incognito was sitting on his couch, apparently blackballed from the league for his leading role in bullying Jonathan Martin.
3. Ndamukong Suh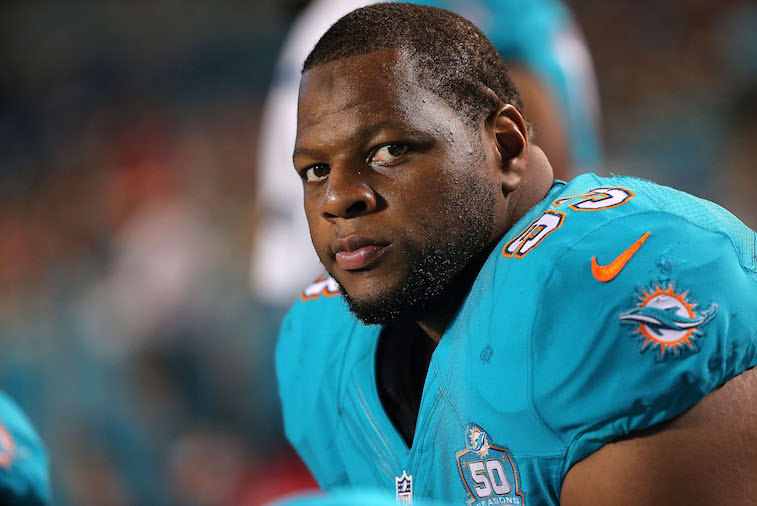 Ndamukong Suh was played up as the grand prize of the 2015 free agent class. He ultimately bolted out of Detroit after signing a blockbuster, six-year, $114 million deal with Miami. The Suh sweepstakes did somewhat expose the hypocrisy of the NFL and its fans: A player is only "dirty" when he is on the other team. Frequent leg whips, horse-collar tackles, foot stomps, untimely penalties, and heavy-handed fines out of the league office marred Suh's time in Detroit.
At the podium, an incredulous Suh showed no remorse and often smirked at any suggestion that he was the dirtiest player in the NFL. Still, Suh racked up 36 sacks and 181 tackles through five seasons as a Lion, while also being hailed as the best defensive tackle in football. In wreaking havoc, Suh was especially good at shedding blockers at the point of attack before chasing down ball carriers and making tackles behind the line of scrimmage. When double-teamed, Suh would take up space — for linebackers and ends to fly to the football — or even drop back off the line to deflect a pass.
This year, for Miami, Suh was supposed to bring his own version of toughness to a young team that showed flashes of talent as they went 8-8 in 2014. Instead, the inconsistent Fins have struggled to a 4-7 mark, with head coach Joe Philbin shown the door and the defense actually regressing to give up 26 points per game. Suh repeatedly ignores the defensive play-calling to freelance in the trenches. Against this backdrop, various reports out of Miami have ripped Suh for apparently throwing his teammates and coaches under the bus during this lost season.
2. Johnny Manziel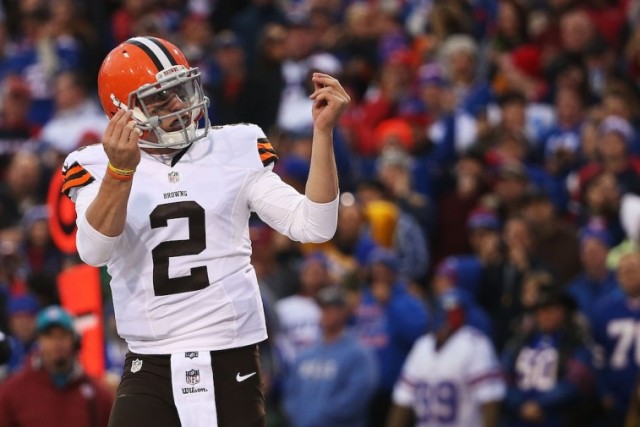 As a schoolboy legend in Texas, Johnny Manziel was already being compared to Brett Favre before he ever set foot on his future college campus. While at Texas A&M, Manziel brought home the Heisman Trophy as a redshirt freshman after going over the top for 3,706 yards and 26 touchdowns through the air as well as 1,410 yards and 21 touchdowns on the ground. Manziel, then at the height of his powers, was routinely praised as an All-American kid, out to make plays and have a good time.
In 2014, Johnny Manziel phoned in to Cleveland that he was all but set to "wreck the league," before going 22nd to the Browns. The Johnny Football act, however, quickly grew old at the professional level, where Manziel was often dismissed as a spoiled brat and out-of-control prima donna following multiple reports of binge drinking, club hopping, and run-ins with the law. Even Manziel himself admitted to taking his NFL career too lightly, before ultimately checking in to rehab.
Last November, Manziel came out with his best performance as a pro, in torching the Pittsburgh Steelers for 372 yards, off 73% passing. For this, Manziel was declared the starting quarterback for the rest of the season. Two weeks later, however, Manziel watched hopelessly from the bench as the Ravens blocked a field goal and ran back a "kick six" to escape with a win in front of shocked Cleveland fans. Manziel managed to get himself demoted to third-string quarterback in his week off, after being spotted partying it up again in Texas.
1. Greg Hardy
In 2014, Greg Hardy was largely overshadowed by the likes of Adrian Peterson and Ray Rice. That year, both Peterson and Rice were shut down for the bulk of the season, in light of their own shocking domestic violence cases. To date, Rice still remains out of football, despite winning a Super Bowl and rumbling for 9,214 total yards of offense by the age of 26. Against this backdrop, Hardy allegedly mauled his girlfriend before throwing her onto a stack of guns.
Last season, Hardy played in one game for the Panthers, before being placed onto the inactive list until his domestic violence case was resolved. The charges were ultimately dropped, after his ex-girlfriend refused to cooperate with the investigation. Still, the Dallas Cowboys signed Hardy to a one-year, $11.3 million deal this offseason. At the time, he vowed to return to the gridiron with "guns blazing," before taking to the airwaves to make a pass at Tom Brady's supermodel wife, Gisele Bündchen.
Hardy, admittedly, emerges as the best Cowboy player on defense this season, in wreaking havoc for 4.5 sacks, one interception, and one forced fumble through seven games of action. Any goodwill towards Hardy, however, largely evaporated last October, when the defensive end forced his way into the special teams huddle to jaw at his teammates and slam the clipboard out of a coach's hands. In response, billionaire owner and known enabler Jerry Jones went on the record to praise him as a "real leader."
Statistics courtesy of Pro-Football-Reference.com.