3 Moves the Chicago Bulls Should Consider Ahead of the Trade Deadline to Solidify Their Hot Start
Remember when the Brooklyn Nets and Milwaukee Bucks were supposed to battle for Eastern Conference supremacy as top NBA title favorites? Well, the Chicago Bulls had other ideas.
DeMar DeRozan's historic late-game brilliance at the end of 2021 and into 2022 helped the Bulls wrestle the top spot in the East away from the Nets. The superstar tandem and DeRozan and LaVine have carried Chicago all season, with offseason acquisitions Lonzo Ball and Alex Caruso making significant impacts when healthy.
The Bulls have solidified themselves as legitimate championship contenders. How will they solidify the roster ahead of the NBA trade deadline? Here are three moves Chicago should consider.
Add frontcourt versatility with Larry Nance Jr.
I wrote about the Bulls potentially pursuing Portland Trail Blazers forward Larry Nance Jr. last month, and it's a move that still makes a lot of sense. Nance has seen a fairly steep drop in minutes compared to his final season in Cleveland with the Cavaliers (23.1 minutes per, down from 31.2 minutes), but he's still managed to produce.
The Akron native is averaging 10.6 points, 9.0 rebounds, and 3.1 assists per 36 minutes. His reputation as a strong passing big makes him a terrific fit in the frontcourt alongside Nikola Vucevic, who excels as a playmaker.
The same should be said about Nance's shooting. He's made just 30% of his 3-pointers thus far but converted on 36% with the Cavs last season. Plus, he'd almost certainly benefit from a Bulls team with far more spacing than he currently enjoys in Portland.
So, Nance fits pretty seamlessly on the offensive end. But defense is where he'd likely make the most significant impact. His size and athleticism allow him to play the 4-man or even an undersized center, which afford head coach Billy Donovan more rotational options.
Portland might take back Derrick Jones Jr. — whom the Bulls acquired in the three-team deal involving Nance and Lauri Markkanen — considering he's on an expiring contract and the Blazers need to manifest as much space as possible.
Still, Chicago would probably have to loop a third team in due to a relative shortage of draft capital. In that case, it might have to part with Coby White, with the third team likely offering the Blazers some form of protected picks.
More defensive acumen in the form of Robert Covington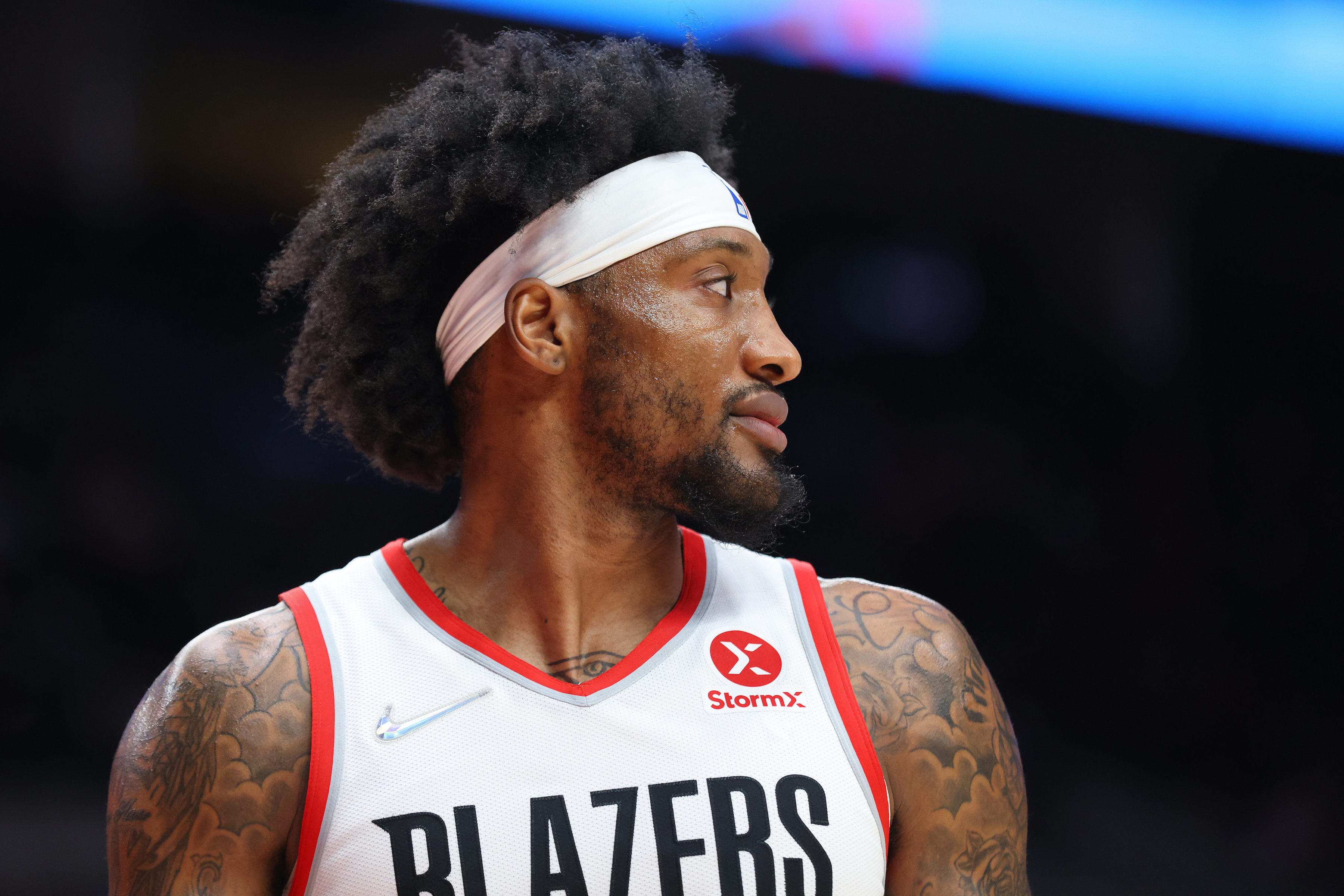 Nance's Blazers teammate Robert Covington is among the veterans most likely to be dealt before the NBA trade deadline. The Bulls should see what it might take to acquire him, as well.
Covington offers far less than Nance in terms of offensive skill set. He's essentially a 3-and-D type, though he's under 33% from beyond the arc this season. But it's hard to ignore the kind of defensive stalwart he could be for Chicago.
The Illinois native has the pedigree, having made the 2017-18 All-Defensive squad. He is a bonafide playmaker on that end, averaging at least 1.3 steals and 1.2 blocks in each of the last four seasons. Covington still has a 1.1 defensive box plus-minus, even on an atrocious defensive team.
The 31-year-old can play either forward position. He's a pretty strong rebounder. The switchability is something the Bulls could use. They certainly could stand to add some rebounding, given they rank 27th in that category.
As is the case with Nance, the Bulls might have to loop in a third team depending on how high the Blazers sell on RoCo. He might be cheaper, though, given his offensive deficiencies and the fact he's on an expiring contract. Maybe Jones Jr. plus the Detroit Pistons' second-round choice, which Chicago can choose to swap for its own, is enough to get a deal done.
Make the big splash for Jerami Grant
If the Bulls really want to make a big move, Pistons forward Jerami Grant is probably the best option.
Grant is another versatile forward who can shoot the 3-ball and make plays in transition. He's flashed his scoring potential in Detroit (albeit for a lousy team), averaging over 20 points in each of the last two seasons. Grant also has a surprising amount of success getting to the free-throw line (over six attempts per game), which should appeal to the Bulls.
James L. Edwards III of The Athletic reported that the Pistons had an interest in Patrick Williams before the Bulls selected him No. 4 overall in the 2020 NBA Draft. Naturally, this could set the table for Chicago to offer Williams and expiring contracts for Grant.
Now, the Bulls have some things to consider here. The first is that Grant is owed over $20 million next season. That's not insignificant, considering Zach LaVine will be a free agent this summer. Additionally, do the Bulls really want to give up on Williams? He showed two-way upside during his rookie upside and hardly had a chance to get off the ground this season before suffering an injury.
If Chicago feels a sense of desperation, it makes sense to inquire about what it would take to acquire Grant. But the Bulls should be wary about this particular trade because of the cost.
Stats courtesy of Basketball Reference.