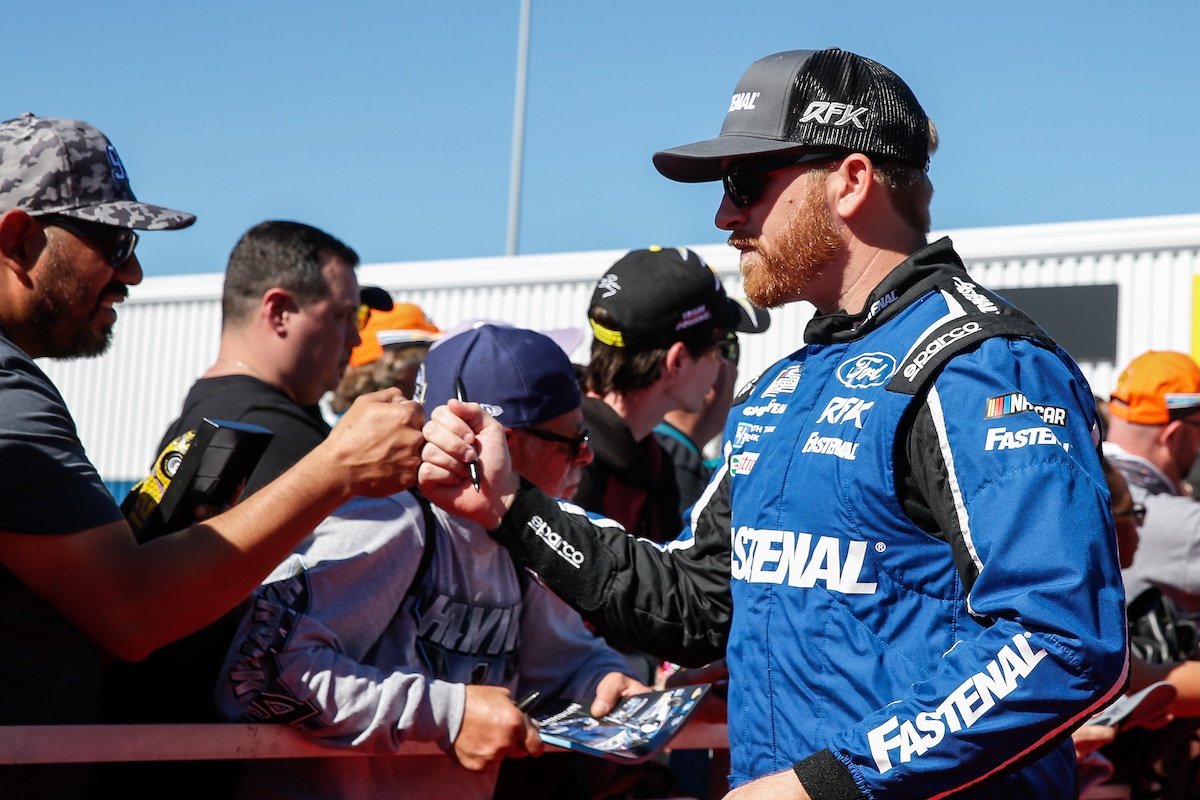 3 NASCAR Drivers Who Have the Potential for Much More but Need a Top Team to Give them a Chance
Given the chance to drive a car for one of NASCAR's top teams, it's possible that some mediocre drivers would suddenly become contenders.
Some NASCAR Cup Series drivers seemingly have it made. They jump in notch-notch equipment every weekend, which allows them to go out and contend for wins and championships regularly. Then there are those who'd give a limb to wheel a car for Hendrick Motorsports, Joe Gibbs Racing, or Team Penske. 
Given an opportunity to drive a car for one of the sport's top teams week in and week out, it's quite possible that some drivers who typically run near the middle or back of the field would suddenly become contenders.
Let's look at three drivers who might surprise everyone if given a chance to compete for one of the sport's premier organizations.
1. Chris Buescher is a diamond in the rough at Roush Fenway Keselowski Racing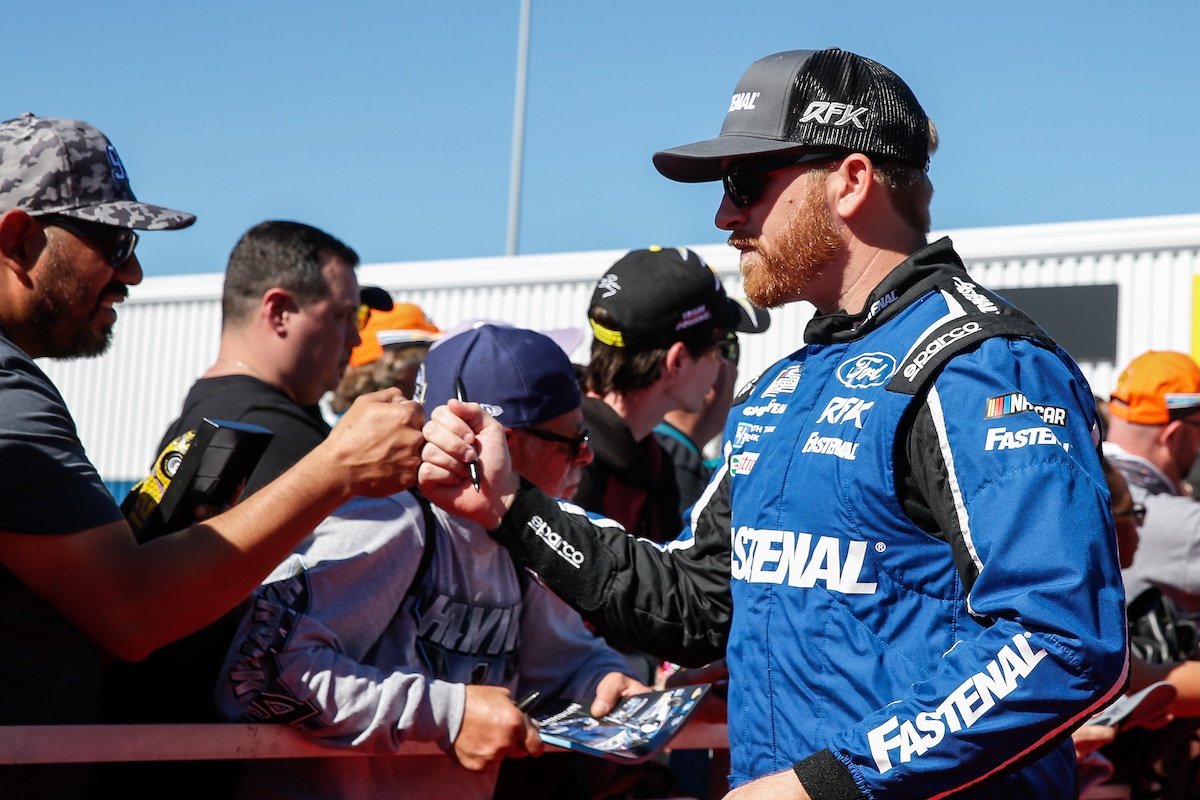 Timing has never been on Chris Buescher's side regarding a quality NASCAR Cup Series ride. After Buescher won the NASCAR Xfinity Series championship with Roush Fenway Racing in 2015, RFR didn't have room for the Prosper, Texas native in its Cup Series. They farmed him out to the affiliated Front Row Motorsports team for his Cup rookie season of 2016.
Naturally, Buescher struggled at Front Row, which didn't have the resources he needed to be a factor, especially as a rookie. He finished the season with just two top-five finishes. One of those finishes was a fluke win in a weather-shortened race at Pocono, where his team took a gamble to get him out front for the final 12 laps.
The victory earned Buescher an improbable berth in the playoffs. But he finished last among the 16 championship-eligible drivers. The dozen laps he led at Pocono were the only laps he spent out front all season.
At year's end, Buescher moved on to JTG Daugherty Racing, a perennial midpack team where he posted just two top-five finishes — neither of them wins — in 108 starts over three seasons. Finally, in 2020, Buescher returned to Roush Fenway to compete in the organization's Cup Series program. Sadly, by then, RFR's star had faded, and the company was no longer a top-tier team.
After going winless in his first two years with RFR's Cup program, Buescher captured the organization's only victory of 2022 this past September. He led 169 of 500 laps at Bristol in the popular night race. 
Brad Keselowski, who became co-owner of the newly named Roush Fenway Keselowski Racing in 2022, speaks highly of Buescher. He expects the 30-year-old to play a key role in the organization's future success as it seeks to return to elite status.
But if allowed to join Hendrick Motorsports, Joe Gibbs Racing, Team Penske, or even Stewart-Haas Racing or Richard Childress Racing, Buescher would have to seriously consider it. Put in the right situation, he seems extremely capable of becoming a top performer.
2. Ty Dillon proved in the Xfinity Series that he can contend in a fast car
As a NASCAR Xfinity Series driver for three years with Richard Childress Racing, the organization founded and owned by grandfather Richard Childress, Ty Dillon never finished worse than fifth in the standings and earned a win at the fabled Indianapolis Motor Speedway oval.
His time in the Cup Series has been a struggle, however, mostly due to being relegated to inferior equipment over four long seasons at Germain Racing. After running just four Cup races in 2021 on the heels of Germain ceasing operations at the end of 2020, Dillon returned to full-time status in 2022 with Petty GMS, a team only slightly above Germain in the Cup Series pecking order.
Before the 30-year-old even had a chance to prove himself, Petty GMS announced it was going in a different direction for 2023 and would replace Dillon in the organization's No. 42 Chevrolet with Xfinity Series star Noah Gragson beginning in 2023.
With no other real options, Dillon recently announced his plans to compete next season for Spire Motorsports, an organization with even less to offer him in the way of being competitive. Unfortunately for Dillon, 2023 is unlikely to be his breakout season in the Cup Series.
At this point, Dillon's hope of ever making a splash in NASCAR's premier league is landing a ride back at RCR, his grandfather's company. But that hasn't materialized so far due to lack of sponsorship. Perhaps it will, though, somewhere down the road. Now in his thirties, Dillon could show his true potential while still in his prime driving years.
3. Michael McDowell's 2021 Daytona 500 win and solid 2022 left little doubt about his potential
Michael McDowell has just one Cup Series win in 429 starts. However, it came at the 2021 Daytona 500, where the then-36-year-old driver dramatically shocked the world by capturing the sport's biggest race.
Although McDowell is winless in 71 starts since that unforgettable day, he just completed a season that was statistically the best of his 15-year run in NASCAR's premier division. McDowell's 12 top-10 finishes in 2022 were more than double the number of top-10s he's posted in any previous season. This includes 2021, when he rang up five top-10 showings.
Notably, McDowell's crew chief, Blake Harris, is departing for Hendrick Motorsports in 2023 after just one year atop McDowell's Front Row Motorsports pit box. So, it's possible McDowell could regress a bit next season.

But given his status as a former Daytona 500 winner and the fact that he just wrapped up the most fruitful season of his career to date, there's a good possibility McDowell could make a lot of noise and add several more wins to his resume if paired with one of the sport's better teams.