3 NFL Teams You Won't See Returning to the Playoffs in 2015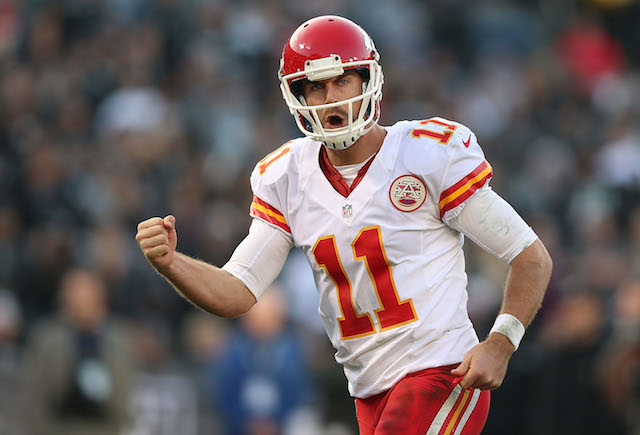 Since the NFL adopted its current 12 team format in 1990, at least four new teams have made the playoffs each year that missed the previous season and the average is over five per year now. By that measure, listing three teams is probably a bit conservative.
On the other hand, this is sort of the opposite of an original take. Between now and the start of the season you,  the erstwhile consumer of NFL news and analysis, will be treated to an avalanche of articles attempting to clear that bar like the crowd at an auction. "Do I hear six? How about seven? Eight? Nine?" And so on.
We can guarantee that columnists across the country are already salivating at the prospect of being able to lump that Harvard student's projection which somehow picked the Dolphins to win the AFC — if he's on any sort of scholarship, it should be immediately revoked — in with the Brady suspension being upheld as some sort of justification for writing the Patriots off again. "He deflated those balls — and the next Nate Silver says he deflated their playoff chances, too." Aren't hot takes great?
Still, we're not that ostentatious or interested in going out on too far on a limb. This list isn't intended to be comprehensive, but rather to highlight the three teams (two NFC, one AFC) we would be willing to bet lunch money on not making it back to the playoffs (as well as their three replacements). So without further ado… 
OUT: Arizona – Strength of Schedule: .557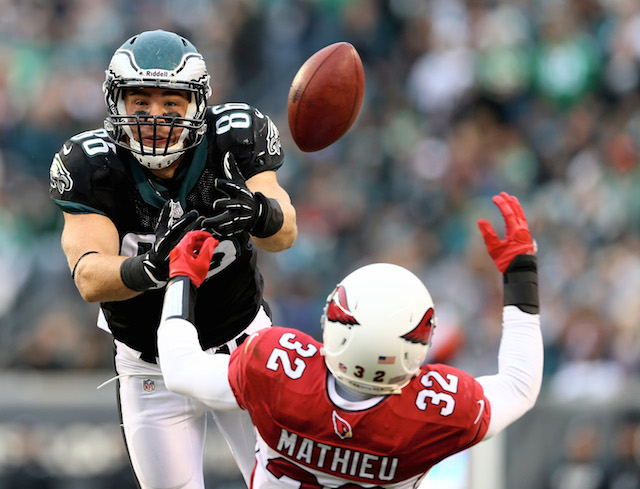 Bruce Arians is a great football coach and an even better person. Throughout his career, he's proven to be nothing if not a class act, but something has got to give, right? The Cards have a great defense led by the likes of Patrick Peterson, Calais Campbell, and Deone Bucannon, but their offensive success essentially depends entirely on the aging, fragile frame of Carson Palmer.
While Michael Floyd and John Brown are fine young receivers and Larry Fitzgerald is a legend, Arizona's rushing attack is once again looking flat, unless Northern Iowa's David Johnson proves to be something special. My guess is it turns out as ugly as Arians's hat collection if Palmer goes down again.
IN: St. Louis — Strength of Schedule: .553
Juxtapose that with their division rivals, the Rams (who like Seattle, will beat Arizona twice in 2015). This is a team that is seemingly set up to have a meteoric rise. On defense, they feature Chris Long and Robert Quinn to annihilate any and all quarterbacks in their path and on offense they can hand the ball off to young, star runner Tre Mason. Oh, they could do those things last year you say? Well, I see your skepticism and raise you one quarterback. The Eagles are going to rue the day they dumped Mr. Foles.  
OUT: Detroit – Strength of Schedule: .527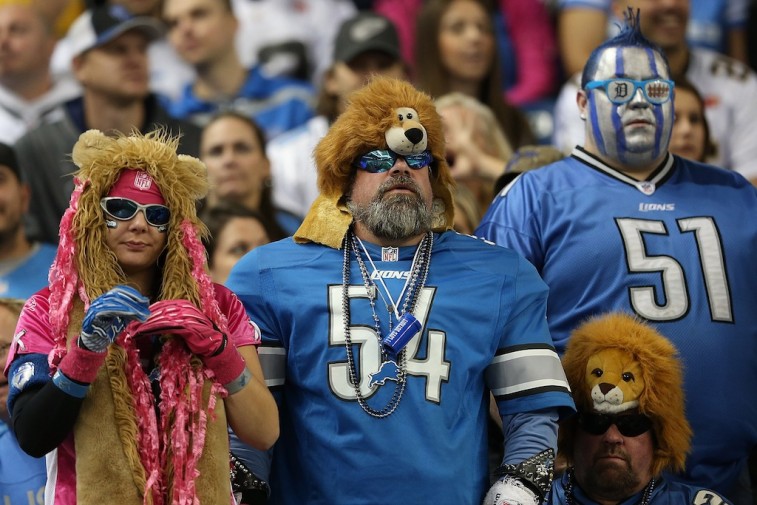 The Lions are the worst. They play in possibly the most down and out, perpetually up against the wall big city in America and are rewarded by an entirely undeserved, unendingly faithful fanbase. So naturally, replacing Nick Fairley and Ndamukong Suh with an old Haloti Ngata and Tyrunn Walker was the right move for the NFL's No. 2 ranked defense in 2014. This might become a good memory by Thanksgiving.
Combine that with only modest improvements along the offensive line for a unit that still manages to be comically overrated even with Matthew Stafford and Calvin Johnson as its key pieces and you have all the makings of a regression to the mean. There's also that little matter of playing in the same division as Green Bay. And also…
IN: Minnesota – Strength of Schedule: .539
…The Vikings! Yes, in spite of their tougher strength of schedule, we are picking the Vikings to take a step forward into the playoffs next year. Aside from small moves, like swapping one slow primadonna receiver for a fast one (switching out Greg Jennings for Mike Wallace), they have two things going for them as they come off of a surprising seven win season: Teddy Bridgewater and the return of Adrian Peterson.
Provided Peterson can give them anything close to his best and Matt Asiata continues to improve, the Vikings figure to have a solid rushing attack. And with Bridgewater, the team has a solid, steadying presence under center to run the offense while Mike Zimmer's 14th ranked defense figures to rise even higher.  
OUT: Pittsburgh – Strength of Schedule: .579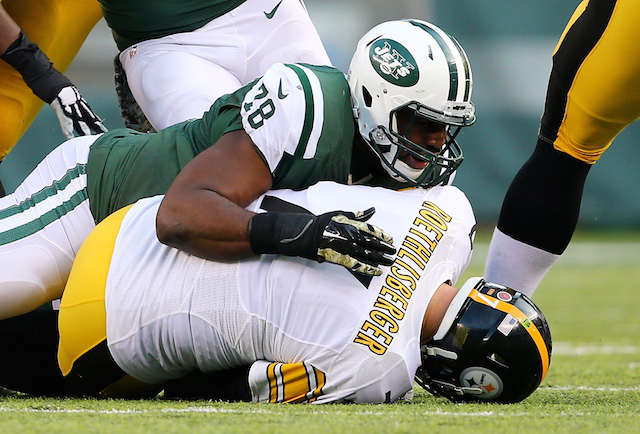 For a franchise that prides itself on defense, we're not sure what's more disconcerting: that the Steelers ranked 27th against the pass (and 18th overall) or that they did so little this offseason to remedy that? The draft selections of cornerbacks Senquez Golson and Doran Grant will hopefully develop into the team's new starting pair, because if not, it's the same sorry cast as last year, minus Ike Taylor, Brice McCain, and longtime coordinator Dick LeBeau.
We already know how prolific this offense can be — Ben Roethlisberger has proven to be one of the league's elite passers when healthy, Le'Veon Bell might be the best back the team has had since Jerome Bettis, and Antonio Brown is a stud — but the question is whether or not they can keep up the blitzkrieg pace, because this defense might not give them a choice.
Bell's suspension to start the season won't help (even if it does coincide with their matchup against the Brady-less Patriots in Week 1) and our general feeling is that, in a division with Baltimore and a good-in-the-regular-season team in Cincinnati and with a brutal schedule to go through, the road back to 11 wins looks very, very narrow.
IN: Kansas City – Strength of Schedule: .545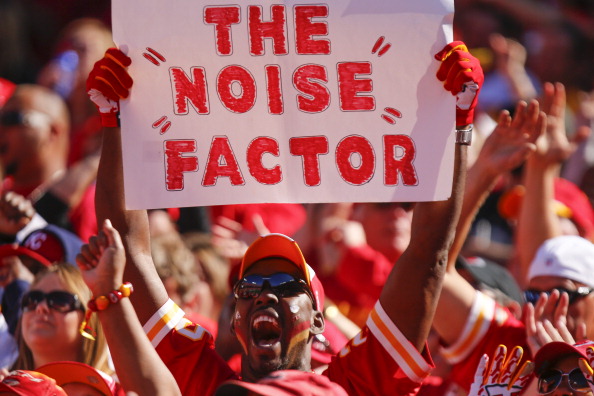 In their place walks the Kansas City Chiefs, a really good if wildly inconsistent team. Remember last season? They crushed the Patriots and beat the Seahawks. And swept the Chargers. So where did it all go wrong? Well, the losses to the Titans and Raiders didn't help. Neither did dropping one to the 8-8 49ers or a Cardinals team in December that was creaking along by then.
The addition of Jeremy Maclin and his 10 touchdowns seems as though it will put an end to their TDs-by-receivers drought, Travis Kelce looks like a younger Gronk, and Jamaal Charles is still the best all-purpose back in the game since LaDanian Tomlinson.
The always potent defense returns the likes of Derrick Johnson, Tamba Hali, Sean Smith, and sack monster Justin Houston. And most importantly (and unlike trendy picks such as Buffalo or Miami), the Chiefs have an above replacement-level quarterback (call him a "game manager" at your own peril) who won't make mistakes and now has the playmakers on his offense to do real damage.
In a division where their competition has gotten weaker, we're guessing the Chiefs won't be surprised by two of the league's perennial also-rans again.
Got a different looking list? Email me to tell me where we differ and why you think I'm an idiot.