3 Potential NFL Upsets in Week 7
Football fans who doubt the notion that any team can win on any given gameday need to look no further than the Week 7 matchup between the New York Jets and New England Patriots on Thursday night to understand the parity of the NFL. The Patriots were riding high after notching dominating wins in their previous two games, and the Jets went into the game riding a five-game losing streak with arguably the worst offense in the league. The Patriots are extremely tough to beat at home, and the Jets nearly pulled off what would have been one of the biggest upsets of the season. New England, who was a 10-point favorite entering the game, won 27-25 after they blocked a potential game-winning field goal attempt for the Jets in the closing seconds of the game. Had the Jets scored a couple of touchdowns instead of settling for four Nick Folk field goals, they would have left Foxboro with a win.
While the Jets weren't able to close out their upset bid of the Patriots, they showed that there is no such thing as a sure win in the NFL. Here is a look at three potential upsets in Week 7.
All statistics courtesy of Pro Football Reference.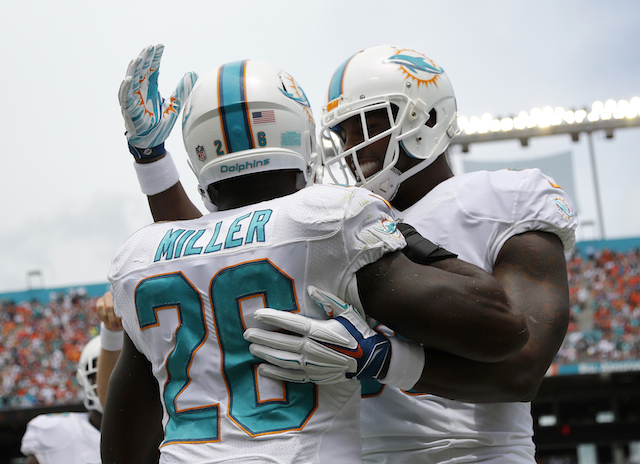 Miami Dolphins (2-3) over Chicago Bears
Point Spread: Bears favored by 3.5 points 
Miami is traveling to Solider Field in Chicago for this Week 7 matchup. While the Dolphins may not be an offensive juggernaut, they are a well-balanced group that is fully capable of scoring enough points to win this game. Their rushing attack is among the league's best, averaging 136.2 yards per game and 5.0 yards per carry, while Chicago's defense has given up an average of 103.7 yards per game and 4.3 yards per carry in 2014. Chicago has a very talented group on offense, but will have their hands full with a Dolphins defense that ranks sixth in the league in total defense. If the Miami pass rush can put consistent pressure on Bears quarterback Jay Cutler and Dolphins quarterback Ryan Tannehill avoids turning the ball over, the Dolphins are more than capable of going into Chicago and leaving with a win.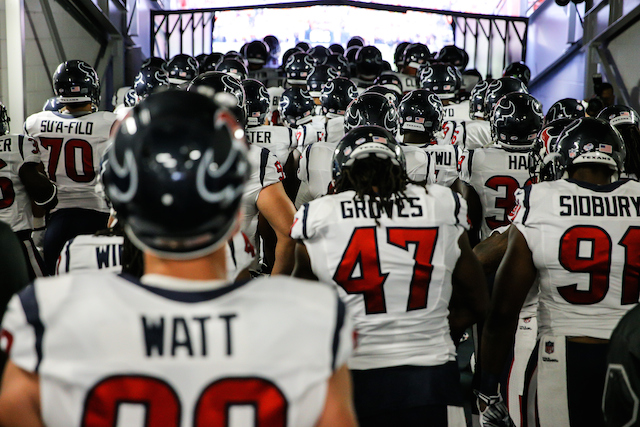 Houston Texans (3-3) over Pittsburgh Steelers (3-3)
Point Spread: Steelers favored by 3.5 points
The last thing any offensive line wants to worry about is containing Texans defensive end J.J. Watt. The MVP-candidate has been on a tear in recent weeks and is a major mismatch for even the best offensive lines in the NFL. Unfortunately for the Steelers, their offensive line has been among the worst pass blocking units in the league allowing Ben Roethlisberger to be sacked 17 times this season. On top of that, Houston's defense ranks fourth in the league in points allowed per game, which is an ugly statistic for a Steelers offense that ranks in the bottom 10 in the NFL in points scored per game. This game isn't just a defensive mismatch for the Steelers, as the Texans offense boasts one of the league's best rushing attacks. Led by Arian Foster (4.8 yards per carry and 102.6 yards per game), the Texans have put up nearly 130 yards on the ground per game in 2014. The Steelers have uncharacteristically given up 4.4 yards per carry; the tenth worst yards per carry average allowed in the league. If the Texans are able to get their ground game going early, they will likely leave Pittsburgh with an upset win over the Steelers.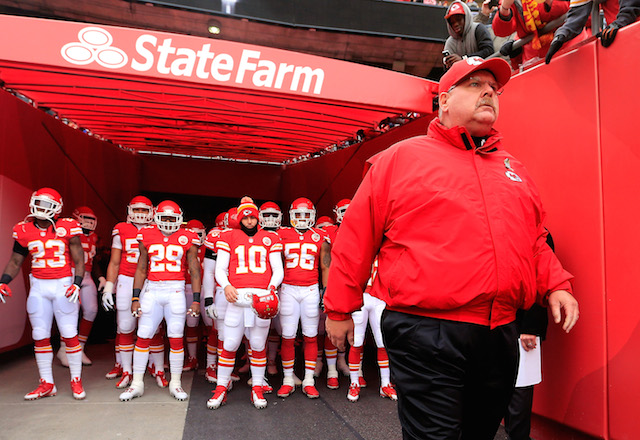 Kansas City Chiefs (2-3) over San Diego Chargers (5-1)
Point Spread: Chargers favored by 4 points
It's hard to pick against the Chargers, who have been arguably the best team in the NFL up to this point. It was even harder to pick them as a candidate to be upset at home where they have a 3-0 record so far in 2014. However, while the Chargers are coming into this game with a 5-1 record, the combined winning percentages of the teams they've played so far is only .333. The Raiders, led by a rookie quarterback, nearly beat the Chargers in Week 6 and may have given future opponents a blueprint on how to beat the Chargers. Both teams have been great defensively this season, so this has the potential to be a low-scoring matchup. The Chiefs enter this road game with a 2-3 record and will be coming off of a bye in Week 6. This leads to possibly the most important stat leading into this game: Andy Reid-coached teams are 13-2 coming off of bye weeks.