3 Reasons the Indianapolis Colts Should Sign Rob Gronkowski
The Indianapolis Colts have never learned to stop Rob Gronkowski, and that's despite never playing in the same division.
Then again, who can stop Gronkowski?
The four-time first-team All-Pro tight end has 33 catches, 545 yards, and six receiving touchdowns in seven career games against the Blue and White, often serving as an irritating thorn in their side while he played for the New England Patriots. He even enters the 2022 season with a career 8-0 record (including the 2014 AFC Championship Game) against the two-time Super Bowl champions.
If you can beat them with such ease, why not join them? If Gronkowski opts not to retire for the second time in four years, he should strongly consider joining the Colts ahead of the 2022 season.
Gronkowski proved in Tampa Bay that he can still contribute at a high level
The easy knock on Gronkowski, and it's a justified one, is his lack of durability. He has an extensive injury history and missed time in 2021 with broken ribs and a punctured lung. Colts fans might not want to take a chance on a player, even one as accomplished as Gronkowski, who has undergone numerous surgeries since his college days.
When Gronkowski reunited with former Patriots teammate Tom Brady on the Tampa Bay Buccaneers ahead of the 2020 season, there were understandably questions about how productive the iconic tight end would be after a year off. It also didn't help matters that the veteran tight end looked slow throughout the 2018 campaign.
Leave it to Gronk to prove everyone wrong. He hauled in 100 catches for 1,425 yards and 13 touchdowns in 28 regular-season games from 2020-21 and helped the Buccaneers emerge victorious in Super Bowl 55. The Arizona product even played in all 16 games during the 2020 campaign.
Even as Gronkowski has gotten older, he's remained a dangerous weapon in the passing game. He also proved that he could be the third or fourth receiving option and still thrive without needing to demand targets or play 90% of the offensive snaps each week.
The Colts could strongly benefit from Gronkowski's locker room presence, especially after the team's 2021 collapse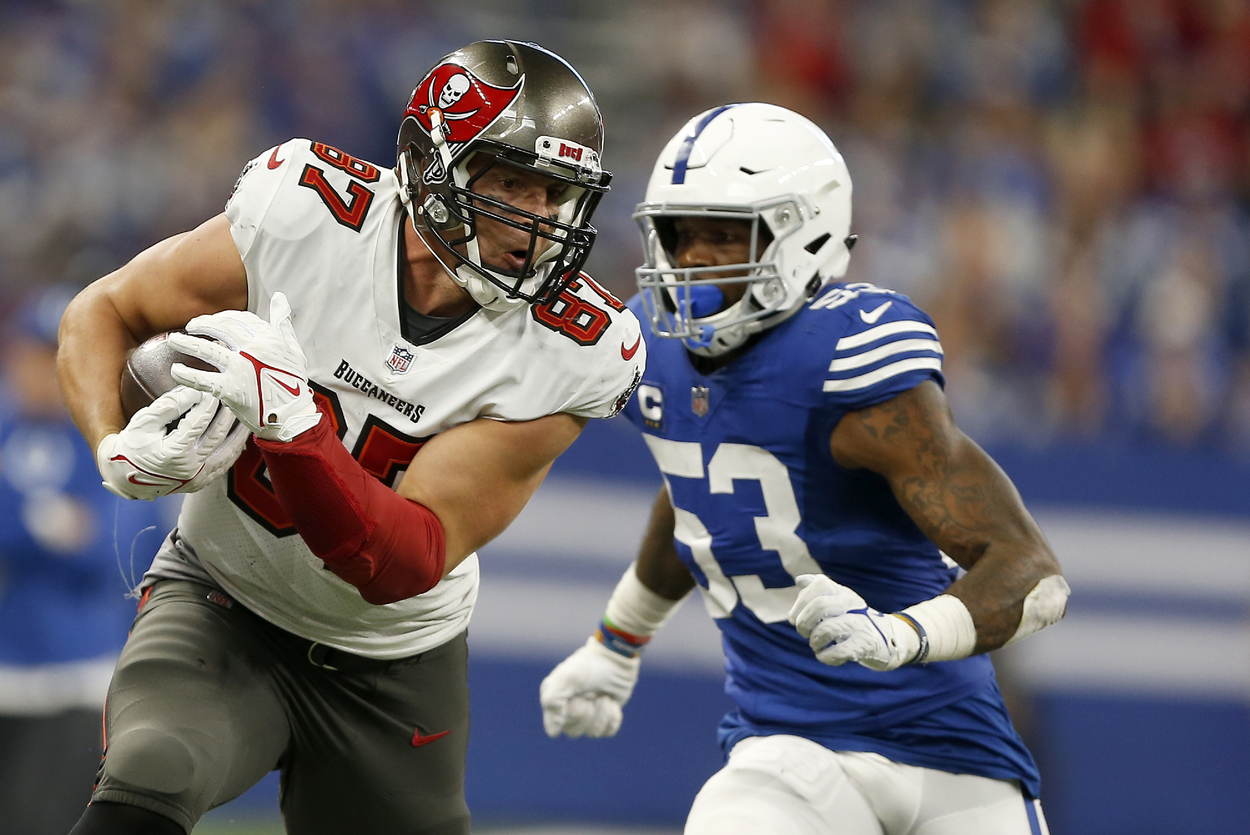 In the era of analytics, it can be easy to dismiss the intangible aspect of sports. Teams that solely spend the big bucks without factoring in locker room morale or players who take the field like it's their final game often fall short of winning a championship. Just ask LeBron James and the Los Angeles Lakers how their latest superteam is currently faring.
Gronkowski is who he's always been: a fun-loving player who is going to endure as many brutal hits as he can if it gives his team a better chance of winning. He's a warrior who continues fighting through injuries, even if it means needing to eventually schedule surgery.
Detractors would argue such a mentality falls under "toxic masculinity" or is an outdated premise. However, the reality is that athletes, whether they're in high school or earning millions of dollars in the NFL, rally around those who never give in. There's a reason why the New York Yankees intend on retiring former outfielder Paul O'Neill's No. 21. Although he isn't in the National Baseball Hall of Fame, his toughness and leadership helped the Yankees win four World Series titles from 1996-2000.
The Colts need a player like Gronkowski, especially after they collapsed at the end of the 2021 season. Indianapolis is reportedly considering trading quarterback Carson Wentz, and not just because his poor play at the end of the campaign contributed to missing the postseason. The organization is reportedly frustrated about his unvaccinated status and decision to put himself over the team.
Simply put, Gronkowski is better than the Colts' current tight end options
Gronkowski might be getting older, but he is still capable of playing at a high level. The reality is, with respect to Jack Doyle and Mo-Alie Cox, the latter of whom is scheduled to become an unrestricted free agent this spring, Gronkowski is simply better than both.
Doyle, who will become a free agent after next season, totaled 29 catches, 302 yards, and three touchdowns last year. Cox, a former starting forward for VCU's men's basketball team, tallied 24 catches, 316 yards, and a career-high four touchdowns. Both are serviceable players, and Doyle is even a two-time Pro Bowl selection.
Gronkowski, evEven ahead of his age-33 season, Gronkowski is still a terrifying option for defenses to plan against, especially near the goal line. His presence in the Colts' offense could allow head coach Frank Reich to finally make the tight end position a consistent target.
Is Gronkowski the final piece to the Colts reaching the Super Bowl for the first time in over a decade? No, probably not. However, his play style and personality would be welcome additions to a team looking to put a disappointing 2021 season in its rearview mirror.
Like Sportscasting on Facebook. Follow us on Twitter @sportscasting19.
RELATED: NFL Free Agency: Ranking Rob Gronkowski and the Top 6 Tight Ends On the Market