3 Reasons Jameis Winston Is Nothing More Than a Band-Aid Solution to the Saints' Dramatically Declining Roster
Jameis Winston won the New Orleans Saints starting quarterback job this offseason — an outcome that many envisioned when the former Tampa Bay QB first signed on to be Drew Brees' backup in 2020.
After a year of learning the system and building a relationship with head coach Sean Payton, Winston is ready to assume starting duties for the first time since his infamous 2019 season.
While there's reason for slight optimism in the Saints organization (a new QB is always exciting), the brutal reality of the situation is that Winston is nothing more than a band-aid solution to a much larger Saints problem.
Jameis Winston doesn't have an encouraging track record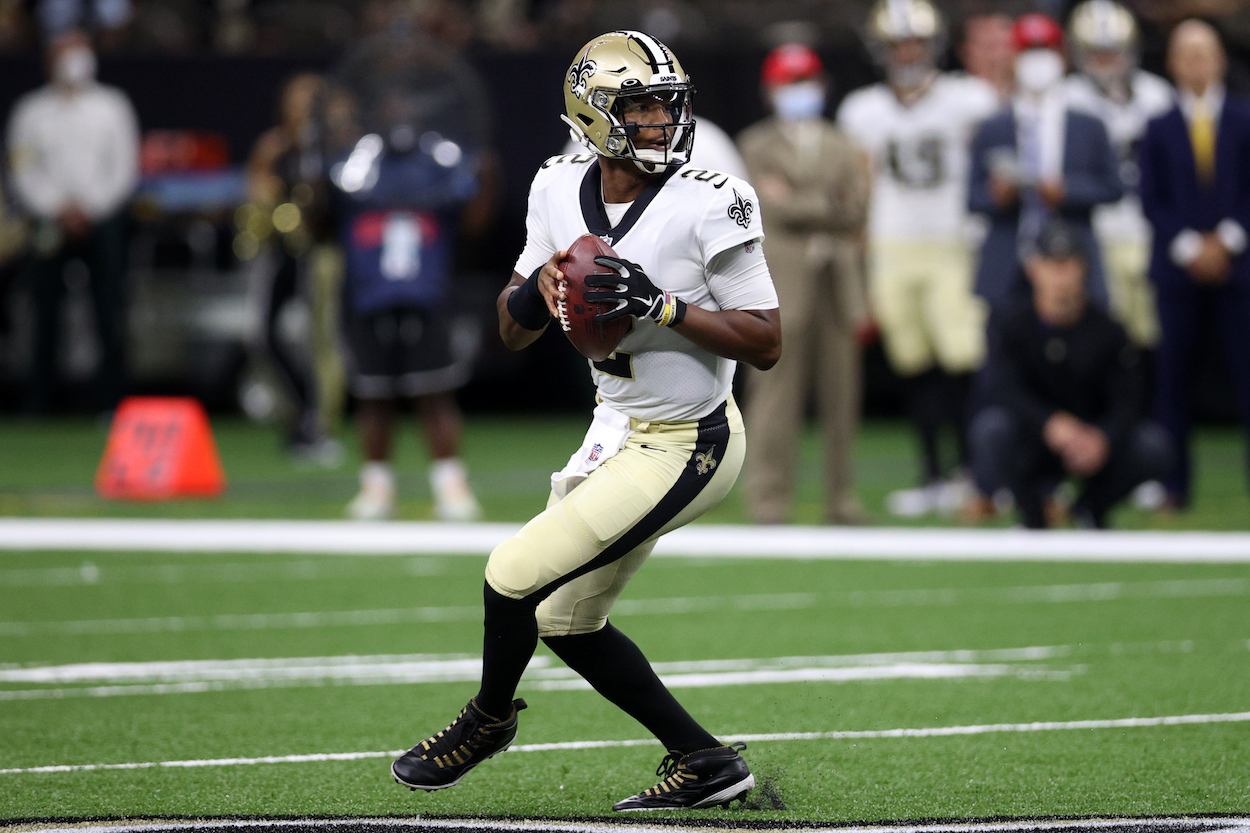 First and foremost, it's crucial to acknowledge that Winston has a less-than-appealing NFL track record.
He led the league in passing yards and threw for 33 touchdowns in 2019, but his league-leading 30 interceptions ultimately cost the Buccaneers a shot at the postseason. Winston spent most of his final year in Tampa Bay chucking up risky jump balls to Mike Evans and Chris Godwin — an unproductive strategy.
Before his bizarre 2019 campaign, Winston was equally unimpressive.
He threw 88 touchdowns compared to 58 interceptions between 2015 and 2018 and only led the Buccaneers to one winning record. It speaks volumes that the Bucs immediately became Super Bowl winners upon replacing Winston with a 40-plus-year-old Tom Brady.
Jameis Winston is on a one-year deal
The other complexity to consider when evaluating Winston's ability to save the Saints long-term is his contract status. He's on a one-year deal, which puts New Orleans in a tricky position next offseason.
If Winston performs well, the Saints will have to pay up and offer him a multi-year extension. The Saints are already struggling to keep all of their talent due to financial reasons. Handing out a massive contract to Winston would only make life more challenging.
If Winston struggles, the Saints will presumably allow him to depart in free agency, once again leaving the franchise directionless at quarterback.
Typically speaking, a team like the Saints (just lost their Hall of Fame QB to retirement) should be looking to rebuild around a young gunslinger on a rookie contract (Mac Jones in New England, for example). Attempting to commit to Winston past 2021 would only postpone the inevitable.
New Orleans has a plethora of other roster issues
Ultimately speaking, Winston is just a small piece of the puzzle in New Orleans. The Saints are dealing with a plethora of roster issues at the moment.
Michael Thomas is injured and wants to be traded, Marcus Williams and Marshon Lattimore are both on expiring deals, the team has a ton of money invested in older players such as Malcolm Jenkins and Demario Davis (Spotrac), and Sean Payton hasn't actually coached a team to the Super Bowl since 2010.
Winston's presence isn't magically solving all of these pressing dilemmas.
It's doubtful that the Saints view Winston as their football savior. They're presumably aware that 2021 is a "re-tooling year." Still, expectations need to be tailored appropriately moving forward. Winston is a band-aid solution — the team needs to keep looking for their Brees replacement in the offseason.
All stats courtesy of Pro Football Reference.