3 Reasons Jim Harbaugh and Michigan Won National Signing Day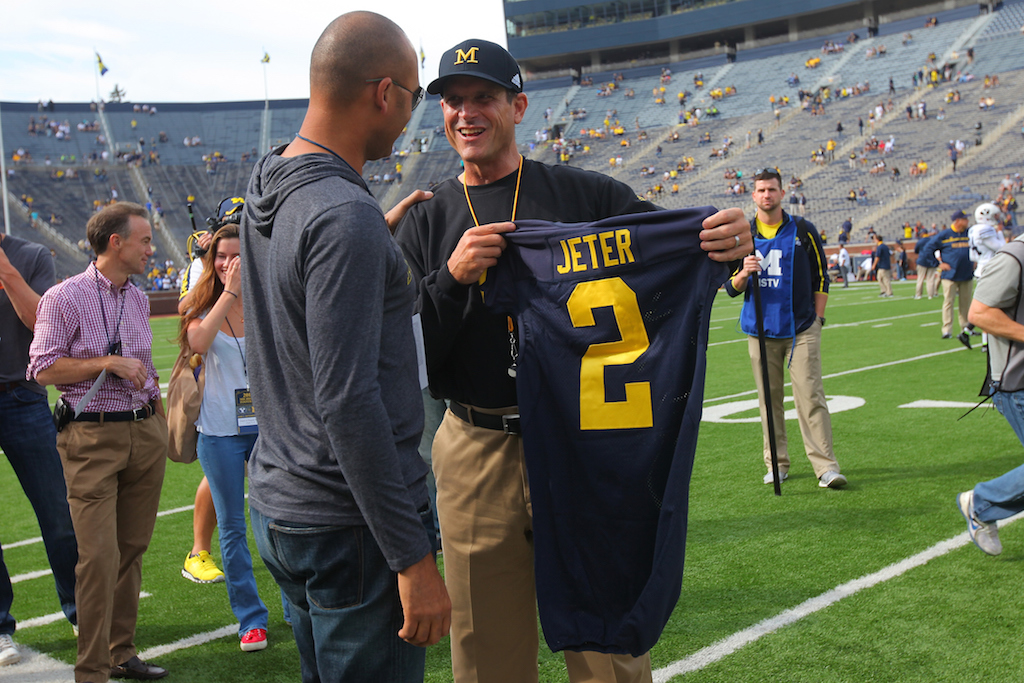 Jim Harbaugh is an acquired taste. You'd be hard-pressed to find anyone who believes that the Michigan Wolverines head football coach doesn't know his X's and O's, however, when it comes to his recruiting methods, most can't decide whether Harbaugh is crazy or a genius. We have to believe that's exactly how he likes it.
If all of college football is going in one direction, Harbaugh is perfectly content to go in the other. He will take his shirt off at satellite camps; he will have a sleepover at a recruit's house; and he will most certainly enjoy a "Netflix and chill" session. This is why the energy, electricity, and genuine excitement surrounding the Wolverines' football program is back in Ann Arbor, Mich. One man, just being himself. And this idea was in full force on National Signing Day.
Some will look at the overall 2016 football class rankings — Top 40 ESPN (subscription required) and Rivals.com — and see that, although Michigan did well, they aren't at the top of the college football mountain. But those individuals aren't looking at the big picture, which revolves around what actually went down on National Signing Day. And trust us, Michigan raised the bar. Here's why.
1. Getting the Garden State
When it comes to recruiting in college football, it's one thing to dominate the region surrounding your school, but it's a whole different thing to pluck big names from outside territories. That move shows the attractiveness, influence, and most importantly, reach of a program. And in 2016, Michigan made its presence known in the Northeast by dominating the state of New Jersey.
Thanks to their aggressive recruiting, the Wolverines nabbed five of the top eight 2016 prospects from the Garden State (from Rivals.com) and five of the eight N.J. prospects who landed on the ESPN 300. Not only will that help Michigan in the years to come, but as you'll see later, it paid major dividends this year as well.
2. The stars are out in full force in Ann Arbor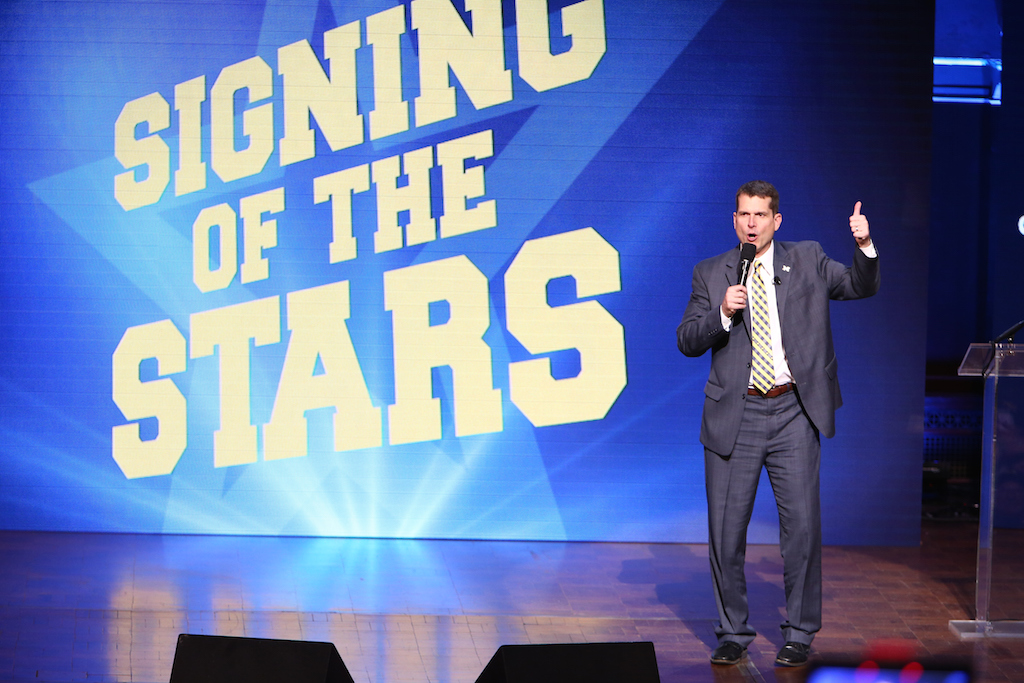 There is always excitement surrounding college football's National Signing Day, but at Michigan, Harbaugh and company took things to a whole new level. In just another example of his wild recruiting ways, the King of Ann Arbor used the day to host an invite-only event, appropriately named the "Signing of the Stars." And it was exactly that. Held at an auditorium on Michigan's campus, the celebration included celebrity guests like Tom Brady, Ric Flair, and Derek Jeter. If that wasn't enough, the whole thing was live-streamed on Jeter's website, The Players' Tribune.
It doesn't matter if you think Harbaugh is crazy or genius. The guy knows how to get your attention. He seems to connect with recruits in a way that we've never seen before. And this fiesta was simply another way for Harbaugh to proclaim the message, that Michigan is the place to be, which he's used since the day he took the gig at his alma mater. And trust us, it's working.
3. Nothing sweeter than No. 1
While the Michigan Wolverines probably won't end up with the No. 1 recruiting class in 2016, they were able to land defensive tackle Rashan Gary (from Paramus, N.J.), the No. 1 overall player in both the ESPN 300 and the Rivals100. This is a massive get for Harbaugh and the Michigan family, as Gary is not only superbly talented, but he also has the potential to be a "difference-maker," according to ESPN Insiders (subscription required).
Remember earlier when we told you that dominating the state of New Jersey was huge for the Wolverines? This is a major reason why. And it's also why Michigan, no matter what the overall rankings say, won National Signing Day.
Statistics and information courtesy of ESPN.go.com, ESPN Insider, and Rivals.com.