3 Reasons Kyrie Irving Should Stay In Boston (And 3 Reasons He Should Leave)
After a promising first year in Boston, the Kyrie Irving experiment may be on the rocks following a disappointing second season. After Irving went down in the 2018 playoffs, the Celtics showed they could still compete as they made a run to the Eastern Conference Finals. With Irving and Gordon Hayward back in the lineup this year, the Celtics struggled to replicate last year's success.

With Irving heading into free agency, many predict that he will find another team to suit his needs. Would this be the right move for both parties? On the one hand, the Celtics struggled this year after showing they could win without him, but on the other hand, Irving is still one of the best point guards in the NBA.

Why he should stay
The NBA pundits believe it's all but a formality that Kyrie Irving flees Boston in free agency. But as an All-NBA player, he can make more money if he resigns with the Celtics, and there some other reasons for him to stay.
Playing well while a player is injured doesn't mean you're better without him
After the success the Celtics experienced last year despite the injuries to Hayward and Irving, playing well while a player is down and losing them altogether are two different scenarios. When a player is injured, teams often rally together and can ride along on the sense that they need to work together and play through it. Losing that player altogether is an entirely different story, and a player like Kyrie Irving with his incredible skillset makes a team better by being there.

They have assets to build on
The Celtics have the assets to build a contender if Irving chooses to stay. Perhaps his first two years in Boston didn't go as planned, but their disappointment still got them to the second round of the playoffs. If the Celtics decided to build off that success instead of starting over, they could trade for a superstar such as Anthony Davis or someone else who is currently unforeseen.

Being a Celtic superstar bears weight
Playing for a team like the Celtics can be a blessing or a curse. On the one hand, even a little bit of success will put you down in the history books for an already successful franchise, but on the other hand, you can become the victim of your predecessors' feats and feel like just another name in the books rather than an individual. However, if Kyrie did stay and the Celtics worked out their issues, his name would go down as a premier player on a premiere franchise.

Why Kyrie Irving should leave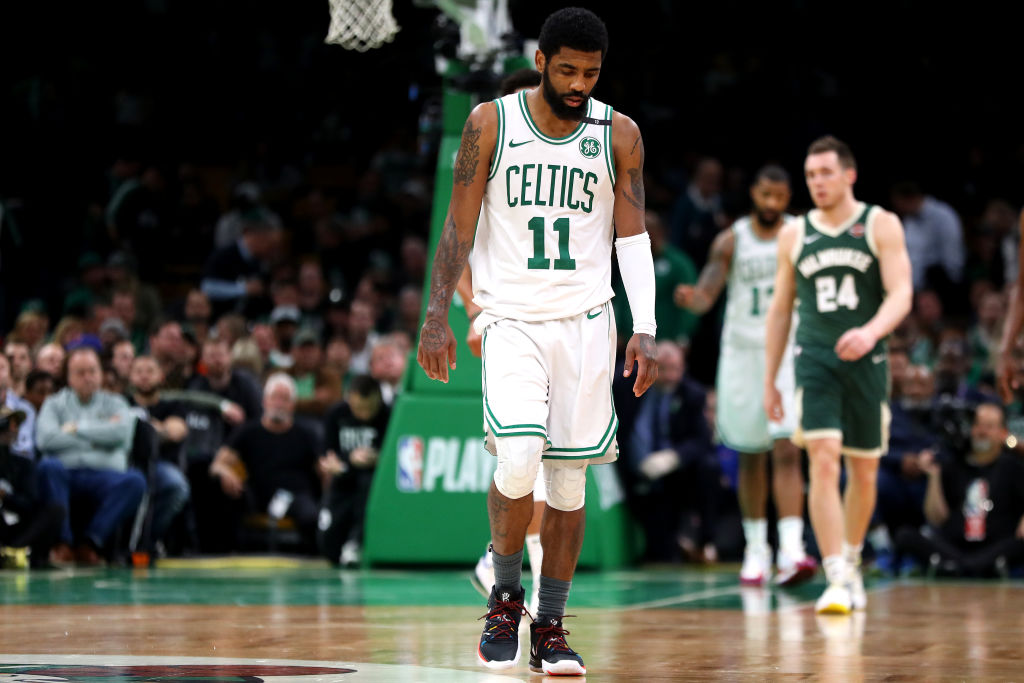 If Irving leaves Boston as most people expect, these might be some of the reasons that inform his decision.
He may have burned some bridges
There have been reports all year about friction in the locker room, and some of Kyrie's comments could be taken as jabs at the team and the organization. Because of that, he may struggle to keep up strong relationships with his teammates and coaches if they feel like he has thrown them under the bus. Whether it is his fault or not, if Kyrie cannot get along with those who he is working with, it is time for both sides to move on.

New York could be his team
The New York Knicks are one of the most talked about teams in the Kyrie Irving sweepstakes. Whether it's him going there alone or teaming up with another superstar, New York seems to be his preferred destination.

Typically, when there is that much smoke surrounding a player, there is fire, and New York may be an ideal option for a player like Kyrie. New York could offer Kyrie a chance to be the face of the biggest market in basketball if he went there.

He could dictate his story
In Cleveland, Kyrie Irving played in LeBron James' shadow. In Boston, he plays for a franchise with a history that can overpower individual stars. For the first time in his career, Kyrie has a chance to carve his own path which is not connected to something that is perceived to be bigger than him. Whether this is New York, or an unforeseen team, his decision could finally unshackle him from the legacy of others.