3 Reasons LeBron Won't Stay in Miami
When Miami Heat sensation LeBron James declared he would opt out of his contract for the remaining year earlier this week, it sent a whirlwind through the basketball world. Every team, whether they currently have enough cap space or would have to completely overhaul their roster, envisioned themselves with the league's best player, and it sent shivers through fans everywhere. Signing James wouldn't just change how a team looks — it would almost automatically turn them into a contender. Even the 15-67 Milwaukee Bucks would likely be a playoff team if James were to wind up there (he'll most definitely choose a big-market team, though; sorry, Milwaukee).
While the news of James opting out seemed like the biggest thing the NBA's heard since Jordan announced he was playing baseball, it doesn't necessarily mean he's taking his talents away from South Beach. He could still very well stay with Miami — albeit under a new contract — and continue to make history there. The Heat need to give him a new and probably better contract, but he chose Miami in 2010 for a reason: Pat Riley and the team just need to remind him why.
Whatever the superstar decides, it will cause quite a stir when he finally makes a decision. Now that the draft has happened and free agency starts on July 1, there's no doubt that potential suitors will be lining up to try and sell James on why he should play for them. At this point, James and his camp haven't revealed even a smidgeon as to what he plans to do – it's anybody's guess. But here are three reasons that James will take his talents elsewhere in the 2014-2015 season.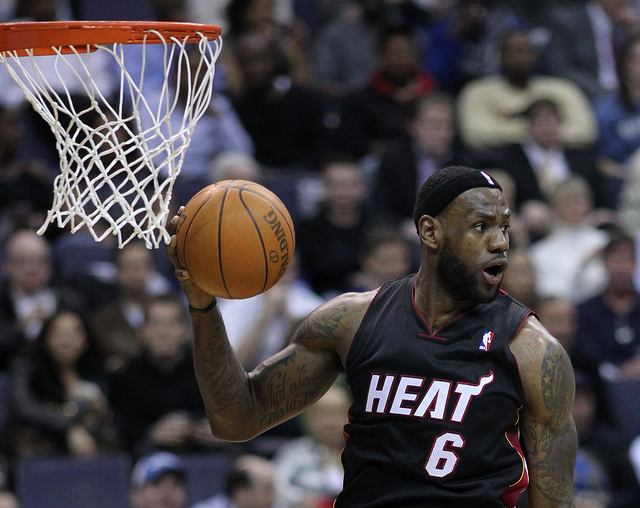 1. Loyalty
This works both ways. As many Cleveland fans found out in 2010, James isn't exactly the most loyal person. He was a hometown hero, born and raised in Akron, Ohio, and everybody thought he'd never leave. He did. James had failed to win a title in Cleveland and clearly thought that taking his talents to South Beach would allow him to do just that. He was right. Two championships later, he's back in the driver's seat for his future. If you say he won't leave Miami because of loyalty, that's just ridiculous. He's been there for just four years — that's the length of a full collegiate career.
LeBron showed his true colors in his decision to leave Cleveland in 2010. But do you really blame him for wanting to get paid more, play in a bigger market, and win titles? If he was willing to take on a Benedict Arnold-esque status in Cleveland (where you'd think he'd be most loyal) to win, do you believe that he'll think twice about leaving Miami for the same reasons? He will not — that's a sure thing.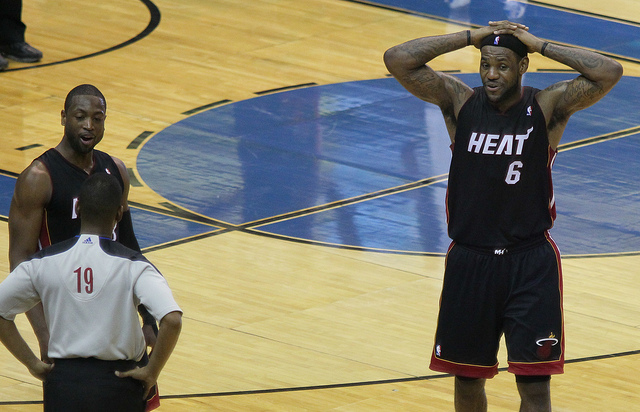 2. He wants to win
Since James' and fellow teammate Chris Bosh's arrival in Miami, the Heat went on to make it to four consecutive NBA Finals. They were dominant year in and year out, winning championships in 2012 and 2013. While they dominated again this season in the Eastern Conference, the San Antonio Spurs easily handled Miami in the finals. They looked like amateurs compared to an aging Spurs team, and that can't sit well with LeBron.
If another team can put together a strong supporting cast — similarly to what Miami did in 2010 to lure James – and if James truly believes he has a better chance to win more titles elsewhere, he won't think twice about hot-tailing it out of Miami. That can also work for Miami, though, if Riley can bring in some different characters.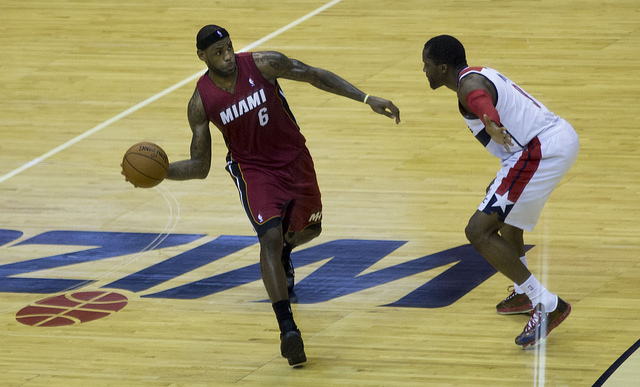 3. Miami isn't young
Though James is at the peak of his career, some of his teammates aren't so lucky.  Not only is the average age of the Heat's roster 30.4 years old, but they also have few young, promising players. For example, 24-year-old center Justin Hamilton currently checks in as their youngest player. And keep in mind, this is a league where 19-year-old superstars are commonplace. When the Heat's big three were assembled in 2010, there's no doubt they were taking a win-now mentality. Well they did win — twice. But currently, Miami's sporting a bit of a motley crew outside of James, Dwyane Wade, and Bosh.
To start, Wade's health is waning. He isn't old, but he's not as young as he used to be. For a lot of the season, he played hurt and limited. When the Heat win, it's in large part because of Wade's presence (and obviously LeBron's). There's the likes of Ray Allen (38 years old) and Shane Battier and Chris Anderson (both 35), who are creeping into the parts of their career where it's almost time to hang up the laces. Needless to say, instead of signing a bunch of veteran players who they can pay the league minimum, Miami needs to reinvigorate its roster with young talent: something that would probably go a long way in keeping LeBron in town.