3 Reasons Why Aaron Rodgers Will Play for the Green Bay Packers in 2022
It's another offseason full of Aaron Rodgers drama for the Green Bay Packers. Should he stay or should he go? The Clash famously asked that question in musical form, and now general manager Brian Gutekunst, head coach Matt LaFleur, and Green Bay president/CEO Mark Murphy are all asking themselves the same question.
The Packers want Rodgers to stay. They've made it clear that they'd highly prefer that option over trading him or seeing him retire.
Here are three reasons to believe Rodgers will remain with the Packers in 2022.
The Green Bay Packers aren't yet confident in Jordan Love
Even though Rodgers is technically signed through the end of the 2022 season, he appears to have leverage in this situation, and he knows it.
Most of his leverage ironically starts and ends with his backup quarterback, Jordan Love, who the Packers took in the first round of the 2020 NFL draft but clearly don't feel is ready to take over as the heir apparent.
How can we think that? It's simple.
Last season, Rodgers made some noise about potentially wanting to be traded or even retiring, and he's been pretty clear that both options are on the table again this offseason. If the Packers were actually confident in Love, they would give Rodgers a hearty slap on the back and send him on his merry way. If he truly wants to retire? Good luck. That's one way to avoid another Brett Favre situation.
Even better if he wants to be traded. The Packers could get back a haul of high draft picks or even young assets in return for their MVP quarterback.
If the Packers were confident in Love, they would show Rodgers the door. It's as simple as that. Instead, Green Bay's front office has made it clear that bringing Rodgers back is a top priority
"We are significantly over the salary cap for next year, and will have to make many difficult decisions in order to get under the cap," Murphy recently wrote on the team website. "A key factor will be whether Aaron Rodgers comes back for the 2022 season. [Coach] Matt [LaFleur], [GM] Brian [Gutekunst], executive vice president/director of football operations Russ Ball and I are all in agreement that we want Aaron to come back. He is likely to win his fourth league MVP, is the unquestioned leader of our team and is still playing at a high level at 38."
Legacy is important to Aaron Rodgers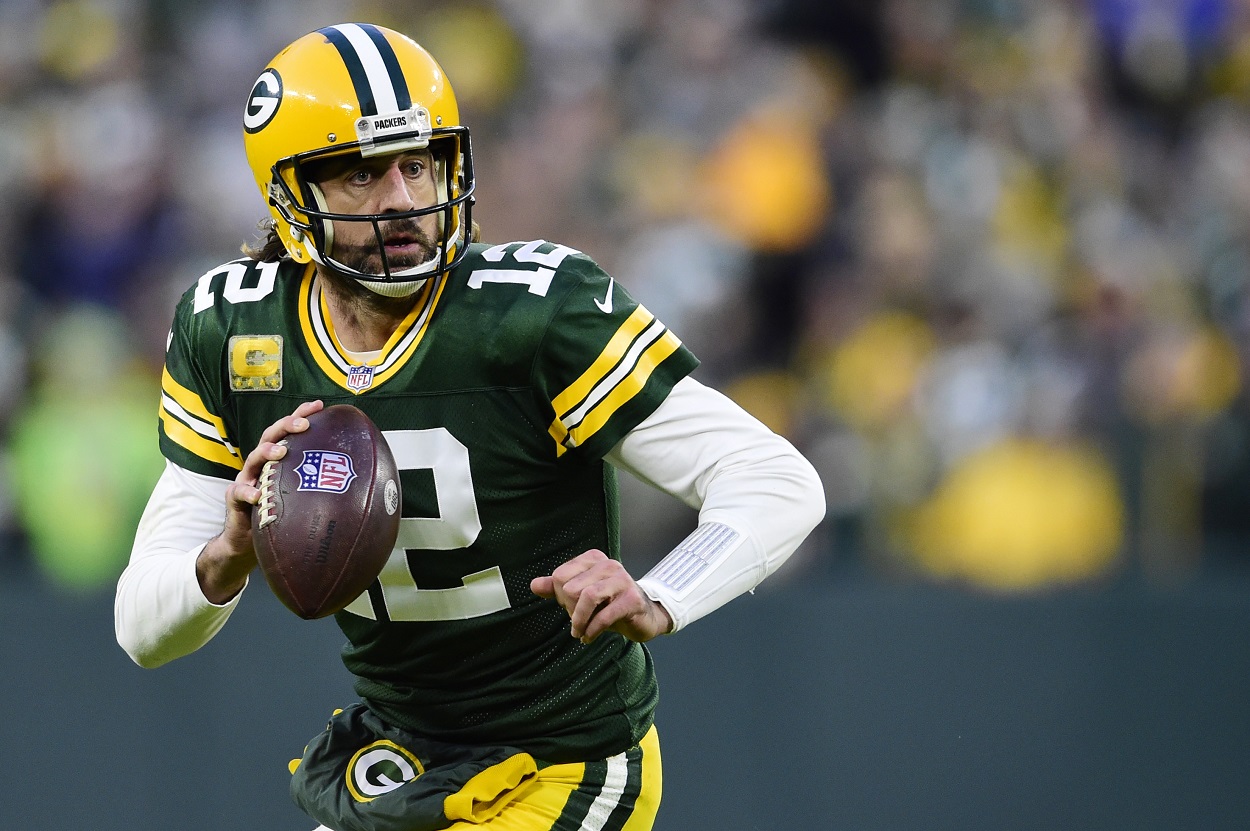 Rodger saw firsthand what happened to Farve when he basically orchestrated his own exit from Green Bay. His wishy-washy stance on retirement grew old for both the organization and its fans. Favre was and still is a Packers legend, but that legend was sullied a bit the second he put on a New York Jets jersey. For some, the legend was completely ruined when he became the quarterback of the hated Minnesota Vikings.
Rodgers has said in the past that his legacy is important to him and that playing for one team his whole career is something he'd like to do.
"My thing is, legacy is really important," Rodgers said on The Pat McAfee Show in 2020. "Having an opportunity to do it all in Green Bay would mean a lot to me."
Sure, Rodgers could ask to be traded to the Denver Broncos, for instance, where he could pull a Peyton Manning and maybe win another Super Bowl. With that said, he's been with the Packers for 17 seasons, and for a franchise that has had its fair share of star quarterbacks, he's arguably at the top of the mountain.
It would make sense that if the Packers are willing to work with him, and they clearly are, he would do what he can to protect his legacy in Green Bay. Maybe things would be different if he didn't go through the Favre drama firsthand, but he did, and it would make sense if that influenced his decision this offseason.
The Packers believe they can still win a Super Bowl with Rodgers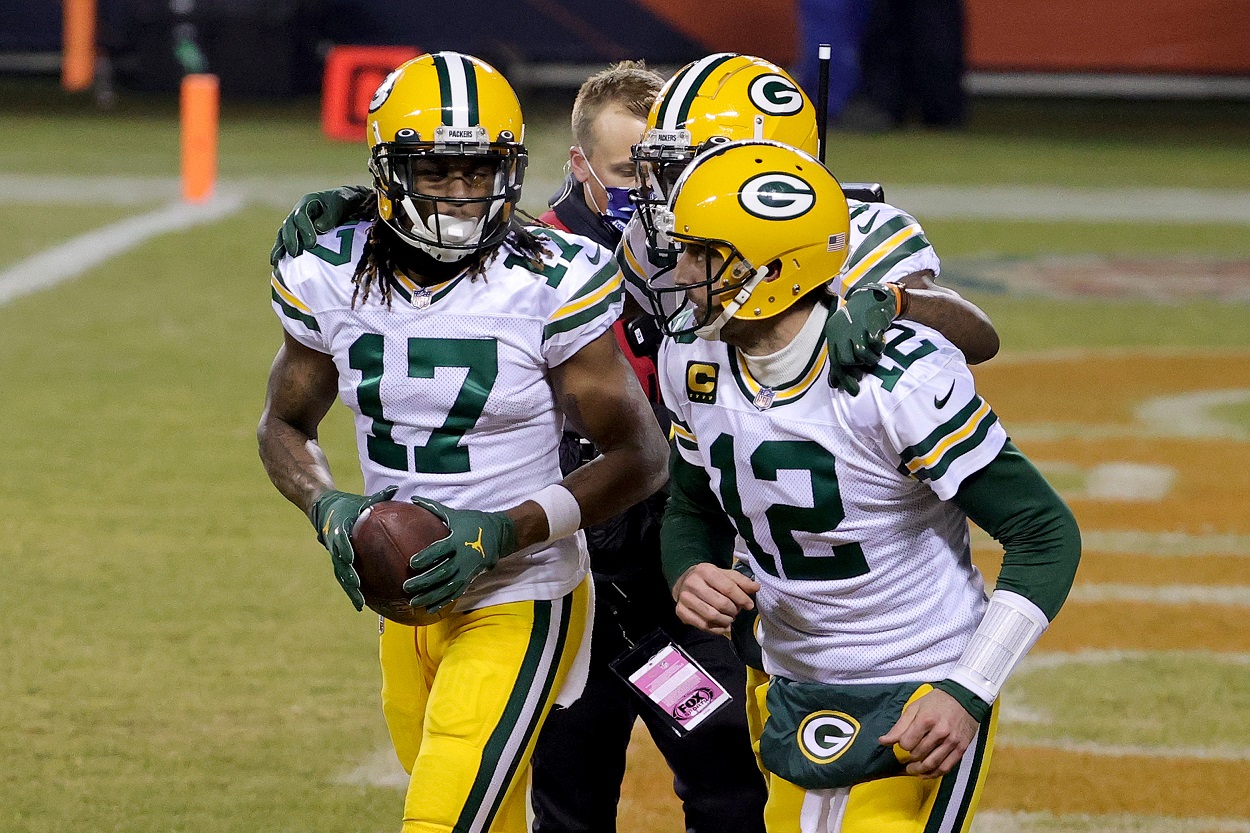 Speaking of legacy, winning another Super Bowl is important for Rodgers, and the Packers still believe they can provide him with that opportunity.
The problem for Green Bay is that the team has a significant salary-cap crunch to work through. The Packers are nearly $50 million over the cap heading into the 2022 league year, and they've got some big decisions to make. Primary among them is what they'll do with Davante Adams, who's a free agent. Other notable free agents include De'Vondre Campbell, Marquez Valdes-Scantling, Rasul Douglas, and Allen Lazard (restricted).
Rodgers will count $46.6 million against Green Bay's cap in 2022 and if the Packers want to bring Adams back, he'll cost a pretty penny as well. He reportedly wants $30 million a year on his new contract, and even if the Packers franchise-tag him, he'll cost roughly $22 million for just one season.
There's no doubt Green Bay needs to work some magic in order to keep the core of what should be a Super Bowl team together. Shortly after the playoff loss to the San Francisco 49ers, it's worth noting LaFleur felt it was possible.
"There's ways to move money and to make sure that we get the bulk of our key contributors back," LaFleur said via the team website. "Are there absolutely going to be some tough decisions? No doubt about it. But I'm really confident in Russ' ability and Gutey's ability and us collectively to figure out a way to do this thing."
With key players like Aaron Jones, AJ Dillon, David Bakhtiari, Josh Myers, Kenny Clark, Rashan Gary, Jaire Alexander (2023 free agent), Adrian Amos (2023 free agent), and Eric Stokes all guaranteed to come back in 2022, the Packers will still have an extremely talented roster even if players like MVS, Douglas, and Lazard go elsewhere in free agency. 
If the Packers can find a way to bring back Adams, one would think that would play a big part in keeping Rodgers happy and keeping him in Green Bay for the foreseeable future.
Adams, Rodgers, and the players mentioned above would make up a roster with enough talent to, at the very least, keep Green Bay's Super Bowl window open.
Stats courtesy of ESPN and Pro Football Reference. Contract information via Spotrac
RELATED: Green Bay Packers: 3 Biggest Offseason Storylines Not Involving Aaron Rodgers or Davante Adams