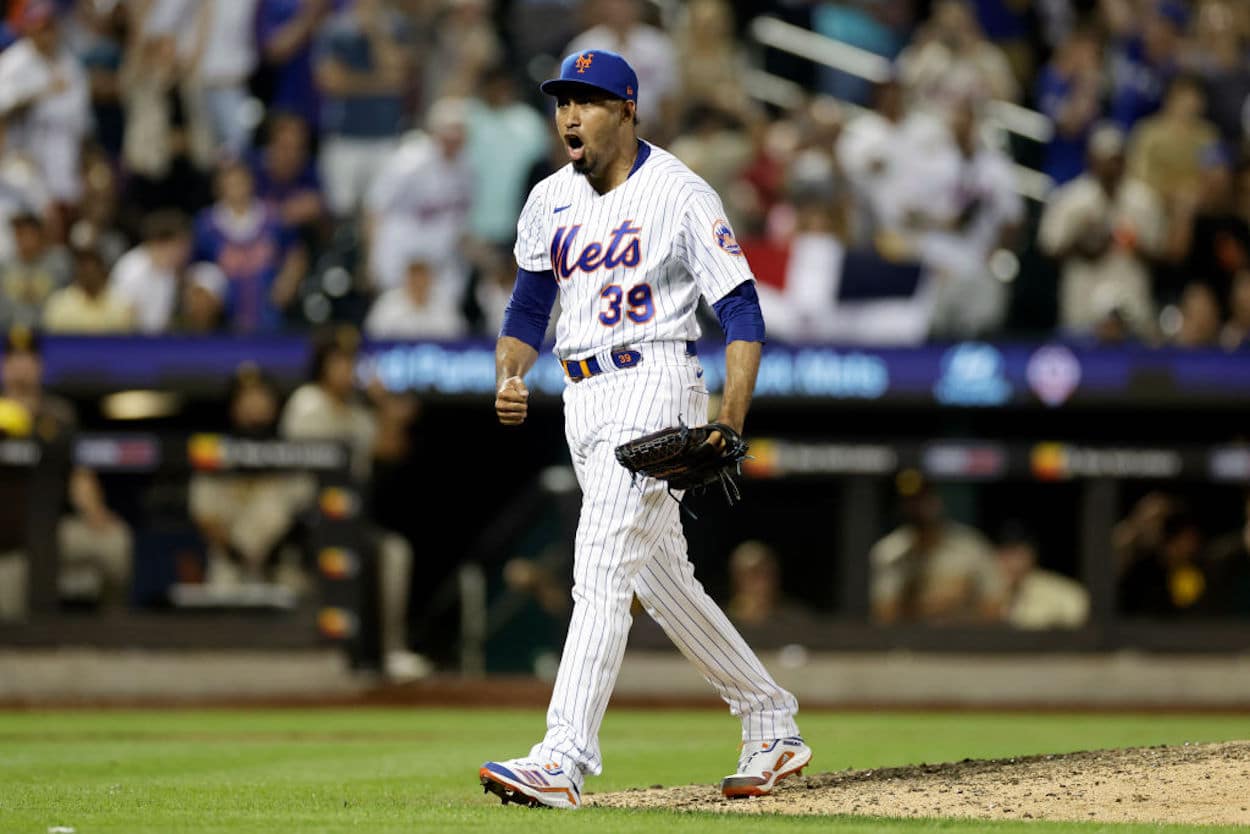 3 Reasons Why Edwin Díaz Is About to Break the Bank in MLB Free Agency
After an impressive season with the New York Mets, just how much money will Edwin Diaz make this offseason?
The New York Mets are among Major League Baseball's best teams in 2022. They have a commanding lead in the National League East, are all but a lock to make the playoffs for the first time since 2016, and as of August 9th, their 16.8% chance to win the World Series, per FanGraphs, is the highest in baseball. 
How have they done this? Great starting pitching and a dynamic lineup on offense have both been huge keys. While the bullpen has been solid overall, there's no reliever on the planet that's been as dominant as Mets' closer Edwin Díaz has been this season. 
Through 45.1 innings, the right-handed hurler has posted a ridiculous 1.39 ERA with a startling 52.9% strikeout rate and 7.0% walk rate, which has all led to a 2.3 FanGraphs WAR (fWAR). That ERA mark ranks seventh among qualified relievers, but the fWAR and strikeout rate are easily at the top of their respective leaderboards. 
Díaz, who will be 29 years old once Opening Day hits in 2023, is set to become a free agent this winter. He's built up an impressive resume since debuting in 2016, and it'll likely lead to him getting paid handsomely within the coming months. Here are three reasons why the closer will secure the bag this winter. 
Edwin Díaz's ability to strike hitters out is incredible
Striking hitters out at a high clip isn't foreign to Díaz. Coming into 2022, he owned a career strikeout rate of 38.6% through 337.1 innings. He's finished with a strikeout rate above 40.0% in a single season three different times. It's just that what he's doing this year is so much better than any other. 
Devin Williams' 53.0% strikeout rate in 2020 is technically the highest by a reliever in a single season. However, this is discounted because it happened during a 60-game schedule. If we look at a full 162-game schedule, Aroldis Chapman holds the record when he posted a 52.5% strikeout rate in 2014 for the Cincinnati Reds. So, Díaz's current 52.9% rate would be a new MLB record if he can sustain that pace. 
Díaz seems up to the challenge, as his monthly strikeout rate from April through July reads as follows: 44.7%, 44.7%, 56.8%, and 65.8%. A big key for him has been a shift in pitch mix. After never throwing it more than 37.9% of the time in a single year, Díaz's slider usage is at an astounding 55.5% in 2022. Opposing hitters have posted just a 6 wRC+ against the offering, while striking out at a 58.5% clip. 
Díaz's overall body of work is among the league's best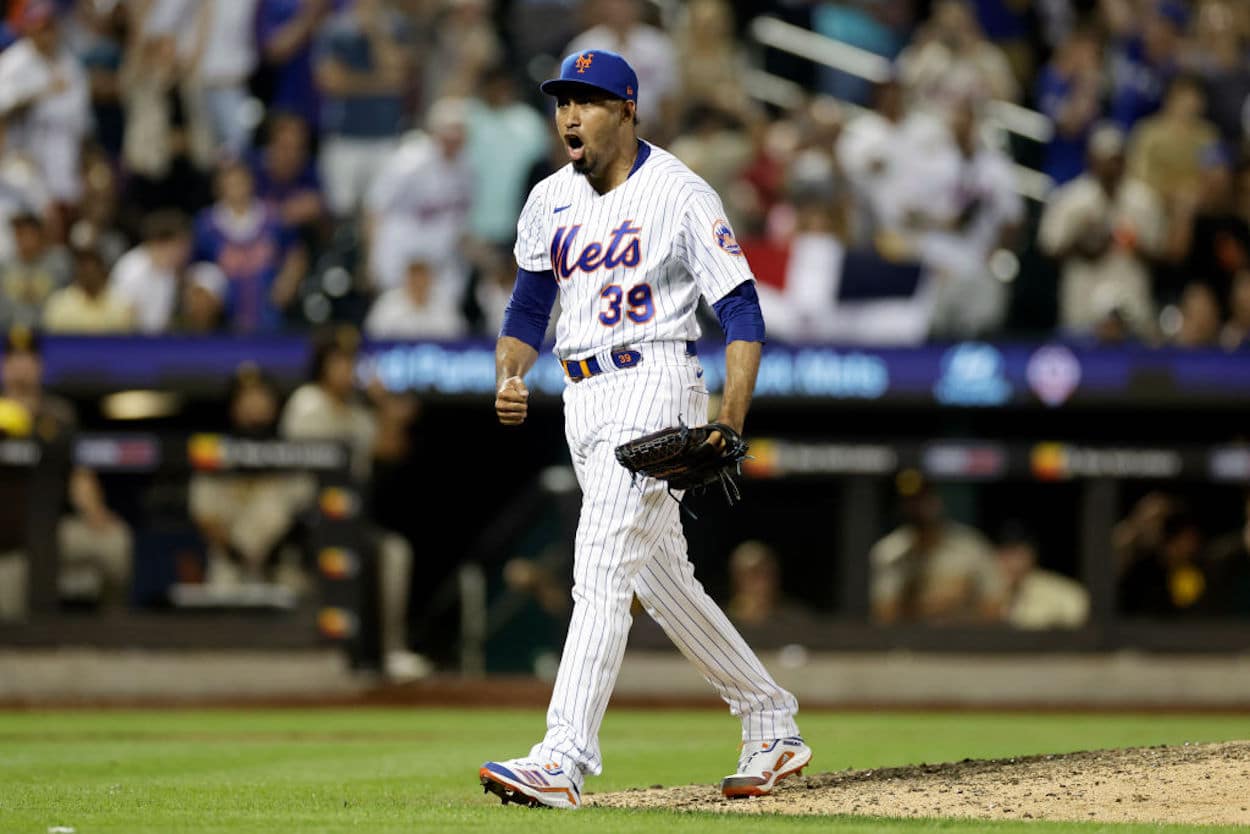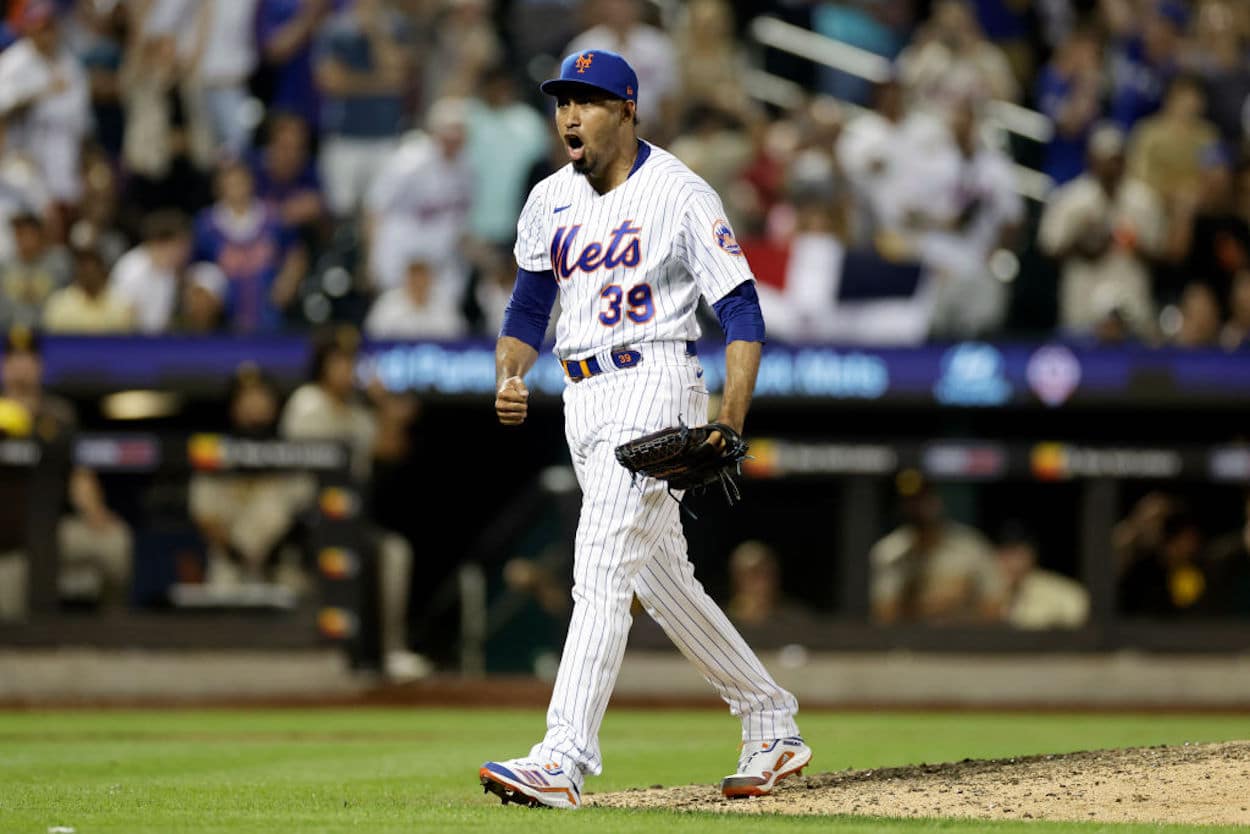 Striking out lots of hitters is great, but that's not the only criteria for getting the job done as a big-league reliever. Looking at overall performance and value, Díaz has proven to be a top-tier contributor. 
The right-hander has already posted three different seasons of at least 2.0 fWAR in his career. He just missed a fourth in 2016, posting 1.9 fWAR in 51.2 innings as a rookie. If we look at cumulative relief pitcher rankings since Díaz's rookie season, here's where he stands in various categories: 
fWAR: 1st
ERA: 35th
SIERA: 2nd
Strikeout rate: 2nd
WHIP: 22nd
Innings pitched: 8th
Let's not forget that he's ranked this high despite an abysmal 2019 season where he accumulated 0.0 fWAR in 58 innings pitched. That season also included a 5.59 ERA with a 1.38 WHIP, a 39.0% strikeout rate, and an 8.7% walk rate. Just imagine where his career numbers would be if he experienced more of a typical – or even a run-of-the-mill – performance in 2019. 
Díaz is dependable and durable in the bullpen
Bullpen usage in today's game is crucial to any team's eventual success. Having a lockdown closer waiting to take over the ninth inning with the game on the line is a huge advantage for any manager. It's even more helpful when that hurler can be depended on consistently. 
That's been the case with Díaz since making his debut with the Seattle Mariners. Not counting 2020, when he pitched 25.2 frames, the right-hander has racked up at least 60 frames each year since 2017. Looking at his current pace for 2022, it seems like that streak will continue for another year. 
There are also some relievers who can only pitch one inning per outing. Díaz is not one of them. He's racked up 33 different appearances with more than one inning of work, including eight outings of at least two innings.
Mets manager Buck Showalter has shown a propensity to use Díaz for more than one inning in big situations this season. The most recent occurrence came on August 4th during a huge matchup with the Atlanta Braves. Díaz went two innings to close the game out, allowing just one hit while striking out three. It's hard to put a price on a closer who can give you four, five, or even six outs when you need them the most. 
Can Edwin Díaz break the relief pitcher contract record?
It's all but certain that Díaz, who is currently making $10.2 million this season, is headed for a lucrative multi-year deal via MLB free agency this winter. But what are the chances he's going to break any records? 
When it comes to precedent, there is a clear divide. As per a USA Today list, Chapman (five years, $86 million with the Yankees) and Kenley Jansen (five years, $80 million with the Dodgers) are the only relievers to secure deals worth more than $62 million. Among active relievers, only Raisel Iglesias ($58 million) and Liam Hendriks ($54 million) are playing through deals with more than $50 million overall. 
Hendriks' four-year deal also includes the highest annual average value for active relievers at $18 million. What Díaz has working in his favor when comparing himself to Hendriks and Iglesias is age. The latter men both signed their respective four-year deals at the age of 31, while Díaz will be doing so before he turns 29 in March. 
Breaking Chapman's total guaranteed money record of $86 million is a tall order. However, Díaz's next contract will be among the most lucrative in baseball history for a reliever. Where he'll land on the list likely depends on how many years that deal will be. One thing we can be sure of, though, is he'll be worth every penny of it. 
All statistics courtesy of FanGraphs and accurate as of 8/10/2022. All contract information courtesy of Spotrac, unless otherwise noted.