3 Reasons Why It's Too Early to Worry About the Cavaliers
Deep breaths, everyone. The Cleveland Cavaliers are going to be fine.
Yes, we're aware that the first seven days of the Cavs' Big Three era haven't gone according to plan. Yes, we watched Gordon Hayward drop Cleveland to 1-3 with a cold-blooded dagger at the horn Wednesday night. Yes, we've read the stories about LeBron passively wanting his teammates to learn to play his way the right way. Yes, we understand that a team total of six assists in a 48-minute game is less than optimal. Yes, we have looked at the current NBA standings to see that if the season ended today, the Cavs wouldn't be in the playoffs (Good news for Cleveland: It doesn't.)
At the same time, though, let's not create drama where there really isn't any. LeBron James came home to Northeast Ohio to bring Cleveland a championship. That's going to be a process. He said as much in his Sports Illustrated essay this summer, admitting, "My patience will get tested." So why is everyone surprised with a few early bumps in the road? Just because the Kevin Love-for-Andrew Wiggins deal raised expectations for a team that LeBron had previously said was 'not ready right now?'
Bottom line: The new-look Cavs will be just fine. We live in a world of 24-7 talk radio, instant 140-character takes on Twitter (the top three trending topics in the country this morning are Kyrie, Cavs, and Lebron), and wildly-swinging-pendulum knee-jerk reactions from one extreme to the other. So, please, take 1-3 with a grain of salt. The same talking heads that are asking 'What's wrong with the Cavs?' today will be making championship predictions as soon as LeBron, Kyrie Irving, and Kevin Love put together a little three-game winning streak.
Here are three reasons why Cleveland fans don't need to worry — or at least don't need to panic — about the team's poor start.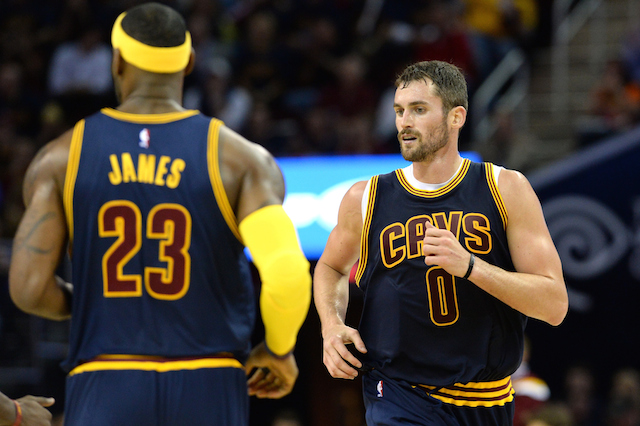 1. Everyone's new.
Breaking news: When a team brings in two new superstars that have never really played together, combines them with a third superstar who's used to running the show, and then stirs the pot for its new recipe even further by hiring a head coach that's never run an NBA team before, it's going to take some time to get everyone on the same page. Did you really expect David Blatt was just going to roll the ball out and watch his three superstars each put up 25 points a night from the get-go? It takes time to learn an offense. It takes time to develop a rotation. It takes time to figure out where a teammate likes to spot up for an open jumper, how he likes to catch a pass, and how/when to rotate to help him out on the other end of the floor.
If you need a little history lesson for comparison, the last 'Big Three' LeBron assembled (the 2010-2011 Heat) started their first regular season together 9-8. Not exactly setting the world on fire, and the reaction from media and fans around the USA was similar to what we're hearing in 2014. What happened next? Miami won its next 12 games, 21 of 22 overall, and eventually wound up in its first of four straight NBA Finals. So can we please not freak out in the first week of November?
2. This team is going to make the playoffs.
If the Cavaliers played in the Western Conference, there would admittedly be a little less margin for error. November games, which will necessitate some working-out-the-kinks, would mean a little bit more because the competition out West is so tough. But guess what? The Cavs are fortunate enough to reside in the East. Last year, the Hawks finished 38-44 and still made the playoffs in the Eastern Conference! So, barring catastrophic injury to a superstar or two, Cleveland is absolutely, definitely, take-it-to-the-bank, undoubtedly going to end up in the bracket when the spring 2015 rolls around. That means Blatt and his charges have plenty of time to figure everything out on the fly with no real risk to their title hopes (as long as fans are patient enough to give them the benefit of the doubt).
3. The Cavs still have LeBron James, Kevin Love, and Kyrie Irving.
How good is the Cleveland Cavaliers roster on paper? LeBron, Love, and Kyrie are three-fifths of an NBA All-Star team waiting to happen. Put in any two other players that you want, and you get a starting lineup that stacks up favorably against pretty much any competitor in the league. LeBron could singlehandedly carry a bad team to the playoffs if he needed to, and now he gets to play with Uncle Drew and Uncle Wes every night? The only debate we should be having right now is: Will this team be clicking on all cylinders when it needs to dispose of the Bulls in the Eastern Conference playoffs? Will the Cavaliers match up well with the Rockets, Spurs, or whatever team wins the West in a potential 2015 NBA Finals? Will Cleveland be so scary good by springtime that Blatt could rest LeBron for long stretches of the season (or, heaven forbid, of a playoff game?!) with no consequence? Those are the real questions that will matter once the dust (or chalk?) settles, because there's simply too much talent here for anyone to adopt a 'sky is falling' attitude at 1-3.