3 Reasons Why Kyle Larson Will Not Repeat as NASCAR Champ in 2022
Kyle Larson's bid to claim back-to-back NASCAR Cup Championships will come up empty because of a combination of three things.
1. The odds are against him.
2. Coming off an emotionally charged season, he suffers a letdown.
3. He ends up struggling with the Next Gen cars.
Here's a closer look at why Larson will fall short in his bid to claim consecutive Cups:
The odds of repeating are not in Cup champion Kyle Larson's favor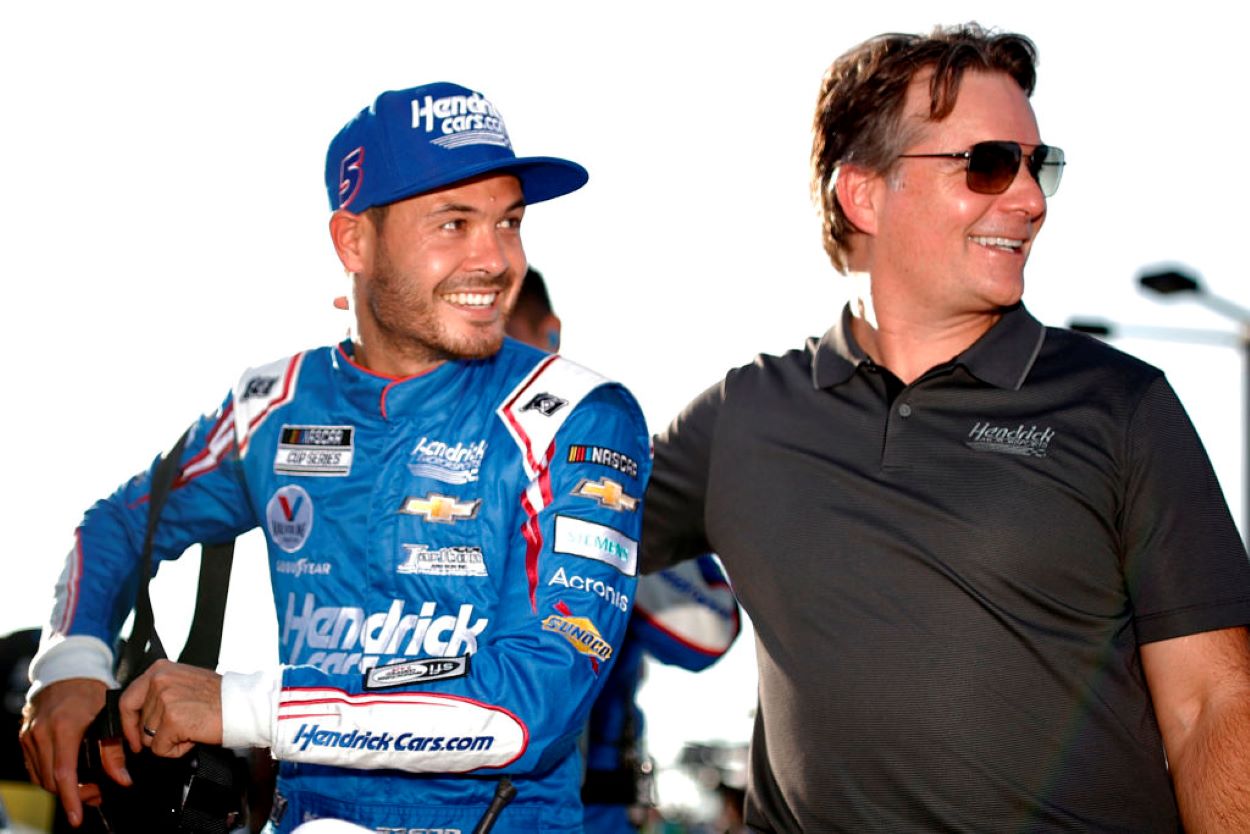 The odds are against Larson repeating as champ.
No Cup Series driver has claimed back-to-back driver titles since Hendrick Motorsports' Jimmie Johnson won an unprecedented five straight from 2006-10.
Before that, you have to go back to Jeff Gordon in 1997 and '98. Dale Earnhardt Sr. did it three times (1993 and '94; 1990 and '91; 1986 and '87), but since 1949, only eight other drivers have accomplished the feat:
Darrell Waltrip in 1981 and '82.
Cale Yarborough in 1976 and '77.
Richard Petty 1974 and '75.
David Pearson in 1968 and '69.
Joe Weatherly in 1962 and '63.
Lee Petty in 1958 and '59.
Buck Baker in 1956 and '57.
Red Byron in 1948 and '49.
Larson could join that list after next season if everything falls in place again, but what are the odds that will happen?
This time all of the breaks will not go Larson's way
Many things went right for Larson last season.
A driver does not produce a Cup Series-high 10 points wins and the $1 million all-star event without getting contributions from everyone on the team. From Cliff Daniels, the top crew chief in NASCAR, to the low man on the pit crew, everyone had to do their job to give Larson an edge.
And they did. The pit crew's 11.8-second stop at the end of the Championship 4 race at Phoenix Raceway on Nov. 7 propelled Larson to the front of the pack. Larson drove first to the finish, but so many other factors contributed to Hendrick Motorsports clinching its 14th title.
As they say, everything came together.
Considering what the No. 5 Chevrolet team accomplished last year as a first-year unit, a second-year slump could develop.
Several defending champions and their teams ran into difficulties the following season, among them:  
Dale Earnhardt Sr. in 1992. 
Brad Keselowski in 2013. 
Jimmie Johnson in 2011 
Kurt Bush in 2005. 
Matt Kenseth in 2004.
Could Larson be added to the list after next season?
Next Gen cars prove too challenging to handle
Larson has not been afforded much time to test-drive the Next Gen cars. He's been a bit busy with all the post-championship festivities and getting a day named in his honor.
The time he has had, he said, he enjoyed the ride.
But what if Larson fails to handle the new technology the way he did with the previous setups when he became the 20th driver to lead at least 2,000 laps,
What if Larson struggles handling the downforce of the Next Gen cars? Perhaps he fails to keep the machines from sliding up and down the track? What if the heating issues are not resolved? Yes, Larson grew up in California, but he could become overwhelmed by the heat, too.
Larson may be one of the best young drivers on the Cup Series. He races for one of the iconic organizations in Hendrick Motorsports, and his family has proven to be a great support system.
But the odds seem to be against Larson.