3 Reasons Why Kyle Larson Will Repeat as NASCAR Champ in 2022
Aside from Kyle Larson's natural driving skills, there are three reasons why the reigning NASCAR Cup Series champion will repeat in 2022:
He races for Hendrick Motorsports' team and works with the series' top crew chief.
2. He proved he could put behind his controversial past and focus on the future.
3. Unlike many of his peers, his first impressions of the Next Gen cars were "fun."
Here's a closer look at why Larson should be favored to claim consecutive Cups:
Hendrick Motorsports and NASCAR'S top crew chief give Larson an edge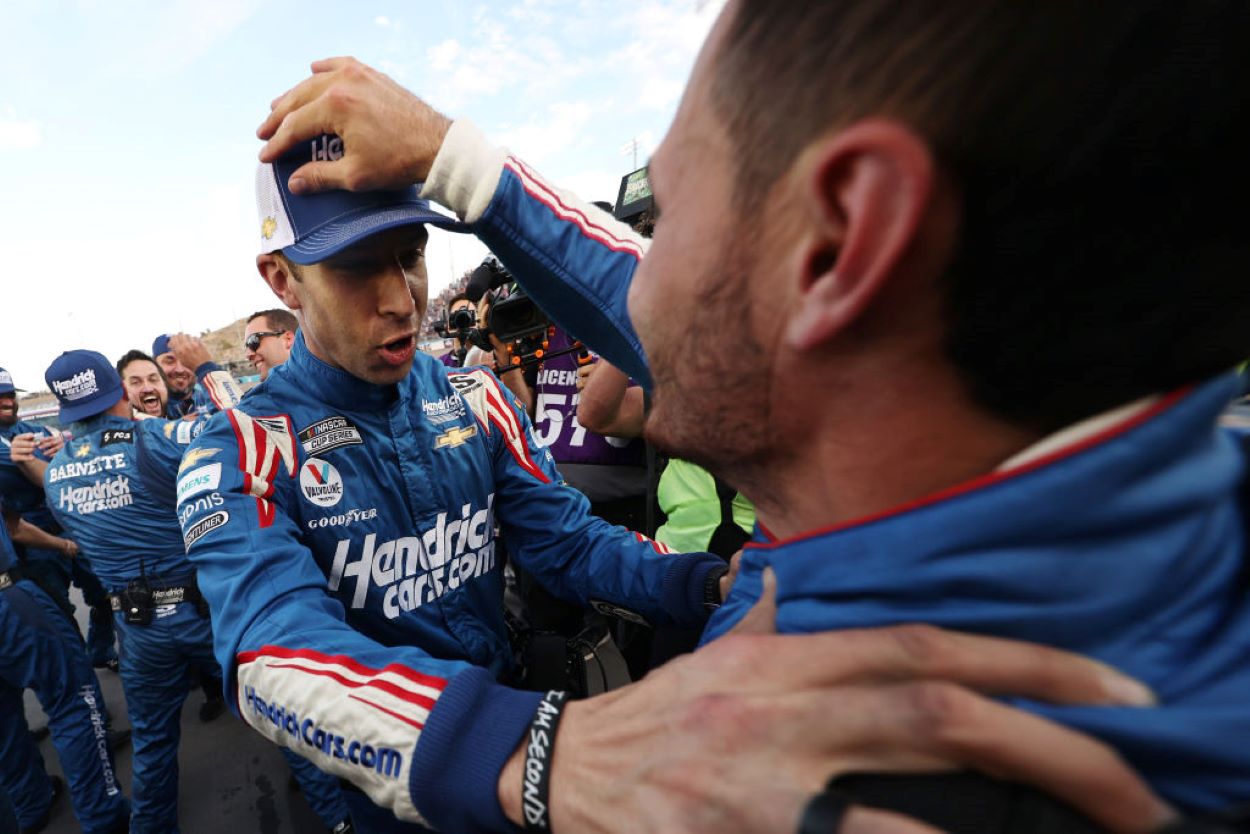 The biggest reason Larson should compete for a repeat is his No. 5 Chevrolet team, his crew chief, and team owner Rick Hendrick's operation.
Founded in 1984, Hendrick Motorsports has earned a NASCAR-best 280 Cup victories and 14 series championships. The franchise knows how to build winning teams. With alumni like Jimmie Johnson (seven titles) and Jeff Gordon (four), it knows how to sustain a dynasty. What Hendrick needs to do now is keep his current team of young drivers together.
With cost-efficient Next Gen cars coming on the scene in 2002, Hendrick may not be able to depend on his deep pockets to develop cars in the future. Like the rest of the field, the franchise will have to rely on old-fashioned ingenuity and driving skill to stay on the lead lap going forward.
Designed to even the playing field, Next Gen cars may give crew chiefs fits next season in trying to figure out ways to gain an edge, but Larson is lucky. He has a confident Cliff Daniels leading his pit crew.
Larson looking forward to keeping 2020 in the past
Larson almost did not have an opportunity to capture his first Cup title. His career nearly ended because of a racial slur he uttered during a streamed iRacing event in early 2020. Fired by Chip Ganassi Racing, Elliott also faced a NASCAR-imposed indefinite suspension. It was a lost year.
As NASCAR's lone Asian American driver, Larson enrolled and completed a course on sensitivity training, as mandated by NASCAR.
Gaining a second chance, Larson latched on with Hendrick Motorsports. From isolation to the middle of the points storm, Larson dominated the Cup Series, claiming 10 points events and the $1 million all-star classic.
It's safe to say Larson took advantage of his second chance.
To continue his rise to industry stardom, Larson will need to keep 2020 in the past and continue to focus on his family and racing.
Larson likes the grip of 'fun' Next Gen cars
Many of Larson's peers have criticized the handling of the Next Gen cars, but he's eager for additional seat time.
"I've only ran a couple of hours … I thought it was a lot more fun to drive," Larson told essentiallysports.com. "You know, just the grip and the race car, the brakes, and staff, we're really good."
The Next Gen machines are intended to bring parity to NASCAR. Not every garage has the resources of Hendrick Motorsports. Ideally, the smaller teams will have a better opportunity to compete against Larson and his big-buck backers.
But Larson likes the grip of the Next Gen cars and called the spin "fun," while others complained.
The Cup Series field better watch out. If Larson feels comfortable in the new machines, he will likely be in the race for back-to-back titles.
Larson has the team and driving skills to do so.